This is one of those projects I've been putting off because I thought it looked too hard. But it is so simple and I'm excited to show you how to make them.
I started by using a cup bottom and tracing my circles onto a piece of felt.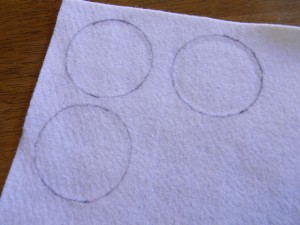 I still had some of hubby's shirt leftover after making the infinity scarf so I cut the remainder of it into about 1″ strips. The strips were about 18″ long, but you can make them any length you want. That will determine how big your flower will be. Start by tying a knot close to one end of the strip.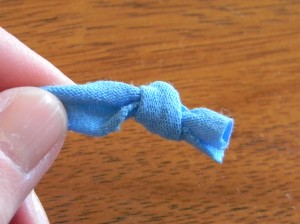 Then find the center of the felt circle and use hot glue to secure it to the center.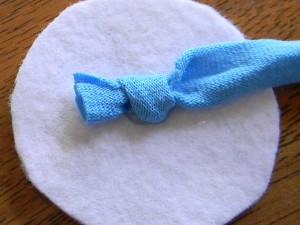 From the center just start twisting and gluing as you form the flower. You can either twist the fabric away from the center or toward the center. It was hard to tell the difference when they were finished, but I prefer away. It was easier for me to form that way and I prefer the look a little more.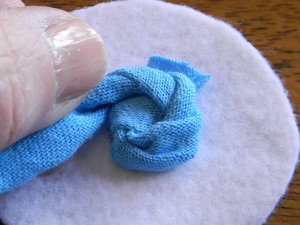 Keep twisting until you've used all the fabric or until you have the size flower you want. Tuck the end of the fabric under one of the folds and hot glue in place.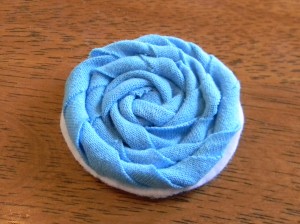 If you have excess felt (like I do) just trim close to fabric so it doesn't show from the front.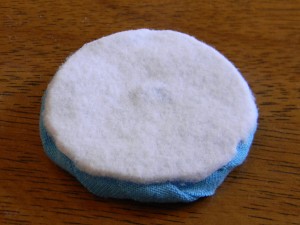 Ta-Da!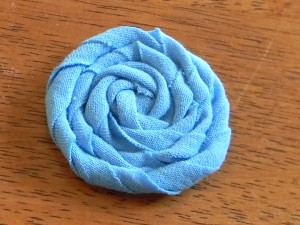 I attached a clip to the back of all of them using hot glue.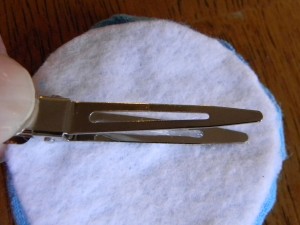 I love how they turned out. I'll show you what I ended up doing with them tomorrow. Oh, and ZERO cost, because I already had everything in my stash.