Start with a large t-shirt your hubby doesn't wear anymore. It helps if you love the color. Make sure the shirt doesn't have any side seams.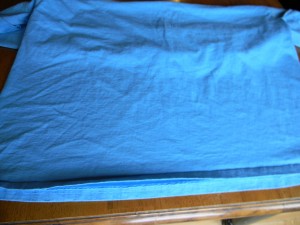 Cut the hem off the bottom of the shirt.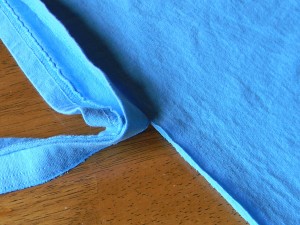 Then cut across the shirt, under the sleeves.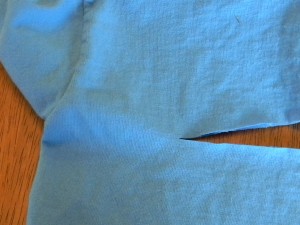 And you end up with a large loop of t-shirt material. Don't worry about the cuts being perfectly straight. The edges aren't going to show.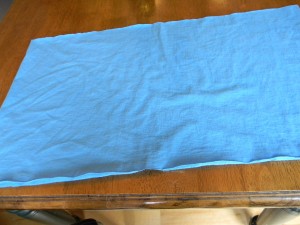 Now you need to stretch the material as much as you can. And since no one else was home, I looped it over a door knob and pulled. I turned it to make sure it was stretched evenly.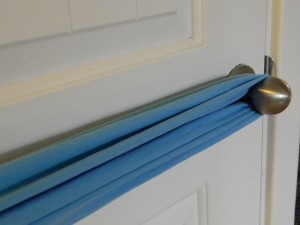 So here's some ways you can wear your new scarf. Oops! I forgot to show the most obvious one, which is just hanging in one big loop. This is a double loop.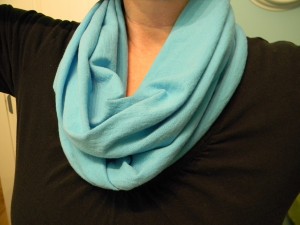 One loop and a half knot.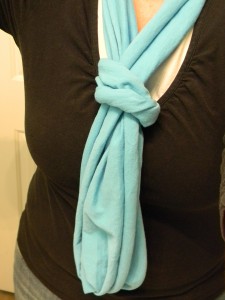 A double loop and twisted.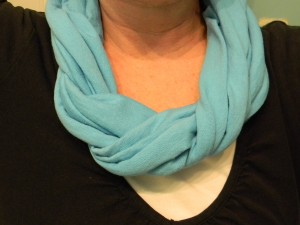 One loop and a low knot.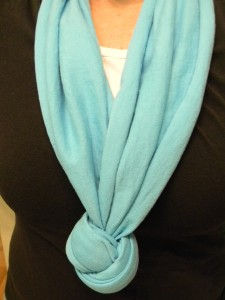 One loop and twisted around. I just played with it.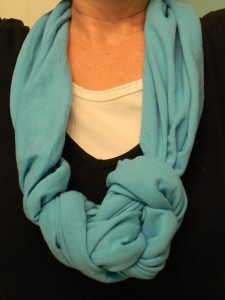 This is my favorite. I wore it this way today. It's a little hard to describe, but I'll try. Fold it in half and bring it around your neck, put your left hand through the left loop and grab the right loop, bring it through the left loop, then put your head through the loop and arrange the scarf. Did that make sense? Just play with it. I'm sure you'll get it.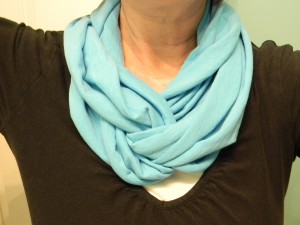 So apparently this is what I do when I'm trying to dodge doing things I should be, like painting the kitchen and living room, hanging 2 long shelves, making new pillows, and making cards for card club. I think I'm going to be swamped tomorrow.