Our homes need a little love during Summer too. Check out this easy Summer Home Maintenance schedule to help you keep your home in top shape.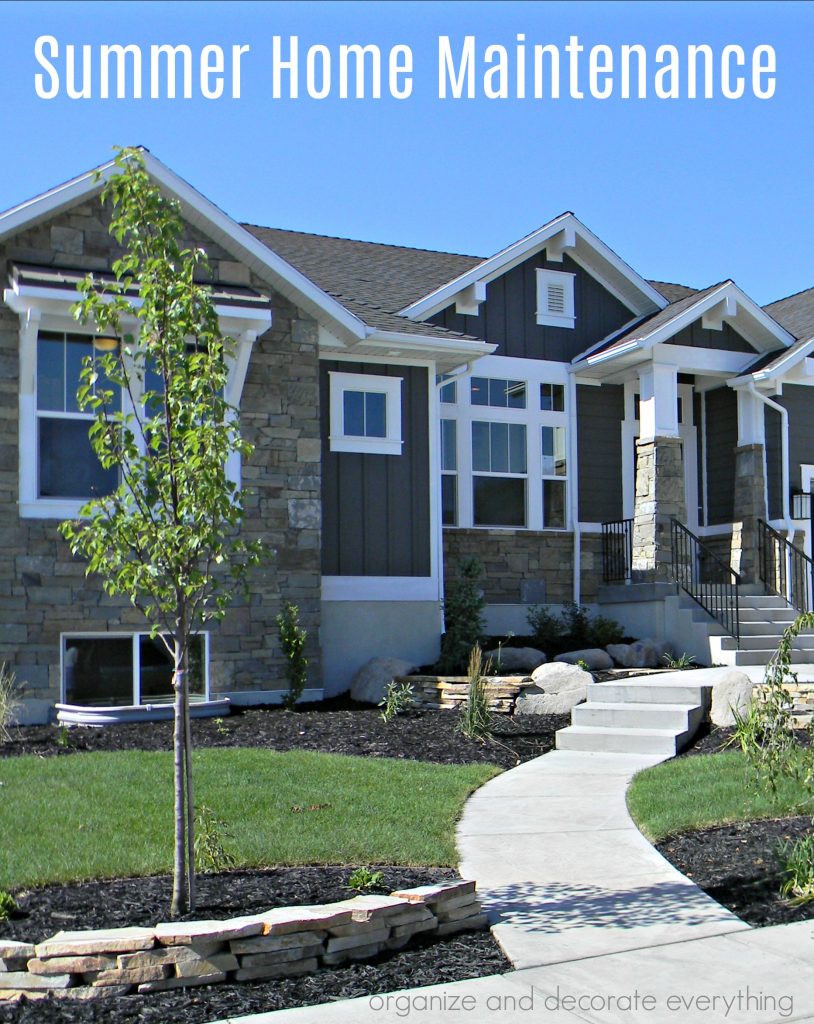 Are you done with your Spring cleaning? I'll be honest I'm not done yet but I'm getting there. Now is a good time to start working on your Summer Home Maintenance or at least get it on the schedule. If you start working on it now you can easily do a little at a time to get it completed within the month. Or enlist the help from your family and get it done in a weekend.
Outside Home
Clean out the rain gutters – We had a lot of rain recently and the water was flowing out everywhere but not down the drain like it should. We discovered a lot of leaves, branches, feathers, and bird poop that needed to be cleaned out. That's a fun weekend project!
Inspect the roof for damage and loose shingles – You should be able to fix small areas yourself or call a roofer for big jobs and/or leaks.
Check siding, trims, and decks for any paint touch ups or repairs that need to be made – Keep a small jar of paint available for quick and easy touch ups.
Inspect outdoor light fixtures – Repair any damage and replace light bulbs. You can also use an outdoor spray paint to refresh the light fixtures with a new paint job.
Check children's playground equipment – Fix any safety issues and make any needed repairs. The large screws in ours would sometimes like to work their way out. Check for any spider or bee nests also.
Inspect the driveway and all walkways for cracking and settling – Make sure trees and bushes aren't planted too close to walkways, they can cause problems as they grow. Clean out any weeds growing through the cracks then use a crack sealer to fix cracked areas.
Inside Home
Water heater maintenance – Drain and replace the water in the hot water heater. Test the pressure valve. And make sure the vent is not blocked. Last but not least check for any leaks.
Replace the filter in your air conditioning system – You should replace it every 2 months during the warmer months for better efficiency.
Inspect washing machine and dryer hoses – Replace hoses if you find any cracks or bulges in them.
Inspect window screens – Clean window screens and repair or replace torn screens.
Clean window tracks – Clean window and sliding glass door tracks to help them move easily.
Reseal grout lines – Clean then reseal grout lines in countertops and floors if needed.
Dust refrigerator coils – Use a vacuum to get the dust off the back coils to help the refrigerator function better.
Air conditioner maintenance – If you haven't scheduled to have your air conditioner serviced, do it now! Ours has gone out in temperatures over 100 degrees and it's not fun.
Schedule furnace maintenance – Schedule your furnace maintenance now to avoid the rush in the Fall. You can schedule it several months in advance so you don't forget.
Don't you love getting things done early in the season so you can enjoy the rest of the season? Who's ready for the lazy days of Summer or maybe even some traveling? I know I am!