Before sending your kids off to camp use this basic Summer Camp Packing List to avoid forgetting any of the essentials.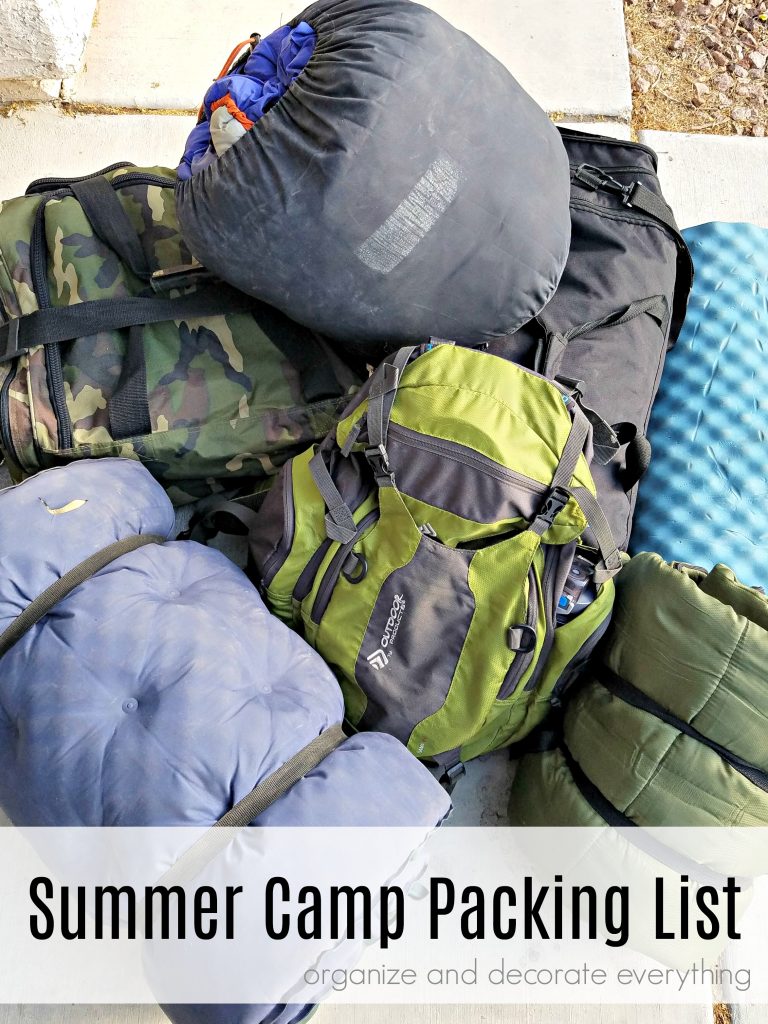 I have been sending kids off to Summer camp for over 25 years and now my grandkids are heading off to camp. There were many times something was forgotten at home or lost at camp but usually we learned from those mistakes. Here are my best ideas for starting the camping trip out right:
Go over the list a week or two in advance so you have plenty of time to gather all the supplies. Contact the camp or leaders for any special item requirements. Make sure you have all paperwork completed and signed. If you can turn it in before the day of camp, do so.
Roll clothing and towels to save on space in the duffel bag. Pack extra socks, underwear and sun screen (they will probably all be used). Use a ziploc bag to hold any personal items that could spill on the clothing. You don't need fancy packing items, kids won't appreciate them anyway and they will probably be ruined.
Send clothing and items that you don't mind getting lost. It will probably happen! In the last couple of years we have lost 2 sleeping bags, 1 sleeping pad, 2 camp chairs, 1 whole backpack full of supplies, a hat, and numerous clothing items. Plus we've had a broken tent. It will happen so don't stress over it.
Leave the electronics and other technology at home. They don't need a phone and probably can't get signal anyway. Plus it's just a distraction from all the fun activities. A camera is a good idea for those who like to take pictures. A lot of camp leaders take pictures for parents so you don't need to worry about it though.
Label everything. Label your kids clothing and other personal items with a sharpie marker or label maker. Things are going to get lost but this might help a few more items to return home.
Make sure to have medications, glasses, retainer, contact lenses in the right containers and kept in a safe, convenient place at camp. Notify the directors of when prescription medication needs to be taken. Sometimes they will keep prescription medications in one area to make sure it is being taken regularly.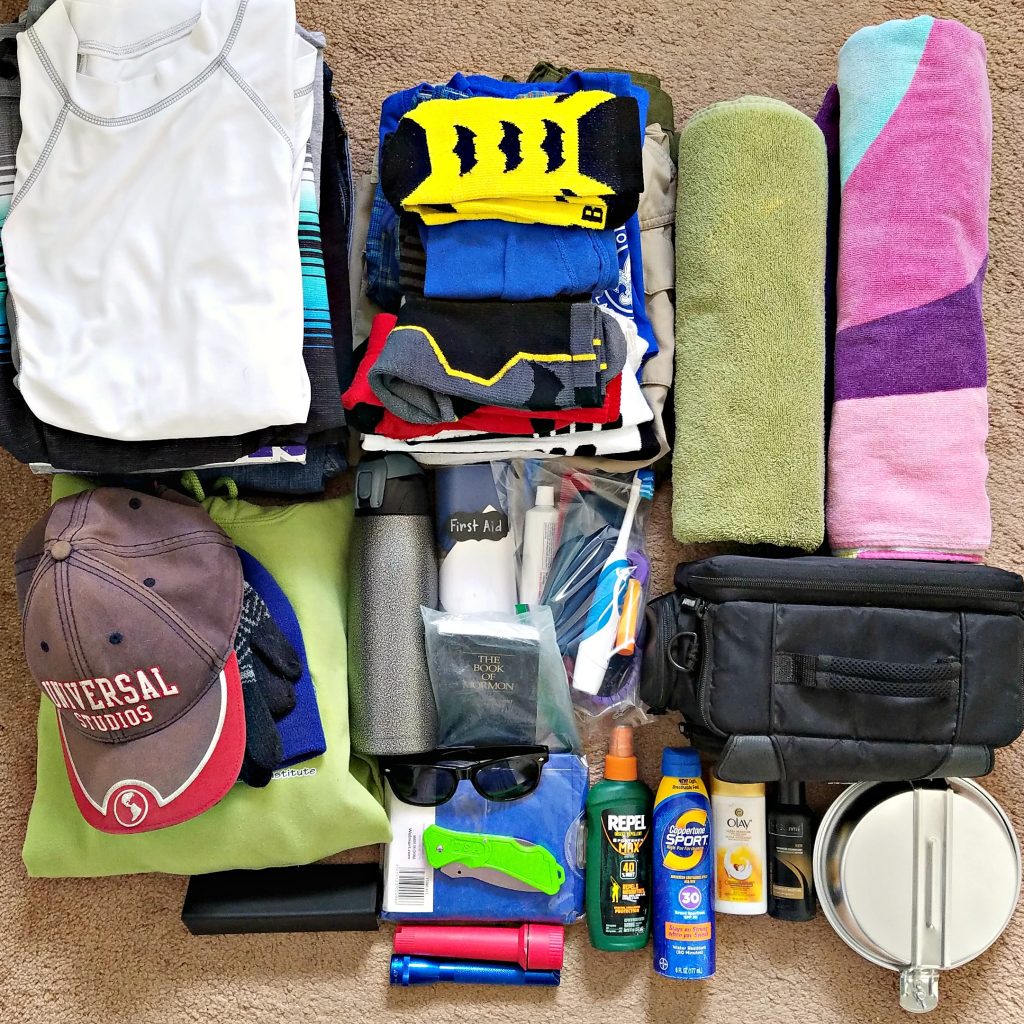 SUMMER CAMP PACKING LIST
Gear
Duffle bag
Backpack/Daypack
Sleeping bag
Sleeping pad
Extra blanket
Pillow/Pillowcase
Camp chair
Tent/Tarp (if needed)
Clothing (amount depends on number of days at camp)
Jacket/Sweatshirt
Camp shirts
T-Shirts
Thin long sleeve shirt
Shorts
Pants
Swimsuits/Rash guard
Underwear
Socks
Sleeping clothes
Shoes
Water shoes
Cap
Bandana/Scarf
Poncho/Rain gear
Towel
Personal Items
Notebook/Pen
Water bottle/Canteen
Flashlight/Batteries
Pocket knife
Compass
Toiletries (soap, shampoo, deodorant, toothbrush, toothpaste, comb)
Suncreen (over 15 spf)
Lip balm
Insect repellent
Personal first aid kit
Personal medication
Tissues/Wipes
Sunglasses/Eyeglass case
Contact lenses/Cleaning solution
Watch
Camera
Ponytail holders
Feminine products (female)
Ziploc bags
Book/Magazines
Money for commissary
By preparing ahead of time you and your child will have a relaxed and enjoyable time preparing and leaving for camp.
I miss my kids going to Summer Camp. It is such a great place to try new experiences and create lasting friendships. I hope your kids enjoy and cherish their time away at camp.
Pin for later: Summer Camp Packing List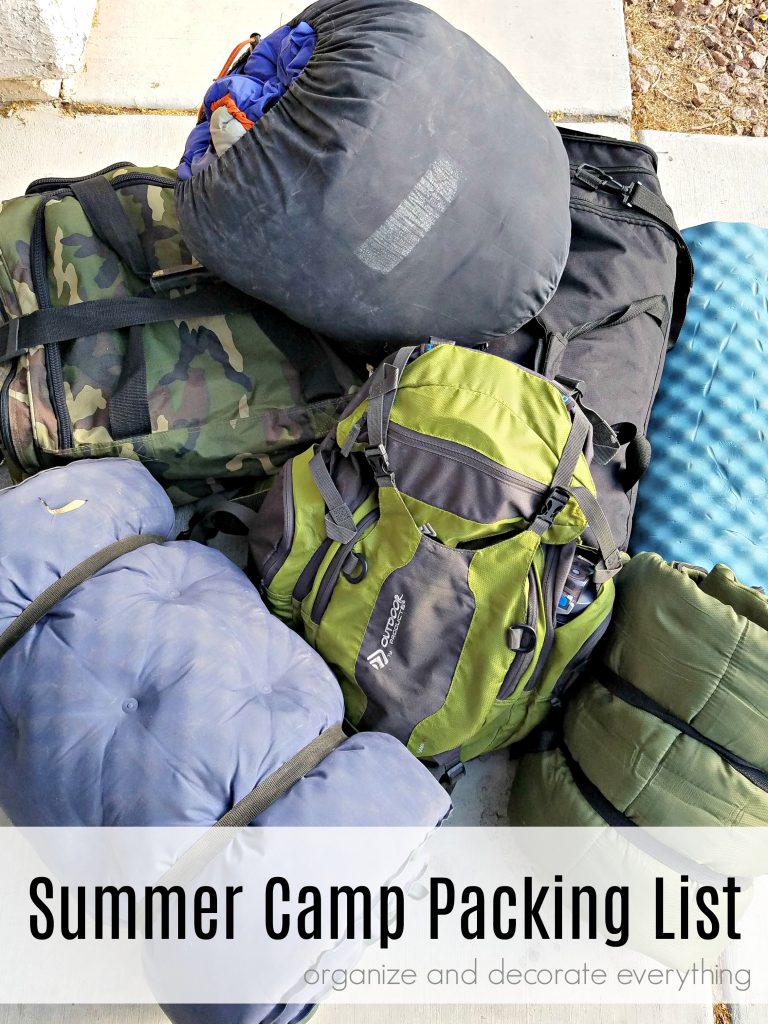 You might also like these posts: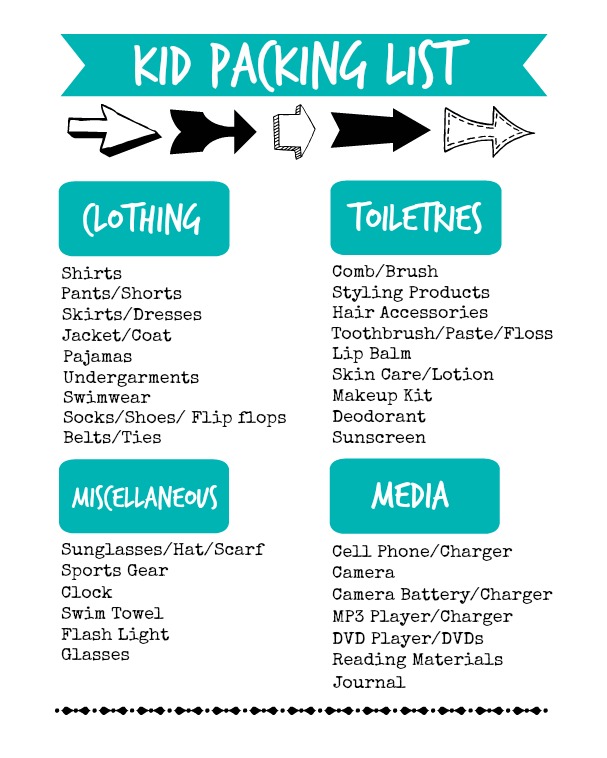 Camping Bucket List and Scavenger Hunt