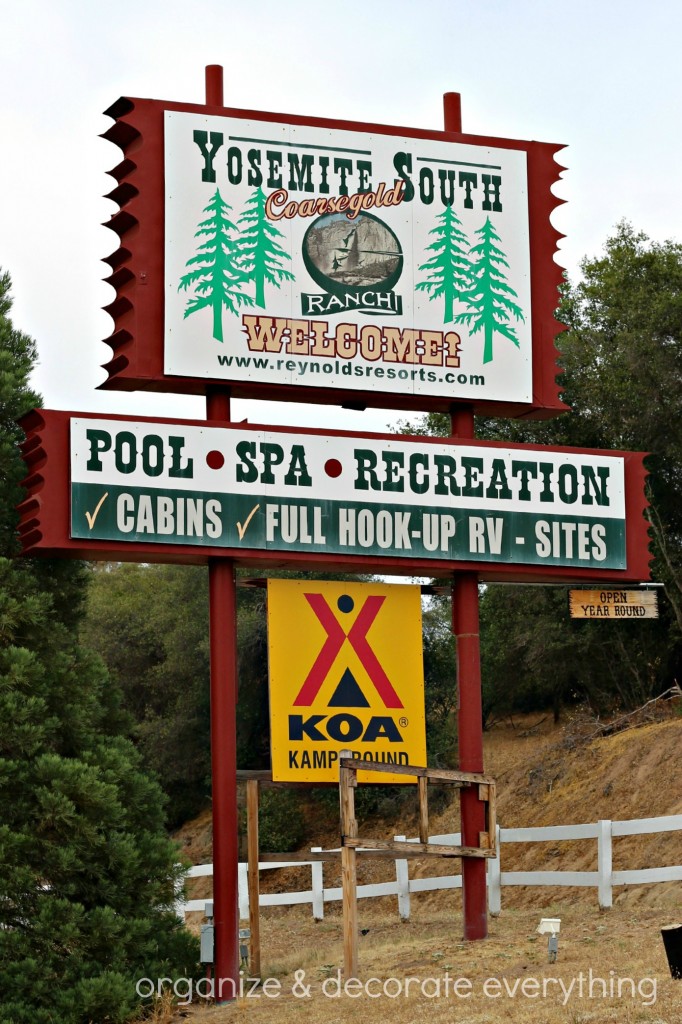 We love taking little adventures as a family. Some of our favorite things to do is going camping and visiting national parks. I had the opportunity to take my family to any KOA for a few days, so since we've been wanting to visit Yosemite we chose to stay at Yosemite South KOA in Coarsegold, Ca. Have you ever wanted to know What's Behind The Yellow Sign? Let me take you on a little tour of our experience.
We left after work and it's about a 7 hour drive so we got there very late after the office had closed. They had a map of the campground with directions to our cabin waiting for us. They had turned the porch light on, turned on the air conditioner, and had the linens laid out for the beds. It was so nice to bring our things in and be able to crash for the night. I don't mind tent camping but if I have the option of a cabin I'm going to take it.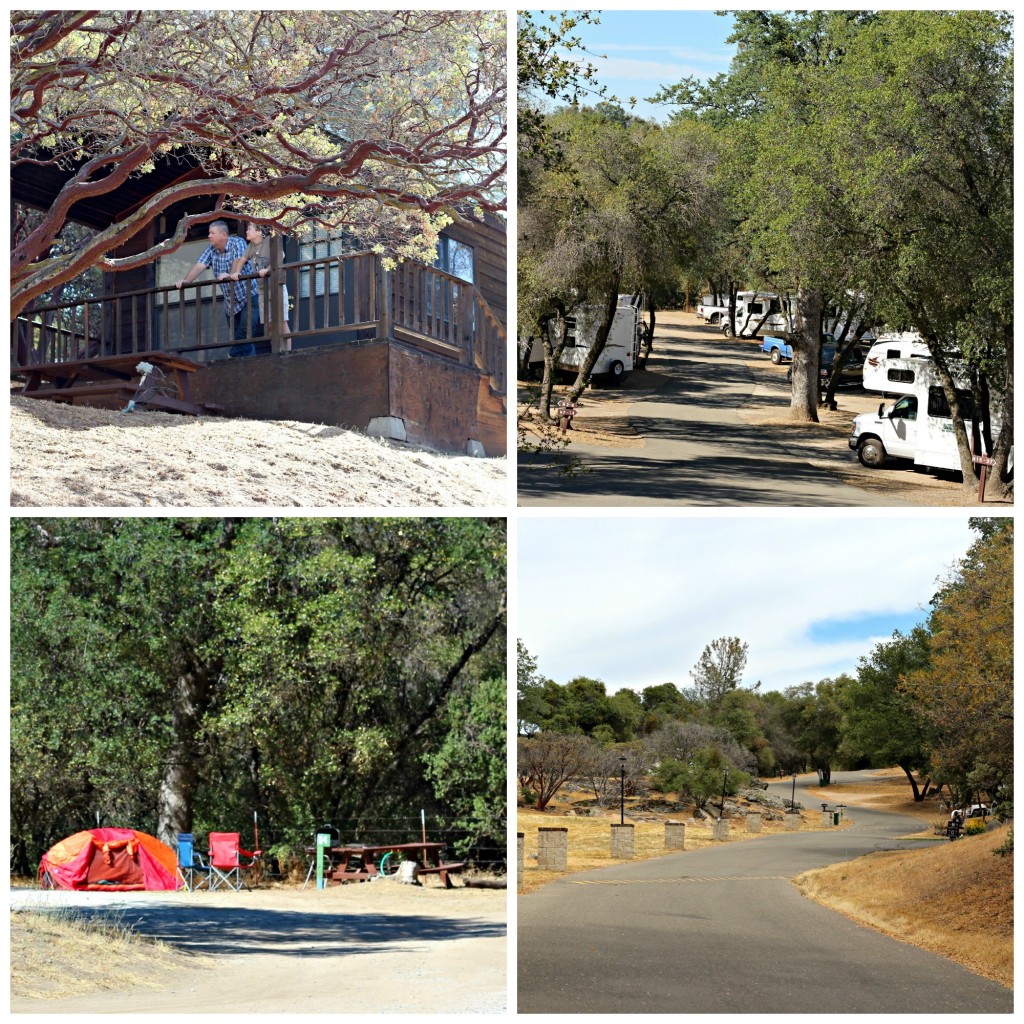 I like the options available in camping experiences. Our cabin was fully equipped: bathroom, small kitchen with everything included, bedroom, and futon in the living area for another bed. It even has a covered porch where we were able to sit and watch the kids play. The trailer sites are all tree lined giving plenty of shaded spots. I hope we will be able to use those spaces soon, once our RV is finished being renovated, but that's another story. And then there's tent camping. I actually don't mind tent camping as long as I have access to showers and a restroom (I also need to have a big blow up mattress, I'm getting old). Well, you're in luck if you're a tent camper, all of those things are close by and even a laundromat is available. All campsites have picnic tables, small firepits, and some have barbecue grills.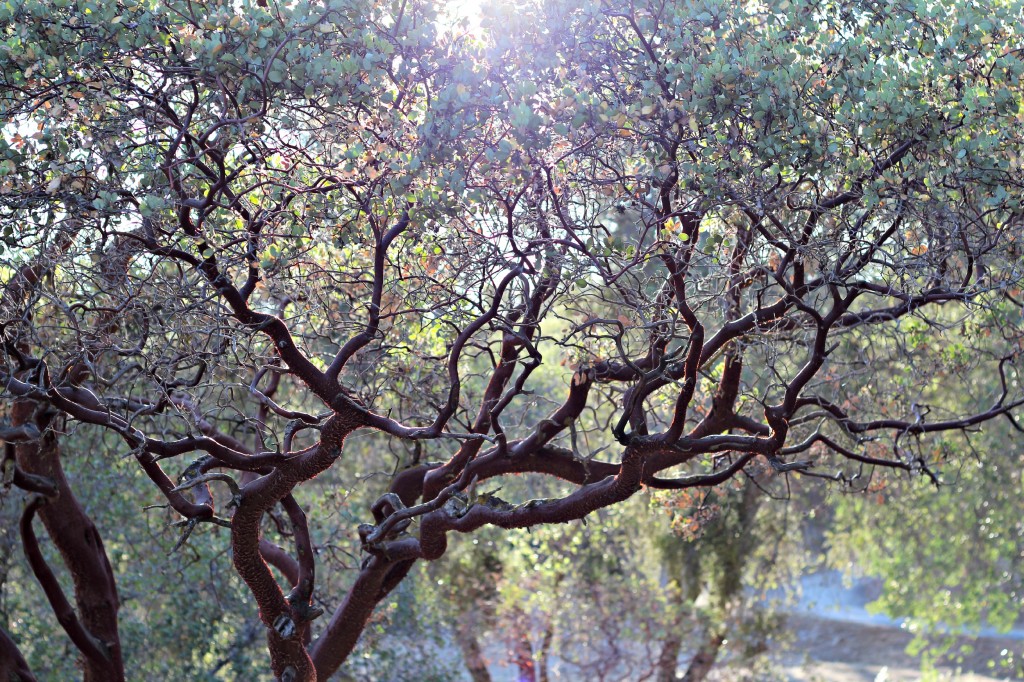 There's just something wonderful that happens when you're in nature. I feel I can breathe easier, take life slower, and enjoy my surroundings. Enjoying Yosemite together was a wonderful experience and then being able to come back to the cabin and continue to enjoy nature was exactly what my heart and mind needed. I don't know if I've ever seen a real Manzanita tree. This beautiful tree was right outside our cabin.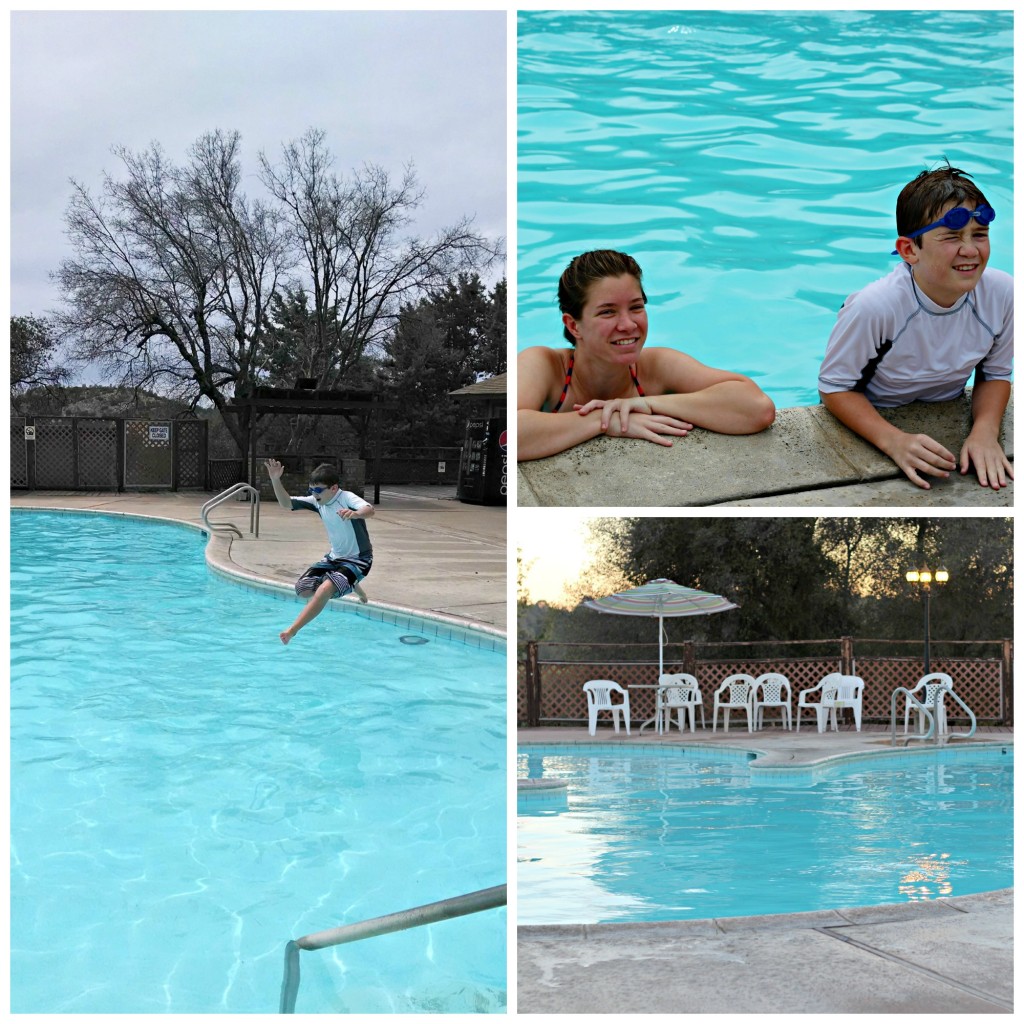 After a long day of hiking and driving through Yosemite a relaxing swim was in order. We came back to the KOA early one day to be able to enjoy the campground facilities. We went for a swim at about 3pm and had the pool almost to ourselves. Ammon was so hot and ready for a swim that he jumped right in.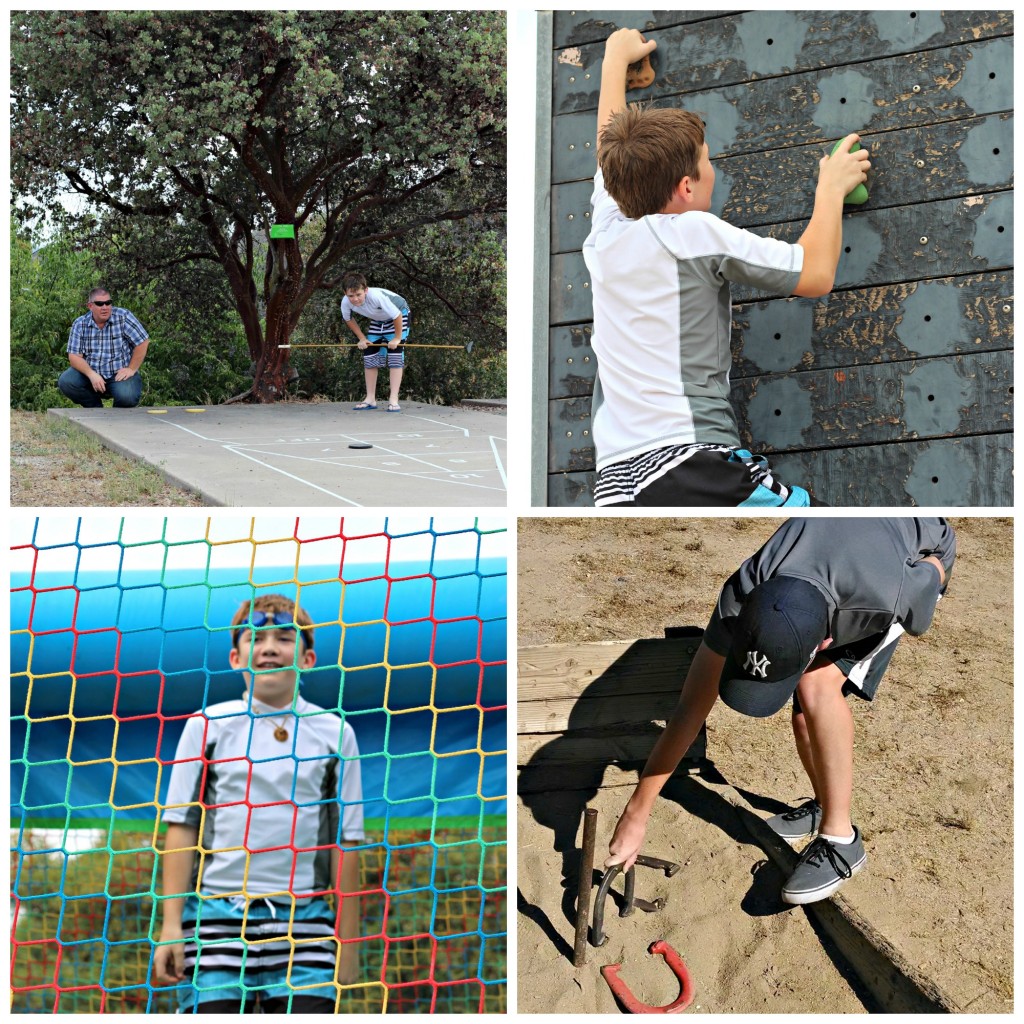 After the swim, the kids were rejuvenated and ready for more fun. Luckily there were more activities available. We played shuffleboard, which I have never played before. It was really fun! I love the top picture where hubby and Ammon are surveying the game. The boys climbed on the tread wall, then Ammon jumped in the jump house for a bit. The boys played horseshoes a few times while we were there, the pit was close to our cabin so they would sneak off and play a game or two in the morning and afternoon. There was also basketball available but we didn't get around to playing.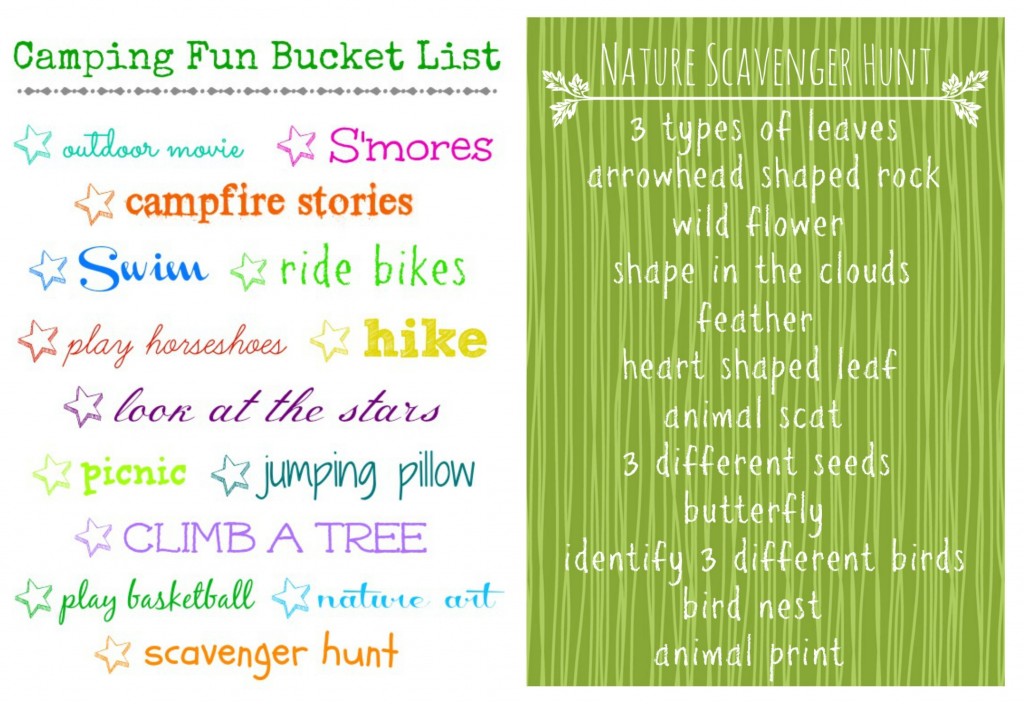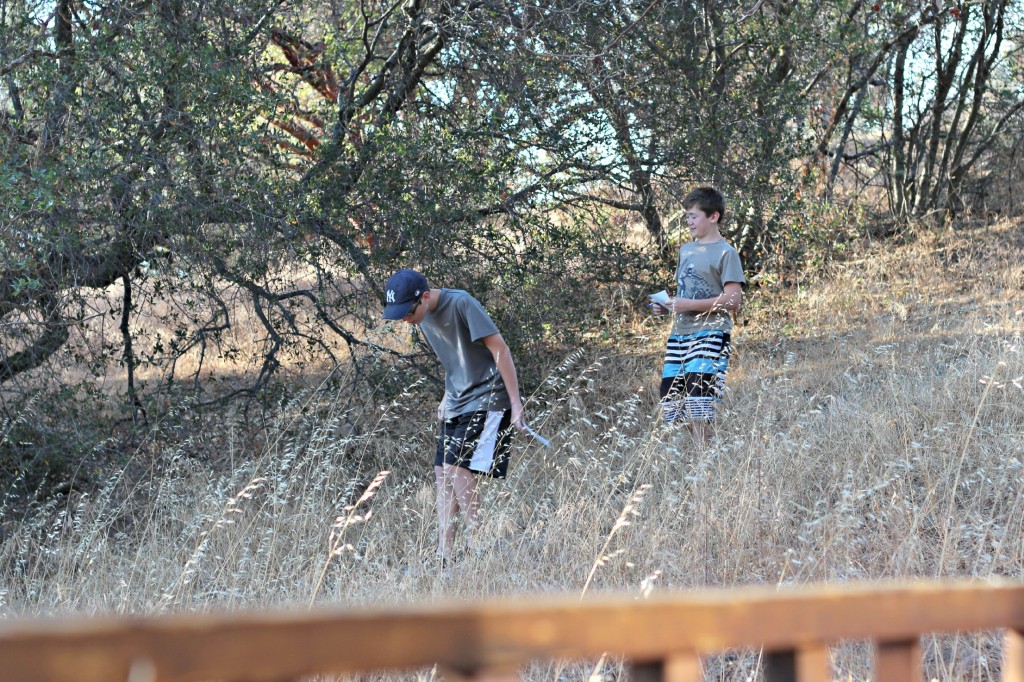 I made a Nature Scavenger Hunt and Camping Fun List before we went camping. The kids spent at least an hour exploring the area and checking things off the list. It was the perfect time for me and hubby to sit on the porch and just relax. Any weekend where the kids enjoy themselves fully and I get to relax a bit is a win in my book.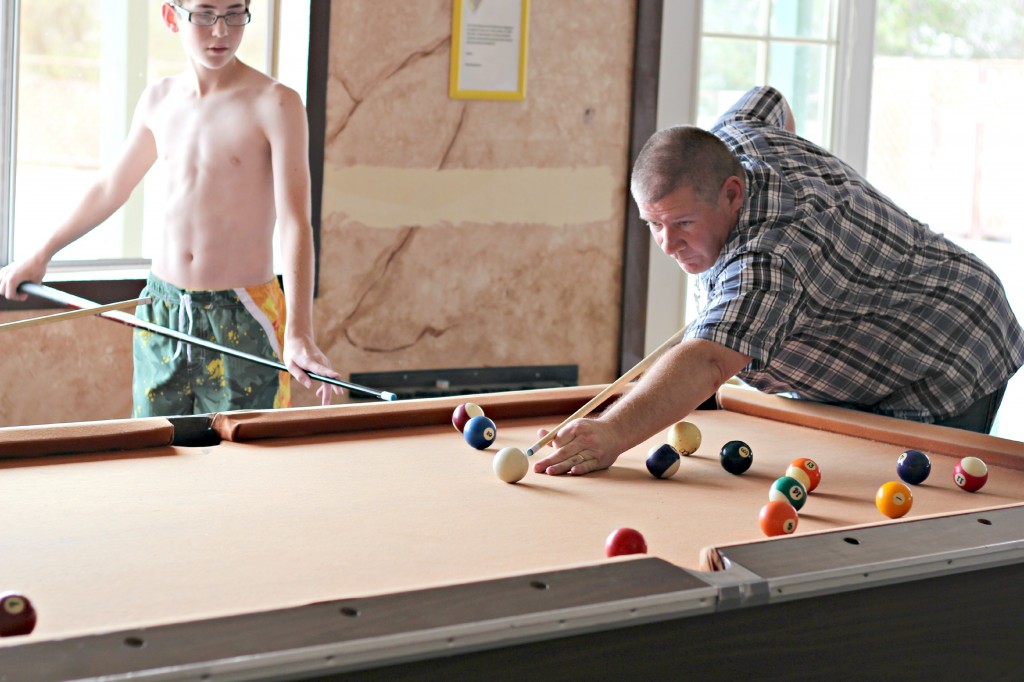 Up by the pool is the clubhouse. Hubby taught the kids how to play pool. Um, it was pretty hilarious watching them the first few times. Emilee plays very dainty. The clubhouse also had boardgames, crafts for kids, and 2 large TV's in a lounge area. On Friday and Saturday nights they serve dessert in the clubhouse. We had rootbeer floats Friday night and sundaes Saturday night, for a small fee.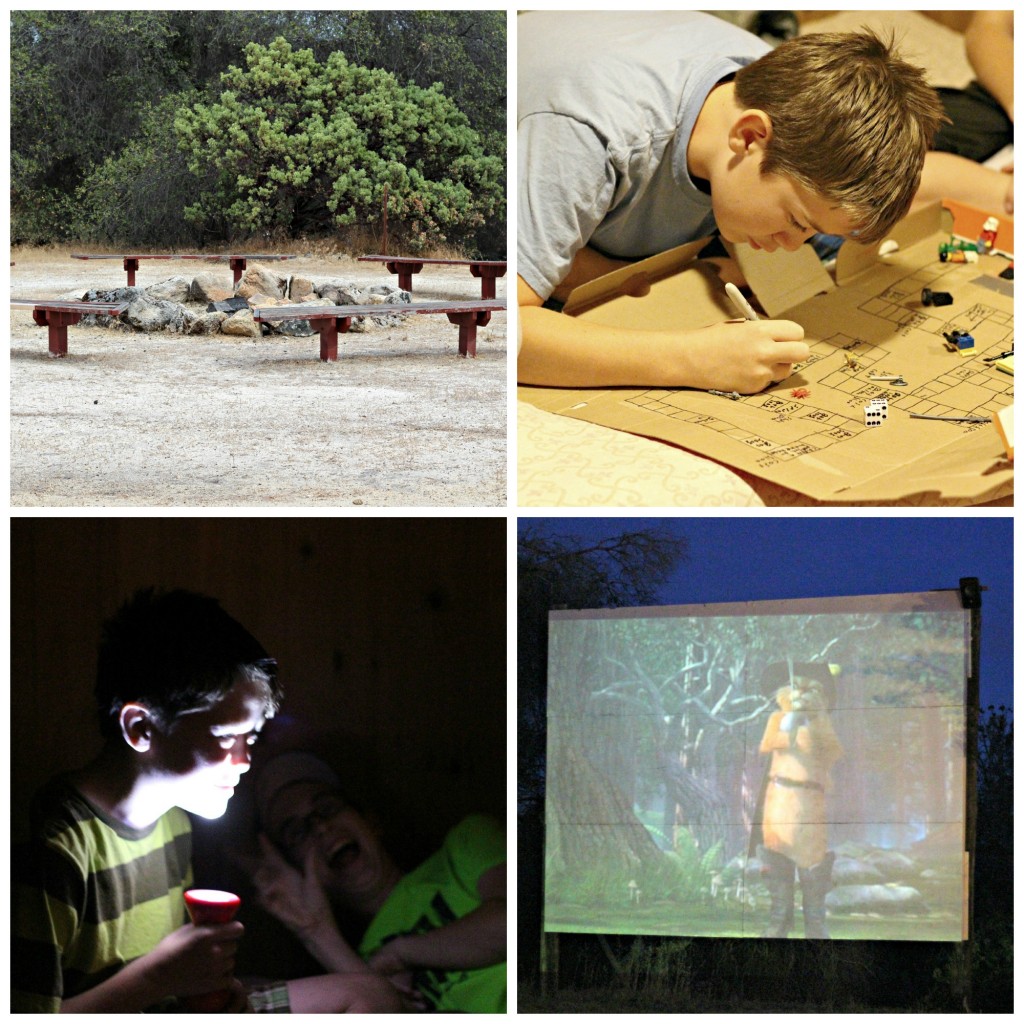 Once it got dark there was still plenty to do. There is a firepit for s'mores and it's big enough for a large group. There's something so fun about watching a movie outdoors. I love that they have an outdoor theater where they show movies Friday and Saturday night. We always seem to stay up late when we're camping so we went back to the cabin and had some more fun. Ammon had made a game earlier in the week and brought it on our trip. Oh the games that come out of a 10 year old mind! Think Legos, mindcraft, and marvel heros all in one. It was quite interesting. Of course we couldn't go to bed without telling ghost stories. It was more funny that scary. Apparently none of us are good at telling ghost stories.