Our RV actually started out as 2. The front of one had been wrecked and the back of the other had been in a fire. So, as you can imagine we got them both for a really good price. Who would ever try to take 2 RVs and turn them into 1? My husband, obviously. This is a long story, so I will do my best to keep it short. But the transformation it's undergoing is pretty incredible. In fact, you might want to grab your husband for this first part.
One of the first things he did was take the engine, generator and other mechanical things out of one RV and put it in the other. Yeah, all by himself. He rigged some kind of pulley system and placed it in the other RV. I would check on him every few minutes to make sure he wasn't crushed under a 3000 pound engine. Yeah, you read that right, he moved a 3000 pound engine by himself. That was a feat in itself but getting it to run was going to be even more challenging. That is a major mess of wires, tubes and pipes but within a few months he was not only able to start it but also take it on a road trip to Las Vegas.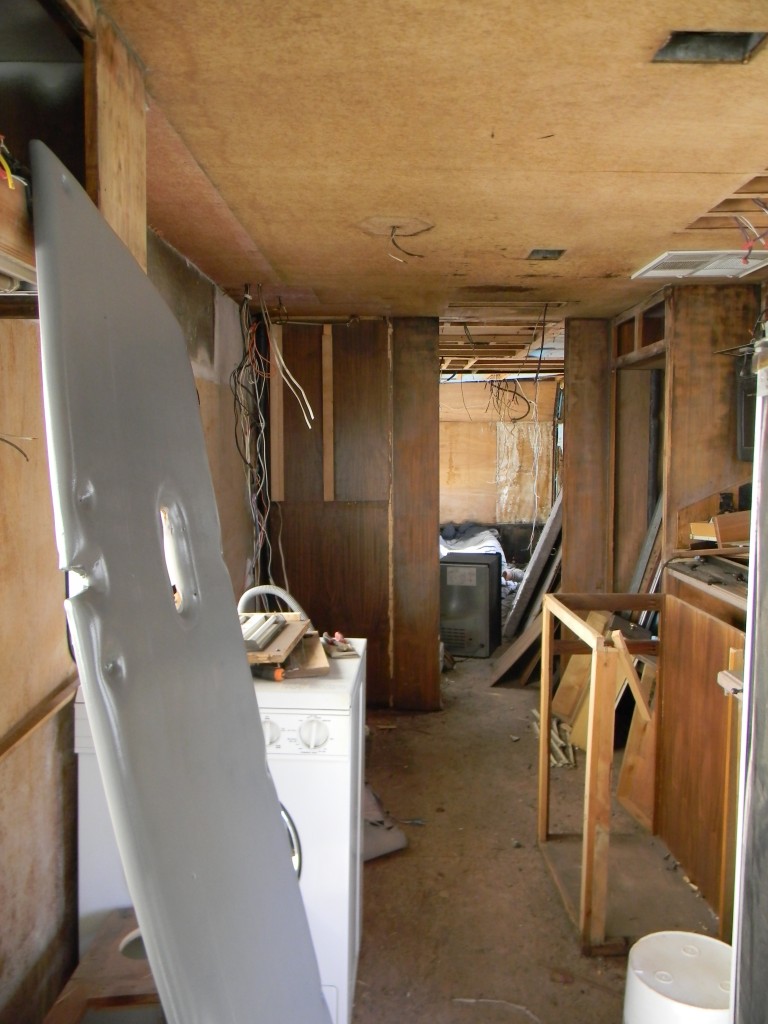 This is what it looked like after it had been gutted and cleaned up a bit (scary, I know). So, are you thinking we're crazy yet? I was thinking my husband was and to tell you the truth I didn't think it would ever actually get to the point of looking decent (it's not there yet, but it's on it's way). We had to take things out of one and put it into the other. Between the 2 we were able to keep enough cabinets and appliances to complete the inside. We weren't able to keep the couches or beds so those are going to have to be made or purchased. Why yes, that is a washer/dryer and it still works. Oh and see clear back there? We had to put the whole back of the RV on. Hubby cut it off the other RV and bolted it to this one. It was pretty crazy with 4 of us holding the whole backside on while he was on the roof bolting it in place. I'm pretty sure neighbors have pictures of us (their crazy neighbors).

Now just so you know, the RV is only about 25% finished but I just have to show you the progress. Let's start in the front, shall we? As you can see this is in the front as you come up the stairs. Since we can do whatever we want we're not going with a traditional RV look and we're doing it as inexpensively as possible. We're pretty sure the flooring is going to be wood. The left is before and the right after in all the pictures.

This is the driving area. I'm sure you figured that out. Hubby had to rewire everything in this area (and yes, it works). The vinyl was a taupe color before (not very manly or pretty) now it's a nice gray. So how did he do it? Spray paint! I guess I'm not the only spray paint lover in the family. It's holding up very nicely too. See those fans in the picture on the left? I stole them from hubby and use them in decorating now. You might have seen one of them on my mantel.

This is above the driving area. We decided to go with white for all the cabinetry. I find that RVs seem so dark so I wanted to get away from that, plus they just aren't my style. You can see the big opening in the picture on the right. That's for a TV. Neither of the TVs survived so we will have to purchase a TV for that area.

We have a working microwave, washer/dryer, fridge, sink, shower, stove, toilet, air conditioner and furnace. The generator still needs some work. Most of them had smoke damage though so they had to be scrubbed and sanded clean. It hardly looks like the same area. Hubby has been working so hard.

Here is another before of the kitchen area. Oh my, what was he thinking? He's doing such a beautiful job on the cabinets. A good primer and spray paint will give you a nice finish every time. Since we gutted the inside we are moving a few walls around and building bunks for the kids. The bathroom is going to be a little different too. That will come later though, you don't want to see it now.

Here's a view of the lower cabinets. The counter tops are a mauve color. Definitely not my favorite but they don't look as pink now that the cabinets are painted white. We still haven't decided what to do with them yet. They're in perfect shape, so that's good.

The most recent thing he's been working on is the ceiling. This is my favorite part so far. It's actually wallpaper and since that's what they basically use everywhere in RVs, it fits perfectly. He's working from the front to the back so there's still tons of work to do but I think he's doing an amazing job. We haven't spent much money at this point either. We were able to sell some of the duplicate appliances and the other engine then we sold the other RV for scrap metal. It definitely hasn't been a fast process but at least it's moving along.
So what do you think? Yeah, pretty crazy but it's hubby's dream and he's making it happen. I'll have updates here and there on how things are coming along. I know you're going to be impressed.