I've been needing extra table space in my living and dining area. We have our married kids over a lot and need extra eating space, plus I've been wanting a table behind the loveseat. I've had a sofa table in the basement for a while. I don't know why I haven't moved it here before. Allison over at House of Heworths gave me the punch in the arm I needed. I saw her post on her sofa table and it gave me the motivation I needed.
Here's the before from the side.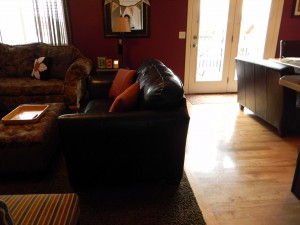 And from the back.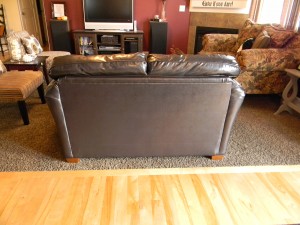 Being the lazy decorator that I am, I used yardsticks and a ruler, instead of tape, to mark out the table area to see if it would fit. I moved the loveseat forward about 8 inches and over about 3 inches and then it fit perfectly.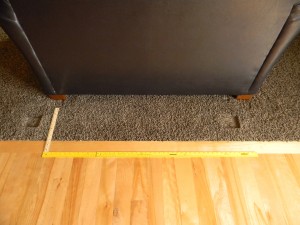 Hubby helped me bring it upstairs and put it into place, after I wiped about 3 inches of dust off of it.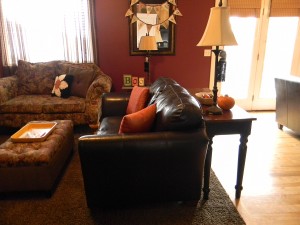 I love it here. Not the color of the table, but that will be painted at some point. Umm, that knob has got to go now though.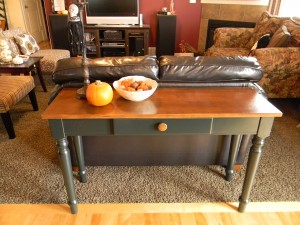 Much better, at least until I can get around to painting it.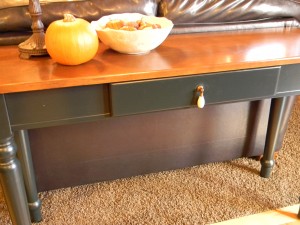 Now, I need something for the top that can be easily removed. I had these pumpkin downstairs, but those leaves have got to go. Luckily they came off easily.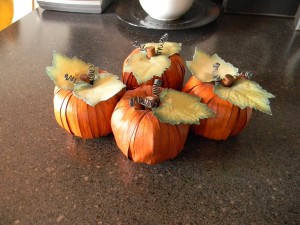 I placed them in a beautiful bowl with some faux nuts. And also added the lamp and a pumpkin to the table.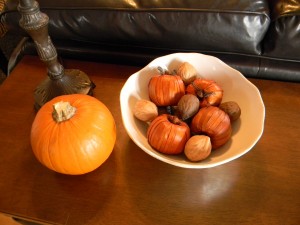 Once I find 2 stools to slide under the table, it will be perfect. I was thinking of using chairs at first, but I like the idea of the stools being able to slide completely out of the way.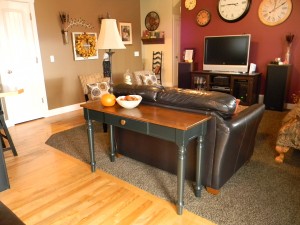 As soon as Zach came home from school he put the table to use, doing his homework. There's not even a stool there yet. Okay, maybe he chose it because it faces the TV (which was turned off as soon as I came into the room). I'm such a party pooper!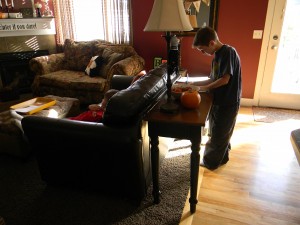 Don't forget We're Organized Wednesday link party is this Wednesday. I can't wait to see what you've all be organizing. Now is a great time to declutter and organize before all the craziness of the holidays begin.
I'm linking to:
Works For Me Wednesday at We Are That Family
Favorite Things Friday at A Few Of My Favorite Things
Remodelaholics Anonymous Meeting at Remodelaholic
Saturday Nite Special at Funky Junk Interiors
Make It 4 Monday at Cottage Instincts