My family loves fudge and they ask me to make it all the time, no matter the time of year. I was only making it around Christmas for some reason, but a few years ago I thought I would change the way it was made so it would fit in well with other holidays. That is how this Patriotic Fudge was born.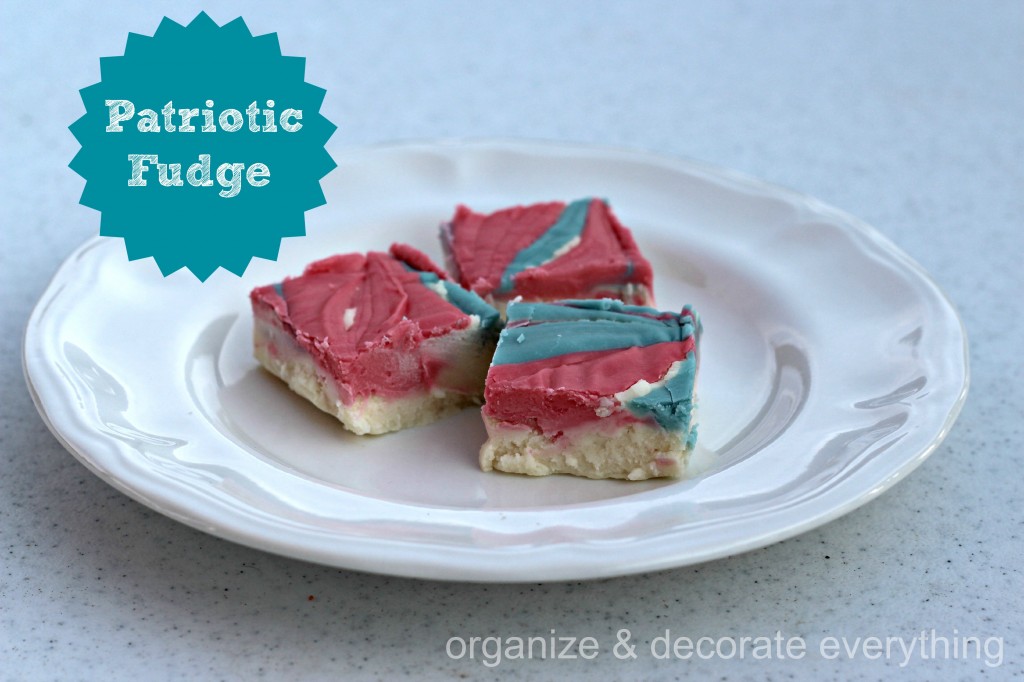 This is a take off a family favorite fudge recipe. I wanted to make it festive for this time of year so I changed a few things and it turned out perfect for a 4th of July celebration. This could easily be served at any party or celebration by simply changing the colors being used. I've used black and orange for Halloween, red and green for Christmas, and pastel colors for Easter. You could also use different colors to fit in with any party theme.
Ingredients:
3 cups sugar
3/4 cup margarine
2/3 cup evaporated milk
12 oz bag white chocolate morsels
1 tsp vanilla
7 oz jar marshmallow cream
food coloring
Combine sugar, margarine and milk in saucepan. Bring to a full rolling boil, stirring constantly. Continue boiling 5 minutes over medium heat. Remove from heat and stir in white chocolate morsels until melted. Add vanilla and marshmallow cream.  Beat until well blended. Pour into greased 13×9 baking pan saving 1 cup and dividing it between 2 small containers. Add food coloring until desired color is reached. Do it quickly so it doesn't set up too much.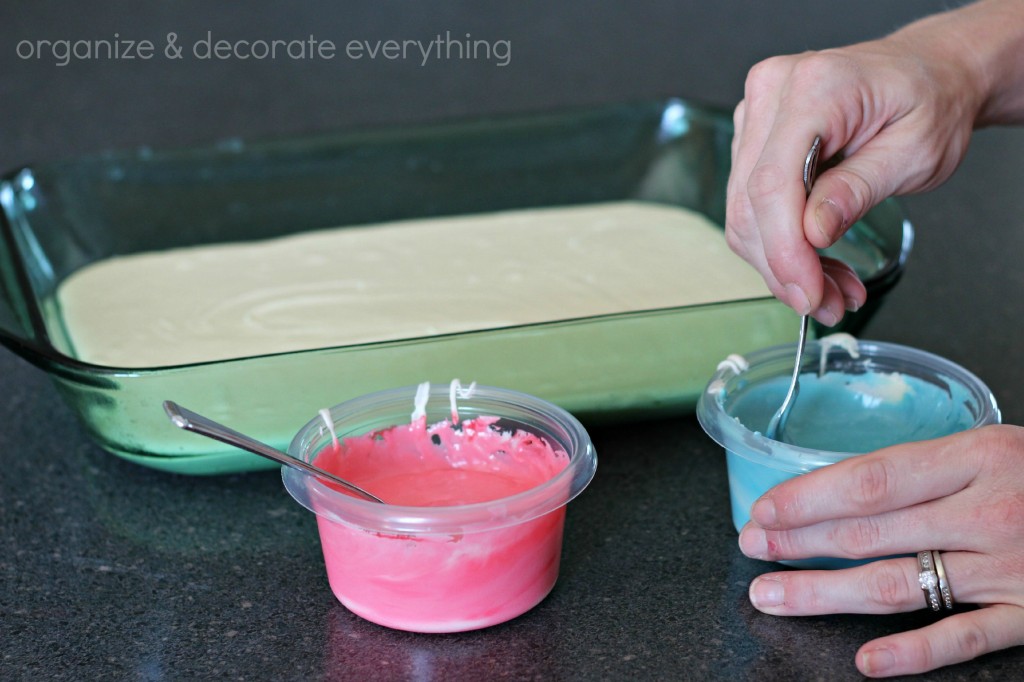 Add random blobs of red and blue fudge to the white fudge. Run a knife through the fudge in one direction then the other until you get the pattern you like.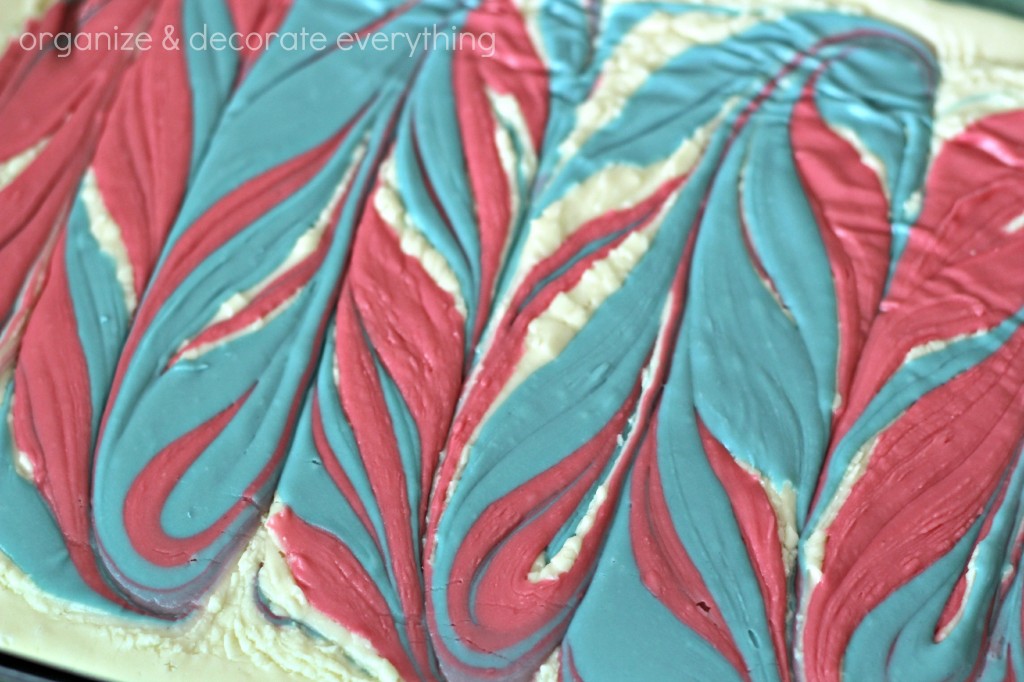 Cool at room temperature then cut into 24 squares.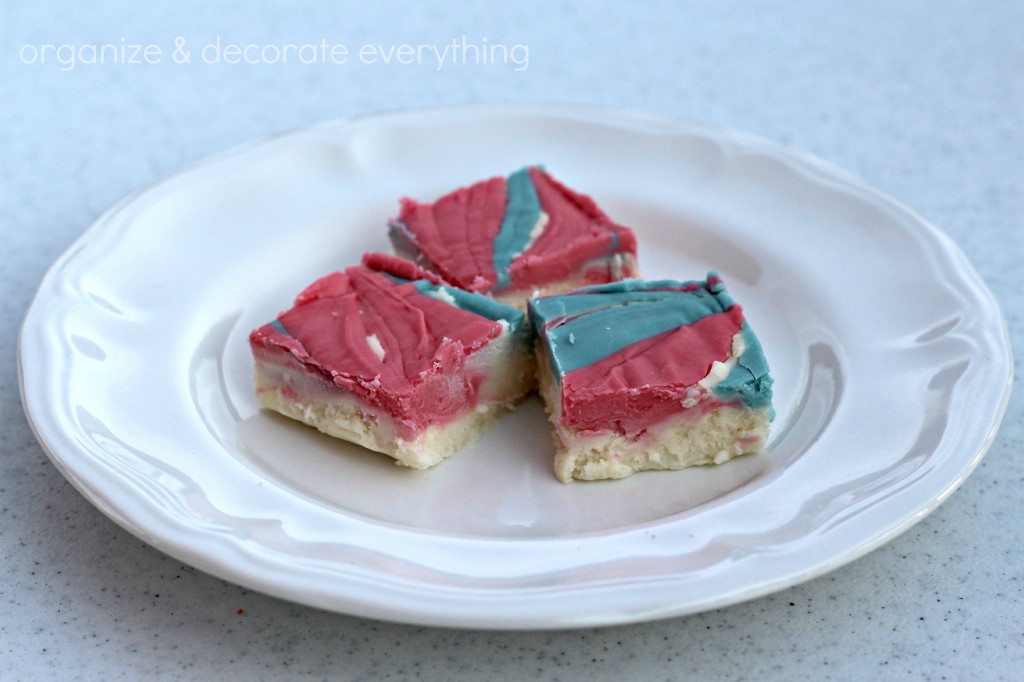 Doesn't that look delicious? My family loves it and it's the perfect sweet treat for the holidays. You only need a small piece. Enjoy!