Easy step by step instructions on How to Paint a Front Door and trim.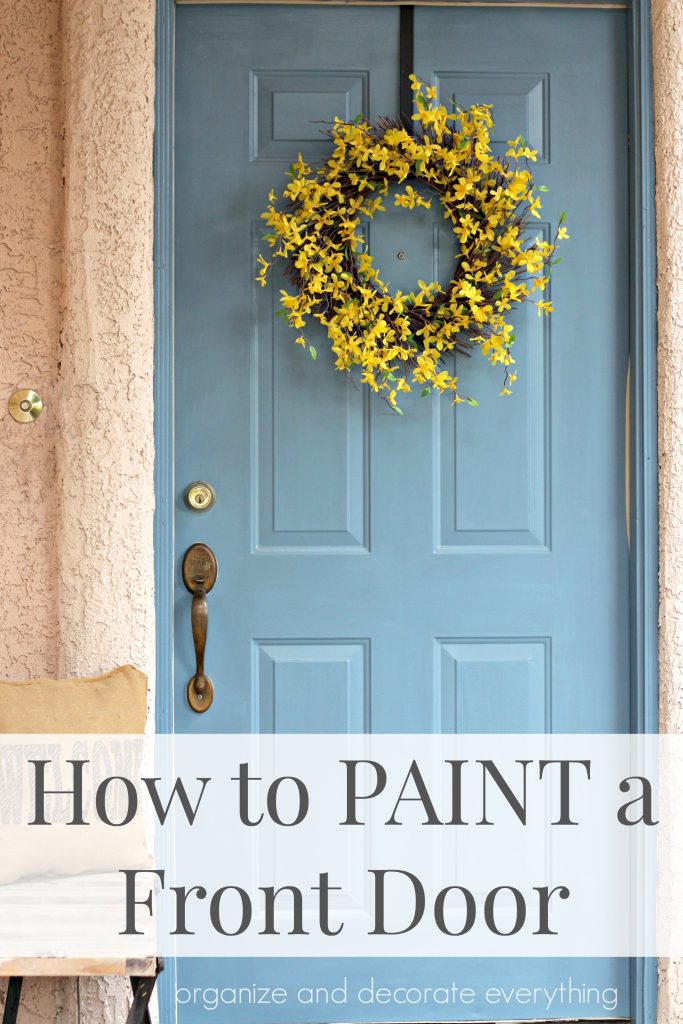 How to Paint a Front Door
When we were renting and our landlord made it nearly impossible for us to change anything. I was so tired of my plain white door that I finally decided it would be easier to paint it back white before we moved than to ask permission before painting. All of the houses in my neighborhood look so much alike that I wanted it to stand out in some way and give it a little personality, plus I love a colored door.
Now that we own a home I'm trying to decide what color I want to paint the front door. The house is a different color and has a different feel to it so I'm still in the decision process. I painted our garage door a few weeks ago so I'll share that in a later post.
Supplies needed to paint door:
DecoArt Americana DECOR Curb Appeal paint (Williamsburg Blue)
painter's tape
2″ paint brush
small paint tray
Of course you don't have to use the exact paint I used but make sure it is suitable for outdoor use. A sample paint can should be enough to cover your front door so it's a very inexpensive project for big impact.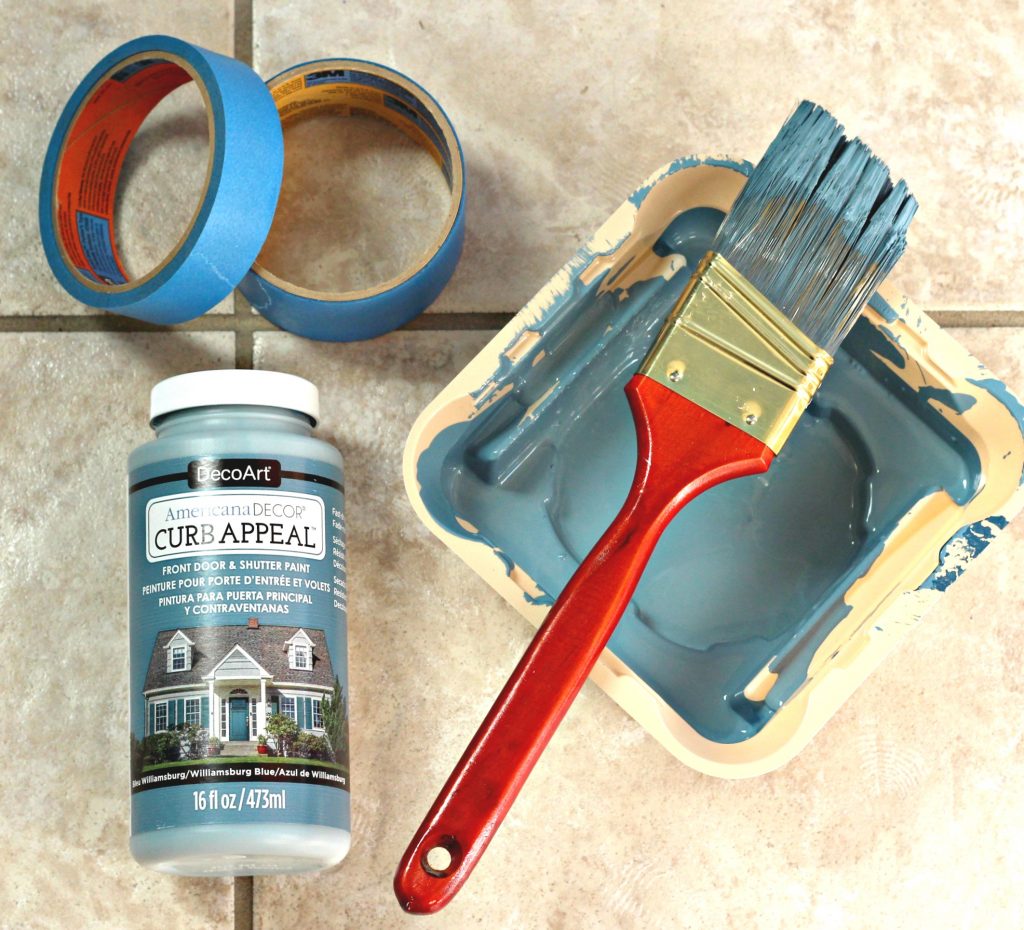 Before I could paint the door and trim I needed to do a little prep work. Wash the door and trim to remove any dirt and debris, I used a large sponge and washed it twice. I also had to remove some broken hooks from the door trim, I believe they were for Christmas lights. They were a little tough to remove and took the most time of the prep work.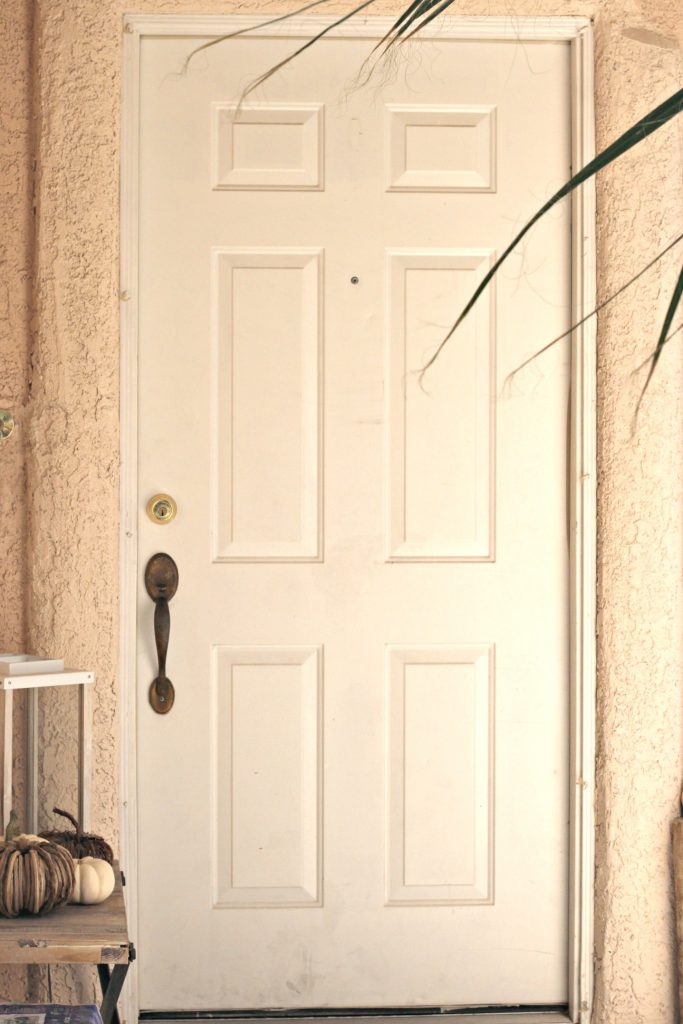 Tape off the door and trim and around the door knobs and peep hole. I had a couple hours I knew I could leave the door open so that's when I decided to paint it instead of taking it off the hinges. Try to paint when the sun is not directly on the door. The direct sun will make it dry too fast and makes it hard to see streaks or drips.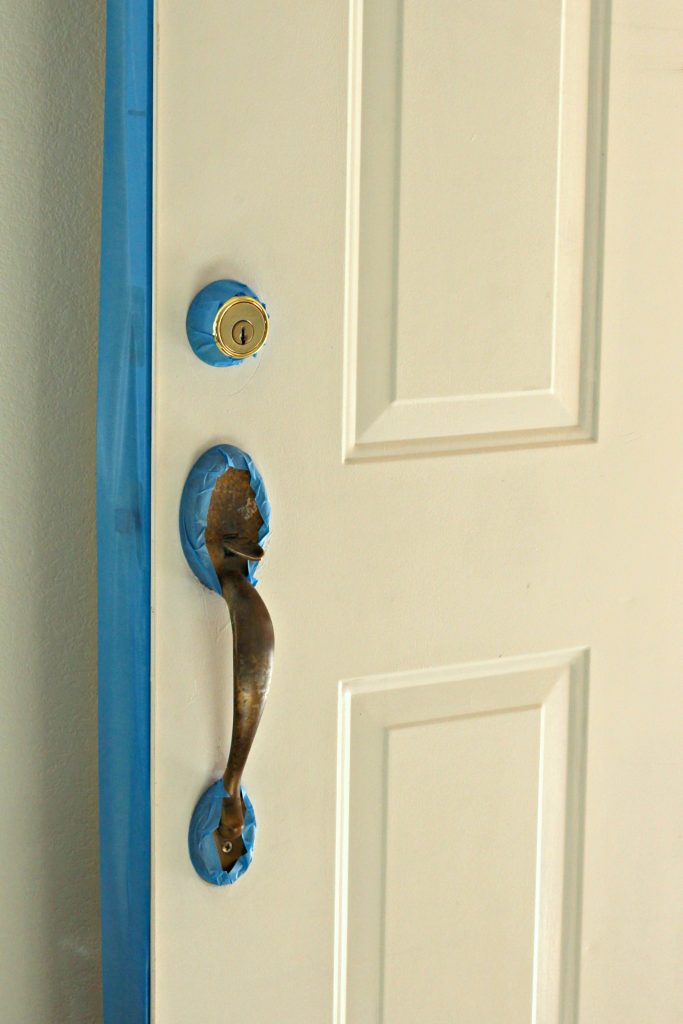 Now it's time to paint. To achieve a smooth and evenly painted door I recommend painting it in this order. Start with painting all the inset areas first.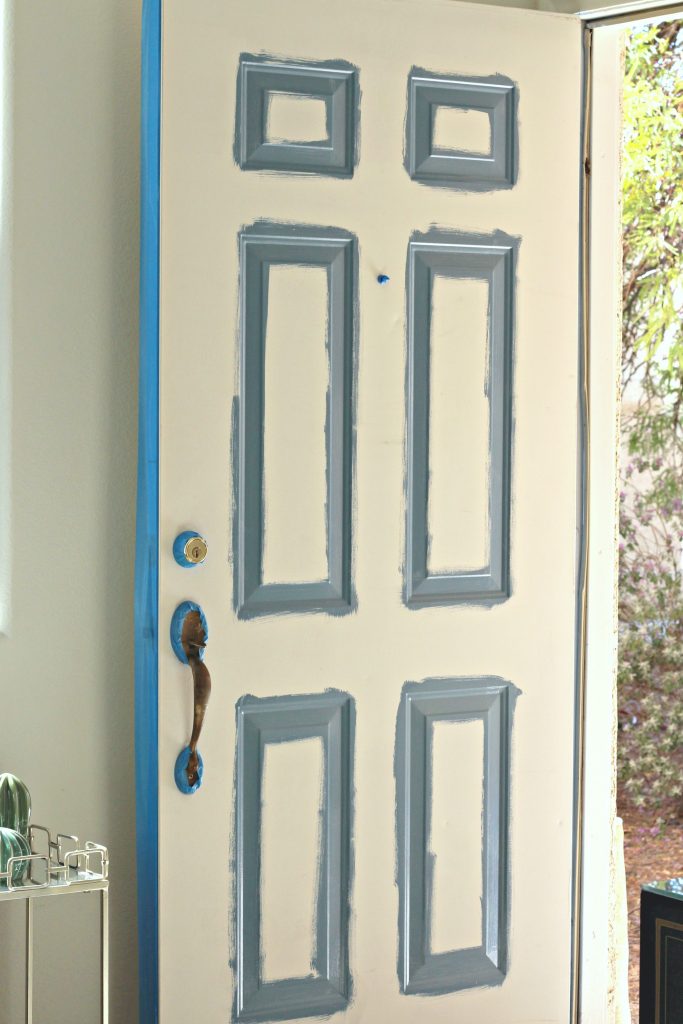 Then paint the raised panels. There's no turning back now, but who would want too. I love this color! Next paint vertically between the panels, just to the top and bottom of the panels.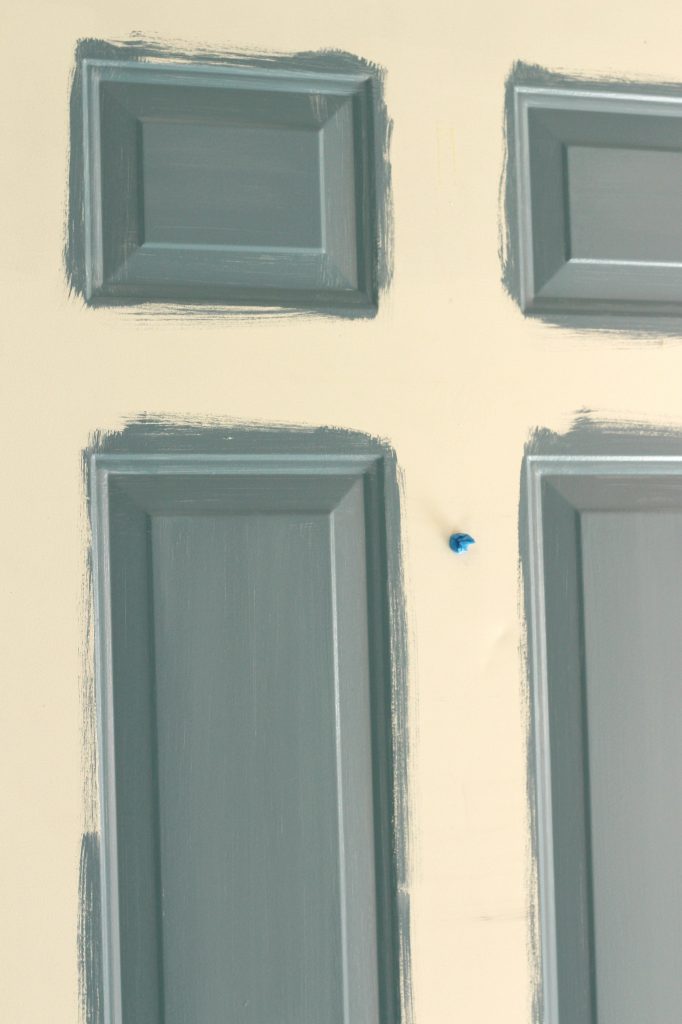 Now paint horizontally above and below all of the panels. And lastly, paint the vertical edges of the door. While the first coat of paint is drying, move on to painting the trim around the door. By the time I had painted the trim the door was dry enough for the second coat of paint.
I gave the door a second coat of paint in the same order as the first. Then I painted the trim with one more coat of paint. The coverage was so good that I only needed 2 coats of paint. It was a really quick process and it turned out so good. Remove the tape before the door is completely dry. You will need to leave the door open for about an hour so it doesn't stick to the weather stripping. The weather stripping is old and not in great shape but since it's a rental I'm not going to worry about it.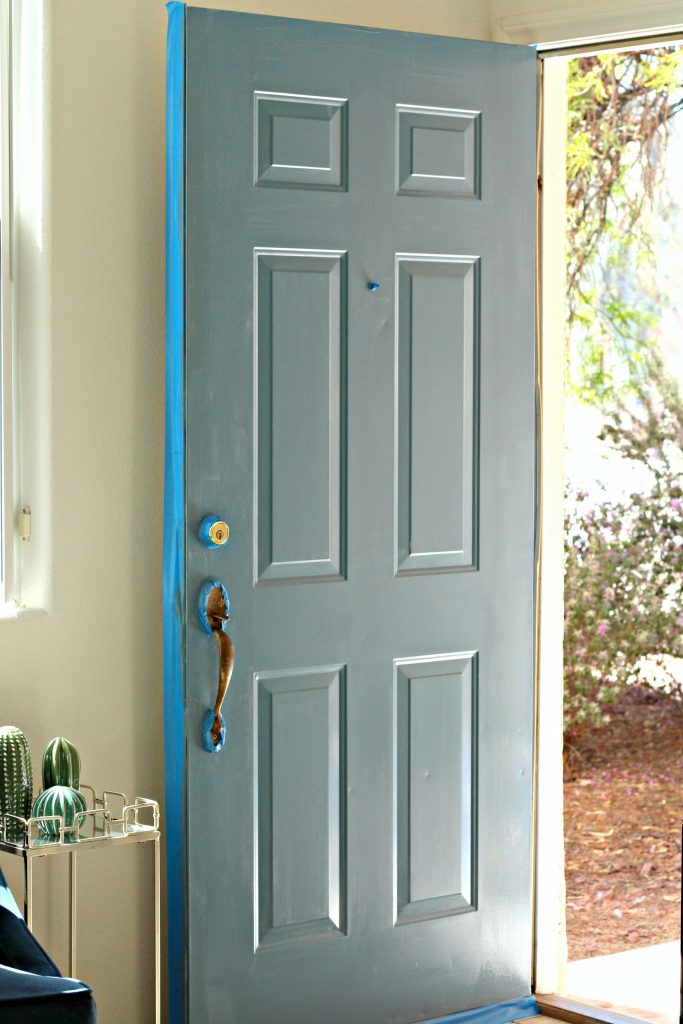 After I painted the door I noticed how bad the door handle looked. It had years of disgusting dirt and debris build up on it so I got a kitchen scrubber and polished it up the best I could. It looks much better and I feel better knowing it's much cleaner now.
Wow! How much better does that look? I don't mind that my house is a pinkish stucco as much anymore. The blue door gives the house and little porch so much personality and curb appeal.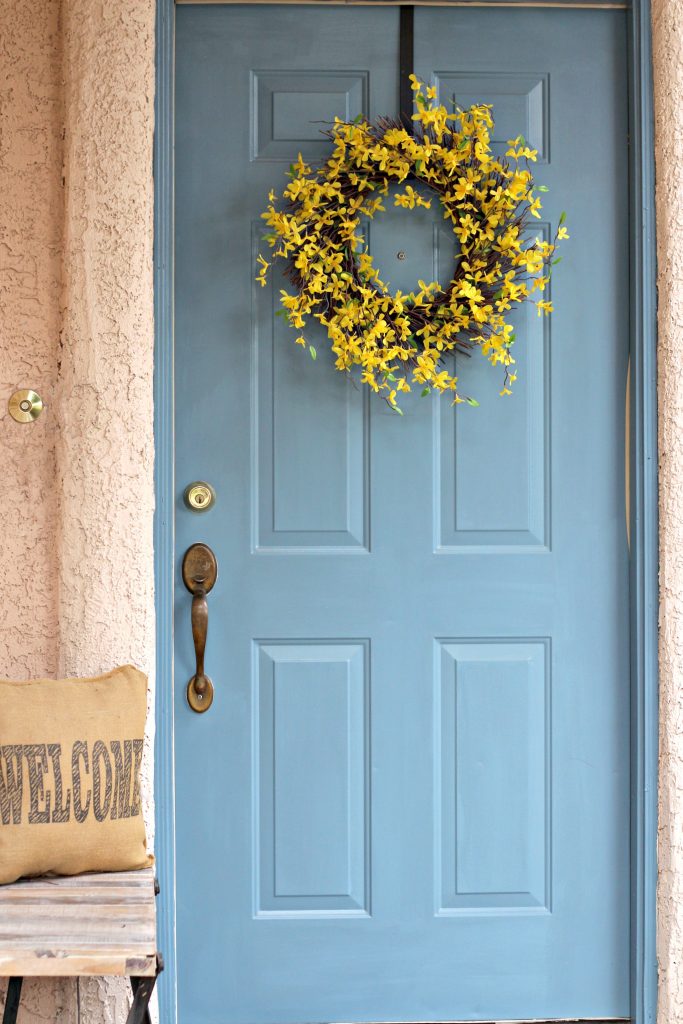 Pin it for later: How to Paint a Front Door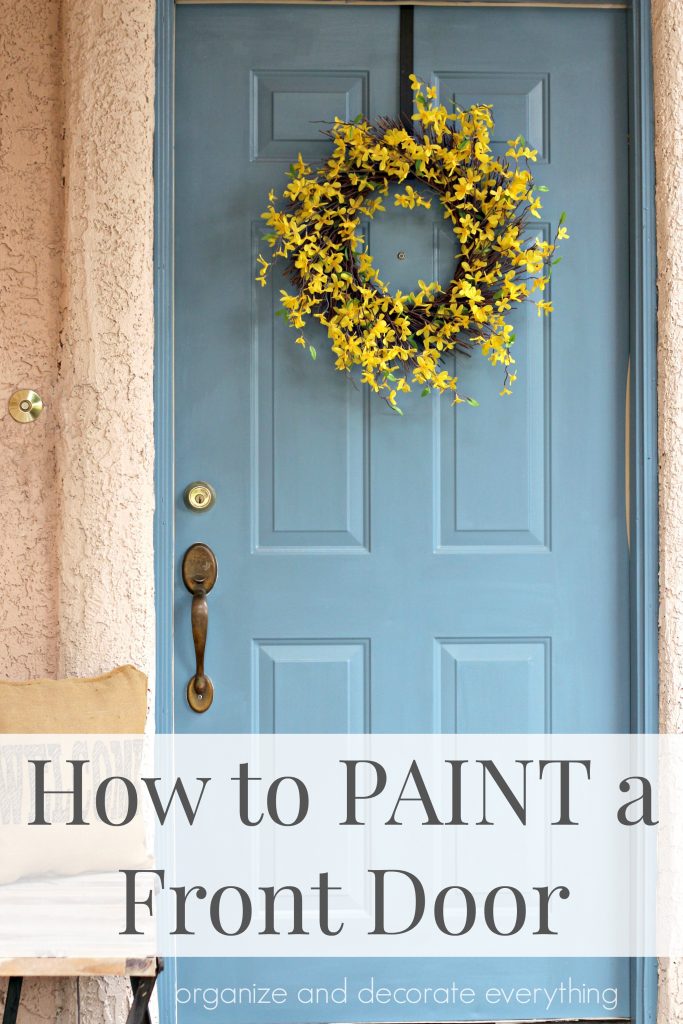 You might also like these posts: