It's Why Not Organize Something Wednesday again. I've gotten a lot of questions about organizing and keeping a laundry room organized, so I'm going to share mine with you. I don't really have a laundry room, I have a laundry closet. And for a family with 4 1/2 kids still at home it can get a little crowded with things. We thought about moving it at one time, but then I realized I just needed to utilize the space I had. The closet is 2′ 9″ deep x 5′ 4″ wide (barely enough room for the washer and dryer). But I do have 9′ ceilings and that's where I had space I could use. I have doors that open all the way out and that helps with light and space also. No matter how small your laundry area is you can still have enough room to store everything you need. Let me show you how.
I put these shelves up right after we moved in but they used to be open, which could look pretty messy. I didn't want see thru containers, because face it, most laundry and cleaning supplies aren't pretty. Fabric bins were a concern, because it could get messy if something spilled. Then I found these bins at Big Lots, they are made of a nylon material and can just be wiped off (and they were on sale for only $3.50 each). I have everything from laundry supplies to extra bedding and rugs in the bins.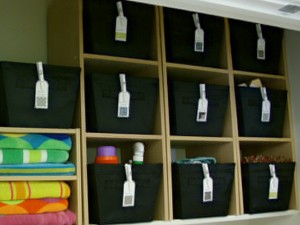 Hubby didn't like them, because he couldn't see what was in them, so I made tags for the front. I painted the clothes pins, put numbers on them (just for fun) and made tags so hubby could find what he needed.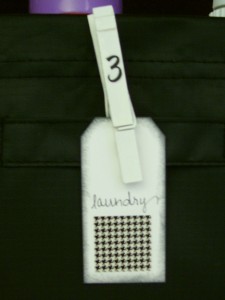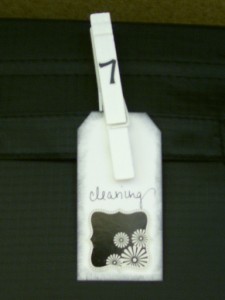 I needed a place for lost socks (don't we all). I had this board just laying around downstairs and had extra clothes pins, so this is what I came up with. I made the vinyl letters on the Cricut. It's easy, because I don't have to look through a basket, they're just right there as I'm folding clothes.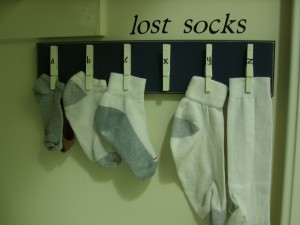 You always need a place to hang up clothes as soon as they come out of the dryer (I don't iron much). I installed a tension rod running from the front to the back of the closet so I can hang the clothes up before they get taken to their rooms. See those laundry bags hanging from the hook? One has delicates in it and one has towels. That's really all I need in there, because all the other laundry is done daily. All the kids have laundry baskets in their bedroom closets. I like the mesh bags because they seem to prevent things from smelling stale before they get washed.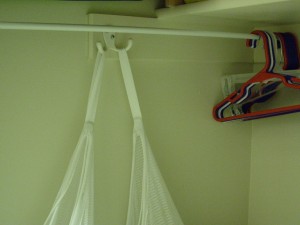 You'll also need a place for garbage and small things that come out of pockets in the wash or hopefully before you wash. I have a small basket, but forgot to take a picture of it. You could also use a small magnetic bin and stick it on the side of the dryer.
I needed my laundry closet to have some sort of appeal to me, since I stand there and fold clothes and don't have a window or anything nice to look at. So I added some decorative touches. These hang over the washer and dryer.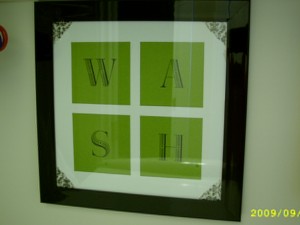 This is how I made them. I made a grid on the back of white cardstock and measured for the openings I wanted. Then I cut out the openings with the paper cutter.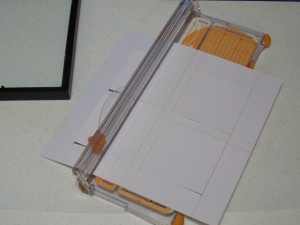 I added rub-ons to the corners of the mat on the dry and stickers on the wash. I just use what I have.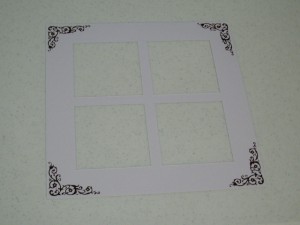 The W-A-S-H and D-R-Y are rub-ons too. I just center them on the color paper I wanted and taped them on the mat with double sided tape. So easy and I had everything on hand, even the frames (that's why they don't match perfectly).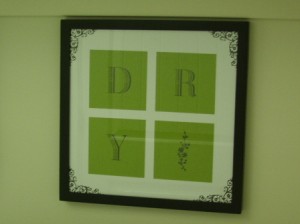 This one is just made from left over stickers and the frame was on clearance at Hobby Lobby for .75c because it was damaged.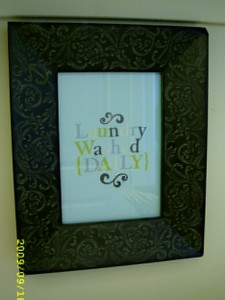 I keep a stool in there also, so I can reach the baskets at the top of the closet.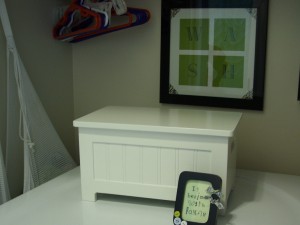 I thought about adding a folding surface above the washer and dryer, but I just fold on the top of them and it works fine. Sometimes a small space is easier to keep organized because you don't have a choice. There will be some changes made in here. I'll have more room when the mudroom is finished because right now the kids' backpacks hang on the back of the laundry room closet doors and the beach towels will be on a shelf in the mudroom. I want to paint the closet too, but that will have to wait till after the holidays. I'm thinking blue or green. What do you think?
Make the best use of the space you have. Whether it be a huge room or a small closet, make it function for you. Hopefully you can use some of these ideas in your own home. And happy organizing!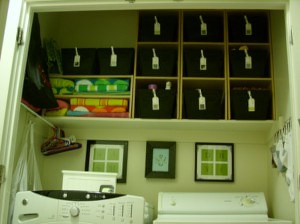 I'm linking to:
Practially Practical at 30 Handmade Days
Keep Calm and Organize On Link Party at A THoughtful Place
Check Out These Related Posts