I took some of the toys from the boys' bedroom up to the playroom in this post. First, we established what they mostly played with in each area. In the playroom are the weapons, spy gear, hat and dress-ups and vehicles. That still left a lot of toys in the bedroom, but also opened up more storage in empty totes and drawers. I like to use storage units, totes, baskets and drawers that can be taken down, when they're no longer needed and moved to other areas. I was able to take these out of the boys closet, which gave them a lot more floor space in there.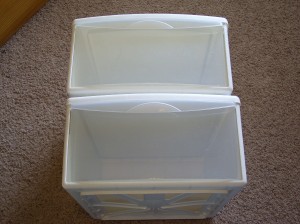 The Power Rangers, Small Rescue Heroes, Mega-Man Action Figures, Bakugans and some of the boys' personal items are stored in the shoe organizer.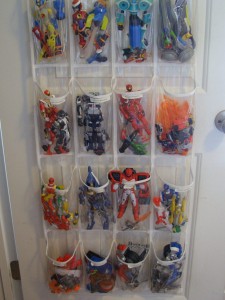 The stacking drawers hold Planet Heroes, Rescue Heroes, Action Figures, Lego's and Transformers. The totes hold other toys in categories like: balls and marbles, animals, electronics, playmobiles. There's also separate totes for Ammon's and Zach's special treasures (these are usually fast food toys that I toss every few months). Toys that come in cases or have smaller pieces, have been put in cases and are just on the shelves. I use stackable shelves too, that can be changed and moved around when needed. They are screwed to the wall at the top so they won't tip over.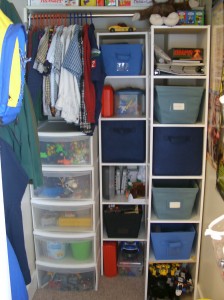 Storing Lego's has always been a problem in our home. Ammon loves Lego's and can build anything. Even when he was 4 he was building sets that said 7-12. I've tried the baggies, but he likes to mix and match the sets and would get frustrated. I tried them all in one big tote but he would just dump the whole thing out and leave them on the floor. So now I'm trying something new. I put them in buckets and placed the buckets in a drawer unit. Next to the buckets are all the instructions for the different sets. He can still mix and match, but they're a little more contained. So far, it's working. Zach also has a smaller tote for some of his specific sets and there's a big tote for the sets they're working on so they don't have to break them apart.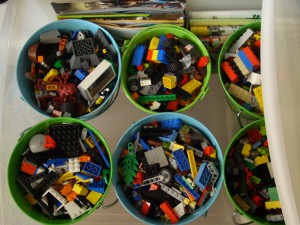 I brought this table in their room so they now have a place to work on puzzles, games and Lego's.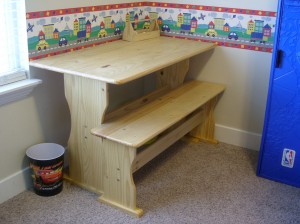 These hooks were from Ikea and under $2. They hold their jackets, sleeping bags, belts and flashlights.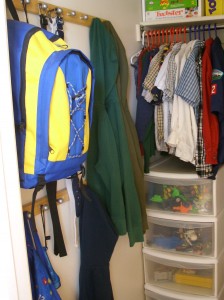 Luckily my boys don't have many clothes that need to be hung up. Ammon's clothes are on red hangers and Zach's are on blue.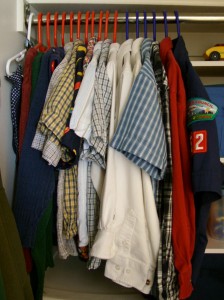 We are still storing the games high in their closet until the basement's finished. Luckily we have 9′ ceilings, plus they can't get to the games unless they ask.
Their books are stored in the locker and they each have their own shelves.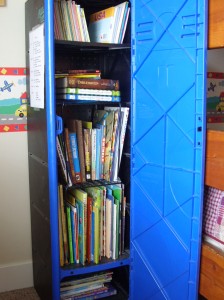 They have hooks for their caps.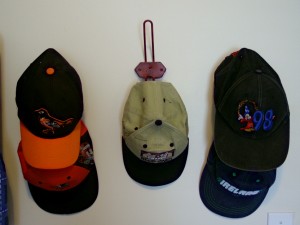 And a bulletin board for whatever they want to put on it. Ammon wanted the calendar because he's in Chinese.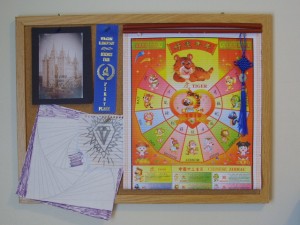 Ammon has a shelf for his pictures and trophy.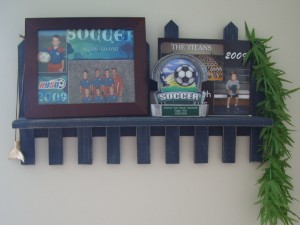 And Zach has one for his.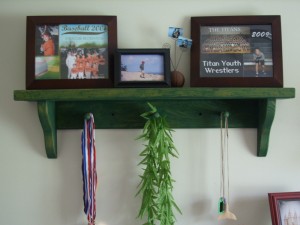 Their room isn't very big and sometimes it's hard for them to share such a small space, but at least we've moved some of the toys to the play room. It gives them more space to play in their room and they also have the toys upstairs to play with there.
Please don't judge me on the decorating, it's been this way since we moved in 6 years ago. They were only 10 months and 4 then. It's definitely on my to-do list.