We had really good intentions of getting Adam's room finished in the basement and then moving Zach up to Adam's old room. That would leave Ammon with a room of his own across the hall from the master bedroom. Everyone in the house would finally have their own room. Did that happen? No! I could make a lot of excuses, but the fact is, it's not done. So we're left with the youngest boys having the most possessions in the house and still sharing a room.
So it's time to weed out the toys again. Didn't I just do this 3 months ago? This time I'm going to be more strict with what I keep and make sure the boys are outside playing during the process. First, I had to decide what they play with and where. All the dress-ups and play hats were definitely going upstairs.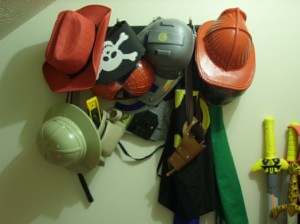 The same for the swords, guns, knifes and so on. They really aren't violent kids, I promise. These toys are almost always played with upstairs where they can run around and I don't care if they get a little rowdy. In the tote are more guns, ammo and targets.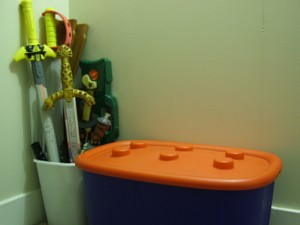 Ammon still likes to play cars on this rug sometimes, so it's staying. In the far tote are all the vehicles and car tracks. They have enough track, when connected together, to go all the way down the stairs.
In the near tote are all the Spy Gear toys and it fills up the whole tote. Their favorite thing to do is to play Spy's. Zach has gotten Spy Gear toys for his last 2 birthdays and Christmases. It much easier for them to play Spy upstairs. Both their sister's rooms are up there and that's usually who they're spying on anyway.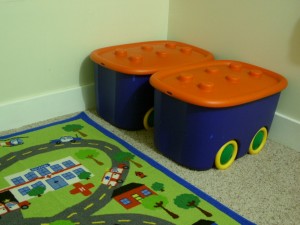 It's a small room, but they usually play in the hall and the loft area too. That's why I like these totes. They can wheel them around to put the toys away and there's a specific tote for each type of toy. Oops! I forgot to label them. I'll mark that down for first thing in the morning. Now, I need your help. What color do I paint this room? We took the door off, because I didn't like it closed when they were playing in there. It's such a small room and it would get really hot and stuffy. I like the curtain and the boys like it too, because they can pull it closed when they want.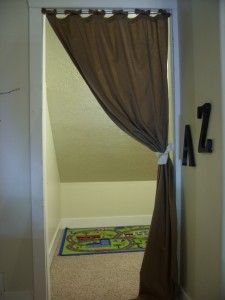 I want the color to be pretty neutral because this is what it looks like from the stairs. You can see right into the room. If you lean to the left when you're standing at our front door you can see right up the stairs and into this room. So what color would you paint it and would you paint the ceiling the same color too? I would love your suggestions.
Now I'm off to finish getting rid of more toys in the boys' room.