My rooms are ever changing. I love my living room because we probably spend the most time in there. The only thing I don't like about it is the TV. We don't have our basement (family room) finished yet so the TV has to stay here, at least for a while. I just moved the furniture around about a week ago. This is basically the room now. I moved the love seat next to the fireplace, in front of the window. The leather love seat stayed where it was, as a divider from the dining area. The ottoman opens to hold all the Rock Band pieces.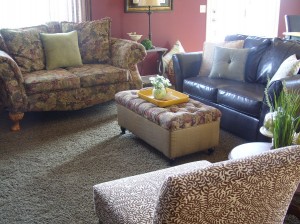 The chairs were moved to the other side of the carpeted area, in front of the wood floor. The chair on the left came from Ross and the one on the right was from Target. The wall behind stayed the same.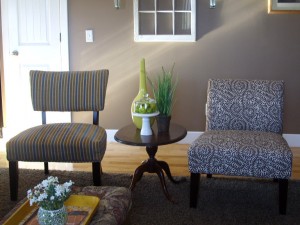 I moved the table over and changed the decor on top. The vase came out of storage and the covered dessert stand came from the kitchen. The green apples and pears came out of storage too. The table was Hubby's grandparents.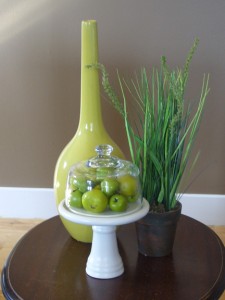 This is the fireplace and mantel right now. I probably change it every 2 to 3 weeks. I have a lot of random accessories in storage that I like to rotate in and out and from room to room.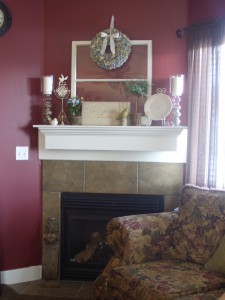 This table came from Ben Franklin when the one by us was closing down. Because it was part of a display, I got it for $8. It was already painted this gray color. The pillows in the basket are for the kids to use when they lay on the floor to watch TV.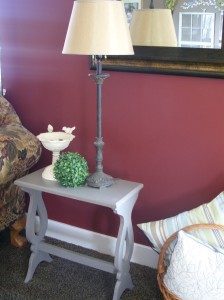 I love my clock wall. I did this 6 years ago when we first moved here. I like using clocks as art. It's inexpensive, plus I just have a thing for clocks. I have an issue though. I wanted these red walls so bad. I picked just the right color of red and then painted them about 1 1/2 years ago. I loved them for about 1 year, now not so much. I still like the red, but I really like the brown on this next wall, so I might be painting again soon.
This is the wall behind the chairs and the color I was thinking on painting the rest of the room (or maybe a shade lighter).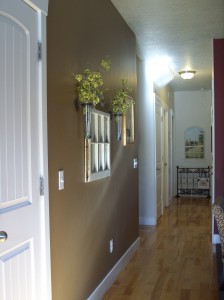 Our living room pretty much reflects the rest of our house. Furniture that has been bought over time, things that have meaning to us and things we love are all in this room and the rest of our home.