If you feel you can't find the time to organize your home I suggest working in small amounts of time. 15 minutes is a good amount of time to be able to accomplish many organizing tasks without feeling overwhelmed. If at the end of 15 minutes you have time to continue working, I suggest setting a timer for 15 more minutes to finish a larger task or move onto another 15 minute task. I'm sharing 10 Spaces to easily Organize in 15 Minutes. Hopefully you'll get the organizing bug and continue organizing the rest of your house, or at least one room for now.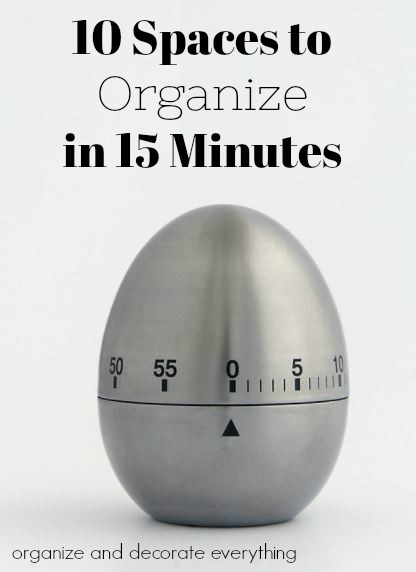 10 Spaces to Organize in 15 Minutes
Bedside Table Drawer –  Bedside tables can become a catch-all if you're not careful. A good rule is to only keep things in the night stand that you use each morning or night. Quickly take out the things that aren't used morning or night and relocate them where they are needed. Once that is done you should have plenty of room for the items that need to be stored there. I have few books and journals in the other drawers. My husband has magazines and space for his wallet, glasses and phone in his night stand.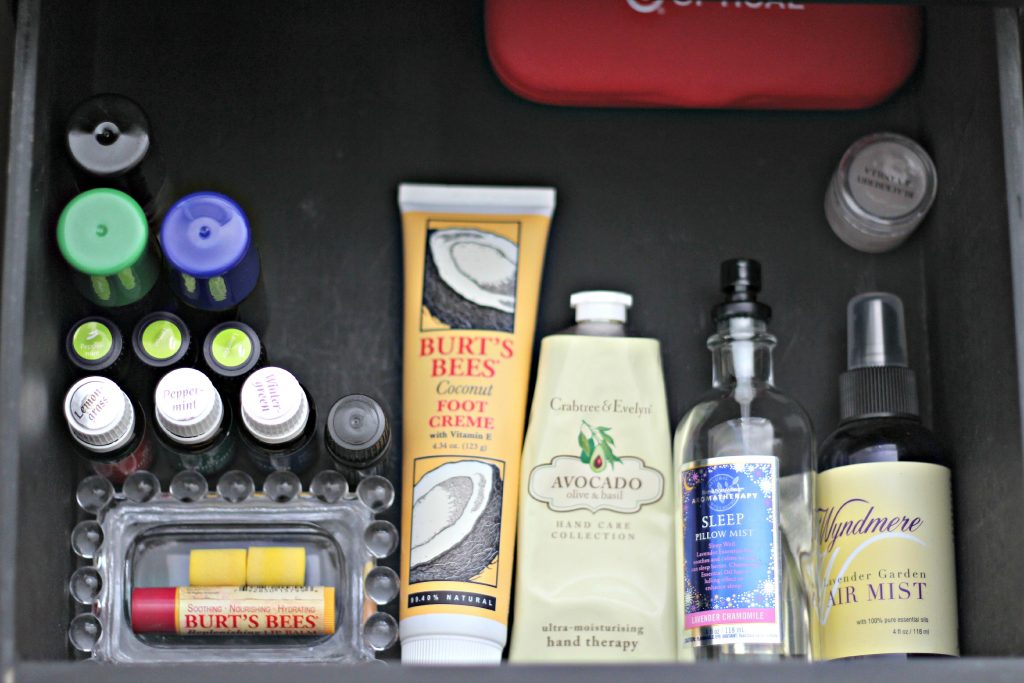 Desk Drawer – Nobody's desk drawer is going to look the same, in fact none of them in my house look the same. What's important is to have only the things you use at the desk in the desk drawers. Also put supplies back in the same place once they are used. You can even label the space if that makes it easier. I would do this especially if the desk is being used by several people.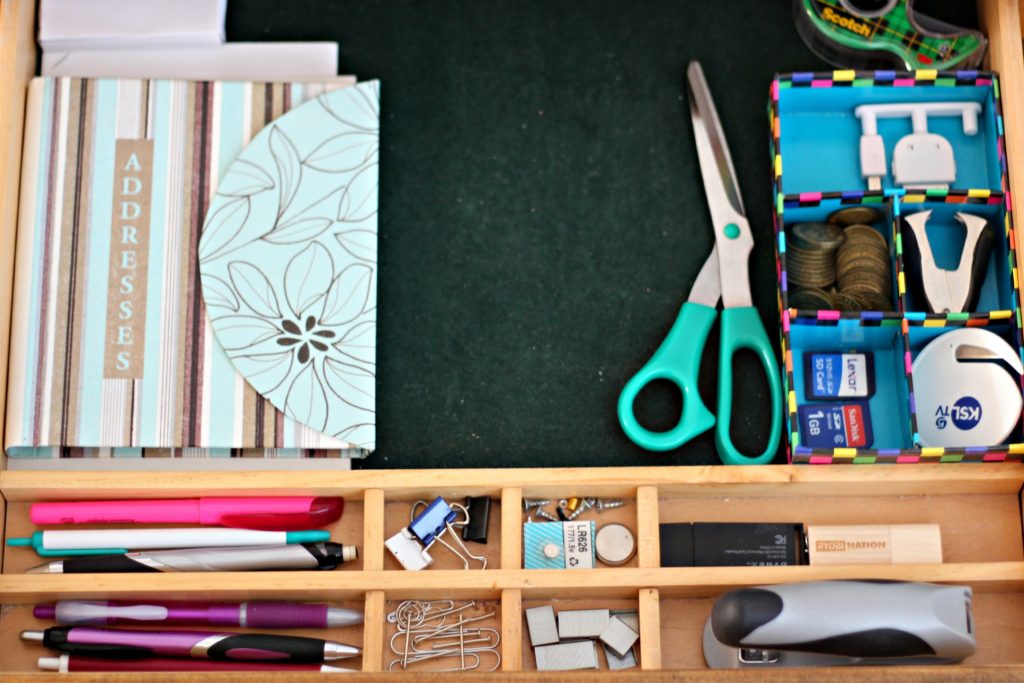 Medicine Cabinet – To make it easier to organize the medicine cabinet circle the expiration date on medications with a sharpie. It makes it easy to spot expired medications quickly. I also use a sharpie to write the date on toothbrushes so I remember to change them every 3 months. Wipe down the shelves and adjust them to best fit your needs.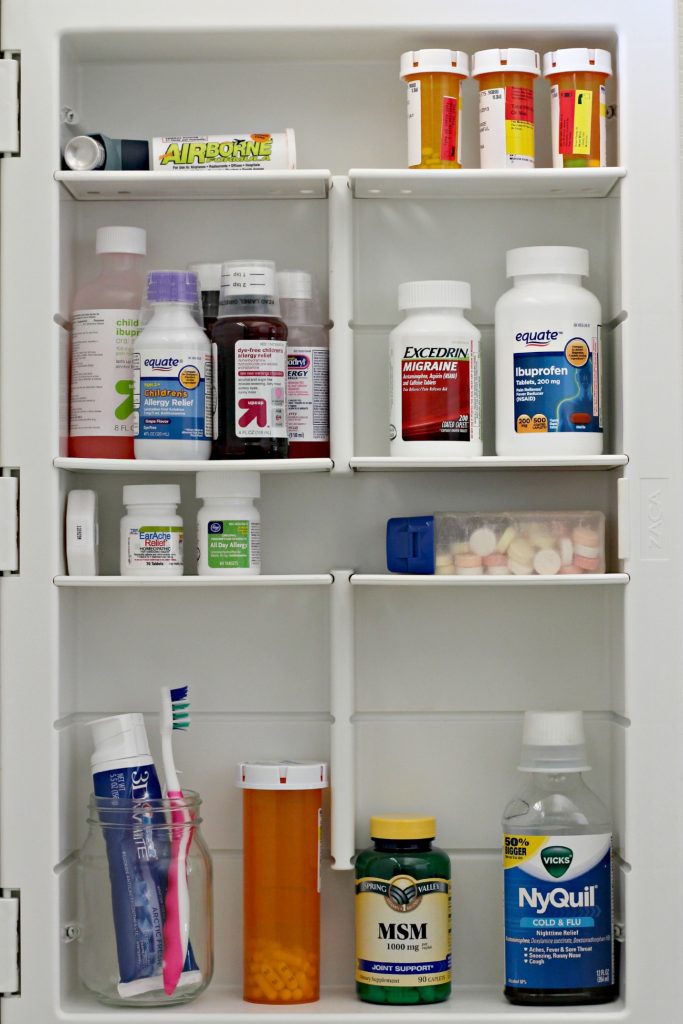 Laundry Supply Cabinet – It's pretty obvious what belongs in the laundry room so it shouldn't be too difficult to organize. Start with getting everything out of there that doesn't belong. Search your house for a basket to contain all of the small laundry supplies. Wipe up any spills and return supplies back to the cabinet.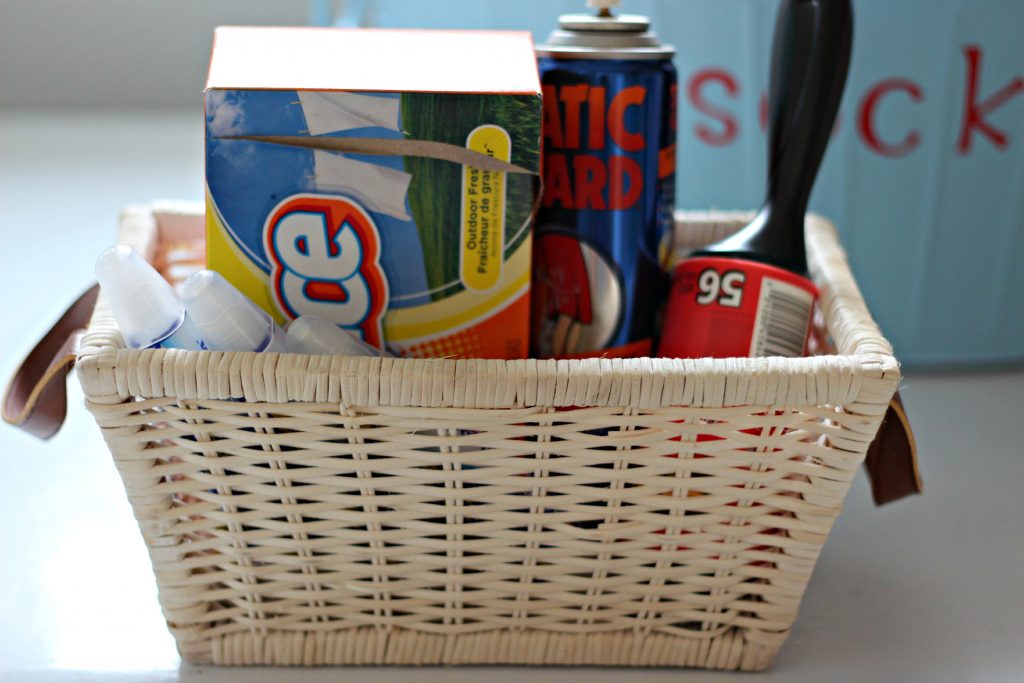 Junk Drawer – Do you have one mysterious drawer in your house where random things go? I think we all do. I don't have anything against having one but you need to be able to find what you need. Start by taking everything out to see the space you have to work with and divide what you have into groups of like things. Then fill the drawer with baskets you need and return the items to the drawer. I clean mine out about every 3 months, so it only takes a few minutes.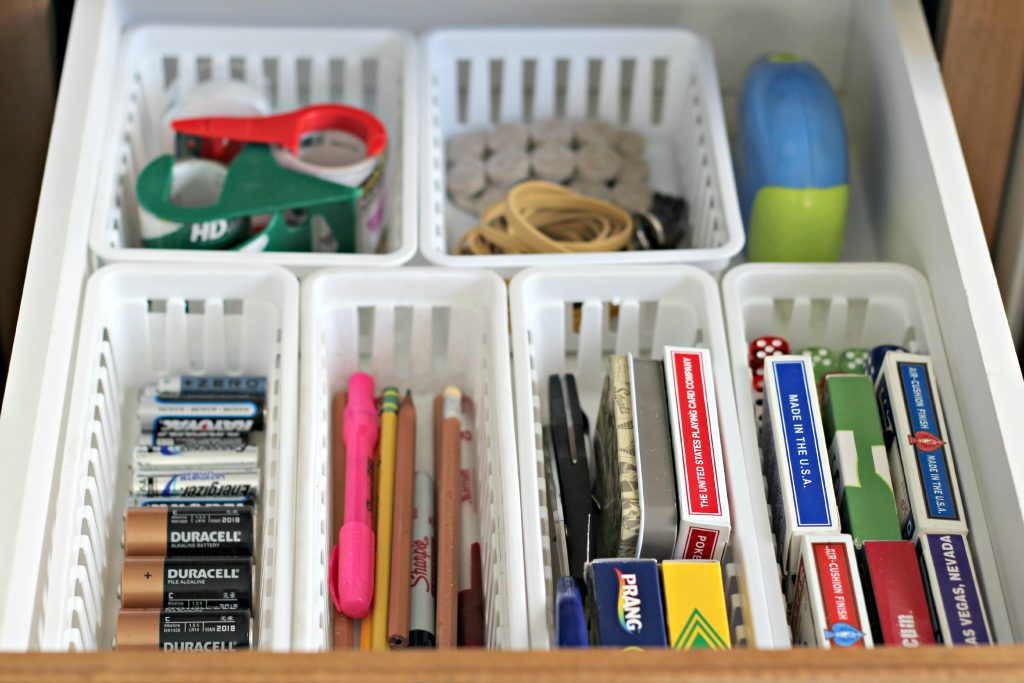 Cleaning Supplies – I like to keep my cleaning supplies in a tote so I can easily carry them from room to room. Keep extra supplies in the supply closet. Place them in a large plastic tote along with rags and dusting cloths. Check if you need to replenish supplies after every cleaning.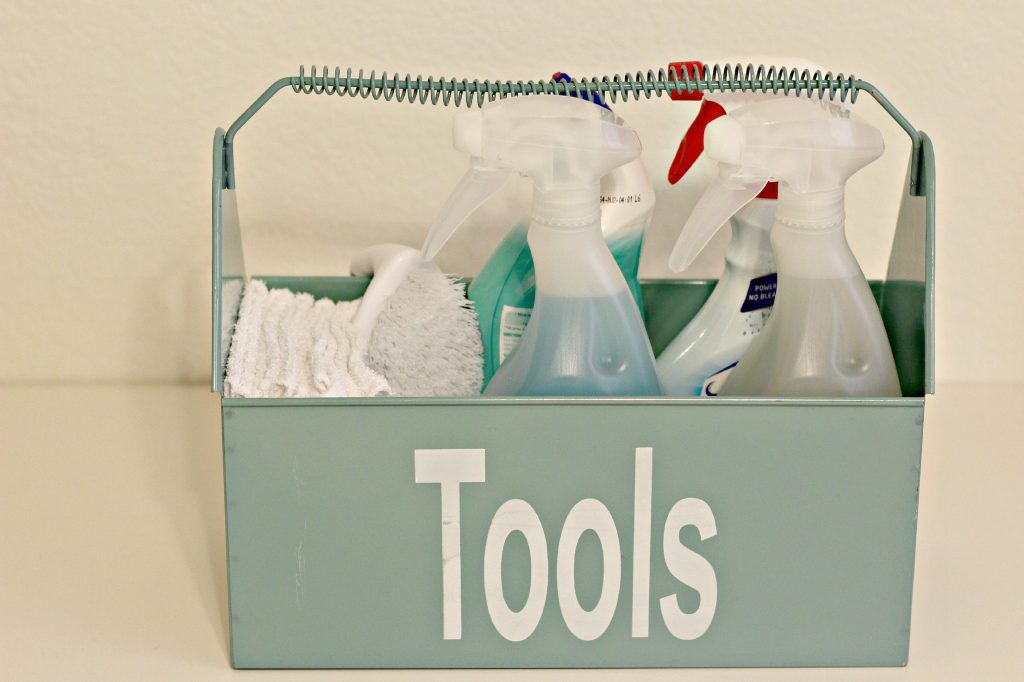 Linen Closet – Take everything out of the closet. Inspect the towels and recycle any towels that are too worn to have guests use. I use baskets for my towels and sheets but you don't need to as long as you keep like things together. It's easy to find the right size sheets and your closet doesn't get messy if you keep them together. I also place sheet sets inside their pillow case to keep them together. It makes bed changing days so much easier. Having a specific color of sheets and towels for each person is also a good idea.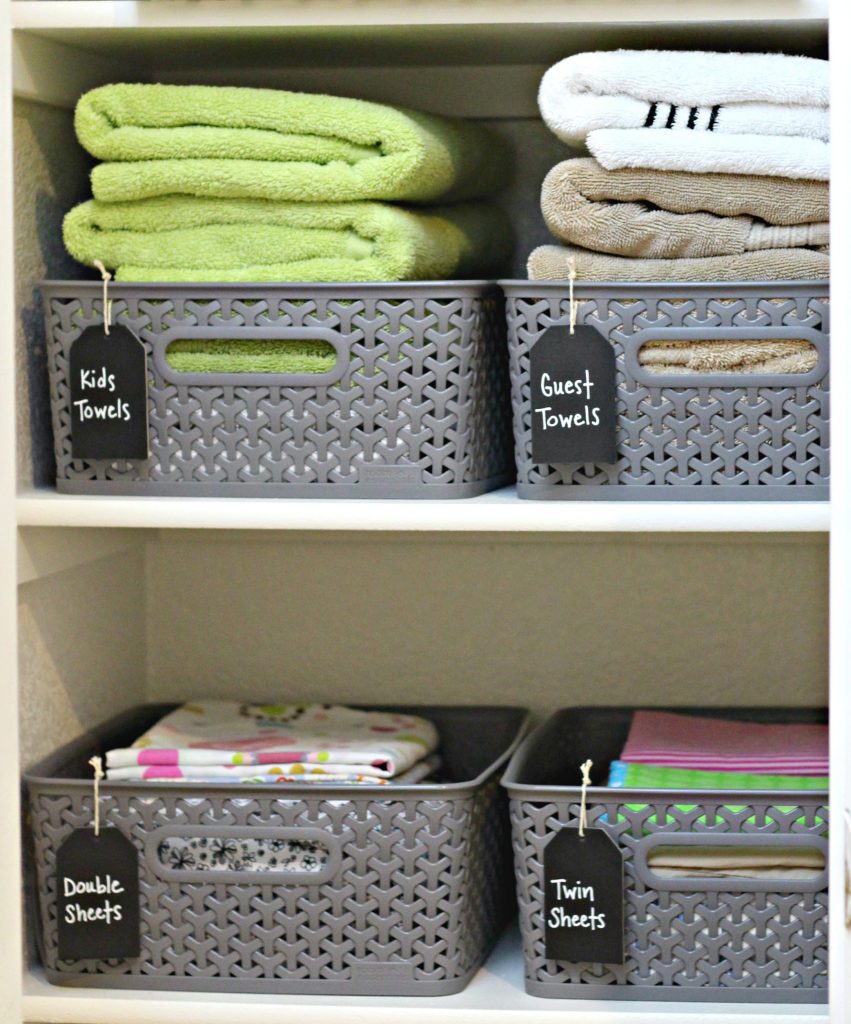 Lost and Found Baskets – Lost and found baskets are a good idea for kids. Ours were at the bottom of the stairs. When I would find the kids things throughout the house I would put them in the baskets. They would clear their baskets out daily, usually before bed. I would check them about once a week for garbage or things they no longer want.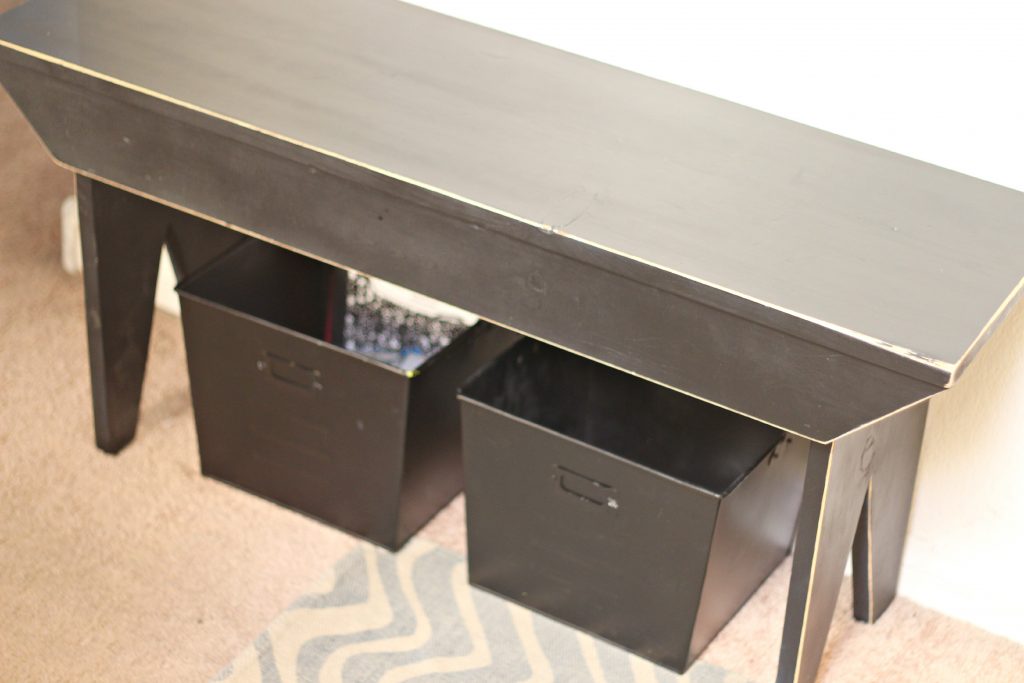 Under the Kitchen Sink – The cabinet under the sink can be a huge cavern just waiting for things to be tossed in it. Divide the space and add shelving where needed. I like to use a combination of shelving and containers. You don't have to use new or expensive containers to get organized. Just have them fill the job you need them to do.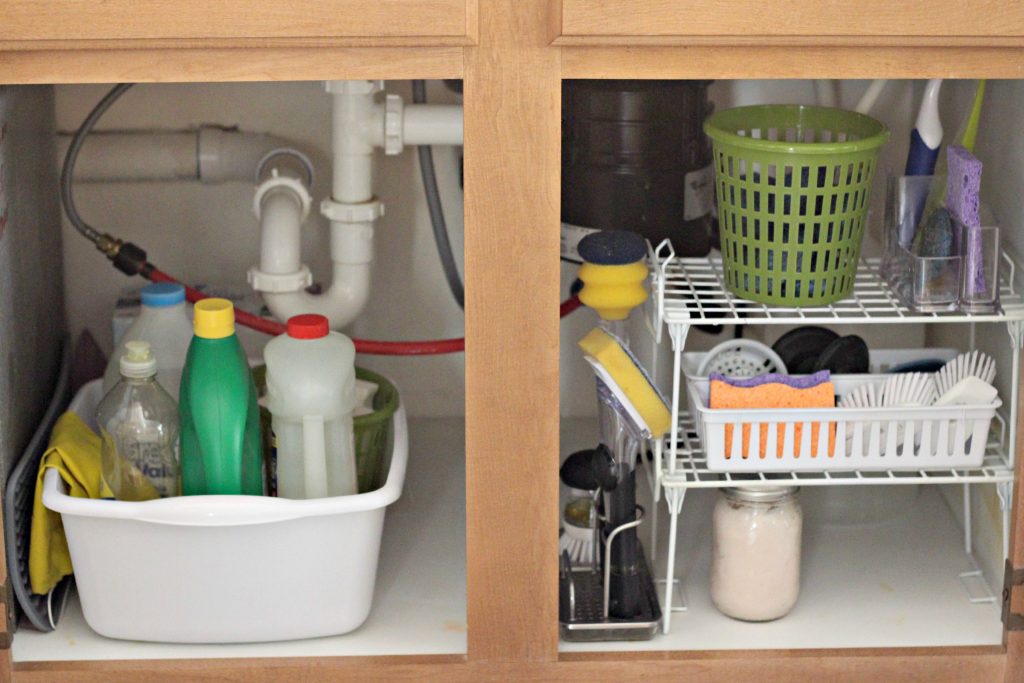 Your Purse – I recommend cleaning your purse out every night or at the very least a couple times a week. Random things can get tossed into it several times a day and before you know it you can't find anything. Use separate bags to hold different things so you can find things quickly. I also like to have designated pockets for everything to make sure they're put back where they belong. It's a really good idea to have a special place for your keys.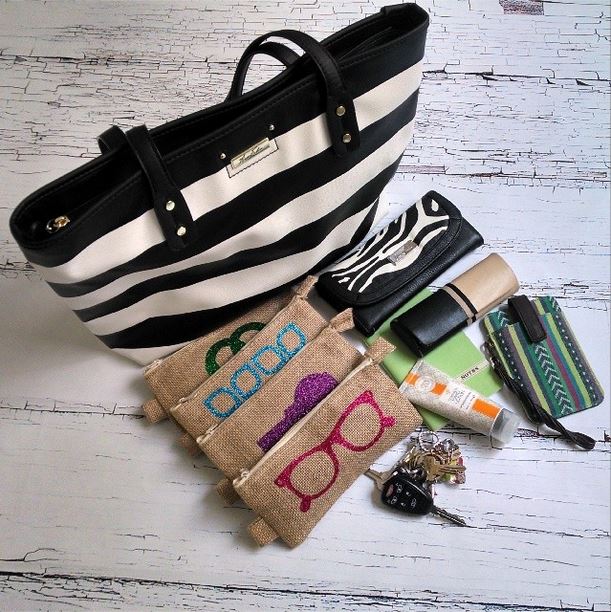 What space are you going to organize first? Set a timer and get busy. You've got this!
Pin it for later: 10 Spaces to Organize in 15 Minutes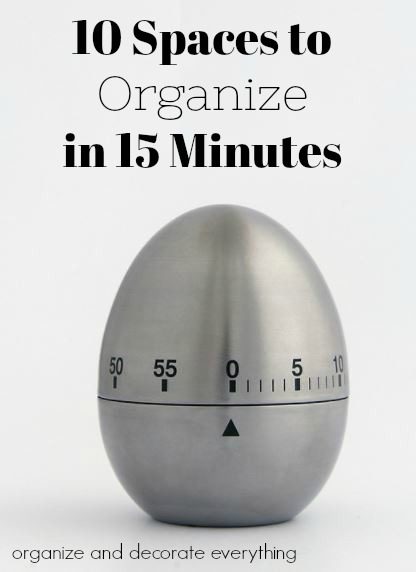 For more quick organizing ideas visit 31 Days of 15 Minute Organizing.