It's Why Not Organize Something Wednesday again.
We don't have a lot of storage in our bathroom. These 4 drawers and 2 cabinet doors are it. So I needed ways to have storage in the open but also have it look decorative and attractive.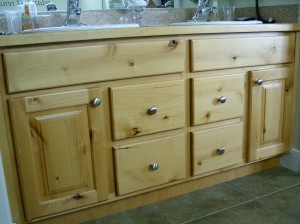 We started by adding 2 shelves over the toilet area. The top shelf originally had towels and washcloths on it, but they have since been moved. The picture on the top shelf is one my mom painted. It's always been my favorite painting and after bugging her for years, she finally gave it to me. Thanks Mom!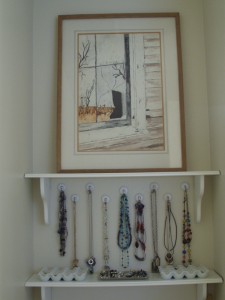 Under the top shelf, I added hooks for my necklaces. I don't have the patience to untangle my necklaces and I like the decorative touch it adds. I also like all the colors and the way they look hanging there, plus I can find what I want quickly.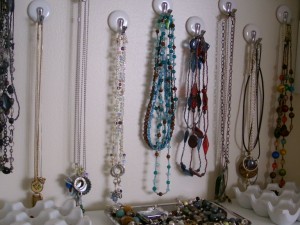 On the silver tray, I keep my watchbands. My daughter made these for me.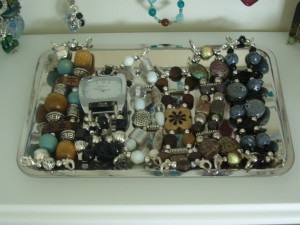 This egg crate holds some of my necklace pieces, bracelets and charms. The one on the other side holds my post earrings and rings.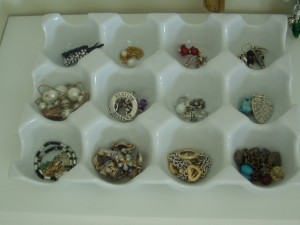 I put a piece of screen in this oval frame and attached a ribbon to the back to hang my other earrings from. It hangs on the wall beside my sink.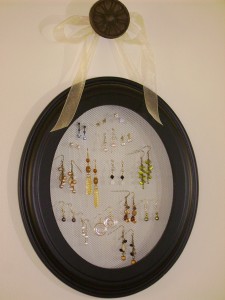 These boxes hold other bracelets, pins, tie tacks and jewelry my younger kids have given to me. They're on a shelf above the little table.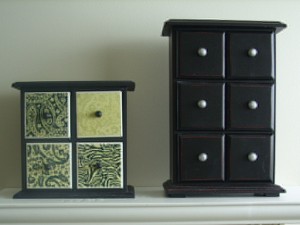 I love this little table. It fits perfectly beside the tub and the towels look great on it.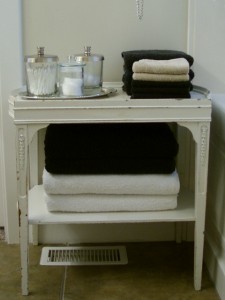 The glass jars hold cotton balls, q-tips and make-up rounds. They sit on a tray I bought at the Dollar Store.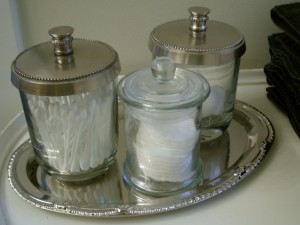 This is the only bar soap we buy and we buy it in bulk. I love displaying it this way.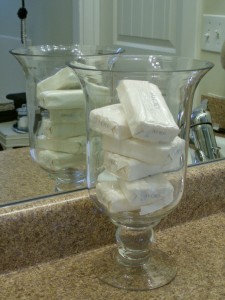 We hang all our towels by hooks, rather than bars. It looks neater in my home, because no one ever hangs them on the bar correctly.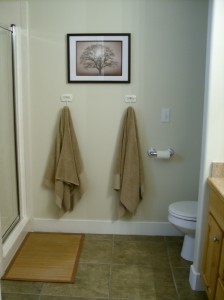 So what's your preference? Do you like open storage or do you like everything packed away behind closed doors? Next week I'll show you the storage behind the doors.
I'm linking to:
Works For Me Wednesday at Rocks In My Dryer
Whatever Goes Wednesday at Someday Crafts
Transformation Thursday at The Shabby Chic Cottage
Strut Your Stuff Thursday at Somewhat Simple
Friday Fun Finds at Kojo Designs
Victory of the Week at Design-Aholic
Make It For Monday at Cottage Instincts
Metamorphosis Monday at Between Naps On The Porch
Motivate Me Monday at Keeping It Simple
DIY Project Parade at The DIY Showoff
Tip Me Tuesday at Tip Junkie
Bathroom Organization Link Party at Beneath My Heart
Keep Calm and Organize On Link Party at A Thoughtful Place