Number 10 on 10 Tasks in 10 Days Challenge: Design or create something for Master bedroom wall.
I finally finished a plate wall, but not the one I've been talking about for the last 5 months. I've collected over 25 plates to put together the one in the dining room. Way too many! Some weren't going to fit in with the color or style I was going for, so I decided to use them in the bedroom. The bedroom colors are black, white and green.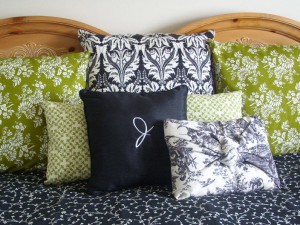 And here's the blank wall. It's above our TV. Yes, we have a TV in our bedroom and no, we're not going to take it out. Sometimes it's my only escape from watching cartoons or playing Wii.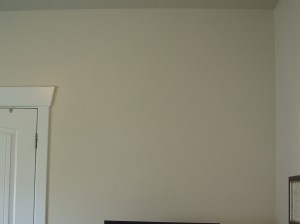 This is the plan I worked out on the table in the basement (craft room). The black and white wasn't going to work in the dining room but it will be perfect in the bedroom.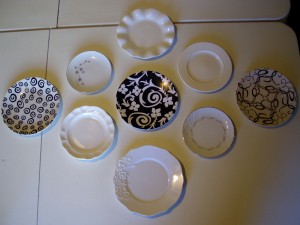 I used the Command picture hanging strips. The same ones I used on the Family letter wall. The Letter Wall has been up for a few months now and nothing has fallen off so I think we're good.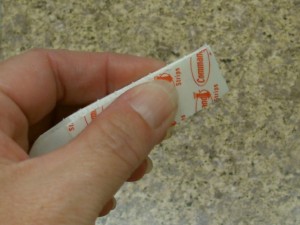 You just stick the 2 pieces together. Take the backing off one side and stick it the the plate. Take the backing off the other side and stick it to the wall. Hold it in place for 30 seconds and you're good. Read all the instructions, so you have a good hold.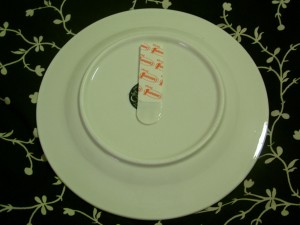 Okay, so you know how I don't like to measure anything if I don't have too. Well, I still don't and I didn't, but I did enlist some help from Hubby with eyeballing everything. Here's the first plates we hung up. I started from the bottom and worked up, mainly because I wanted the bottom one close to the top of the TV.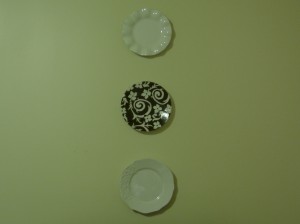 Here's 4 more. Hubby was getting worried at this point because of the spacing. I don't know why. I had them all laid out on the bed the way they were going on the wall.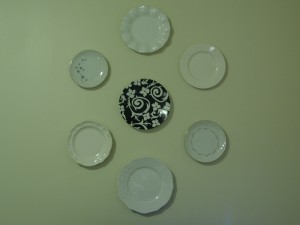 And here it is all finished. Ta-Da! What do you think? I'm very pleased. It fits in great with the rest of the bedroom. I had all the plates and strips on hand, so I'm considering it free. You can see the top of the TV in this picture and the top plate is level with the top of the door frame.
Yay! 3 tasks down, 7 to go.
I'm linking to:
Sunday Showcase Party at Under The Table And Dreaming
DIY Project Parade at The DIY Showoff
Motivate Me Monday at Keeping It Simple
Metamorphosis Monday at Between Naps On The Porch
Tutorial Tuesday at Hope Studios
Tip Me Tuesday at Tip Junkie
Show and Tell at Blue Cricket Design
Whatever Goes Wednesday at Someday Crafts
Decorating Your Home at It's A Blog Party
Home and Family Friday at Home Is Where My Story Begins
Favorite Things Friday at A Few Of My Favortie Things
Show and Tell Friday at My Romantic Home
Just Something I Whipped Up at The Girl Creative