I think I need to make  a sign that says "Keep Calm and Organize." While I should have been doing a number of mommy, wife, neighbor, school, church, friend related things, I was organizing buttons instead. Partly because organizing calms me and it's also a good temporary escape. Don't worry, it didn't take that long. I was back to reality in no time.
But don't they look pretty and organized now? Do you remember when I bought about 20 of these magnetic tins for .10 cents each? I could kick myself for not buying more.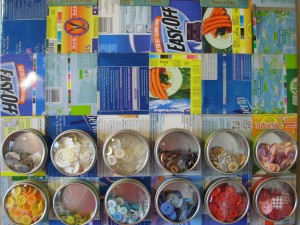 Now we have vintage, opaque white, clear white, yellow and orange, green, aqua blues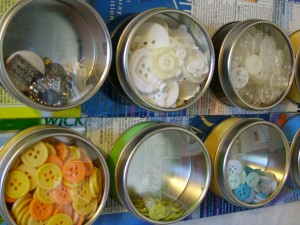 Brown, tan, pink and purple, blue, red, and more red buttons all in their own cute little tin.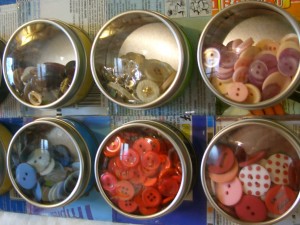 Oh, so pretty and organized. It didn't take much time and I was recharged and ready to face the next 4 hours. What do you think of my magnetic board? It's recycled "oops" aerosol cans. Pretty cool, huh?