Before I show you the marshmallow pops, I have to show you these cute free printables from Leelou Blogs. I used them as the invitations for Activity Days (a program at our church for young girls). Aren't they darling! And you can't beat free.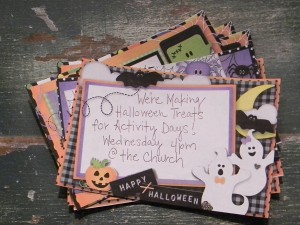 Okay, now for the marshmallow pops. I've seen these all over, but for the life of me I couldn't find any posts on them when I was about to make them, so I faked it. You'll probably find a better way somewhere else, but this is how I made them (with the help of 8 little girls and another leader). This is what I used: candy melts (white, orange and green), sucker sticks, marshmallows, assorted sprinkles, and black tube frosting. I've never used candy melts before and had no idea they came in many colors (what a time and mess saver). They were so easy to melt and use. We melted ours in the microwave.
The girls had a great time dipping the marshmallows in the candy melts.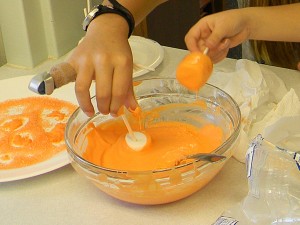 And topping them off with sprinkles. Yes, it did get a little messy at times. Look at that cute halloween shirt one of the girls has on!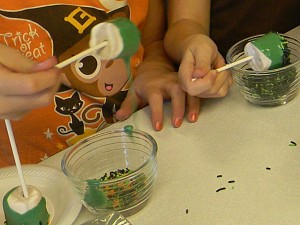 Then we stuck them in foam and let them set up for a while.
After they hardened, we made faces on them with the tube frosting.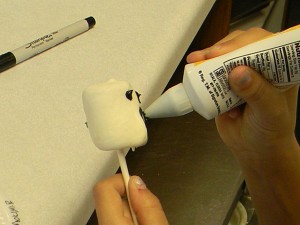 Each girl made 6 marshmallow pops to take home and share with her family.
Okay, how cute are these girls?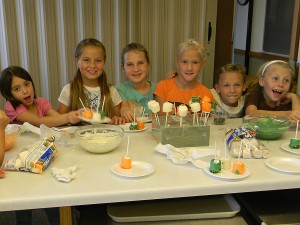 We made Frankenstein, a ghost and a pumpkin. I ate about half of one and got an instant sugar headache. I'm sure their mothers loved us for loading them up on sugar before dinner.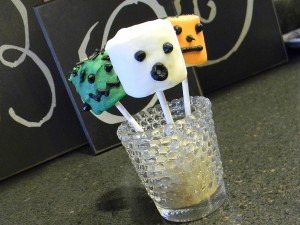 Here's the tops of them.
They are really fun to make and turned out so cute. And I think the girls had a fun time.
Let's Party at Sassy Sites
Look at Me Party at Fun To Craft
Everything But the Kitchen Sink at A Little Knick Knack
Friday Fun Finds at Kojo Designs
Weekend Wrap Up Party at Tatertots and Jello
Show and Tell Saturday at Be Different Act Normal
Making Monday Marvelous at C.R.A.F.T.
Anything Related at All Thingz Related
Tutorial Tuesday at Hope Studios