I wasn't going to post today but National Ice Cream Day seemed like a good day for a sweet post. I decided to make a Life is Better with Ice Cream printable to help celebrate the holiday. It's super simple but looks great popped in a frame to add a little fun and color to your kitchen.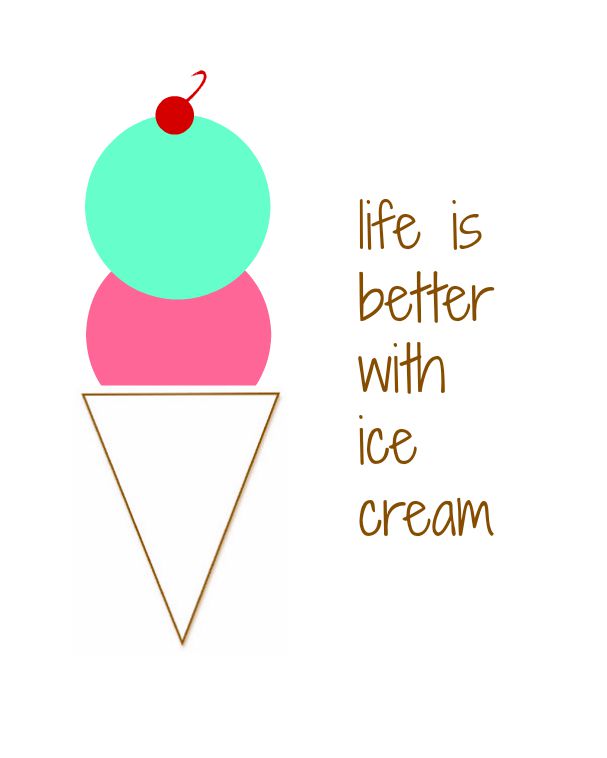 Since Ice Cream is an American favorite I thought I would share a few facts about the cool treat.
National Ice Cream Day is celebrated the 3rd Sunday in July. Remember that for next year so you're not caught off guard.
America is the #1 consumer of ice cream, followed by New Zealand. New Zealand is first per capita.
What is the #1 ice cream flavor? You were right if you guessed vanilla, followed by chocolate, then strawberry, chocolate chip, and butter pecan. My all time favorite is Mint Chocolate Chip. What's yours?
Ice Cream made it's first debut in America in the 1700's, enjoyed mostly by the wealthy.
The waffle cone made it's first debut at the 1904 World's Fair in St. Louis, MO
California produces the most ice cream in America. I wonder if they eat the most too.
Most of the vanilla used to make ice cream comes from Madagascar and Indonesia. Do you like vanilla bean, vanilla, or french vanilla best? My favorite is vanilla bean.
The average American enjoys 48 pints of ice cream each year.
85% of Americans have ice cream in their freezer at any given time. Nice to know if you drop by someone's house.
Next to cookies, ice cream is the best selling treat in America. Try cookie ice cream sandwiches for the best of both worlds.
Chocolate syrup is the worlds most popular ice cream topping.
Enjoy your ice cream today and everyday!
If you would like to use this printable for yourself, just click the link below the print. Printables are for personal use ONLY and are available to subscribers of Organize & Decorate Everything. SUBSCRIBE NOW to get full access to all printables.
I have had a few questions about sizing the printables. If you save the printable to your computer you can then select the size you desire before you print them out.