I've shared my laundry room here before, but I thought I'd share it again. I also get a lot of questions about organizing laundry rooms. I would love to say that I have a beautiful spacious laundry room to work with, but in actuality I have a laundry closet. It works though and I really haven't made any changes in 2 years.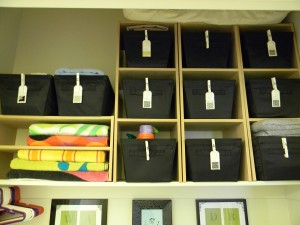 I added addition storage shelves to the shelf above the washer and dryer. There was originally just one shelf. What a waste! I found these baskets at Big Lots 2 years ago. They're nylon, so they wash off really easily. You know I love clothespins so, of course I had to incorporate them into the laundry room. Here's a close up of the tags. The only thing I have changed in the laundry room are some of the tags. Since we have the mudroom now, I was able to move some things in there.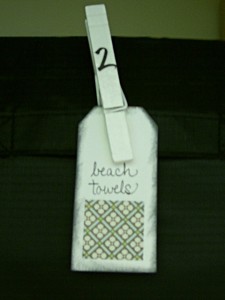 On top of the dryer (it's old) are Emilee's and Zachary's baskets. I put their clothes in them once they're folded, then they take them upstairs and put them away. On top of the washer (it's new-ish and I love it) is a jar of fabric softener sheets, a framed quote, and a stool so I can reach the higher shelves. I made the pictures with rub-ons, scrapbook paper, and stickers.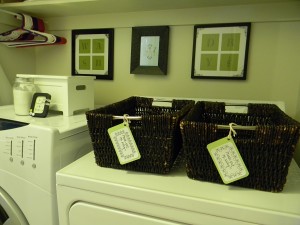 This frame was only $1.20 at Hobby Lobby. It says "laundry washed daily" but should probably say "laundry washed several times a day."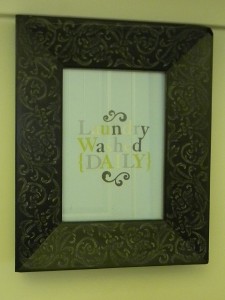 I added the spring bar curtain rod to hold the kids' hangers and clothes once they're taken out of the dryer. I can also hang drip dry clothing there.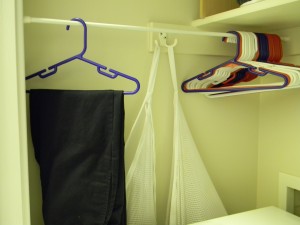 My favorite thing is my "lost socks" board. I made it almost 2 years ago using things I had on hand.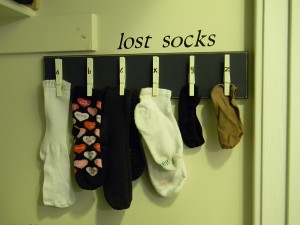 I placed hooks on the inside of the doors so they would be usable space too. Since my kitchen isn't far from the laundry closet, I hang my aprons from 2 of the hooks. The other door has 2 hooks also that I use to hang longer clothes from, as they come out of the dryer.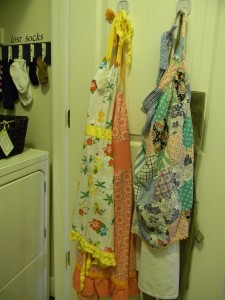 So, that's my laundry room (closet). Even though we still have 5 kids at home it works for us by utilizing all the space available. My 2 older kids do their own laundry and all my kids have their own laundry baskets in there bedroom closets. It's also in a convenient place, just outside my bedroom and across the hall from Ammon's bedroom, which makes it easy when putting clothes away. I think the only thing left to do is paint it a pretty color.