Amanda went to her first high school dance tonight. Because of our financial situation right now we weren't able to buy her a dress. We were able to rent one from a cute girl in the neighborhood, but needed to make it more Amanda's style. We made changes to the dress that would be easily changed back.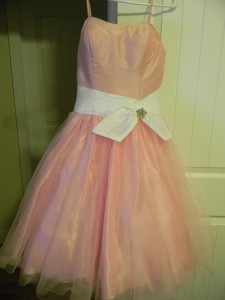 The first thing I did was add a flower to the sash. We choose brown because Amanda's wearing pink and brown vans to the dance. She definitely has a style all her own.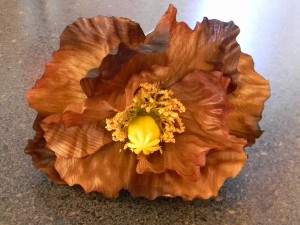 I took the flower apart and took the center out.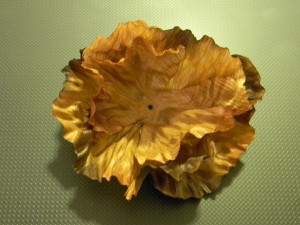 Then added a pearly scrapbook embellishment. I added a hair clip on the back so it could be easily removed and used on something else later.
Amanda loves the flower and I think it looks great on the sash.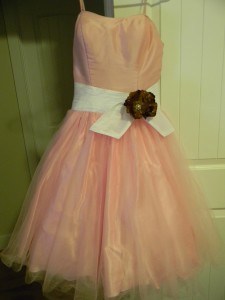 I needed to make the straps thicker on the dress. Just remember I'm not a seamstress and it had to be a temporary solution.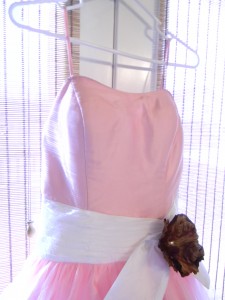 So I bought some white satin fabric.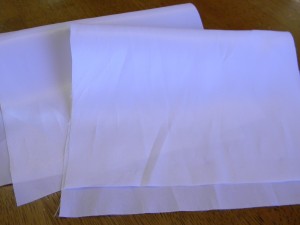 And sewed it into 2 tubes, ironed the seams flat, turned them right side out.
And hand stitched the fabric to the dress gathering it a little as I stitched. Here's the front.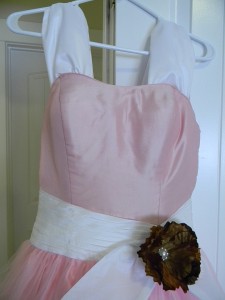 And here's the back. The changes I made to the dress will be easy to change back before it's returned.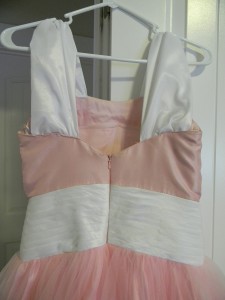 I made her date's boutonniere using artificial flowers and greenery, then I added a pink ribbon to match her dress.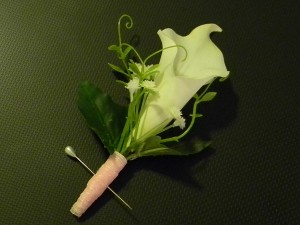 It looks so much more like Amanda's style now. Do you see the shoes? I'll have more pictures later. This dance and Chinese New Year celebrations pretty much took over my life this last week.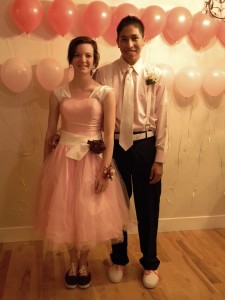 Hope you're all having a Wonderful Weekend!
I'm linking to these awesome parties:
Twice Owned Tuesday at House of Grace
Tutorial Tuesday at Hope Studios
Transformation Thursday at The Shabby Chic Cottage
Sundae Scoop at I Heart Naptime