It's the 1st Anniversary of Transformation Thursday at The Shabby Chic Cottage. Gina has asked up to link up our favorite transformation. Really, mine is any thing to do with spray paint, so here's the lamps that were transformed.
You know I have a love for spray paint. Well, there's good reason for that. The transformation can be incredible. Isn't it wonderful what a little color can do to an ordinary item? I found all these lamps at the D.I. and Savers. These were $2 each at Savers.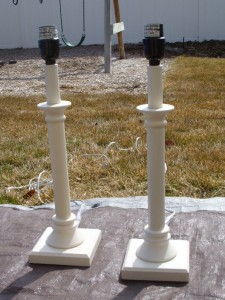 I then found these lamp shades at Ross for only $2.99 each. They have a silver rim around the top and bottom.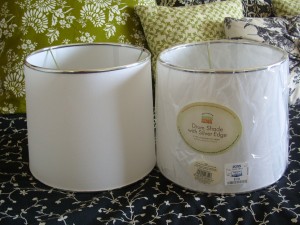 These lamps were going to be perfect for our bedroom, once they were painted black. I had thought I would cover the shades, but once I put them on the lamps I knew they were perfect just the way they were. This is Hubby's table. See that glass ball on the candle stick? It was a birthday gift from our son, Chris.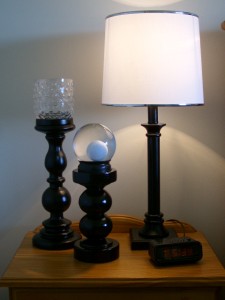 Here's a close-up. The game is to get the golf ball on top of the tee. It's harder than it sounds.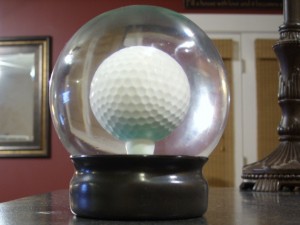 Okay, back to the lamps. Here's my table. Don't they look great? I love them black. The total cost for both lamps is $10.
I bought this lamp at the D.I. for $2. It's the same as the ones I painted black.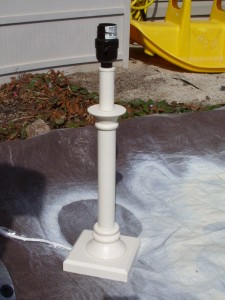 This time I painted it blue for the boys room. I already had the lamp shade in the basement and I'm not sure how much it cost when I bought it. I'm still thinking of what to do with the shade. I love this blue.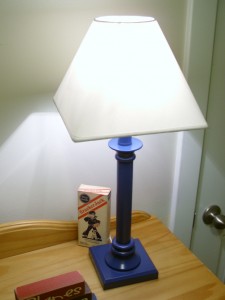 This last one was bought at the D.I. for $3. It's kind of a weird yellow creamy color, but I love the detail on it.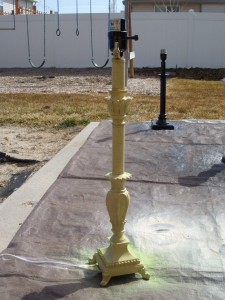 It will be going in Emilee's room (once I get the side table painted it's going on). She loves this green and wants her desk painted the same color. This lamp shade was also in the basement and I'll be doing something to it later. Isn't it pretty?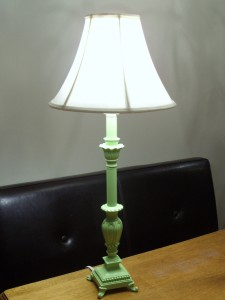 I love the detail on the lamp. It's going to look amazing in her room.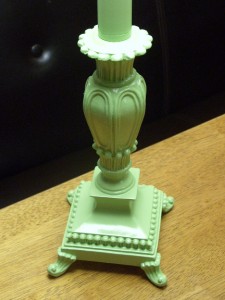 So what do you think? Doesn't a new color make such a huge difference? Isn't it amazing you can transform something plain and inexpensive into something you exactly want with just a little paint? Yep, I love spray paint.    
I'm linking to:
Power of Paint Party at Domestically Speaking
Whatever Goes Wednesday at Someday Crafts
Show and Tell at Blue Cricket Design
Thrifty Thursday at Bloggeritaville
Strut Your Stuff Thursday at Somewhat Simple
Transformation Thursday at The Shabby Chic Cottage
Favorite Things Friday at A Few Of My Favorite Things
Frugalicious Friday at Finding Fabulous
Show and Tell at My Romantic Home
Frugal Friday at The Shabby Nest
Feature Yourself Friday at Fingerprints on the Fridge
Creative Cats at Poppies at Play
Friday Fun Finds at Kojo Designs
Saturday Nite Special at Funky Junk Interiors
Weekend Wrap Up Party at Tatertots and Jello
Metamorphosis Monday at Between Naps On The Porch
Motivate Me Monday at Keeping It Simple
Thrifty Treasures at Southern Hospitality
DIY Day at A Soft Place To Land
Lamp Categorically Crafting Show at Someday Crafts