I've always struggled with what to put on the wall going up the stairs. I love the look of empty frames all the same color or family photos hanging all together, but I wanted something different. I've always loved monograms and started collecting letters in different fonts and sizes a few months ago.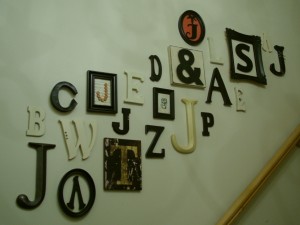 I decided I would collect as many "J's" as I wanted to represent our last name and other letters to represent the first names of members of my family. I wanted the colors to be mainly black and white with a touch of red. I spray painted most of them black and a few white. Then I painted a few frames black to go with some of the letters. Go here to see how I dressed up a few more of the letters. Here they are on the stairs before I started putting them on the wall.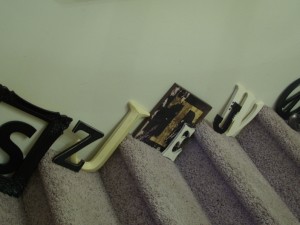 Not all the letters have something on the back to hang them from so I tried these command picture hanging hooks. My friend, Anjanette, told me about them and they work perfectly.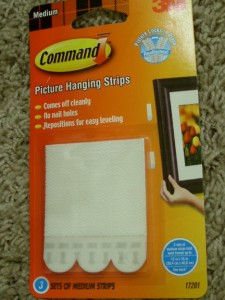 Just stick the 2 sides together.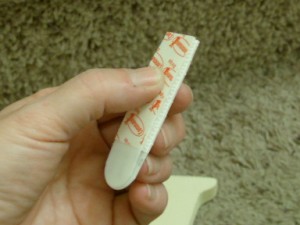 Peel the paper off the adhesive back and stick it on the letter.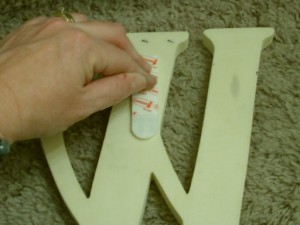 Then peel the other side off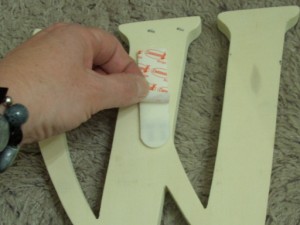 And stick it to the wall. So easy and so easy to remove if you decide to later, with no nail holes in the wall.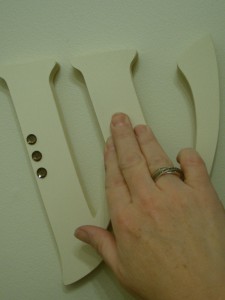 Here's the beginning of the family letter wall. I should have probably had a plan going into this, but I didn't. I wanted it to look like the letters were being added at different times. I started with the large "J".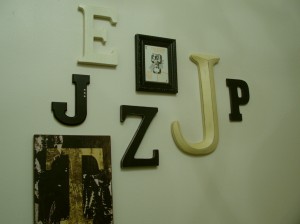 Here's more letters being added to the wall. I already have a "S" I need to add for my newest little grandson and I'll have 2 more letters to add in May for a grandson and granddaughter.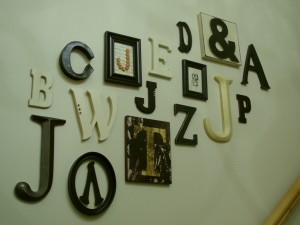 Yay, it's finished for now. Here's the view from the front door.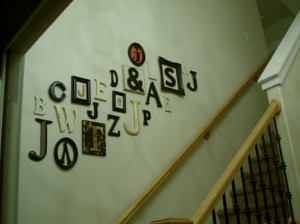 And looking through the window by the front door.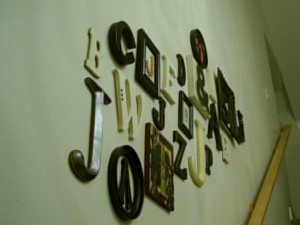 Here's another shot from the Entry.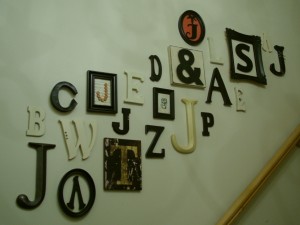 And a shot from upstairs looking down.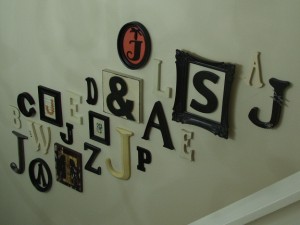 A shot because I love these letters and how they turned out.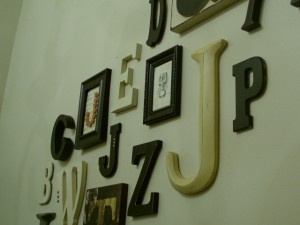 And another one because I really, really love these.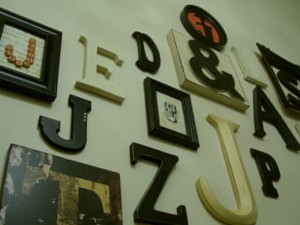 I'm pleased with how it turned out, just in case you couldn't tell. I even did a little squeal when I backed up and looked at it. It will be exciting each time we get to add a new letter to the wall and two more are coming up soon.
And the total cost of the wall so far: only $44. The letters were purchased at Hobby Lobby, Roberts, Pier 1, Wal-Mart, and Rod Works. All of them were on sale or clearance and none of them cost more than $5. The frames were purchased at D.I. (thrift store), Dollar Tree and Wal-Mart. I think it makes a pretty good inpact on the stairs and from the Entry for only $44.
I'm linking to:
Frames, Art and Wall Decor Challenge at The CSI Project
DIY Day at A Soft Place To Land
Talented Tuesday at My Frugal Family
Get Your Craft On at Today's Creative Blog
Tip Me Tuesday at Tip Junkie
Toot Your Horn Tuesday at A Silly Little Sparrow
Whatever Goes Wednesday at Someday Crafts
Show and Tell at Blue Cricket Design
Strut Your Stuff Thursday at Somewhat Simple
Get Your Craft On Thursday at Life As Lori
Transformation Thursday at The Shabby Chic Cottage
Favorite Things Friday at A Few of My Favorite Things
Frugalicious Friday at Finding Fabulous
Feature Yourself Friday at Fingerprints on the Fridge
Creative Cats at Poppies at Play
Inspired By at The Inspired Room
Saturday Nite Special at Funky Junk Interiors
Weekend Wrap Up Party at Tatertots and Jello
Craft Schooling Sunday at Creative Jewish Mom
Make It For Monday at Cottage Instincts
Motivate Me Monday at Keeping It Simple
DIY Project Parade at The DIY Showoff
Made It Monday at The Persimmon Perch
Saturday Nite Special at Funky Junk Interiors
Check Out These Related Posts