I had the opportunity to redo a home office a while ago. We were taking it from a place to just do work to a place that he wouldn't mind spending some time in. He works from his home 2-3 days a week and this space didn't reflect him or his style. He has won various awards and needed a place to display them also. It's a small room (10'4″ x 9′), but we made it function well and reflect his personality.
Here's the Before:
The first thing we did was get all unnecessary items out of the room. Some were thrown away, some donated, some just moved to another room where they belonged.
Next, look for a desk in the classified ads for a good deal. You don't have to spend a lot of money to purchase new furniture and update a room.
Choose a paint color for the walls and trim. He likes rich, deep colors. Which worked perfectly in this small room and made it feel warm and masculine. 
Find a way to display awards where they would be seen. There was a little space on both sides of the big window which was perfect for some shelving.
Here's the After:
We put the desk facing the window so he could have a view to the outside when he wanted. Also there is now no reflection on the computer screen . Because it is a small room the desk is almost to the window to leave space for his chair and being able to get into the closet.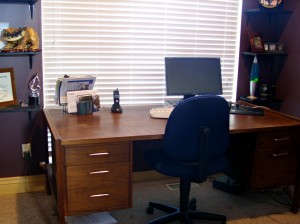 The shelves are painted black to blend into the wall and make his awards stand out more. I love the wall color.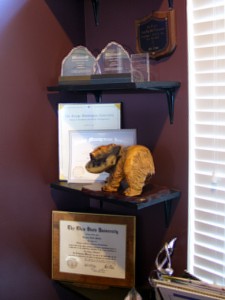 Cool lava lamp!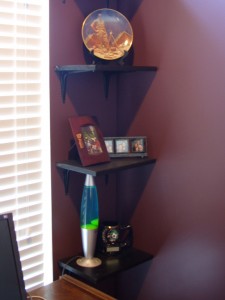 The house is north facing so the top of the window was left uncovered to let some natural light in even with the blinds closed.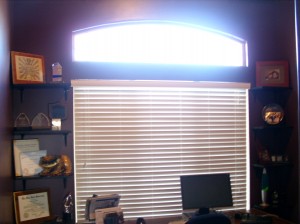 Next was the closet area. Here's the Before: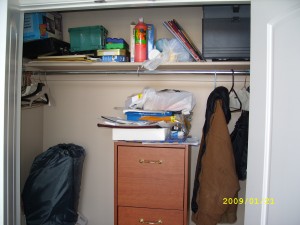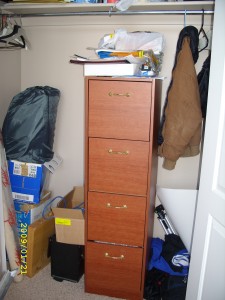 He needed cubbie like shelving to accommodate different interests and areas of work. We left the bar in to hang jackets and the top shelf for larger items to be stored.
Measure the items to be stored to make the cubbies the right size. That way you're able to utilize the space better.
Here's the After: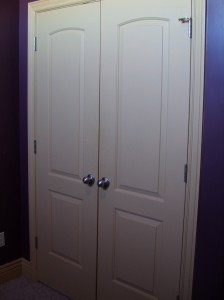 Everything is out of sight now and he has a neat work area, but things are at easy reach and available behind closed doors.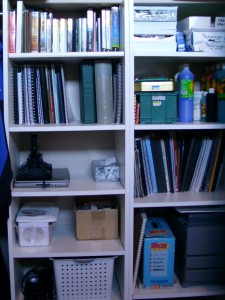 Here's how I worked out the plan: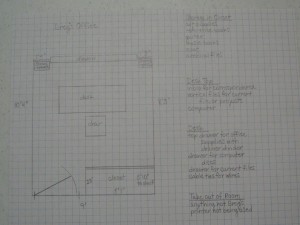 Thanks Greg for letting me work on your Home Office. I hope you're as happy with the way it turned out as I am.
I'm linking to Transformation Thursday at The Shabby Chic Cottage, Strut Your Stuff Thursday at Somewhat Simple and Creative Cats Friday at Poppies at Play. Also Saturday Nite Special at Funky Junk Interiors and Metamorphosis Monday at Between Naps on the Porch.
I'm linking to:
Power of Paint Party at Domestically Speaking