We love hot cocoa in our family! The first thing the kids ask for when we come home from a Winter or Fall outing is a big cup of cocoa. I even have a cup of cocoa almost every night in the cooler months. I have been envious of all these beautiful hot cocoa stations popping up all over blogland but I needed a Hot Cocoa Bar that was something we could easily use everyday and make it convenient for the kids to make their own.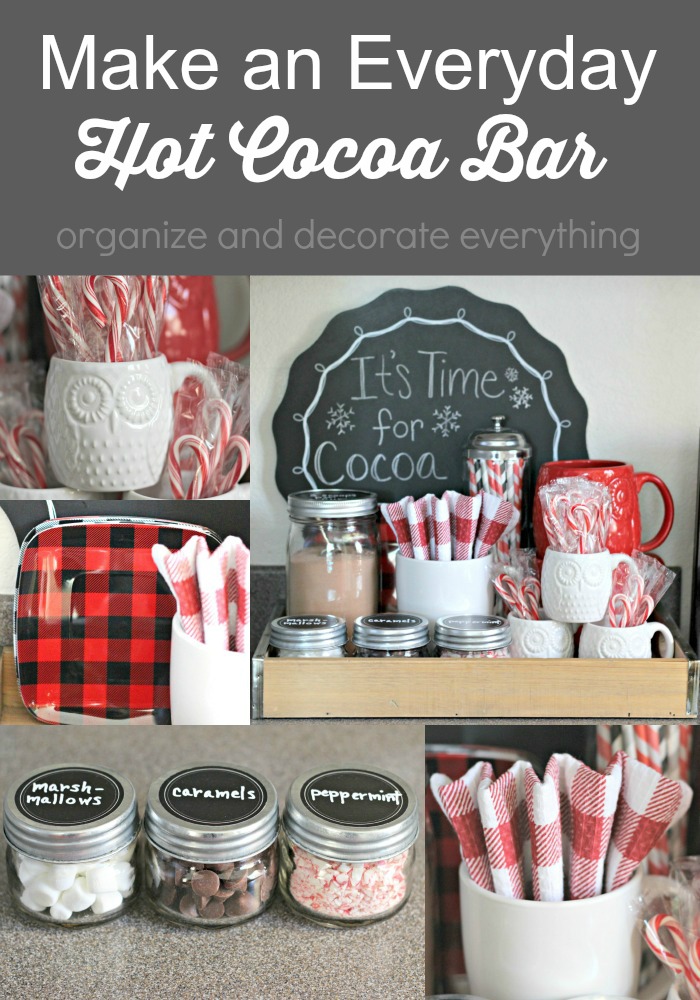 I decided the best place for the Hot Cocoa Bar was in the small space between the fridge and stove. I don't really do much with that space anyway and the tray fit perfectly.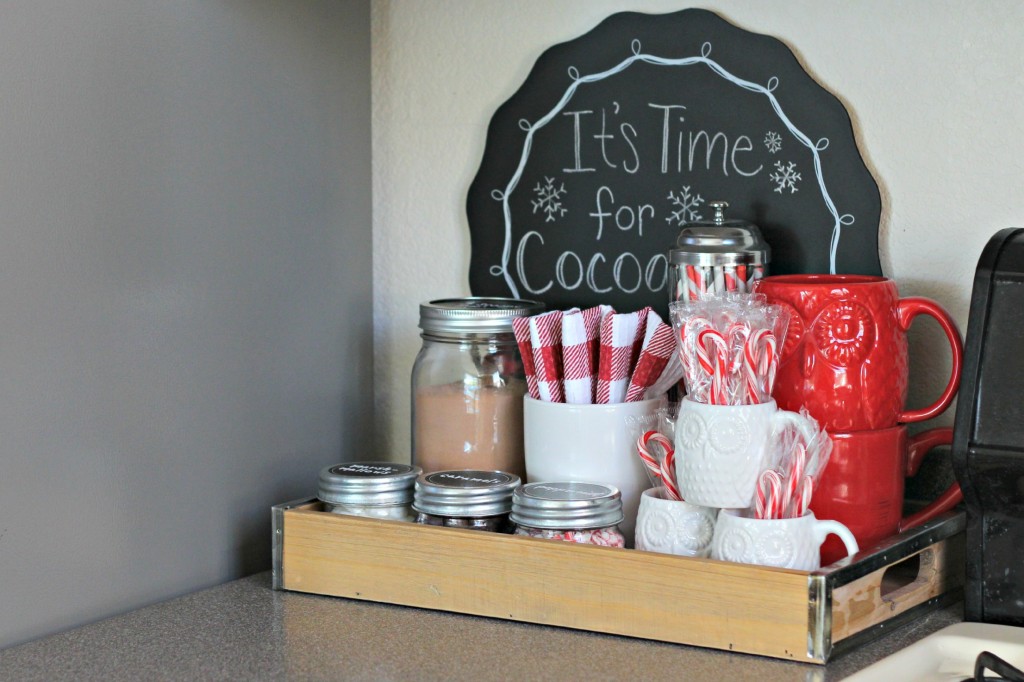 I gathered the supplies we were going to need for our Everyday Hot Cocoa Bar. The tray keeps everything contained and neat and tidy. I already had all of the supplies I needed thanks to all my trips to the dollar spot in Target.
Supplies:
mason jars (large and small)
mugs (Owls from West Elm, plain from Target)
chalkboard (Target)
chalkboard vinyl (Expressions vinyl)
vintage straw holder
paper straws (craft stores)
towel (Target)
small scoop (craft store)
tray – you've seen it a billion times on my blog (Hobby Lobby)
hot cocoa, candy canes, marshmallows, chocolate caramels, peppermint pieces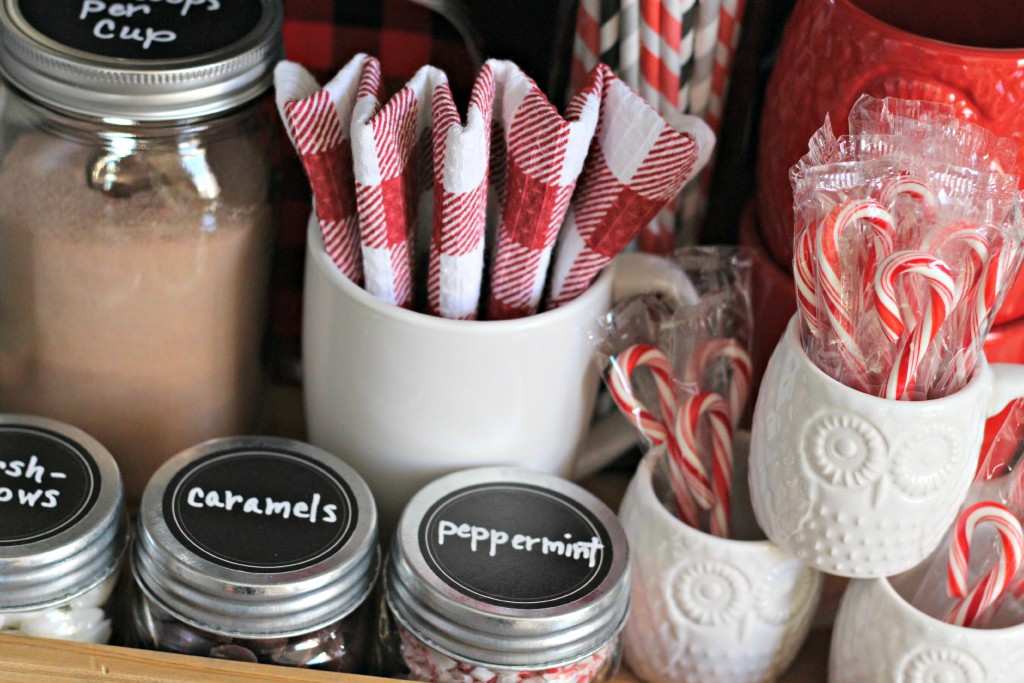 Of course you need to start with the cocoa. Mine is a bulk mix that we use for everyday. I make special mixes every once in a while though. Get the recipe for my Mexican Hot Cocoa! Isn't that little scoop so cute?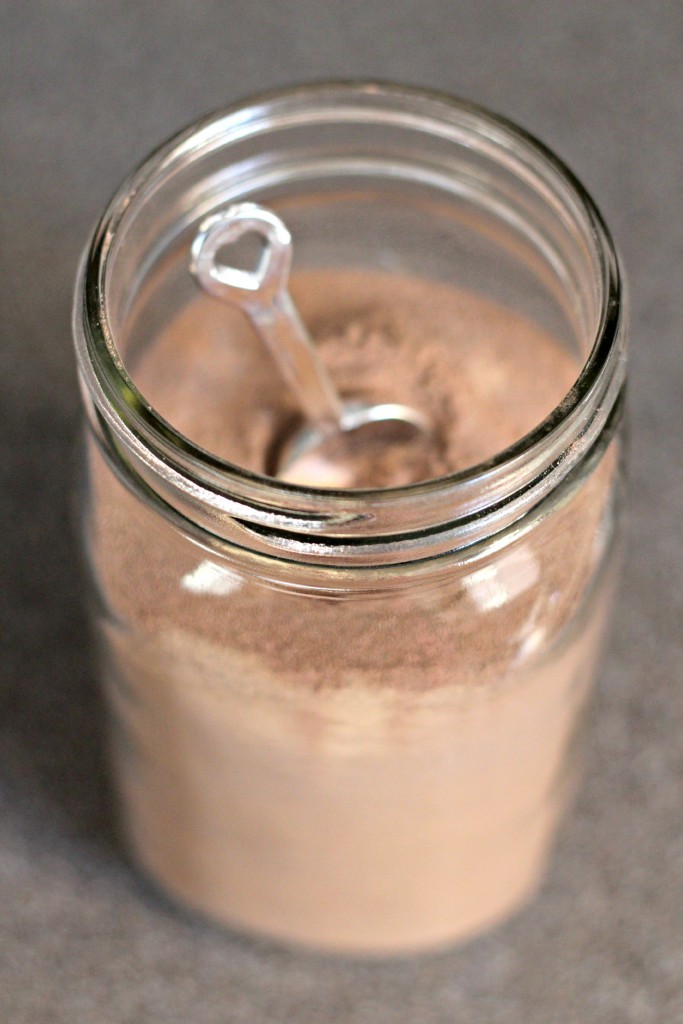 I cut a circle of chalkboard vinyl and adhered it to the mason jar lid then I wrote the simple instructions on it using a chalk marker.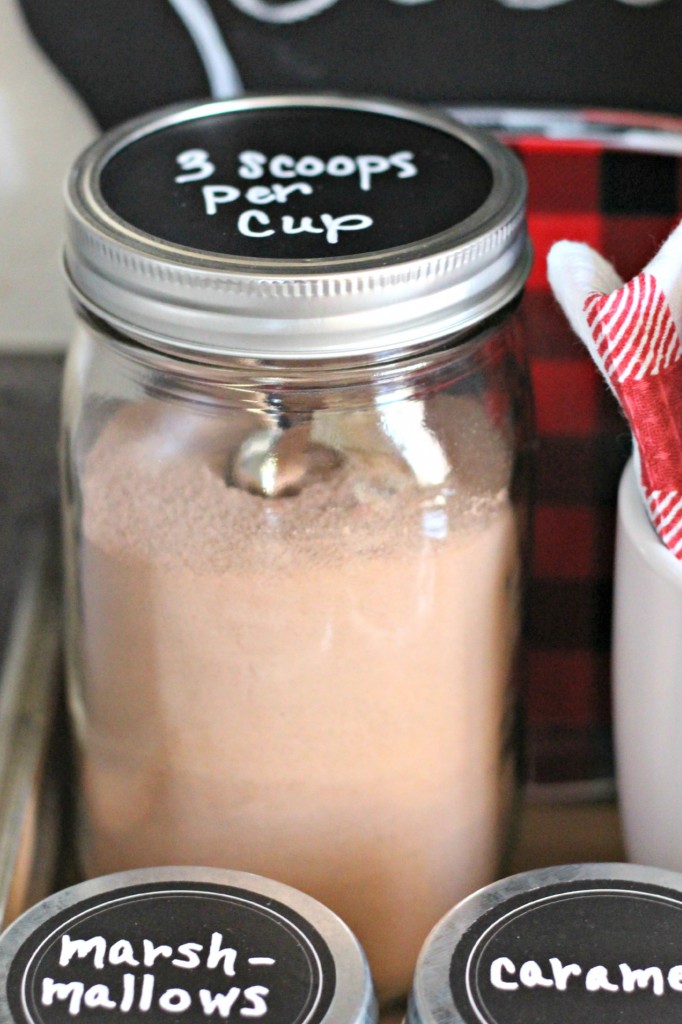 These little jars were in the dollar area at Target but you could also use small mason jars. The chalkboard labels were already on the jars but you can add your own if you use mason jars.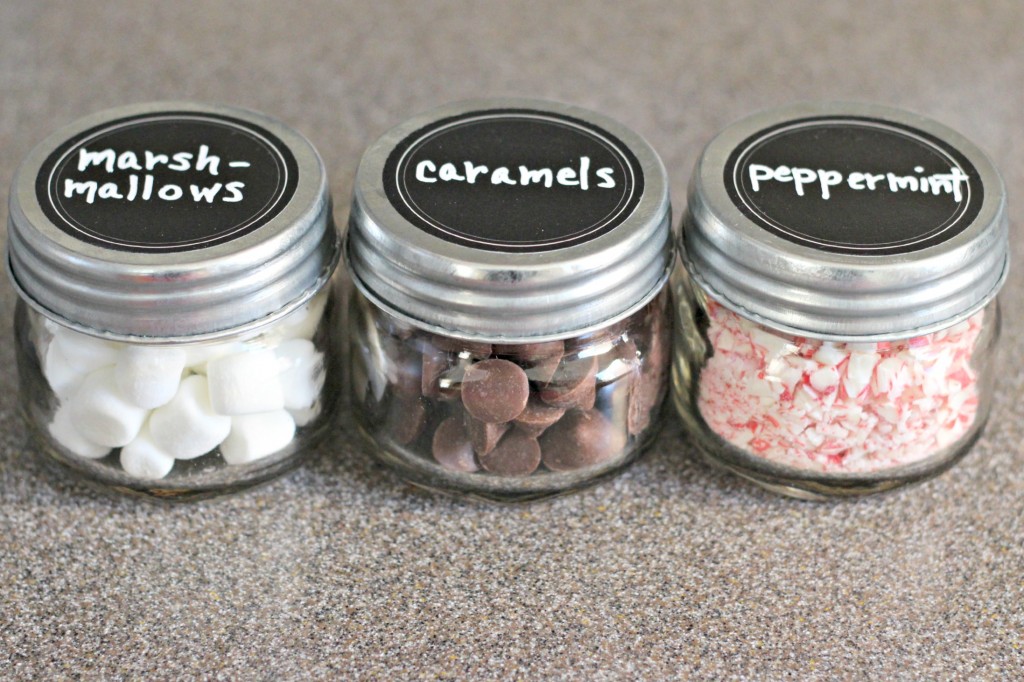 Add a couple mugs to the tray. I want everything to be on the tray to make cocoa making easy.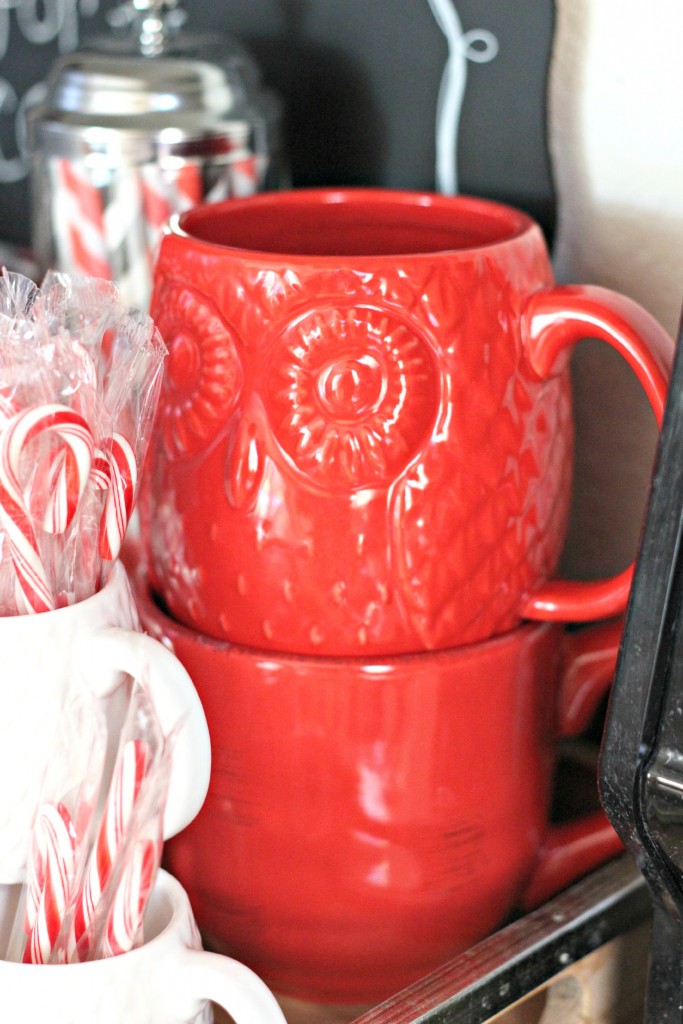 My favorite thing to add to cocoa is a candy cane. I love the flavor it adds and it's perfect to stir the cocoa. These little owl mugs are what I use if I want a little cocoa right before bed.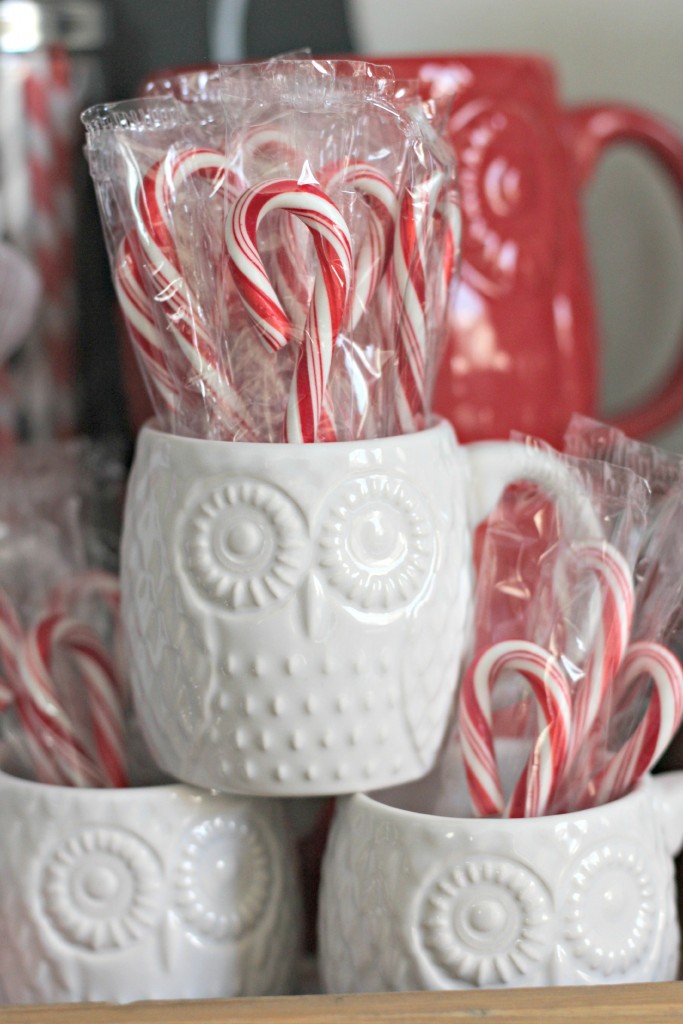 Don't forget a towel for messy clean-ups.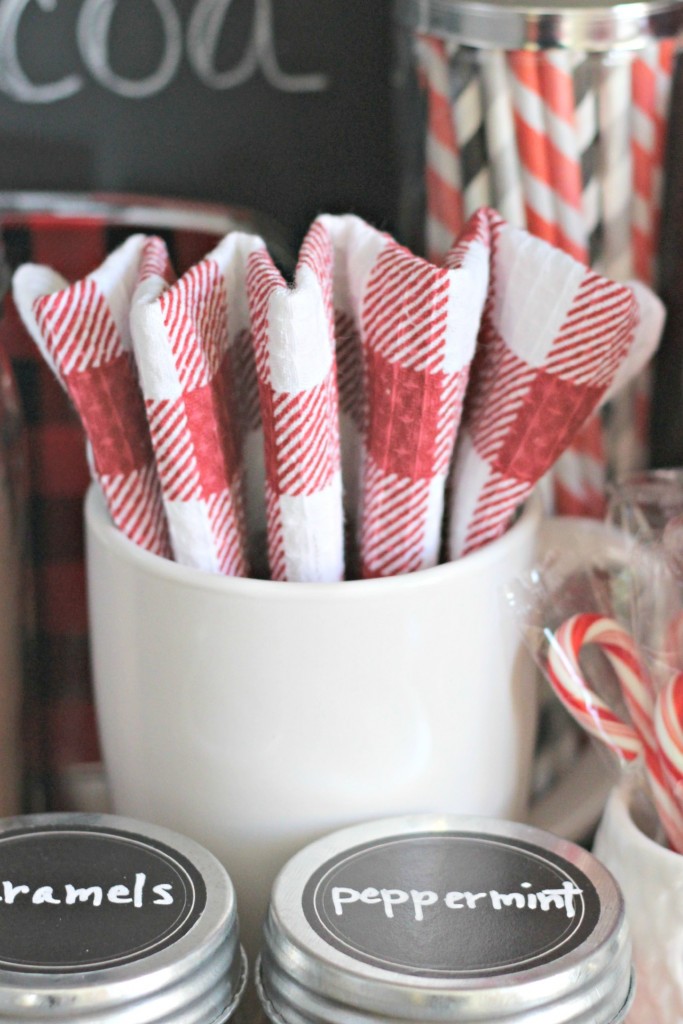 I found this straw holder at an antique shop many years ago. It's one of my favorite things. I'm using striped straws that match the color scheme. I have one kid who drinks everything with a straw so these are essential.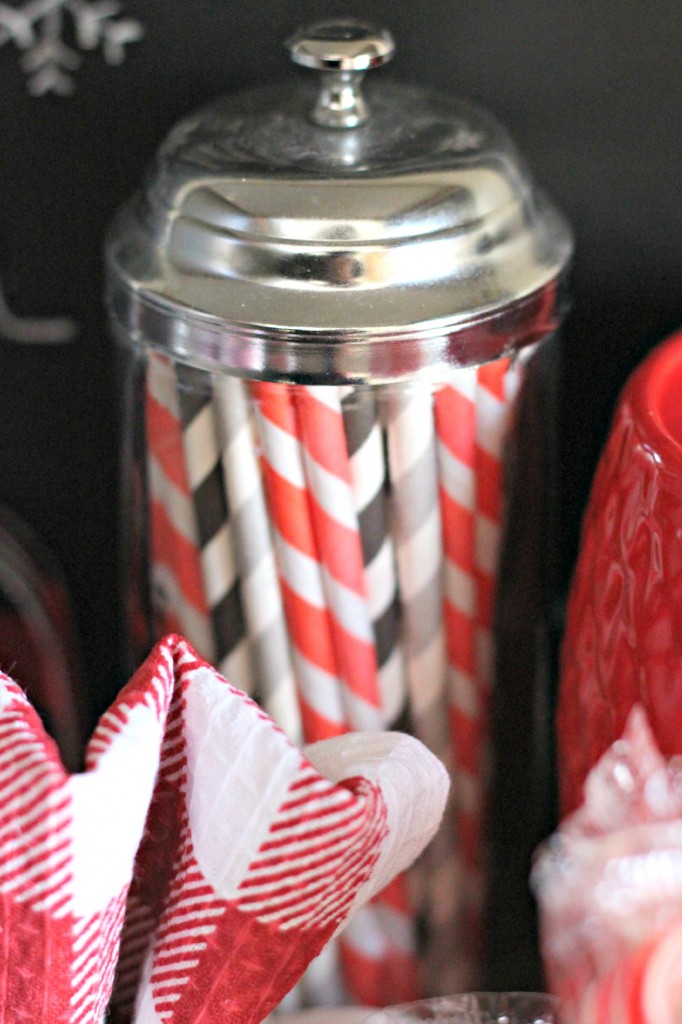 These little trays are still at Target and are perfect for cookies or other little treats with cocoa. My son likes to use them as a coaster.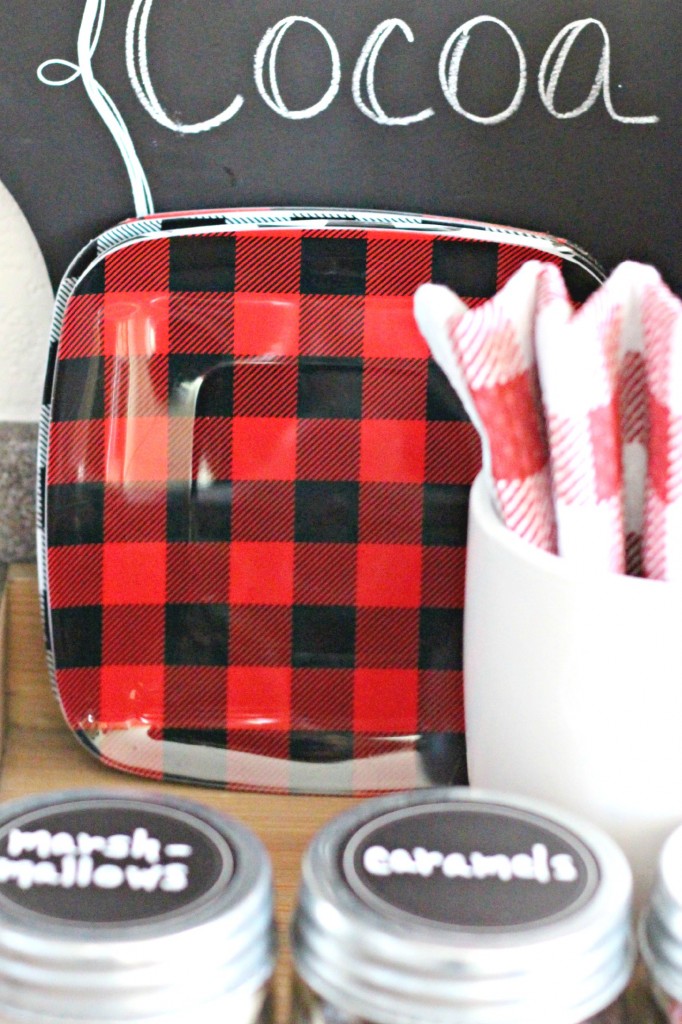 Of course, I had to make a little chalkboard sign. This is actually a place mat from the Target dollar area. My chalkboard skills have a bit to be desired, but it's fine.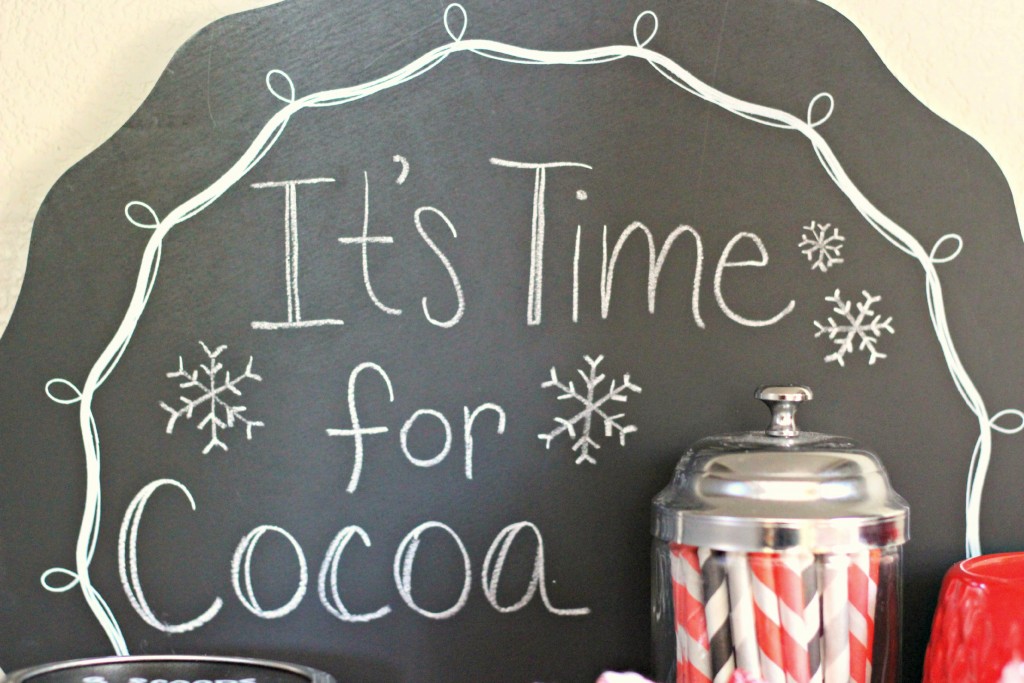 Seriously! It's always time for cocoa! The tray has been out for a couple weeks and the kids have been really good about putting things back where they go.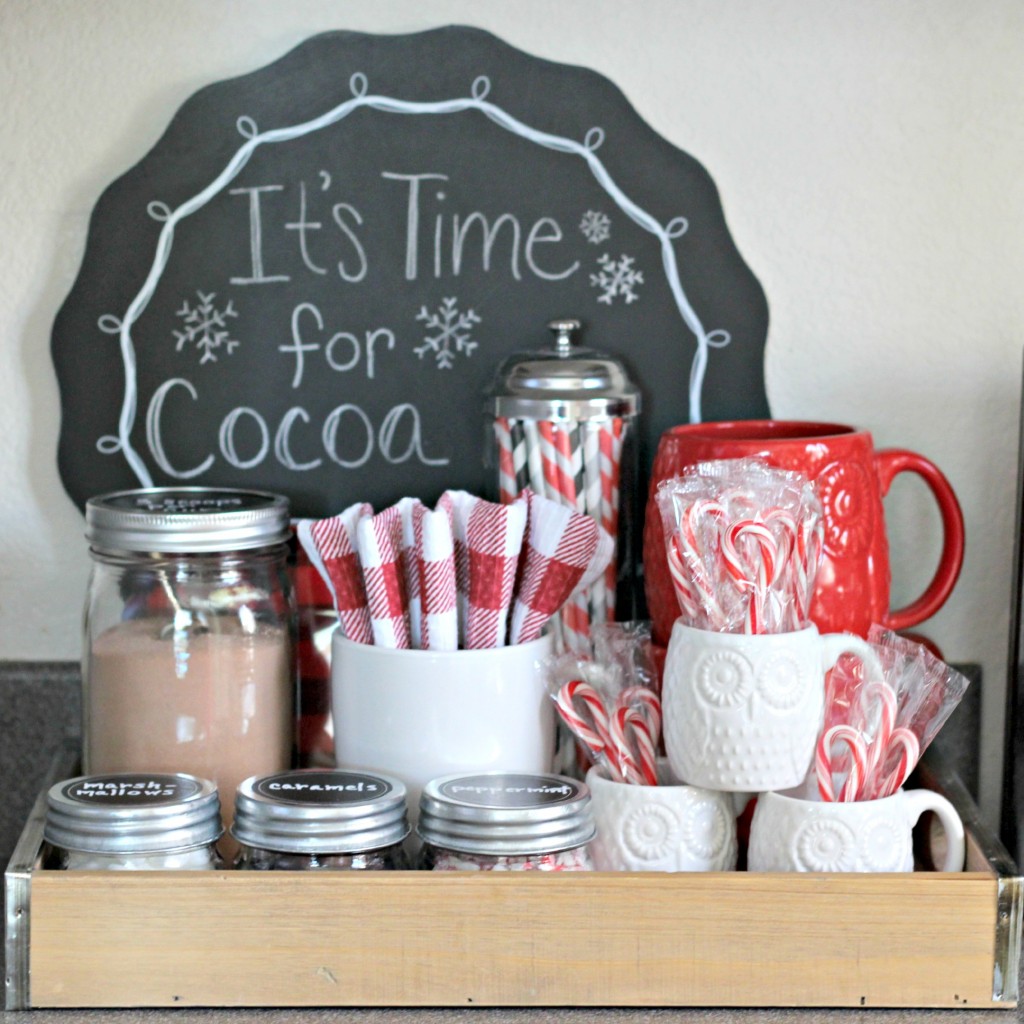 I know I am going to love having this out all Winter long. I don't know how we ever lived without it! Once the weather changes it will be time to get out the Sno Cone Caddy and S'more Tray but I'm going to enjoy the cocoa while it's cool.
What so you think? Do you have a need and space for a Hot Cocoa Bar?