Creating a tablescape for a Spring Brunch doesn't have to be expensive. I'm sharing the steps to creating a beautiful DIY Spring Brunch Tablescape you'll be proud of for a minimal cost. With all the DIY projects you've created, your guests will never know you were able to do it on such a small budget.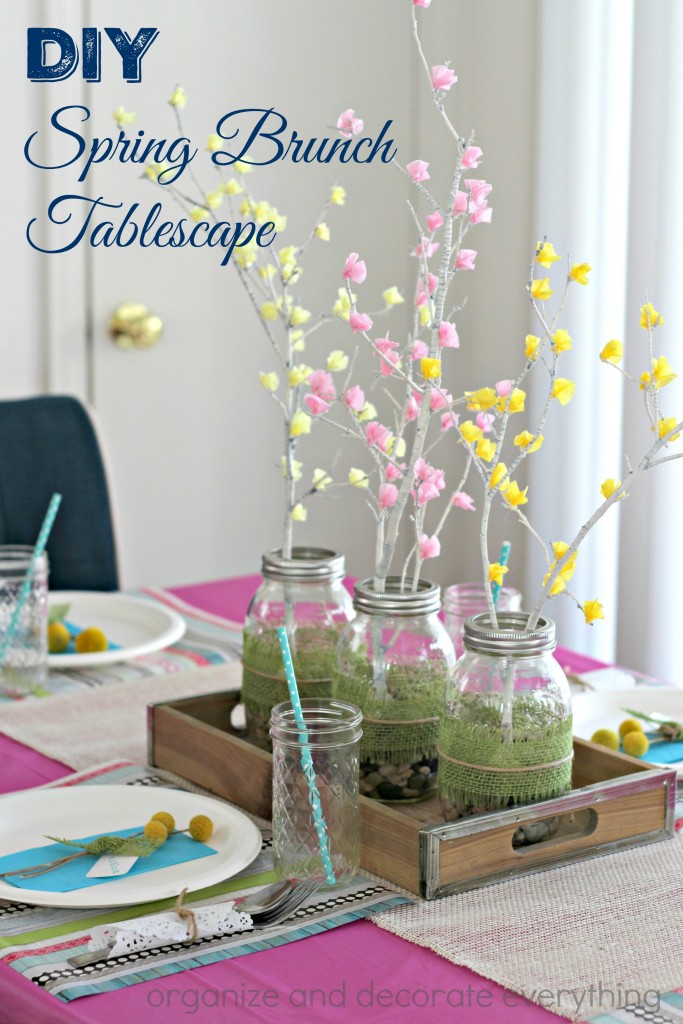 Supplies needed:
tissue paper (Paper Mart)
twine (Paper Mart)
rope (Paper Mart)
wrapping paper
burlap runner (Paper Mart)
burlap ribbon (Paper Mart)
paper plates (Paper Mart)
napkins
billy ball flowers
doilies (Paper Mart)
paper straws (Paper Mart)
crystal mason jars (Paper Mart)
large mason jars (Paper Mart)
tree branches
white spray paint
pebbles
wood tray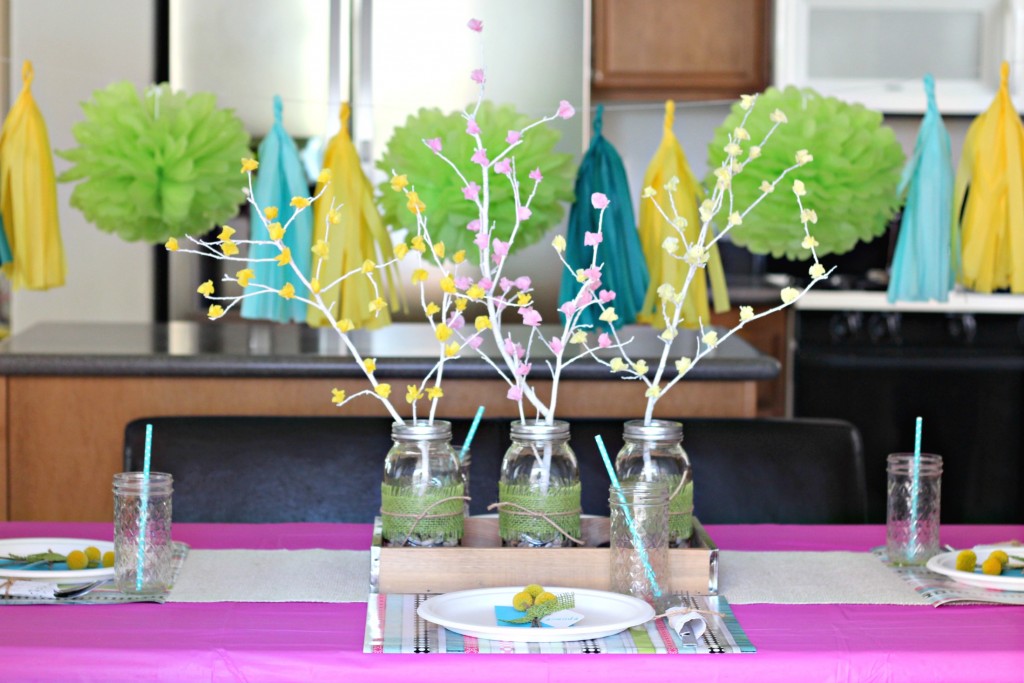 Color Scheme – I prefer to start with a color scheme when I'm planning a party or get together. Even if you've picked a theme you still need to decide on the colors that will be used. Using wrapping paper is a good option as place mats for a party, and it's easy to pull the colors from the wrapping paper for the color scheme. There are so many great options when choosing wrapping paper too. Use the theme of the party, solids or different patterns. You can also use contrasting colors for interest.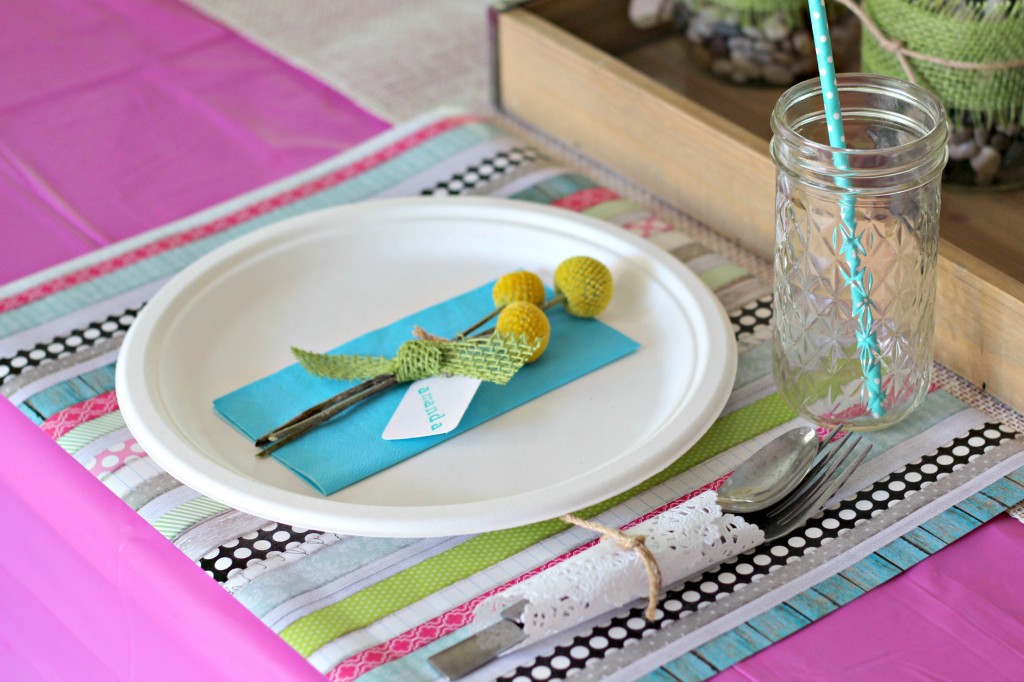 Since there is so much pink on the table I decided to use different colors in the garland, but they were still pulled from the place mat. A couple days ago I shared how to make the tissue paper tassels. They are fast and easy to make using only 2 supplies. They would be fun for any type of party or celebration.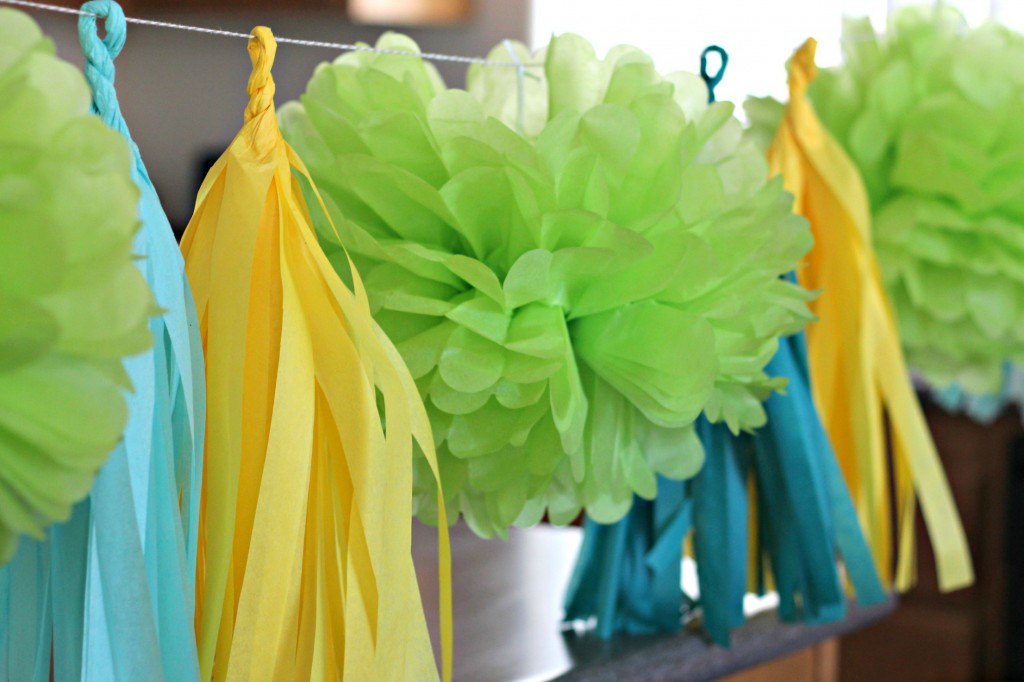 Texture – Once I have chosen the colors I add texture to the table. I layered a burlap runner over the table cloths, then added a burlap ribbon around the mason jars and the place card flowers. I love the rough texture of the burlap against the Springy colors. The crystal mason jar drinking glasses even add some beautiful texture. I also love the contrast between the wood tray and the glass jars in the centerpiece.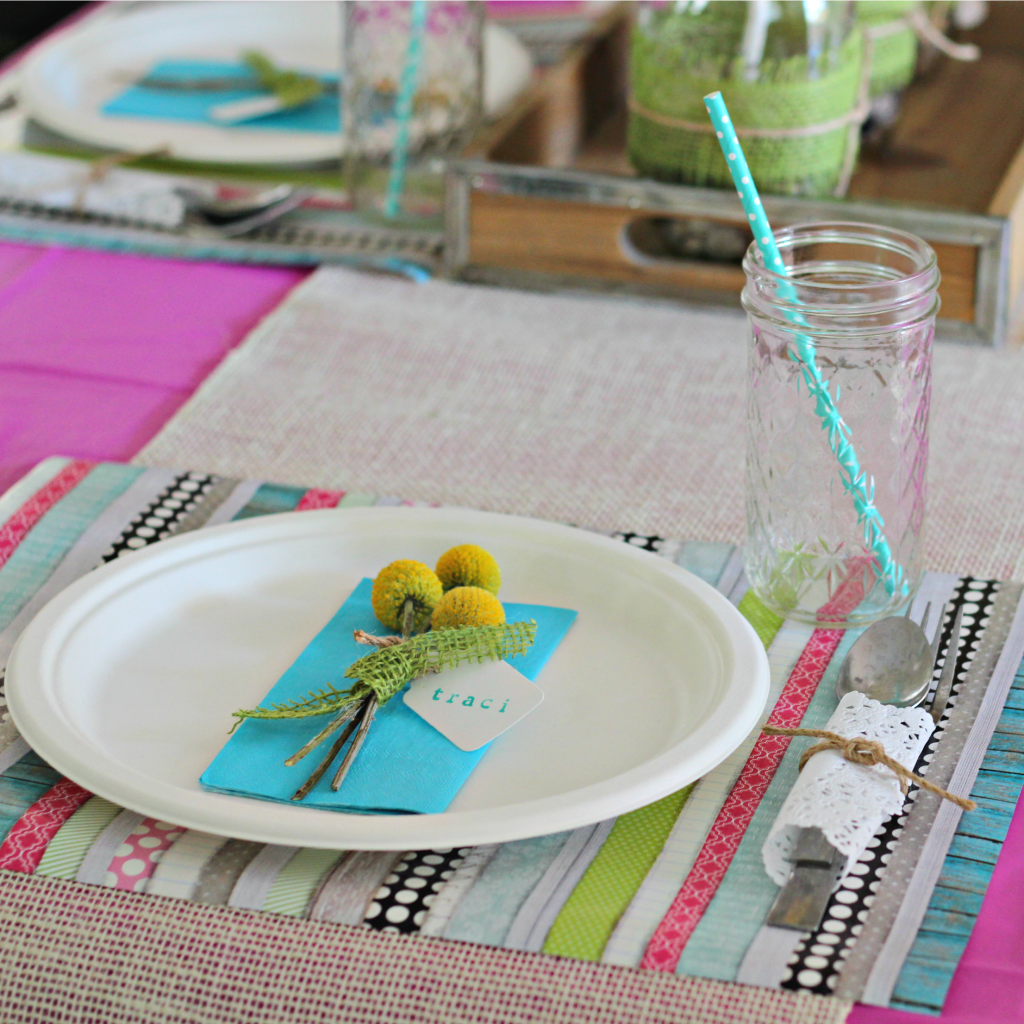 Nature – I like to incorporate a little nature into everything I decorate. It's easy and usually free. Nature also adds a lot of texture, so it's like getting a 2 for 1 deal. I shared how to make the billy ball place cards last week. I love these cute little flowers and once they dry out you can continue decorating with them forever.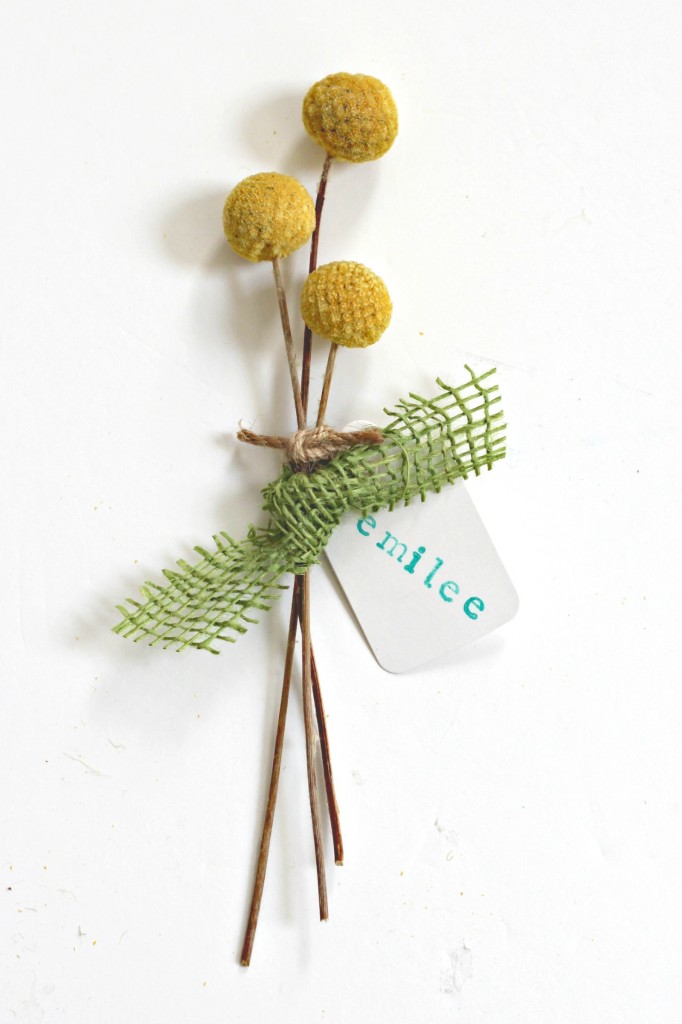 For the centerpiece I cut a few branches from our almost dead tree in the backyard. The branches were too dark so I sprayed them with off white spray paint. It's the perfect color for Spring and it brought more notice to the texture of the branches. You can get a full tutorial for the flower blossom branches to make your own.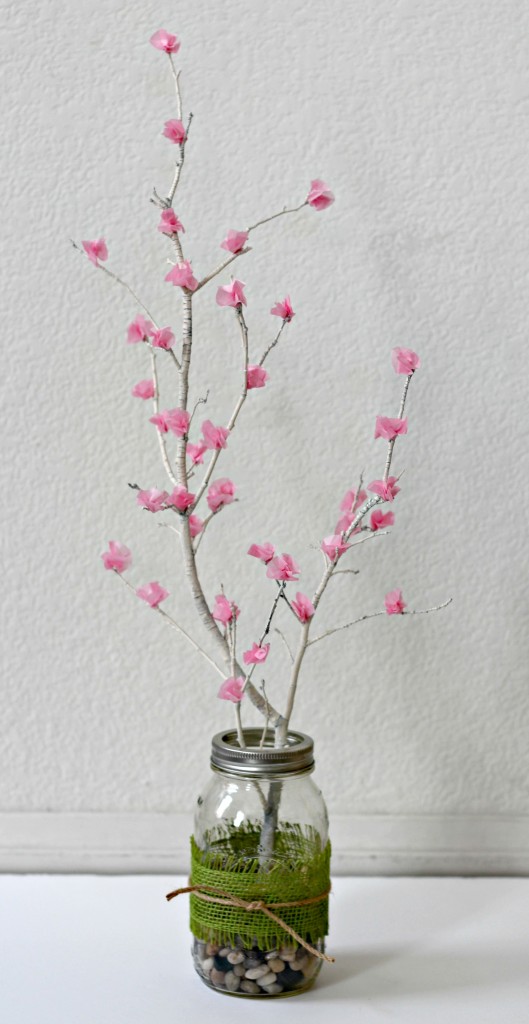 Personality – Don't forget to bring your own personality into your decorating. It's fun to get ideas from magazines and pinterest, but in the end you want your decorations to look like you had a hand in creating them.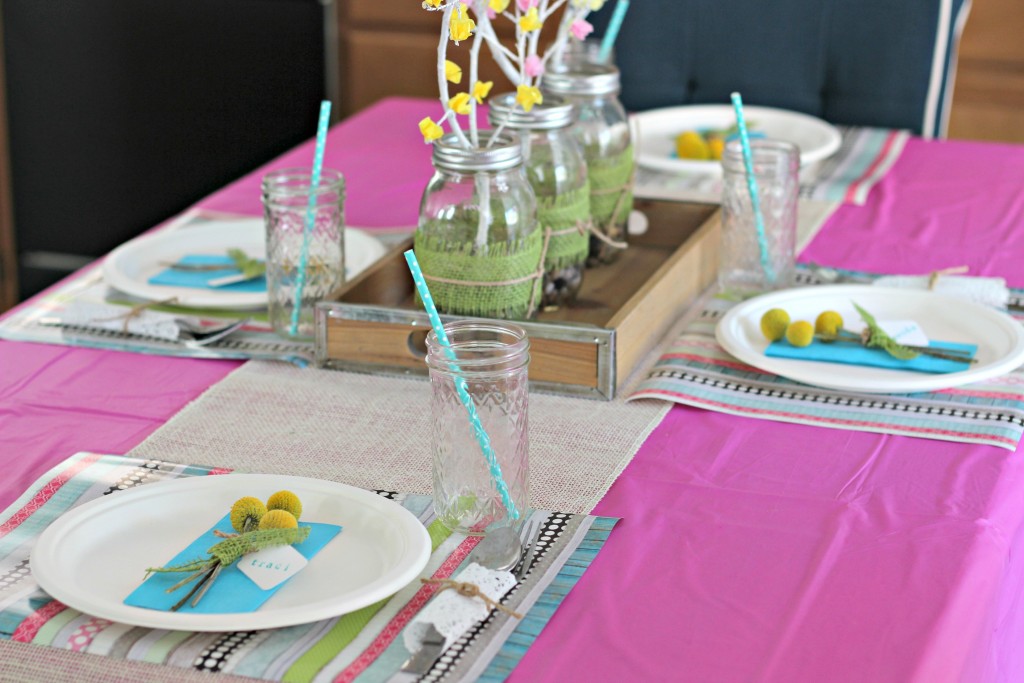 You can't see it in these pictures but there is a light pink table cloth under this bright pink one. I cut the one on top about 6″ smaller than the bottom one, then scalloped the edges using a medium paper plate as a guide. It turned out so cute. I don't have a photo of that step but if you'd like to hop over to instagram I have a photo of the table before it's television debut. I like sharing on instagram so if you want more ideas on decorating and organizing follow me over there.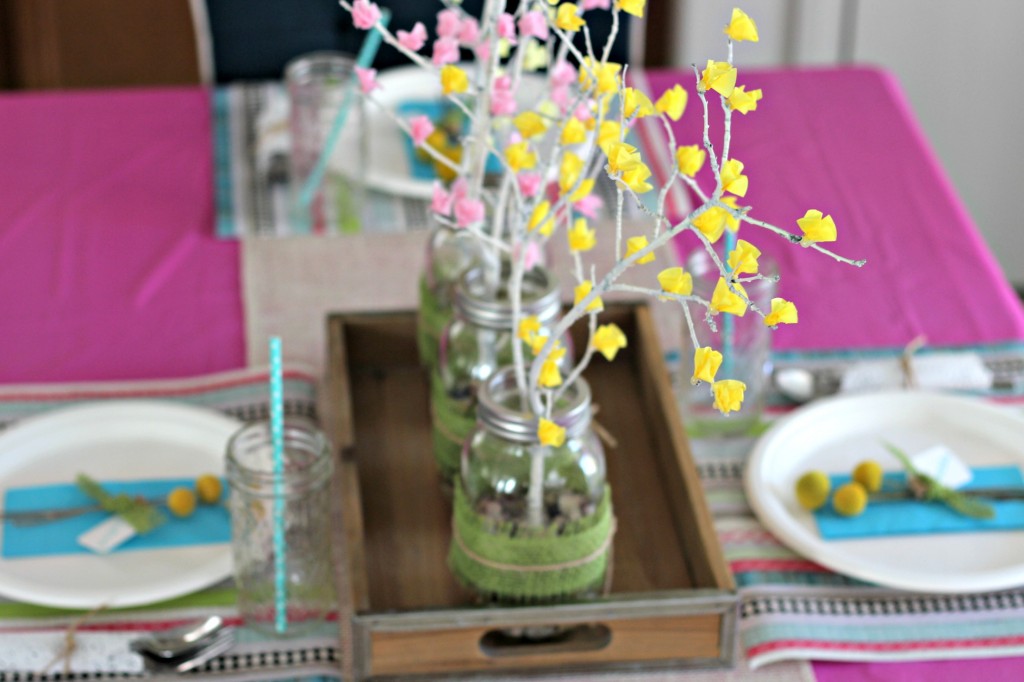 Sharing how to create an inexpensive table for Spring Brunch on television was a great experience. I love sharing ideas and hope you get a spark of creativity while viewing them. If they send me a link to the segment I will add it here. It was a jam packed 2 1/2 minutes and went by extremely fast.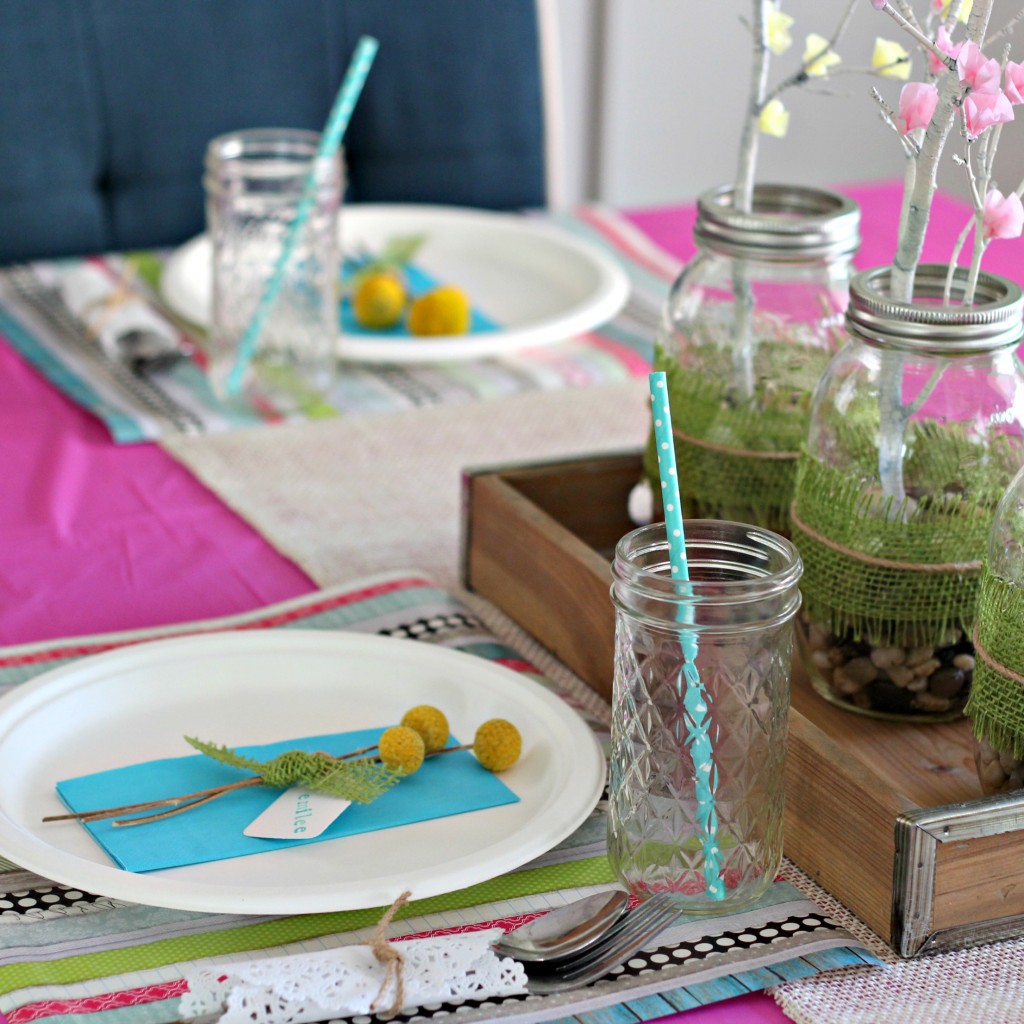 Paper Mart supplied the items for me to create a table setting to share on our local news station. They had so many beautiful items to choose from that it was a hard decision. I can't wait to plan my next party.