The dining area wall had been blank for almost a year while I decided what to do with it. My first thought was a plate wall but then I had another idea. In August I put up these tape strips to get a better feel for my idea and as you can tell they stayed that way for a few months (the room is now decorated for Halloween).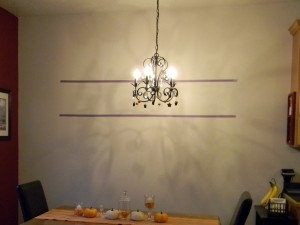 Then it took me a few more months to decide what color to paint it. I finally decided on Woodlawn Colonial Gray by Valspar. Can I just say how much I love this paint? I tell everyone who walks into my house how much I do so now I'll tell all of you.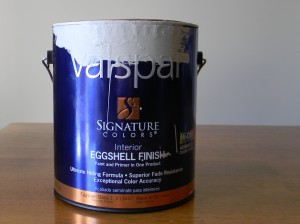 I finally painted it about a month ago. I bought the shelves back in August from Ikea. Can I tell you how much I love these shelves too?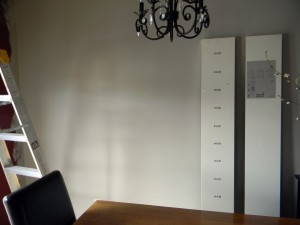 I painted over the red wall next. After only 1 coat of this paint, the red was 90% covered. This paint is amazing and it goes on so smoothly. Oh, and I love the color! It's just what I had envisioned for this space.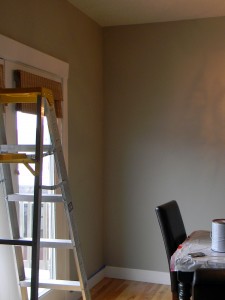 Now for the shelves. They were so easy to put up. If they weren't over 6 feet long I could have put them up myself. With hubby's help they went up very quickly.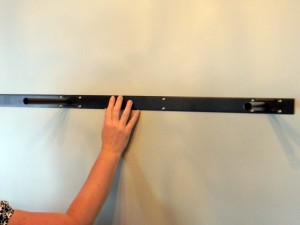 I might have hugged and even kissed the shelves a few times. I think hubby was getting a little jealous.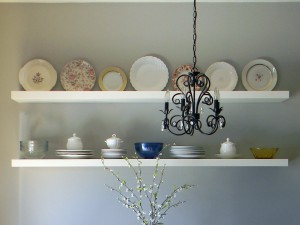 I was able to remove the black floor shelf from the dining area which left a lot more room around the table and chairs.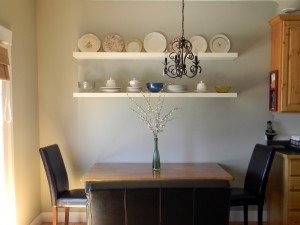 The bottom shelf holds dishes we use often (sometimes daily).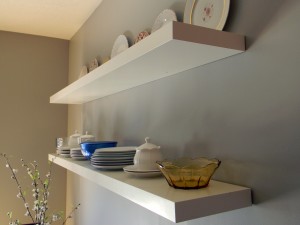 And the top shelf holds plates I've collected for the last few years from Savers, D.I., Ross, and other thrift stores. The most expensive one was $1.49.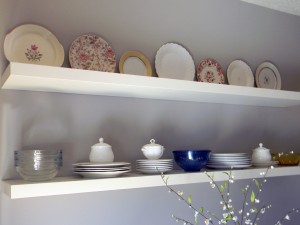 "I just love these shelves!" said in my best Agnes voice from Despicable Me. Sometimes I'll wander into the dining room just to look at them, but I'm not obsessed. The table isn't usually shoved against the wall. I had just mopped and didn't notice I hadn't moved it back.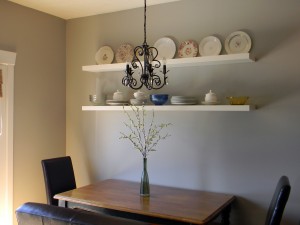 So now I have to finish painting the kitchen and living room walls the same color. Then I'm doing something with the table, but I'm not sure what yet. I wonder if it will take me another year to figure it out.