*Edited- Winner of the Deluxe Double Duty Caddy is RUTH AUBERTINE. The winner has been contacted. Thank you to everyone who entered. I hope you got some great ideas on how to use the caddy.
Deluxe Double Duty Caddy giveaway and review. How would you use the Deluxe Double Duty Caddy to help you get organized?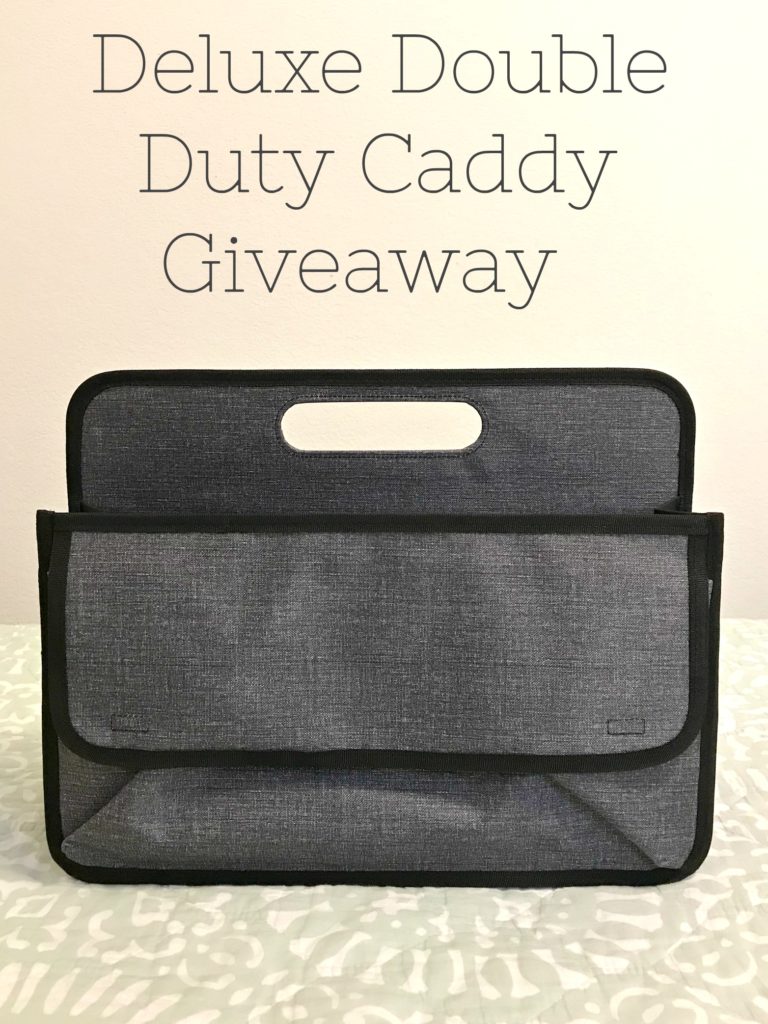 I love reviewing things that I know will be helpful to me and others. I'm going to share some of the ways I've used the Deluxe Double Duty Caddy so far plus more ways to use it depending on your particular needs.
15 Ways to use the Deluxe Double Duty Caddy
Road Trip caddy – include tablet, notebook, pens, magazines, book, dvd's, chargers, snacks, camera, water bottle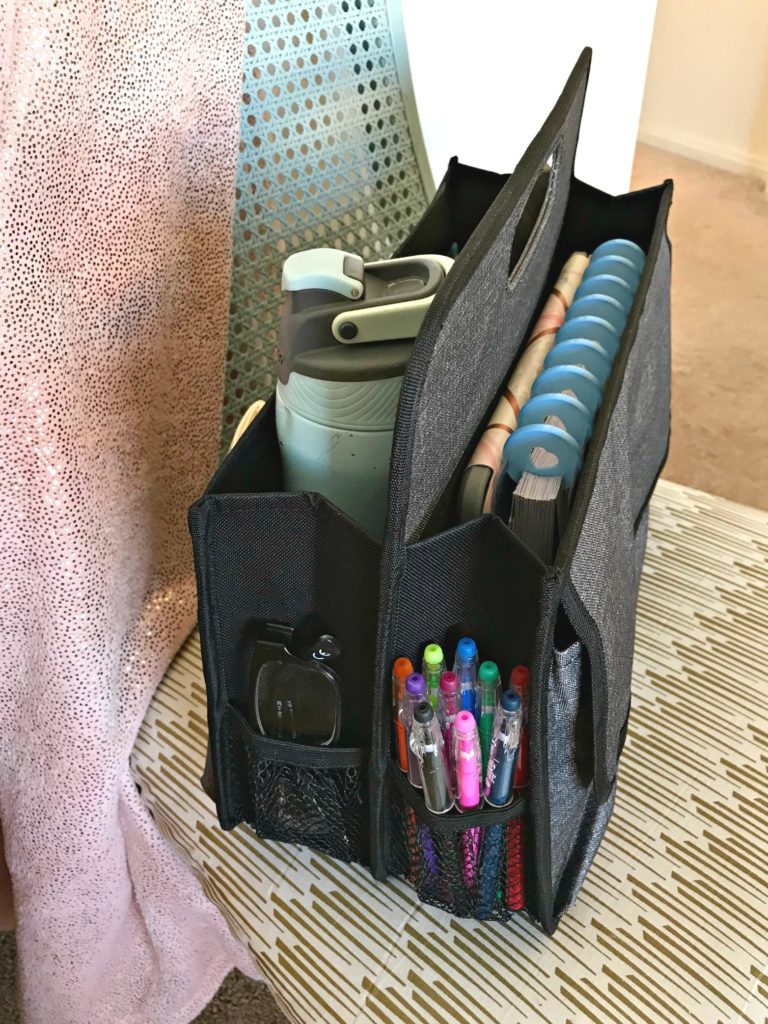 Mobile Office caddy – include planner, planner stickers, file folders, colored pens, notebook paper, sticky notes, scissors, glasses, glue stick, tablet
Library Book caddy – obviously to carry your library books to and from the library but the caddy can also be used to store the books so they don"t get misplaced.
Craft supply caddy – include current craft projects so they can be easily transported to other areas of your house or somewhere else
Babysitting caddy – include puzzles, coloring books, sticker books, colored pencils, crayons, safety scissors, puppets, colored paper
Car caddy – include extra grocery bags, napkins, change jar, scissors, hand sanitizer, wipes, face masks, pen, notebook, water bottles, snacks
Bedside caddy – include current book, magazine, lotion, journal, pen, chapstick, glasses, tablet, phone, charger, slippers, water bottle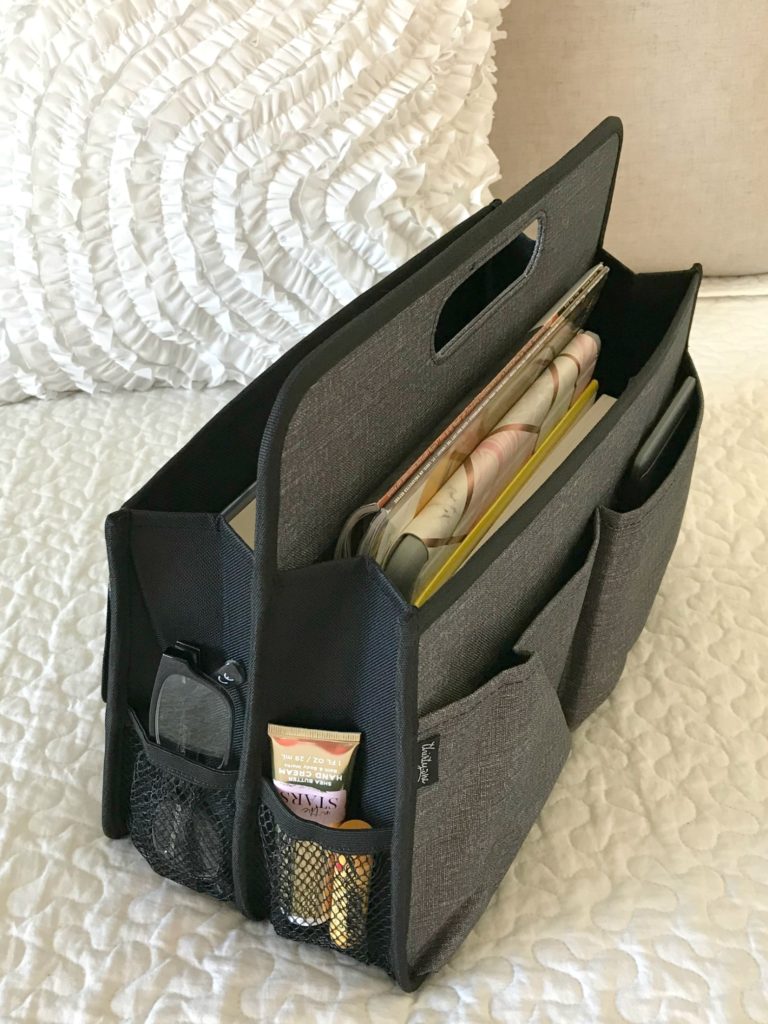 Teaching materials caddy – include workbooks, pencils, pens, notebooks
Sewing caddy – include fabric, scissors, thread, measuring tape, needles, pins, seam ripper, embroidery floss
Church caddy – include scriptures, study guide, notebook, pen, tablet, snacks, water bottle
Gift Wrap caddy – include wrapping paper, tissue paper, notecards, greeting cards, colored pens, colored twine, ribbon, scissors, gift tags, gift bags
In/Out caddy – one side for incoming mail and the other side for outgoing mail, stamps, pen
Scrapbook caddy – scrapbook paper, stickers, embellishments, colored pens, markers, adhesive, decorative paper
Guest Room caddy – include reading material, tissues, lint roller, toiletries, towel, washcloth, snacks, water bottle, wi-fi password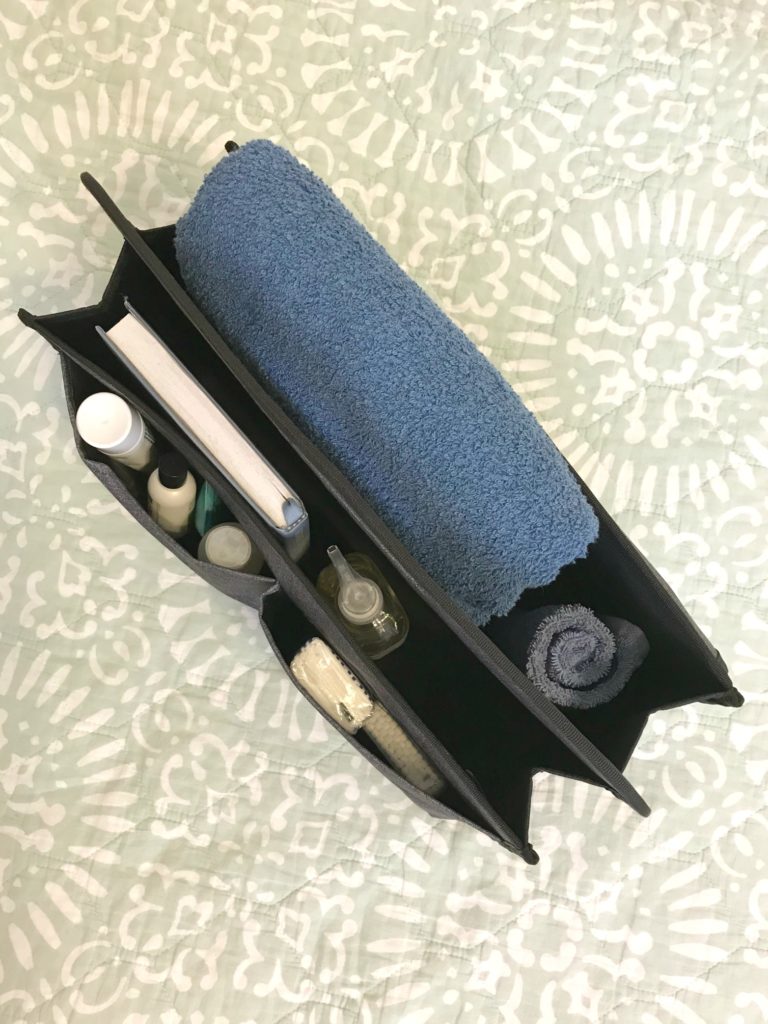 Portable Diaper caddy – include diapers, wipes, powder, ointment, burp cloths, swaddle, pacifier
My thoughts about the Deluxe Double Duty Caddy:
I chose the Charcoal Crosshatch pattern because I love it's simplicity and classic design.
I love how sturdy it is and how easy it is to move from place to place with the convenient handle.
It has varying pockets of different sizes so you're able to organize many different items.
There is a lot of room in both of the large areas with a sturdy bottom to help keep things upright.
I am impressed with the size. It's convenient and easy to carry but also has plenty of room.
Now let me tell you a little about my friend Teri! She has been an Independent Thirty-One Consultant for seven years. She initially joined Thirty-One to have fun and earn a little extra cash to pay for health insurance. Great goals! She has since discovered that not only does Thirty-One have awesome organizing solutions but it is a great opportunity to make new friends!
One of her favorite products for organization is the Deluxe Double Duty Caddy. She personally uses hers to organize some of her business supplies. It is great for a mobile office because it is so easy to pick up and "go!" Would you like to see hers? Here is a short video for you to check out!
Enter the Deluxe Double Duty Caddy giveaway here!
If you would like to keep up with all things Thirty-One and like connecting with other women, consider joining her Facebook group, Totes by Teri. She has giveaways there as well!
Even if you don't win, she will have some bonus prizes so be sure to enter the Giveaway! And in the meantime, if you'd like to check out the rest of Thirty-One's products, you can check out Teri's website.
Small print:
Giveaway includes one Deluxe Double Duty Caddy valued at $38.
This contest runs from Saturday, May 9 at 9:00am 2020 to Friday, May 15 at 9:00pm 2020. A winner will be chosen at random and posted here on Organize and Decorate Everything. Winner will be announced Saturday, May 16, 2020. Good luck to everyone!
Contest open to US residents only. Other Thirty-One Consultants not eligible. The views expressed in this giveaway are of Organize and Decorate Everything and Teri Perrott and do not represent the views of Thirty-One Gifts, LLC.