I decided to make the kids new clipboards to hang, in their lockers, in the new mudroom. They've had their old ones for a few years now and they were starting to show some wear and tear since they get used every day. Do you want to know how to make your own?
First, paint Mod Podge on the clipboard and apply your paper choice to the front. Use a small roller to get out any air bubbles and to make sure it adheres well to the clipboard. Pay extra attention to the edges and corners to make sure you have a good seal.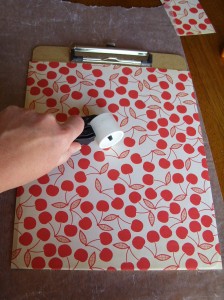 Cut 2 smaller pieces to fit around the clip at the top of the board. Mod Podge the pieces onto the board, trying to match the pattern of the paper.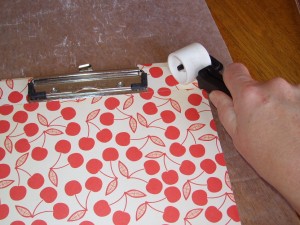 Let dry for 30 minutes, then use sand paper to sand the excess off the board. The sand paper gives it a nice finished look.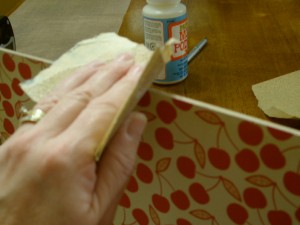 Add any embellishments or monograms you like. I used the Cricut to cut out the monograms and left the clipboard pretty simple so it would be a good writing surface for the kids. Then add a coat of Mod Podge on the top to seal it. Tie a ribbon through the hole to hang it from and you're done.
Amanda's: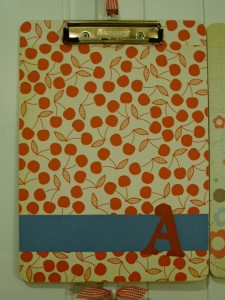 Emilee's: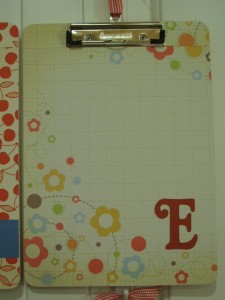 Zachary's: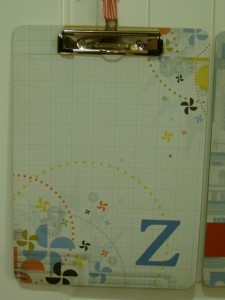 Ammon's: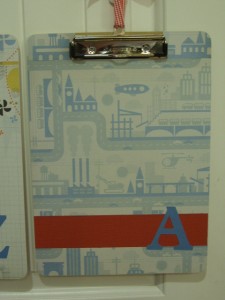 You might be wondering what we use the clipboards for. The kids have a place to put their homework assignments, sports schedules, school schedules, lunch menus, book order forms, etc. until they're needed. They're also great to take along in the car to have a hard, flat surface to do their homework on. We've been using clipboards for about 5 years now and have never lost a homework assignment since we've been using them. They work great for our family.
Now if I can just get the mudroom done, so these cute clipboards can hang in there.