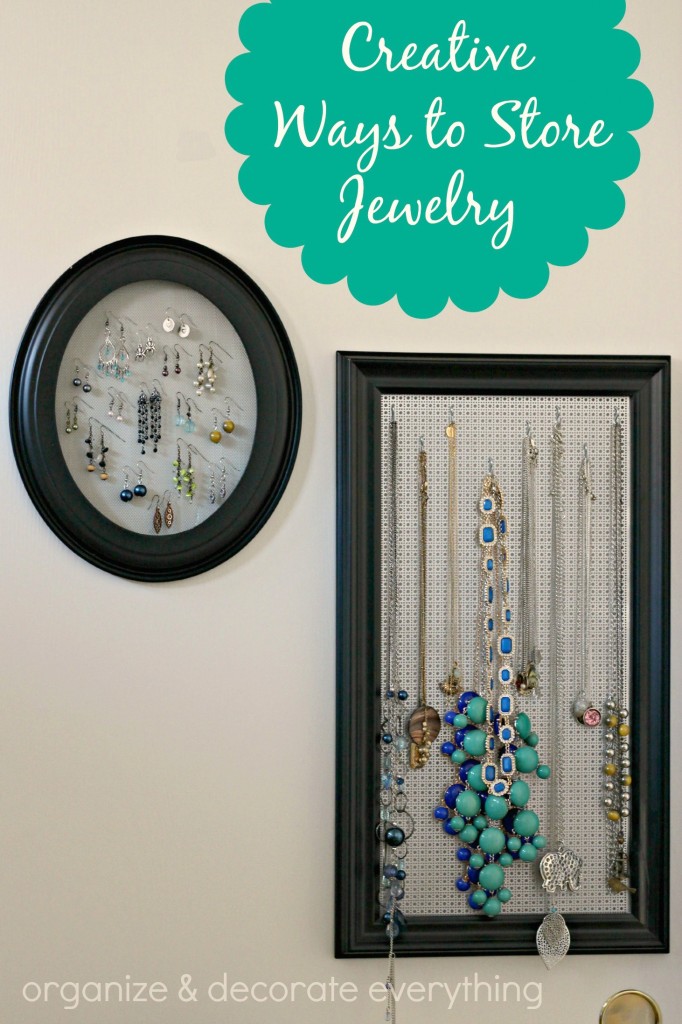 Sometimes when you move into a new house and you're just renting, you can't paint the walls, or put up shelves, or even put nails in the walls. Even if you aren't renting you might not have the same amount of space or you might have plenty of space but it's just not laid out the same way. You might realize you only have a 4″ space in the bathroom for all your jewelry. Do you get discouraged? No, I'm going to share some creative ways to store jewelry. Luckily I already had everything I needed for the job, I just had to find a place to put it.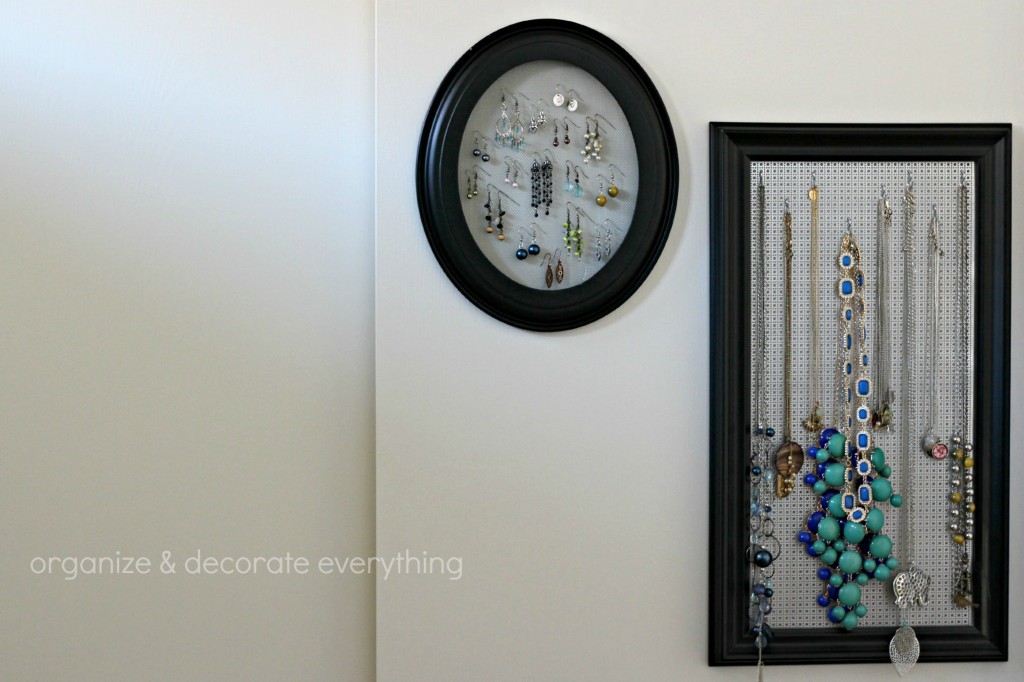 Can you tell what the jewelry frames are hanging on? It's one of the sliding doors to the walk-in closet. One of the things I was happy about in this house was the generous master closet. I was also very thankful that it had a sliding door I could keep closed and pretend it was a wall.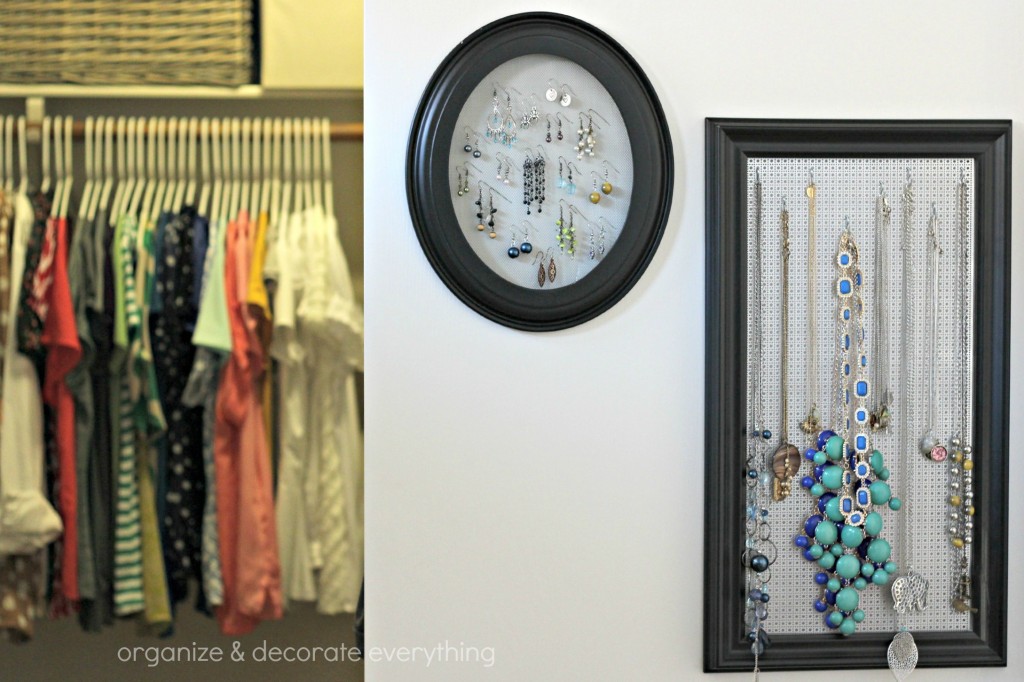 We decided to keep the right side of the door stationary at all times to give me a perfect space for a little table and area for my jewelry. Since the door never moves it's basically a 2 1/2 foot wall now. It worked out great for the inside of the closet too because we now have that much more wall space in the closet as well.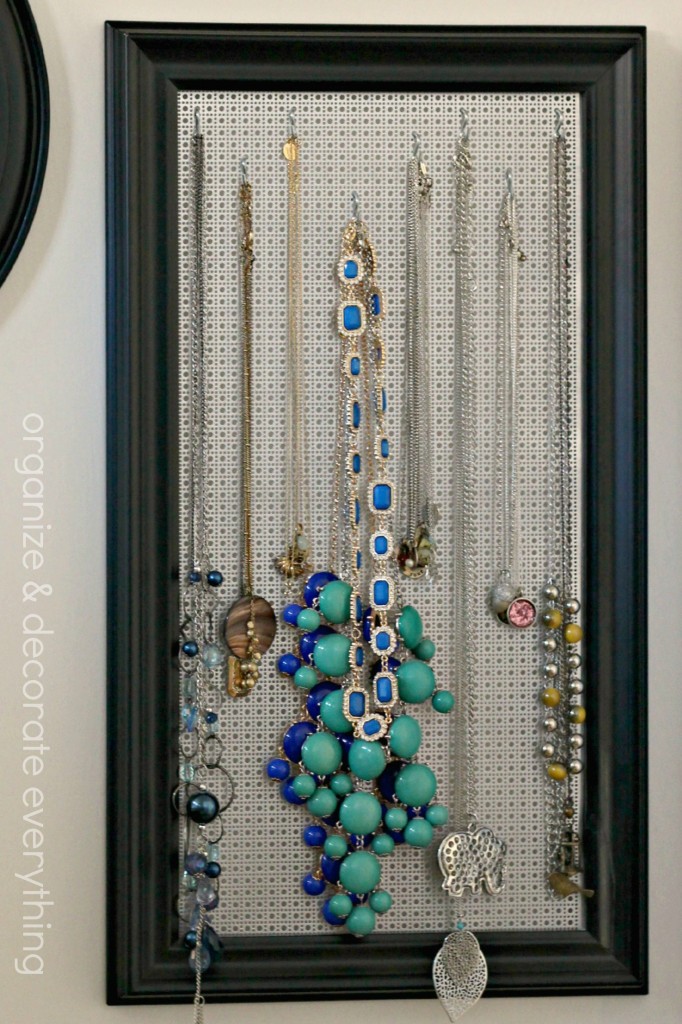 The necklaces are all hanging on the jewelry organizer I made about a year ago. You can see how to make it by clicking on the link.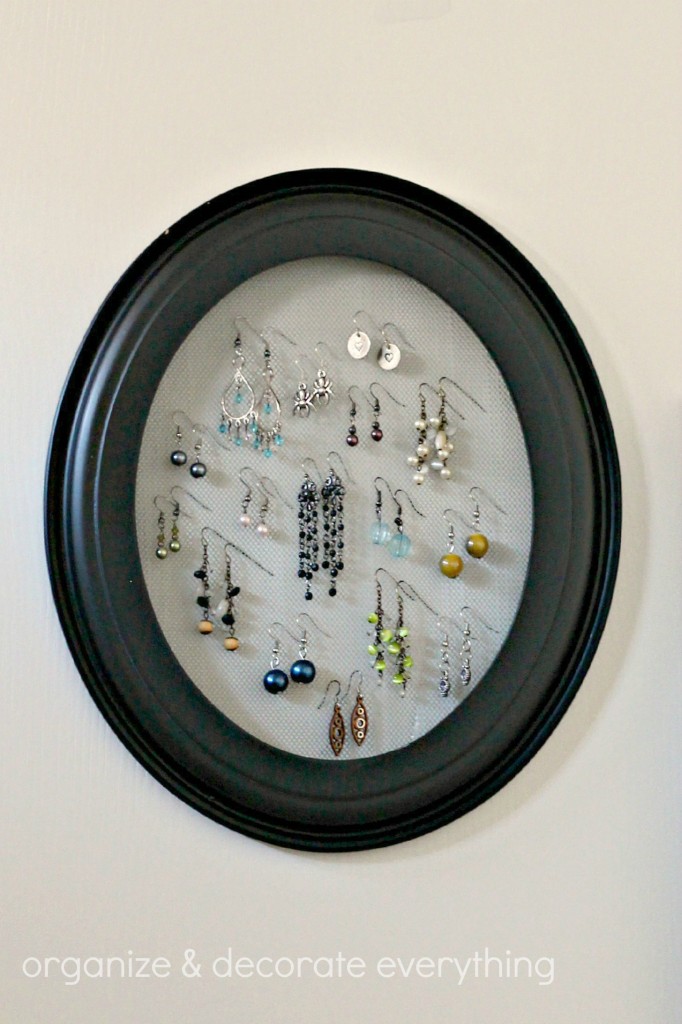 The earring holder was made in a similar way. They are both attached to the door with Command Strips.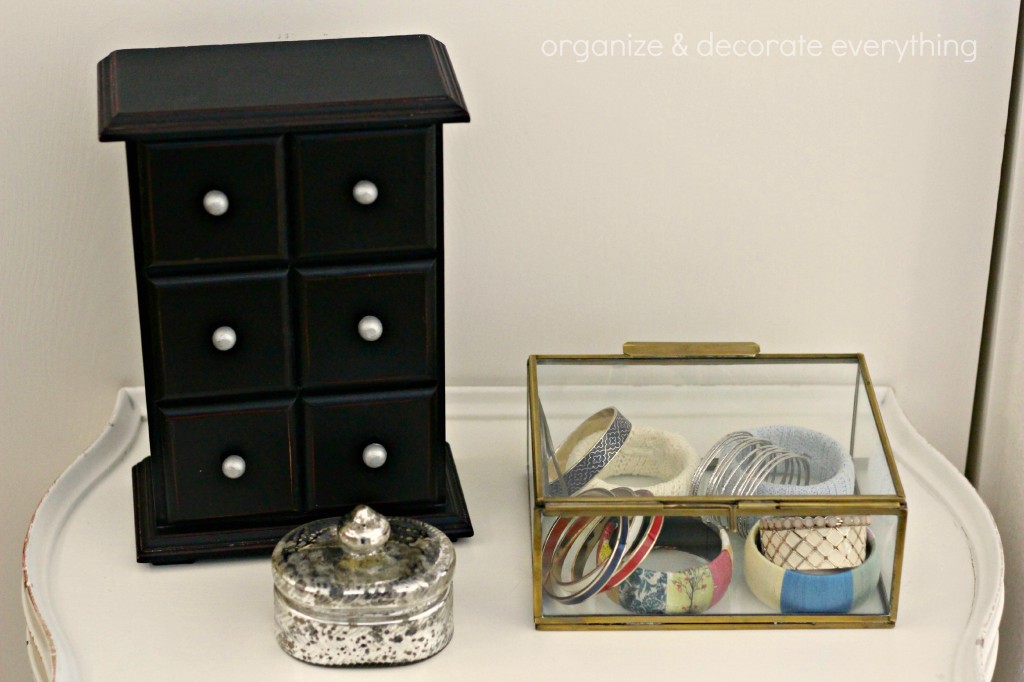 The antique table holds the rest of my treasures. I like a lot of it to be out in the open.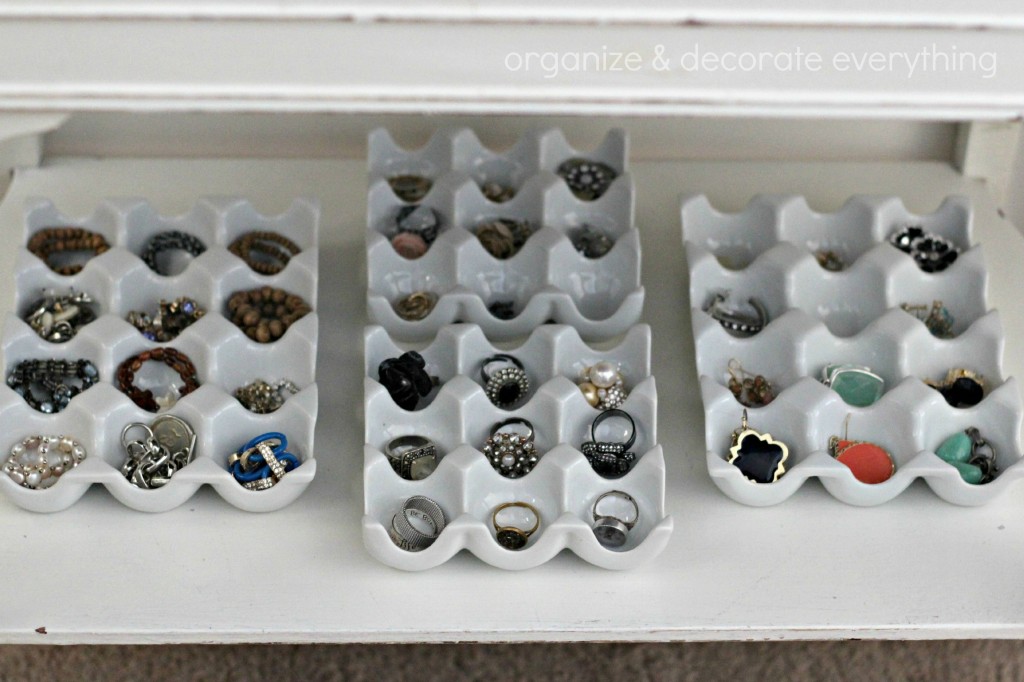 I love using ceramic egg crates to keep my little things separated and easy to see.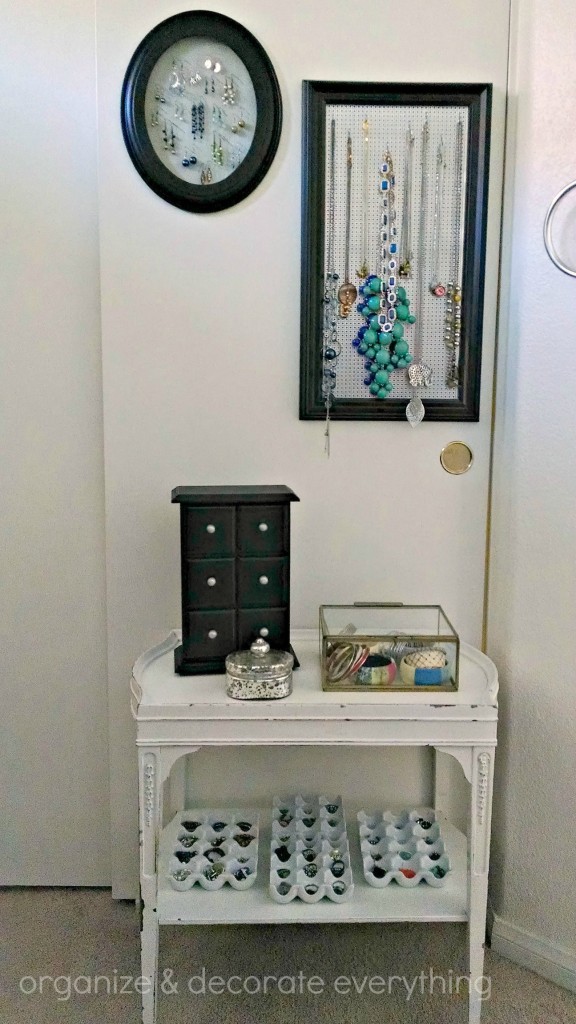 Here's what the whole closet wall looks like in the bathroom. I love this little area. Sometimes you don't get the ideal organizing or decorating situation. Think outside the box, you might like the results even better.
Here's another post you might like. It's even more creative. I love how we decided to store Emilee's jewelry. Using a tray keeps everything contained and ties the tree, giraffe, and birdcage together. It's also a quirky decorative piece for her dresser and giraffes just happen to be her favorite animal.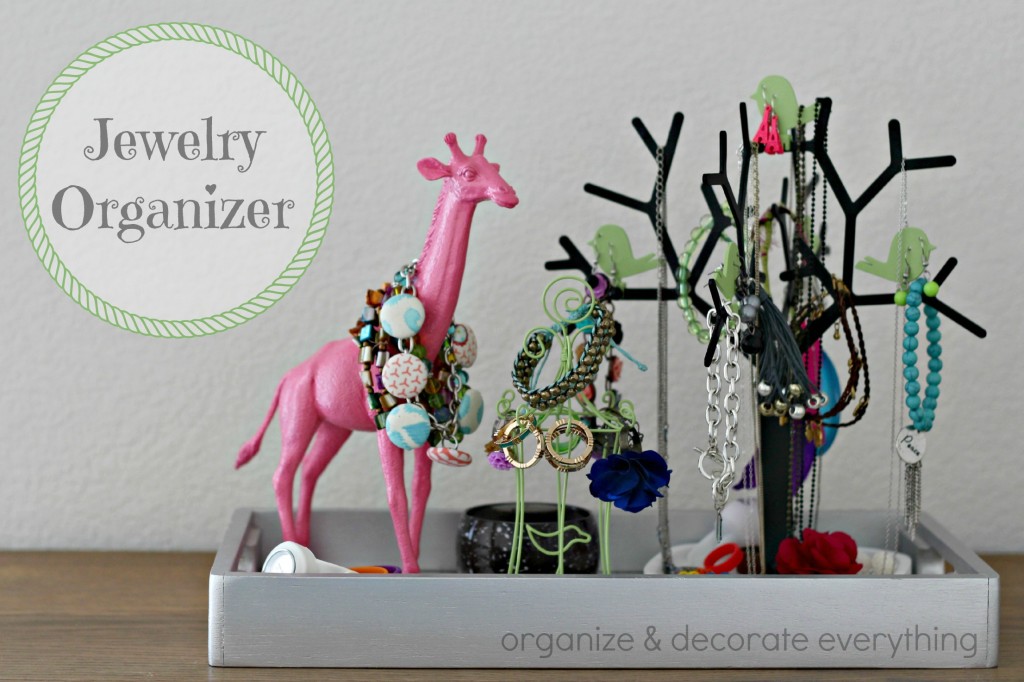 Do you have any creative ways of storing jewelry?