This is a sponsored post written by me on behalf of Coca-Cola® and Dollar General. All opinions are 100% mine.
I first saw these aluminum Coca-Cola bottles a few years ago at a luncheon I was attending. They were so awesome and the shape was so perfect that I couldn't just throw them away, so I took them home and turned them into vases by spray painting them and adding some twine to the top. This year when I saw that Dollar General had a Bottle Cap Topper for Coca-Cola bottles I had to have some fun and turn them into Coca-Cola Bottle Ornaments.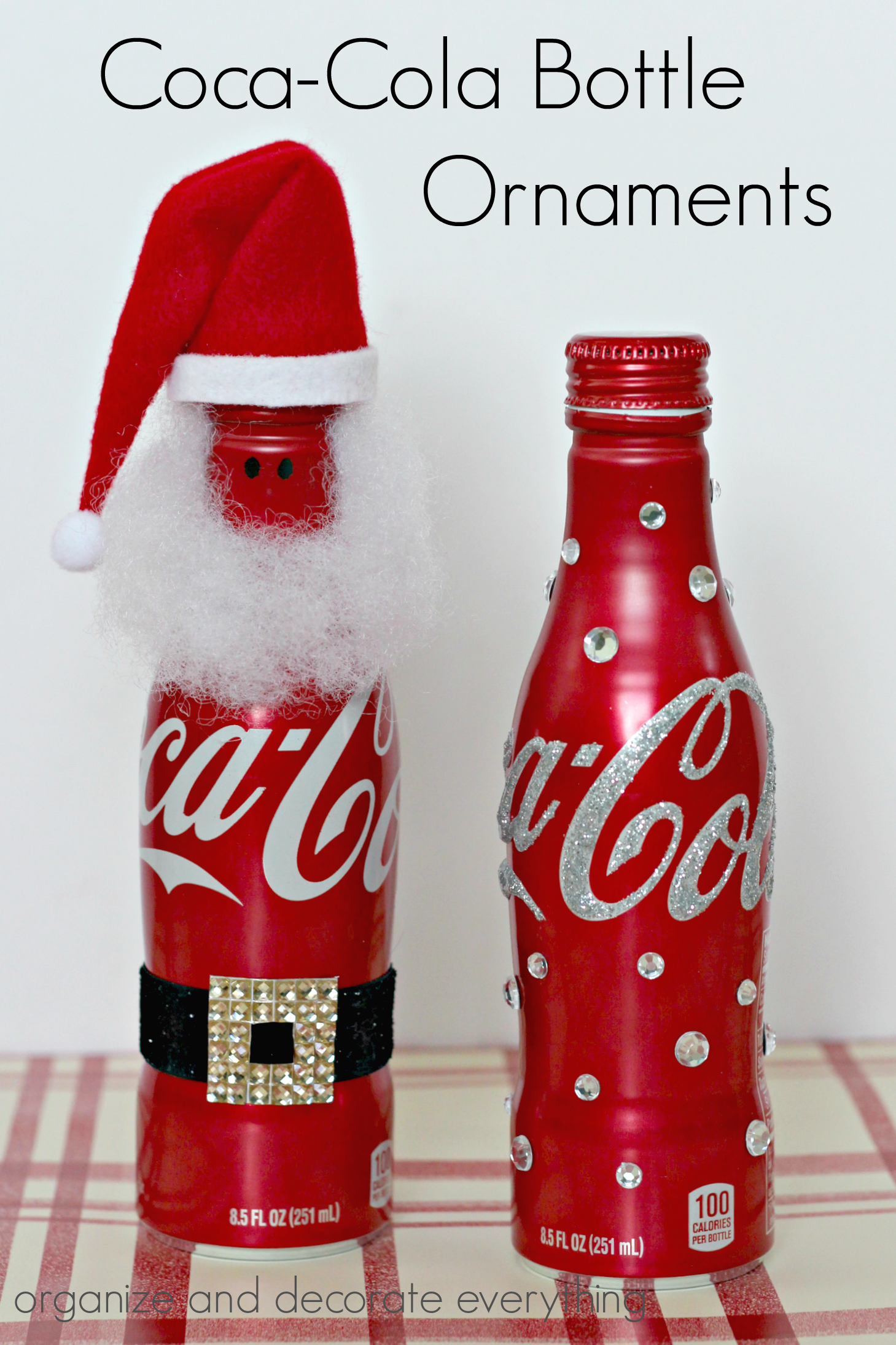 We make new Christmas ornaments as a family every year and this ornament cap topper makes turning the Coca-Cola aluminum bottle into a personalized gift and ornament easy. I love that it even has the date printed on it.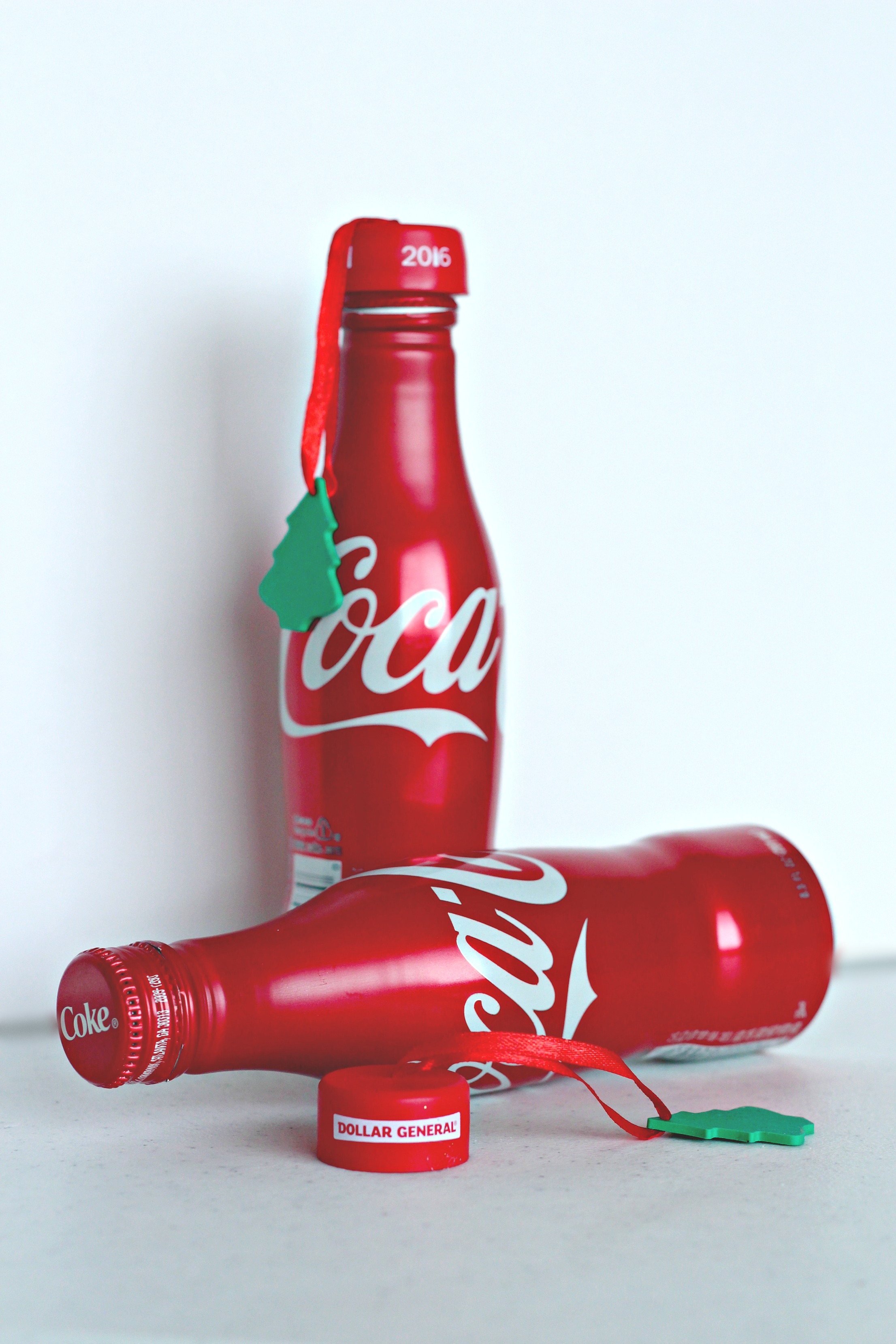 The first ornament we made is perfect for a girl friend, co-worker, teen family member, or anyone who loves a little bling. You only need a few simple supplies you probably already have on hand.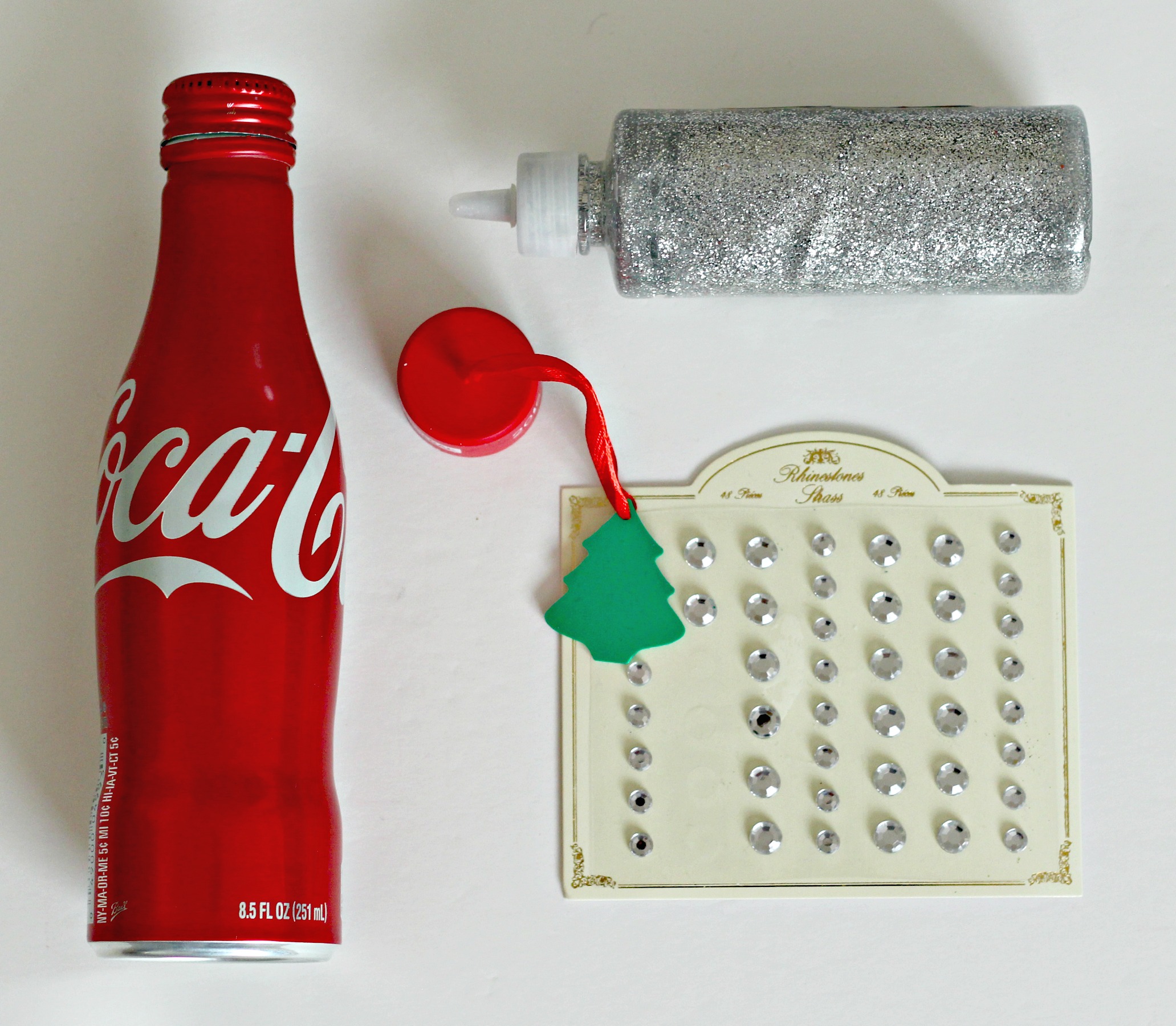 Add the rhinestones in random places around the bottle. Mine are self adhesive but if yours aren't you can use glue dots or craft glue to apply them.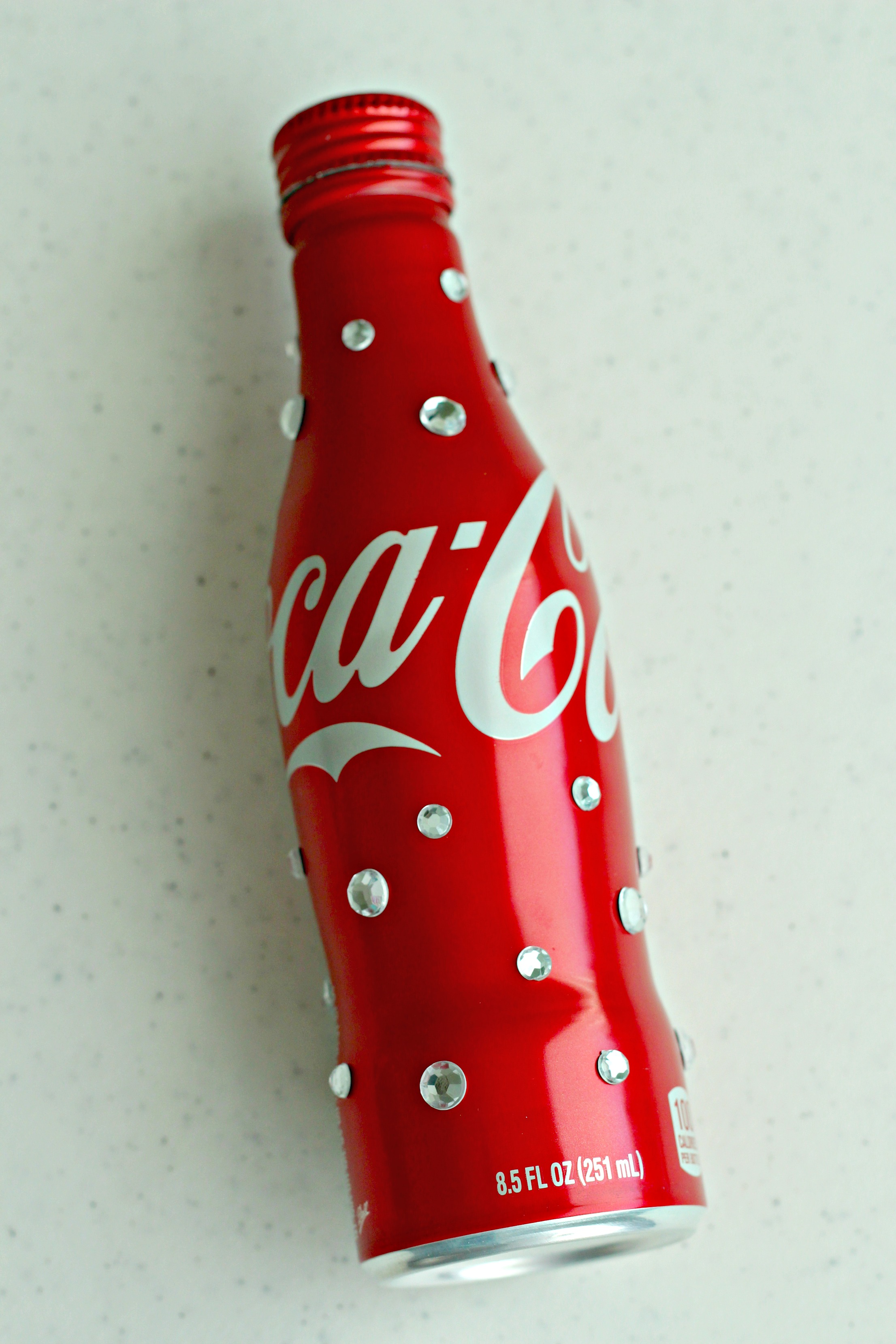 Now it's time to add the glitter. I thought this would be harder than it was, it was really easy. Trace the Coca-Cola logo with glitter glue. I made sure the area was covered really well because it does shrink a tiny bit when it dries completely. Since I'm left handed I worked right to left but most of you will find it easier to work left to right. You will need to hold the bottle while applying the glitter rather than laying it down so it doesn't smear.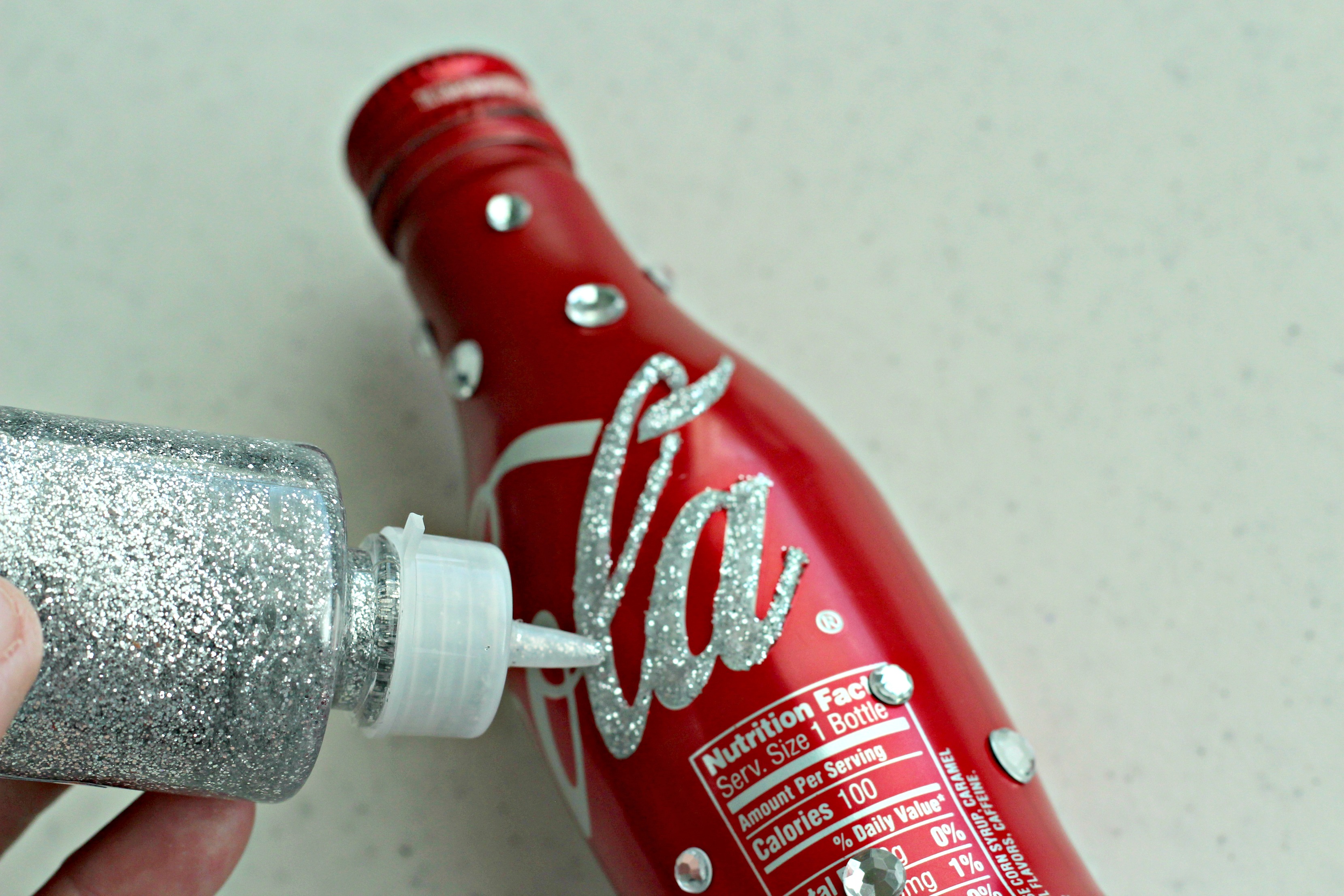 I love how it turned out. It takes a couple hours to completely dry so handle with care until then. This would make a great gift with a gift card attached, included in a bag with other treats for movie night, or attach a candy cane and hand out to all of your friends. Share a Coke® this holiday!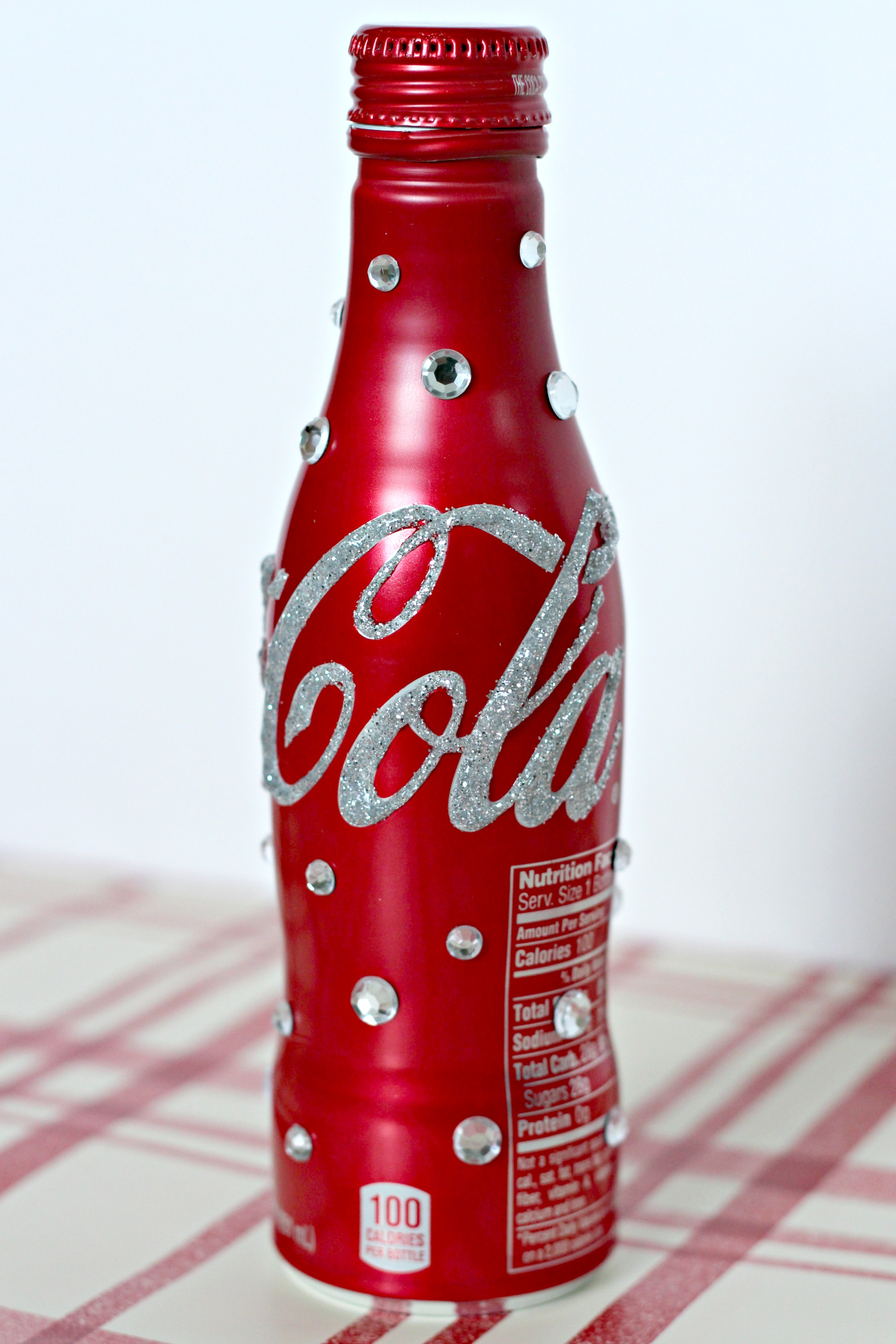 Our next ornament is a more whimsical. Below are the supplies you will need. I decided to not use the jingle bell but it would be fun if you decided to use it.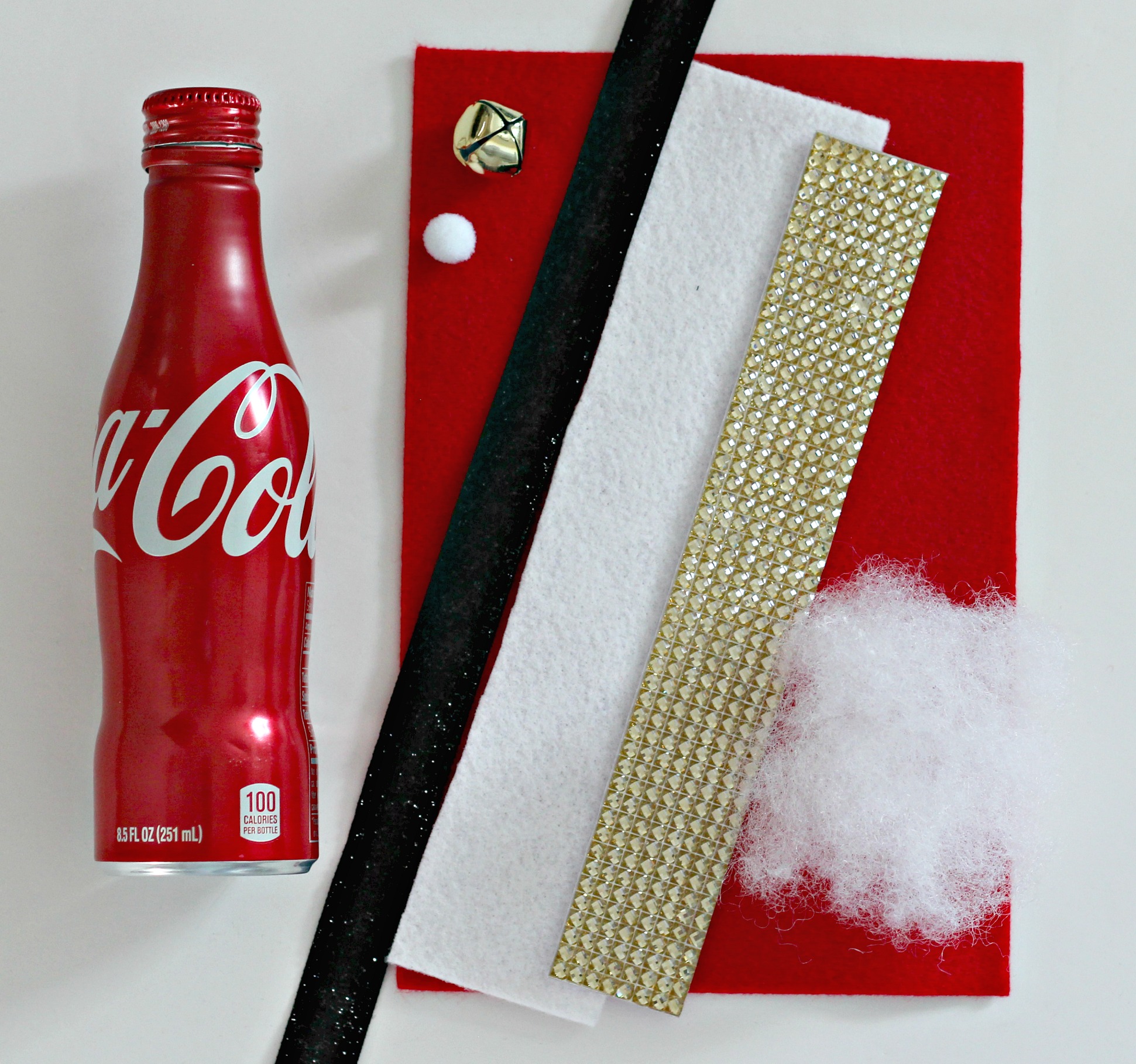 I made the Santa hat by wrapping the red felt around the bottle topper and cutting it to size so it overlapped a little in the back. Cut the red felt into a fat triangle then wrap around the bottle cap topper and use hot glue to keep in place. Leave a small hole in the back for the ribbon on the bottle cap topper to come through. Continue forming the hat into a cone shape and hot glue in place. Bend the Santa hat and use a small bit of hot glue to hold in place. Add a thin piece of white felt around the bottom of the hat then add a small pom pom to the very end. I used hot glue to make the whole hat.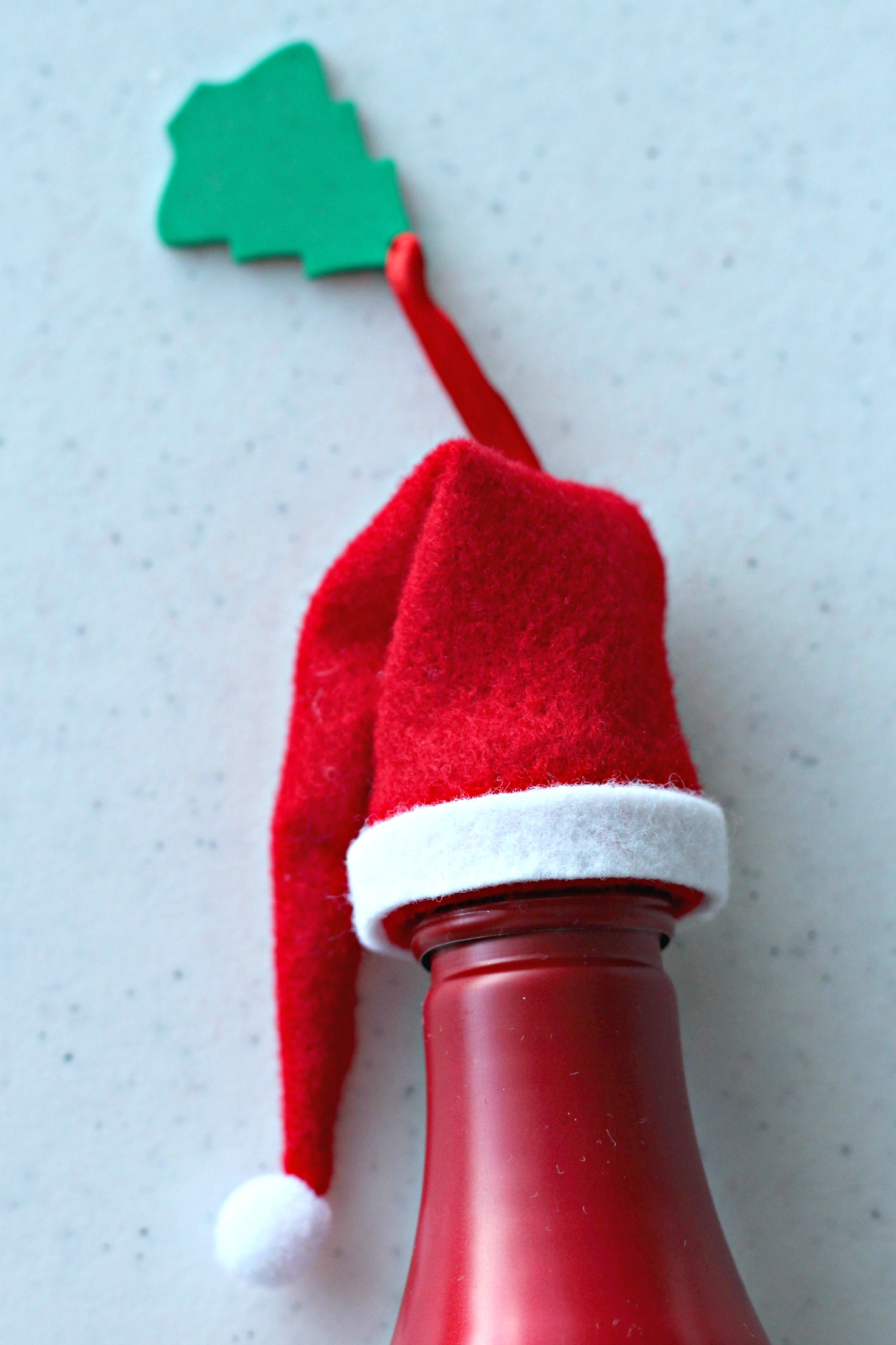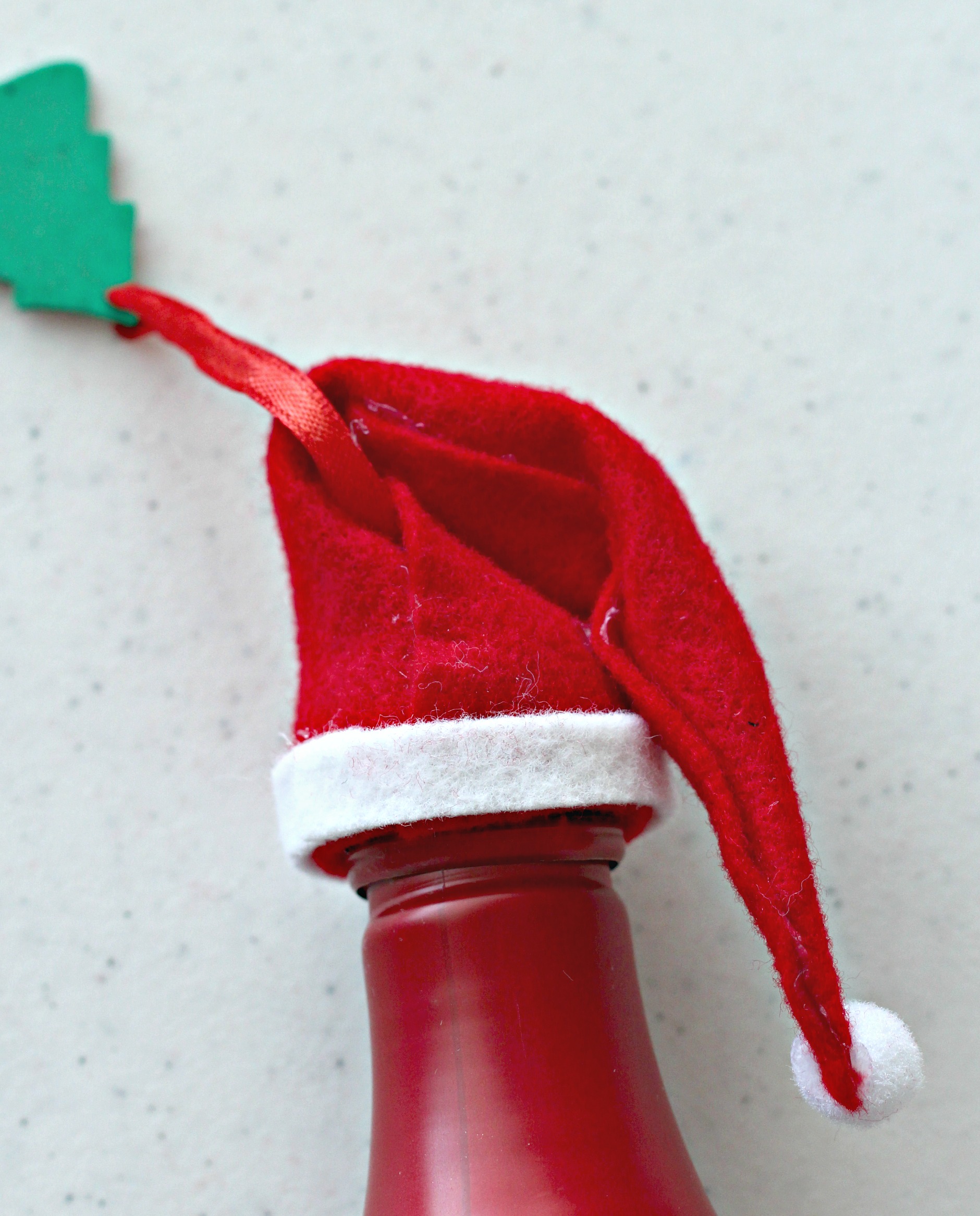 Make the belt by wrapping black ribbon around the bottle, near the bottom. Glue in the back. Add a belt buckle using a small buckle, gold felt, or gold rhinestone adhesive paper. This rhinestone paper was given to me years ago, I'm so happy I finally found a use for it.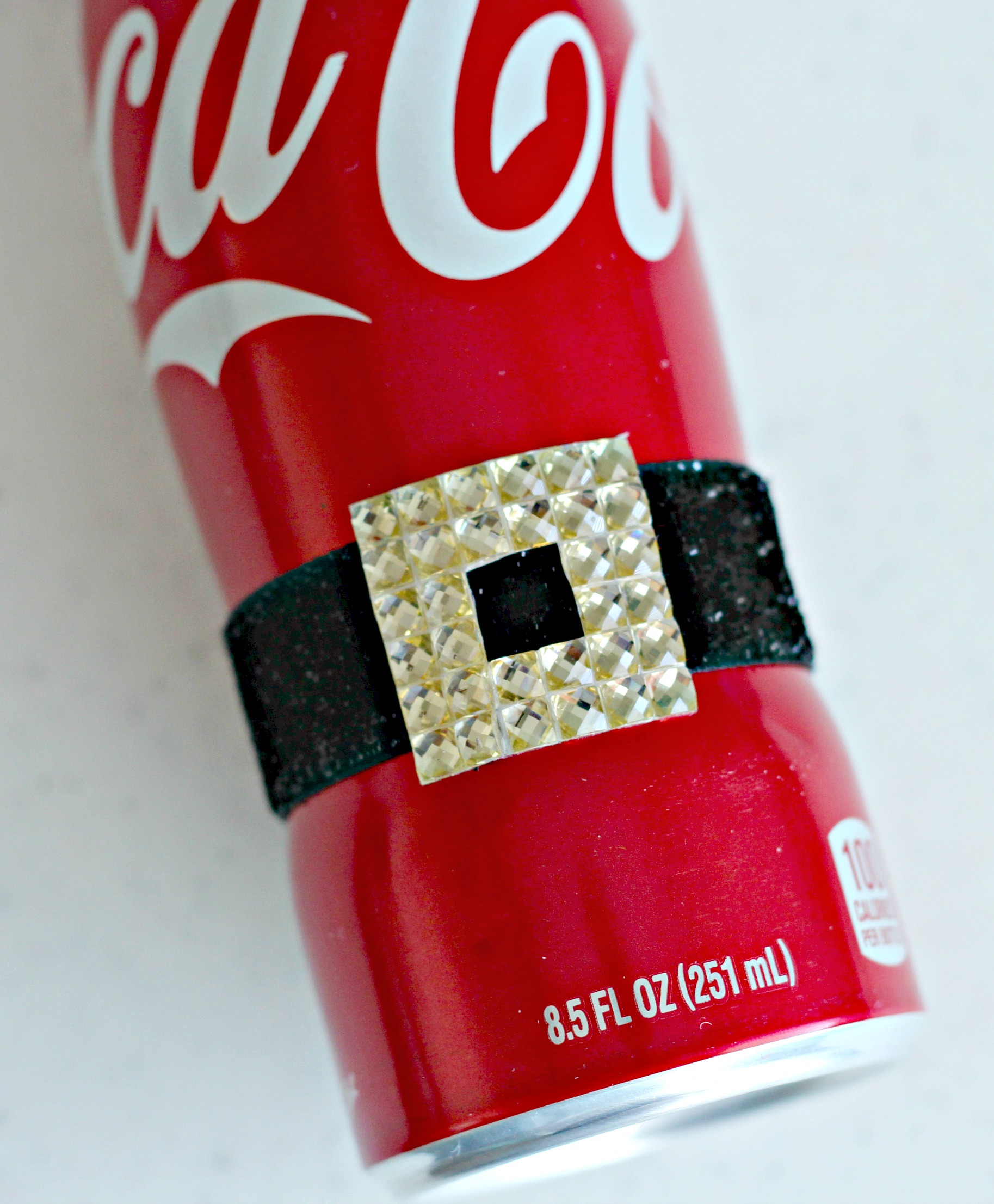 Add a beard to Santa by using a small amount of batting. Shape it into a beard and hot glue in place. I tried different eyes but in the end, drawing them on with a black marker worked best.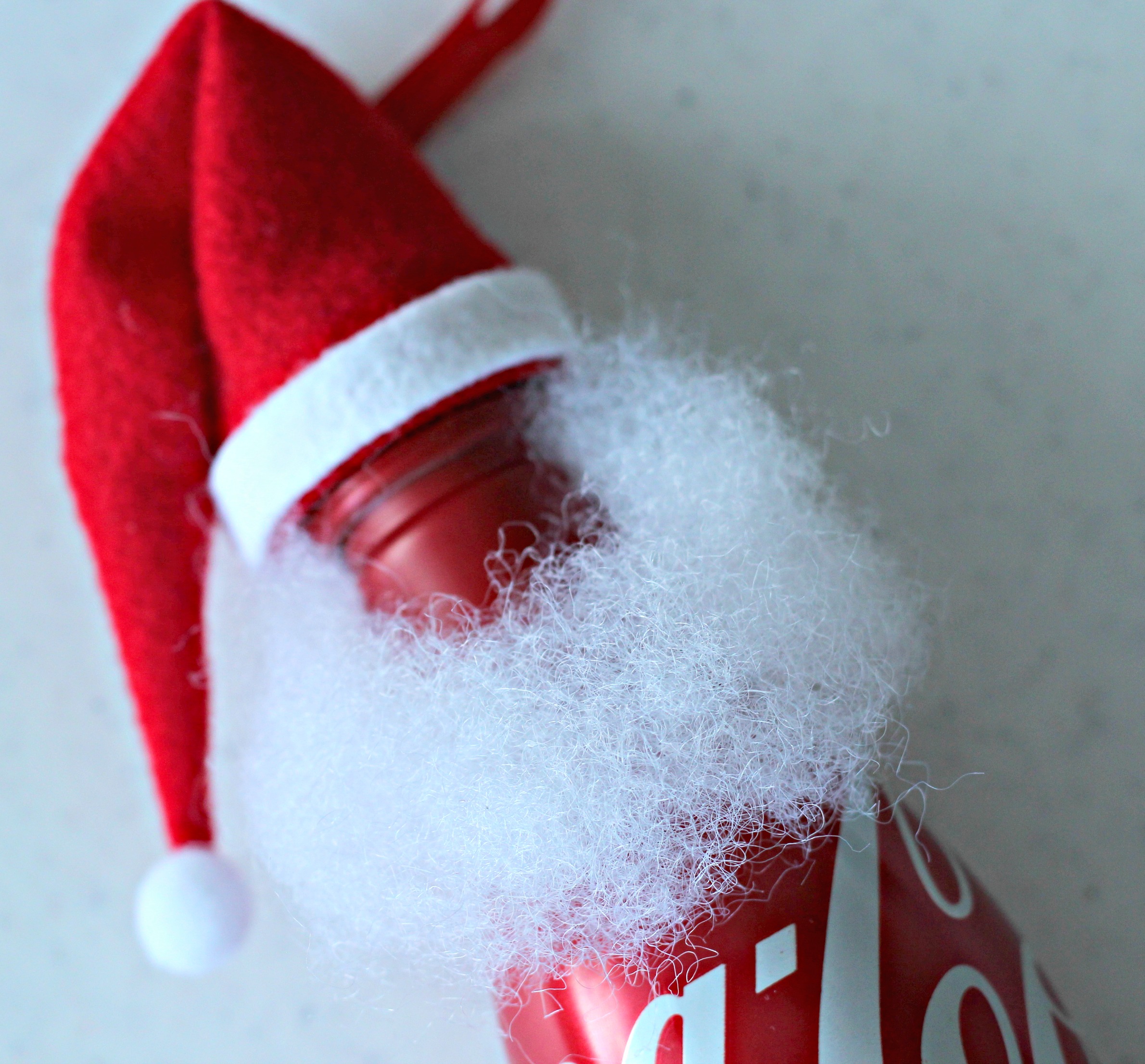 Now your Coca-Cola bottles are ready for gift giving. This would be a great family gift with every member getting their own personalized Coca-Cola bottle and ornament cap topper included in a basket with other treats, a movie, and a family game.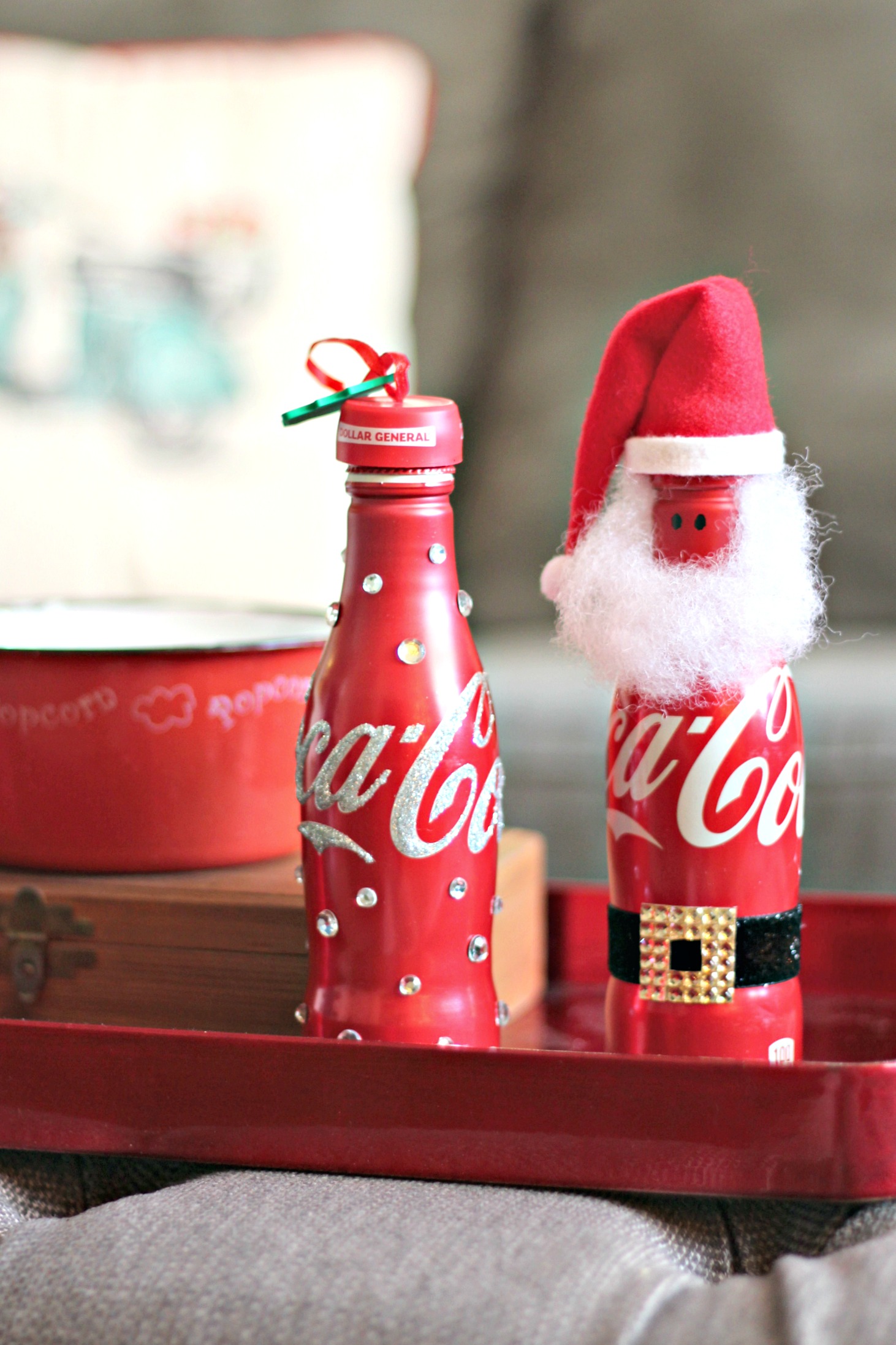 I love how these turned out and how fun they were to make. They're easy to personalize to someone's likes so I thought I would try to make some super heros next. What kind of ornament would you make your Coca-Cola bottles into?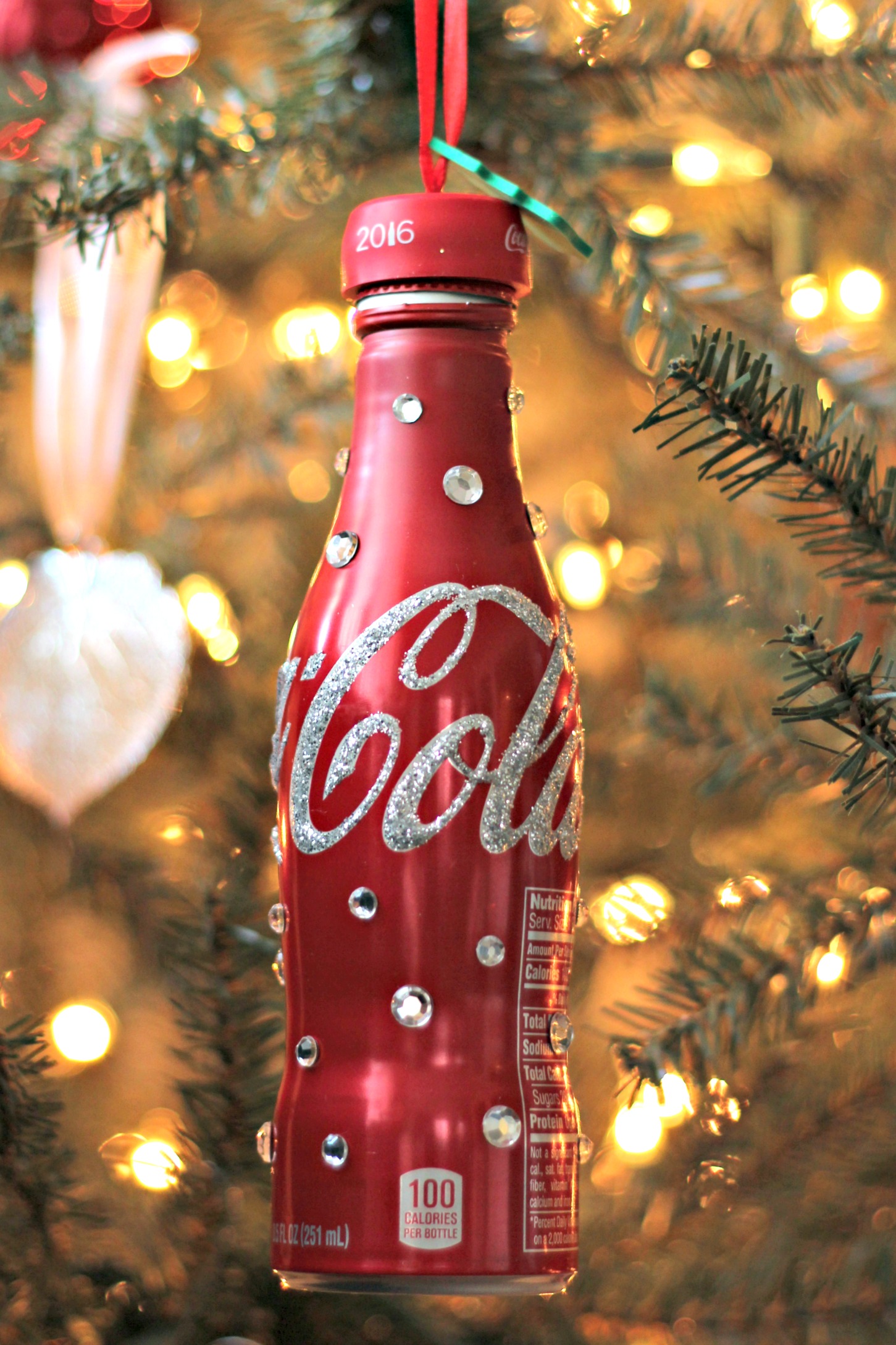 It's easy to Share a Coke® this holiday! And turn the bottle into a fun ornament after.