I'm so excited to have my Christmas mantel completed. It's usually the first thing I decorate for any season. The colors we chose to decorate with this year are white, silver, and red. I've been really happy with my decision to keep the color scheme under control. I have quite a bit of stress in my life right now and I'm hoping these few colors will help me feel the calm I'm craving.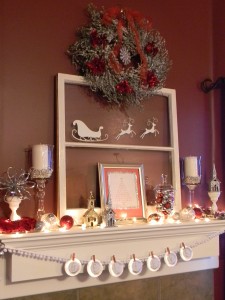 The sleigh and reindeer on the window are vinyl. You can check out the post on the vinyl here. I'm keeping the cost of celebrating Christmas to a minimum this year by mostly using things I've had for years and freshening them up with paint and/or glitter. I'll have a cost breakdown for you at the end of this post.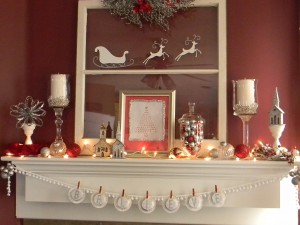 The white candlestick holder was purchased at Ikea a few years ago. The silver snowflake? ornament was purchased at Robert's last year. I made the red flower petal wreath many years ago. I made the tall candleholder last year using Dollar Store things. The silver beads at the bottom are really 2 Dollar Store necklaces. The ornaments are from previous years.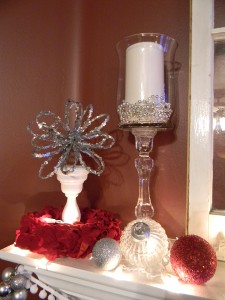 You can check out how I made the Christmas Tree Word Art here. I've had the church on the left for a couple years, the one on the right was bought at Wal-Mart this year. The ornaments in the jar were bought in the dollar section at Target this year. The ornament laying on the mantel is an antique.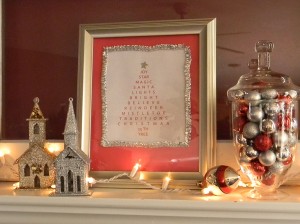 This is the right side of the mantel, similar to the left.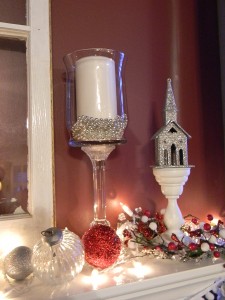 The wreath is just a plain flocked wreath and I added red glitter picks. I've had the picks for a few years. I love picks because you can use them over and over, year after year. I hung one of the snowflake ornaments I glittered here, from the center of the wreath.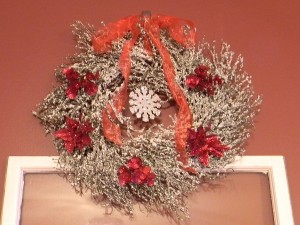 I decided to add the lights to the mantel at the last minute. I love them! You can go here to view the post on the Believe banner.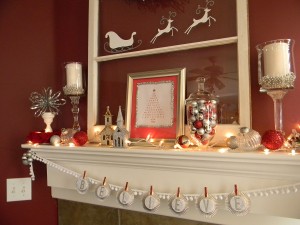 Here's a breakdown of the things I bought this year:
silver vinyl- $1.25
silver beads- $1.00
ornaments in jar- $3.00
tinsel around word tree (I still have yards of it left)- $2.00
churches (2)- $2.00
So, the total cost for the mantel this year is $9.25.
Not bad and I love it! Now I'm off to decorate the rest of the house.