I got the Advent Calendar set up just in the nick of time. Literally minutes before the kids asked to put the first magnet on. I actually made this last year from left over mud room materials. You can check out the tutorial here.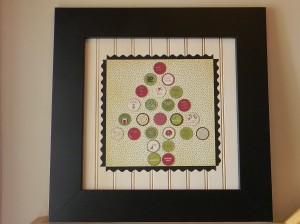 I didn't think putting magnets on a board was enough fun leading up to Christmas so I added another element to the Countdown. Kids love getting little treasures everyday, so I incorporated that into the Advent. I put the treasures in little bags with a number attached to them and the magnet to go on the board included inside. And then simply tied the bags on the tree with ribbon.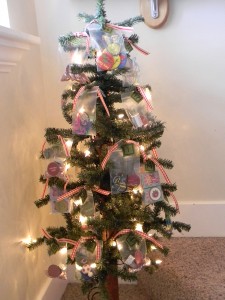 Here's a closer looks at some of the bags. Today's included silly bands for each of the kids.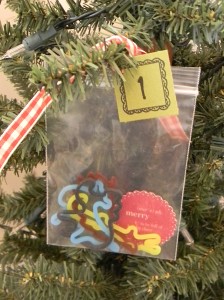 All the little gifts are very inexpensive and bought throughout the year. These are little card games.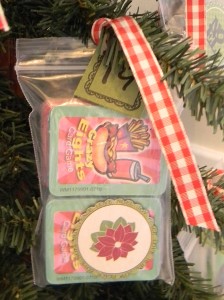 How cute are these Dr. Seuss buttons? My 12 year old girl can't wait to open this one.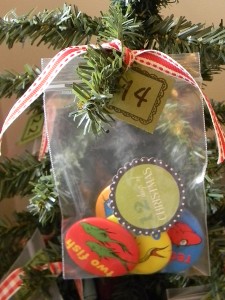 Some of them are a mix of things. Rings for the girls and shaped erasers for the boys.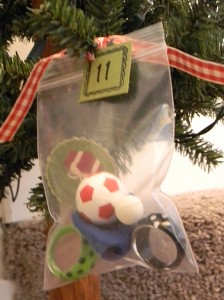 And, of course, candy. I spent less than $10 for all the little treasures.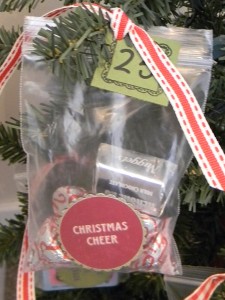 This is what the Advent Calendar looks like before the magnets are attached.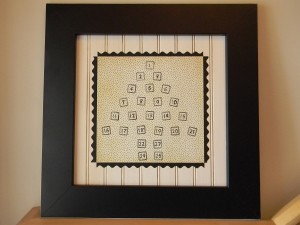 We're going to be having babies staying with us this Christmas, so I placed the Advent Calendar on the stair landing to keep it out of reach of little hands. Hopefully it works.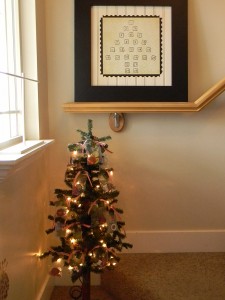 This is our morning tradition leading up to Christmas. I'll show you our bedtime tradition tomorrow. Oh, and ignore the fact that there's not a tree skirt hiding the tree stand and extension cord. I'm working on that.
I'm linking to:
Advent Calendars at Sassy Sites
Home for the Holidays Party at It's a Blog Party
Show and Tell Saturday at Be Different, Act Normal
DIY Project Parade at The DIY Showoff
Making the Worlds Cuter Monday at Making the World Cuter
Using Wood Link Party at Sassy Sites
Tip Me Tuesday at Tip Junkie
Lucky Linky Tuesday at Lucky Star Lane
Check Out These Related Posts