I'm finally sharing my Christmas Home Tour. I'm not sure if it's better late than never in this case, but I'm sharing it anyway. Pretend I'm inviting you over for a pre-Christmas luncheon and take a quick look around. You won't find a lot of extravagance in my decorating this year but I will show you how I decorated without spending a dime.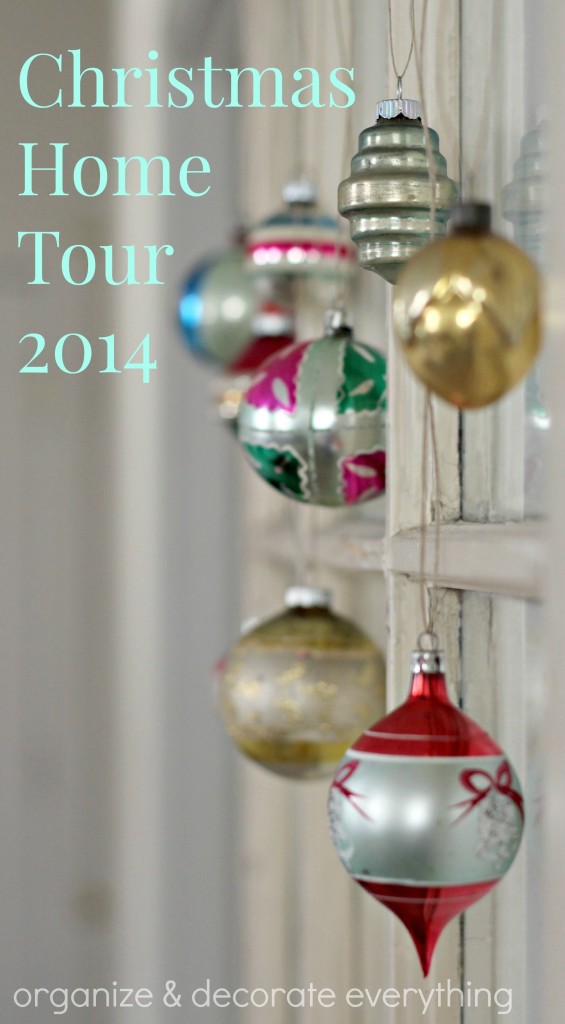 I like to change it up every year and luckily I have enough Christmas decorations that I am able to do that. Some years I go overboard and some are pretty simple. When we moved I knew I wouldn't have a lot of room to store decorations so I sold quite a bit in our yard sale. There were a few things I missed this year but I kept the most important things that had special meaning to me and my family.
Let's start in the living room with my favorite windows. Since we will be having little ones in the house around the holidays this year I opted to hang our vintage ornaments from the windows instead of the Christmas tree. Less chance of accidental breakage and I like the simplicity. I added little bottle brush trees to top of one of the windows. They go with a village I have but I didn't have room to display it this year so I used the trees separately. In the bottom right picture I added a pom pom garland to the mirror. I love felted wool balls but couldn't afford the expense so I made a look-a-like garland out of pom poms.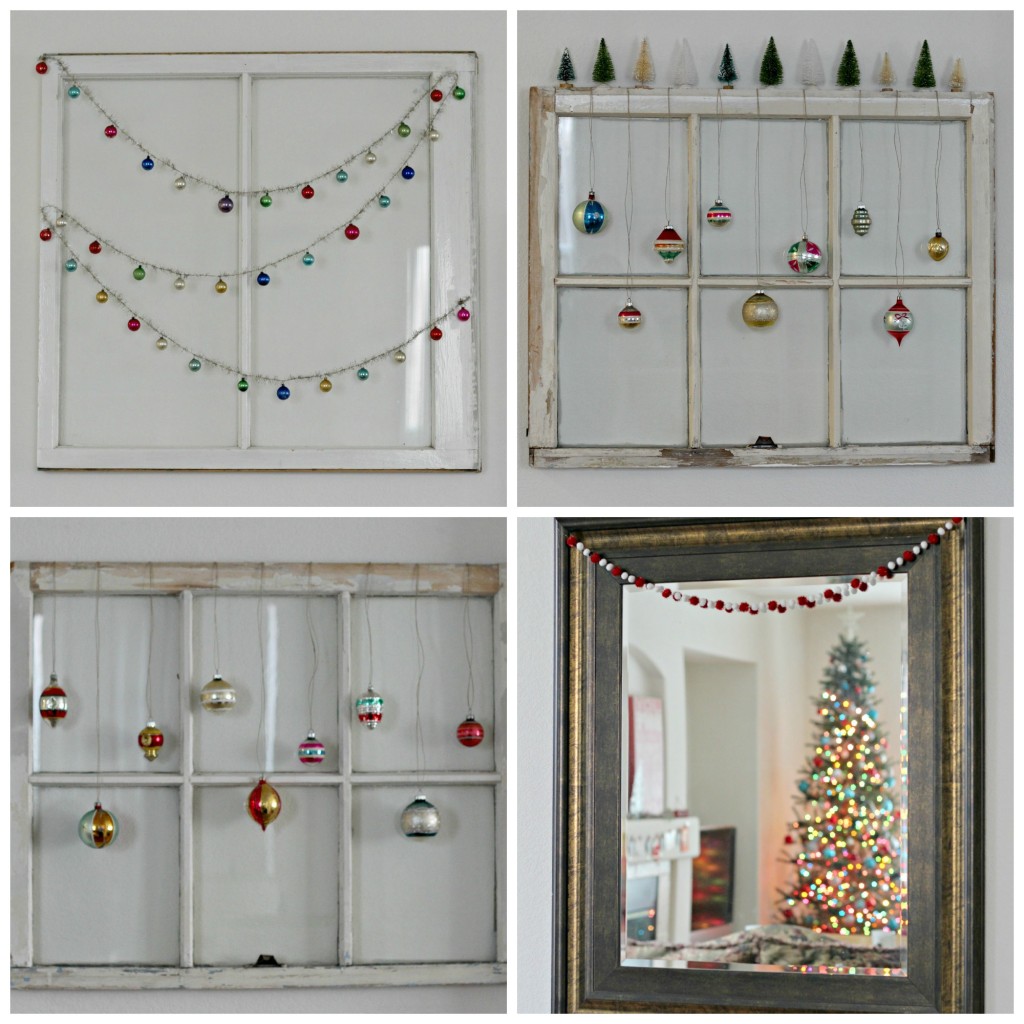 I love having a bookcase in the living room. It gives me a place to display holiday and seasonal decorations in our small home. My colors are red, blue, silver, and white this year. I left the map and chalkboard on top of the bookcase and added a few Christmas things in front of them, then I cleared out all the other decor and added Christmas. The Merry Little Christmas printable is from Craftberry Bush. I made the luminaries this year and the waterless snow globes last year. The nutcrackers are part of a yearly tradition I will share with you later in the post.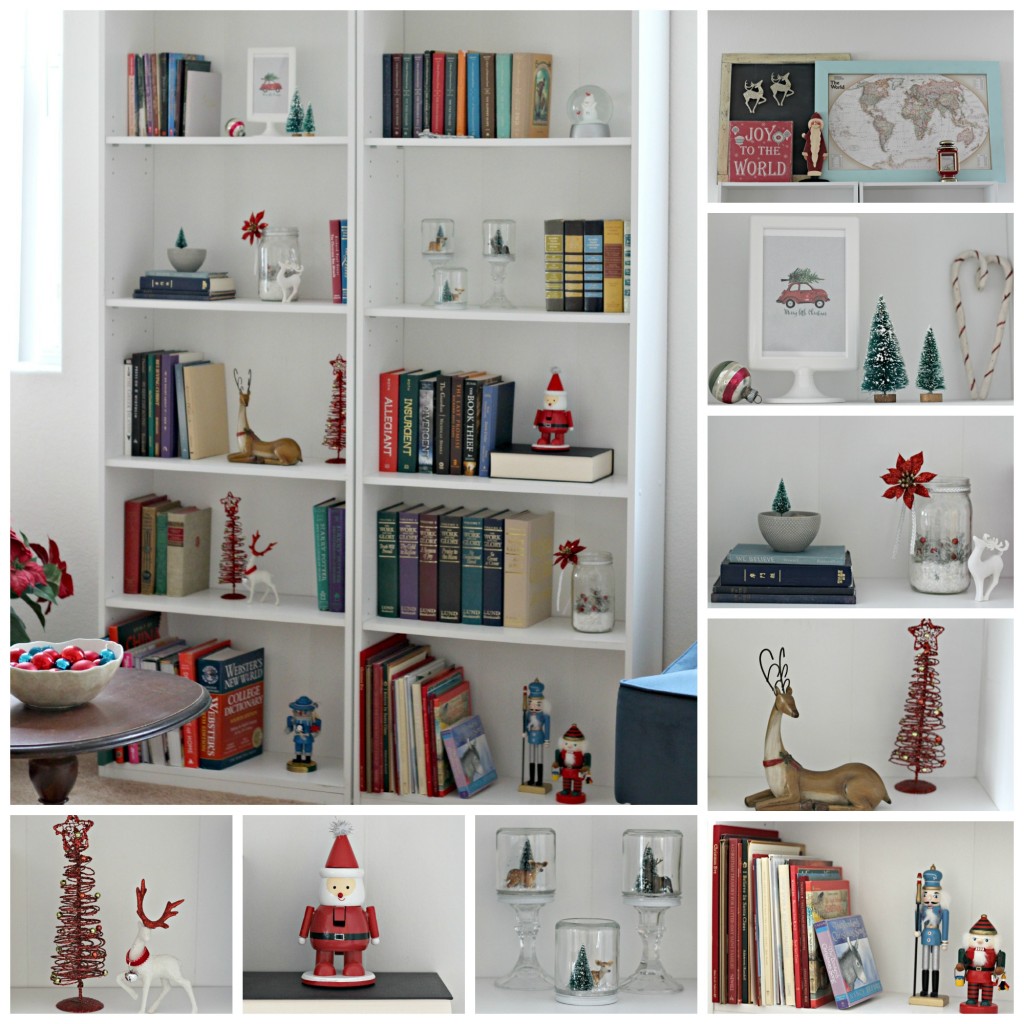 I don't have a lot of blue so I used what I had and added it in where I could. I was surprised how much hubby liked my colors choice this year. He's usually pretty traditional. The clear blue ornaments are really big and I love the way they look, but now I'm down to 2 because one got broke. Just adding simple touches can make a huge difference; ornaments in a bowl, a Santa hat and red pillow on a blue chair, a scene with an old truck and bottle brush trees, and ornaments hanging in unexpected places. I made the Santa key a few years ago.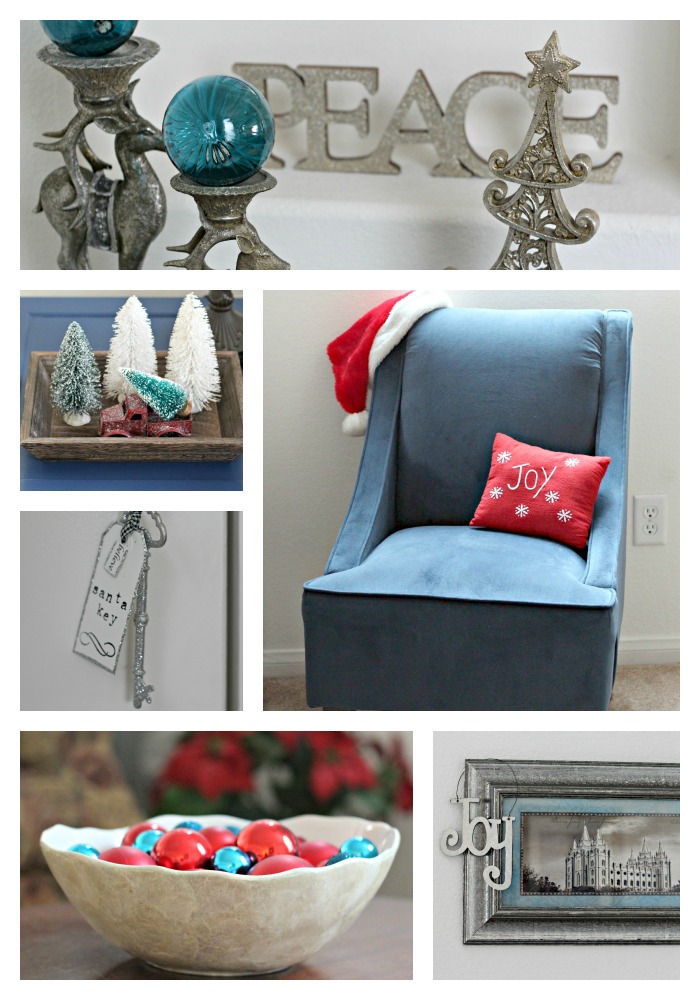 Our Christmas tree is in the family room but I love that you can also see it from the living room. Since I have a lot of red ornaments it's easy to add them all over the house. I love our tree every year but I really like how simple it is this year. The last few months have been a struggle for us and I like simplicity when I'm feeling stressed.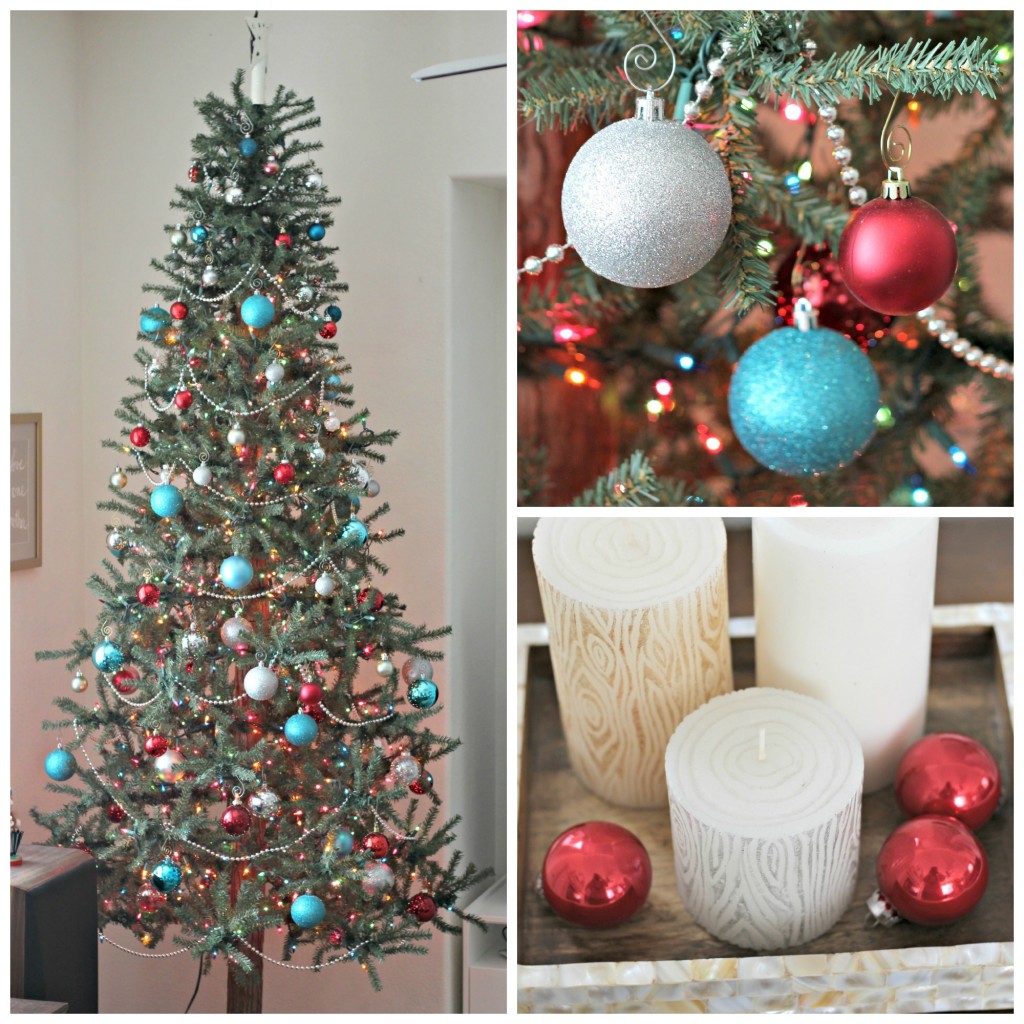 A neighbor made this nativity puzzle for us years ago and it is still one of my favorites. It's perfect for little ones because I don't mind if they play with it. I didn't make an advent this year, the kids had been wanting to get the LEGO one and I'm so glad we did. They have had so much fun building the little pieces everyday and I have loved seeing what new piece they will get. We have a tradition with the nutcrackers that we add a new one every year. Most of them are actually the kids. We hide a pickle ornament in the tree and whoever finds it gets a new nutcracker that year. I write their name and the year on the bottom of the nutcracker. When they leave home they get to take all of theirs with them, but until then I use them for decorations. I spray painted the little red and blue nutcrackers this year.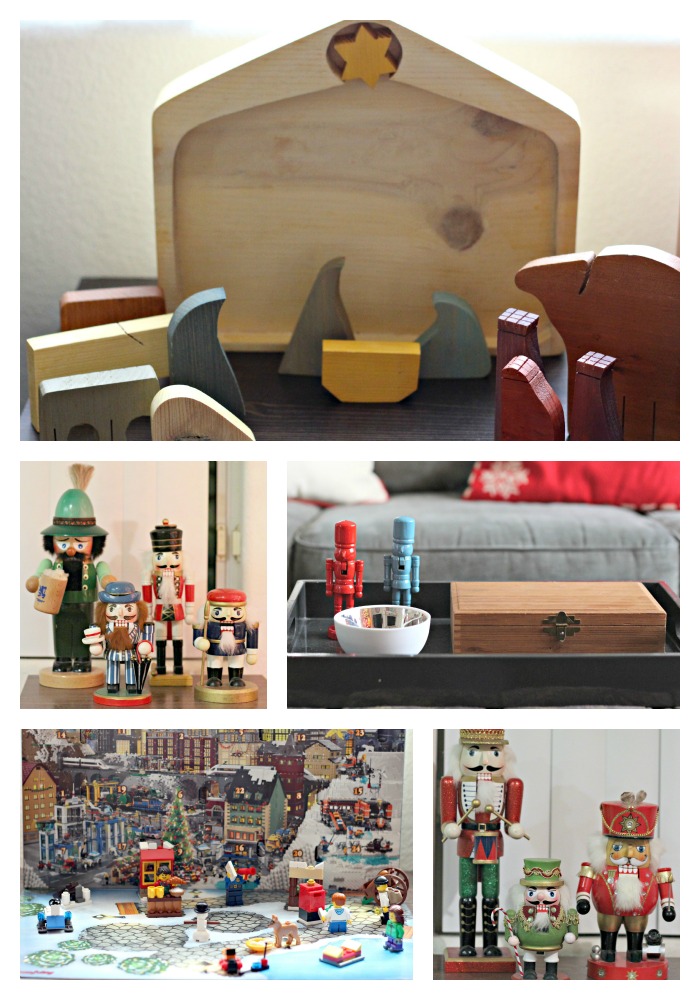 I love decorating our mantel. You can see more details of the mantel here. The only purchase I made this year was the scooter pillow from Target using a gift card. I added a Clothespin Snowflake to the corner of my favorite Barn Owl Primitives sign.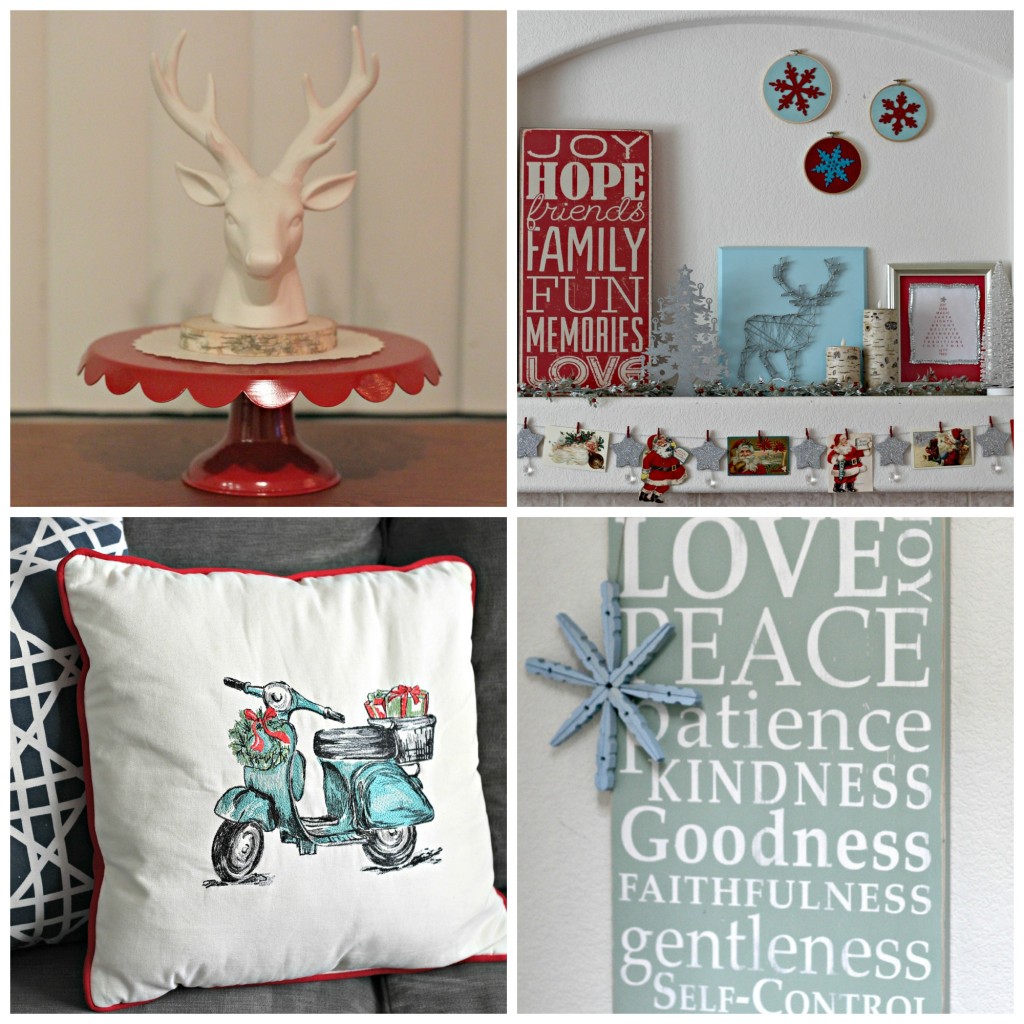 I added a little, but not too much Christmas to the tops of the kitchen cabinets. A few trees, a little wreath, and a hanging peace add just enough to this small space. It's easy to add just a few Christmas things to what you already have displayed to make it look festive. The red tray holds a cute vignette on the counter top. Hubby ran to the store when he was home over the weekend and some Scouts were selling fresh mistletoe so he bought a little piece for me. I thought that we so sweet so now we have it hanging in the doorway to the kitchen.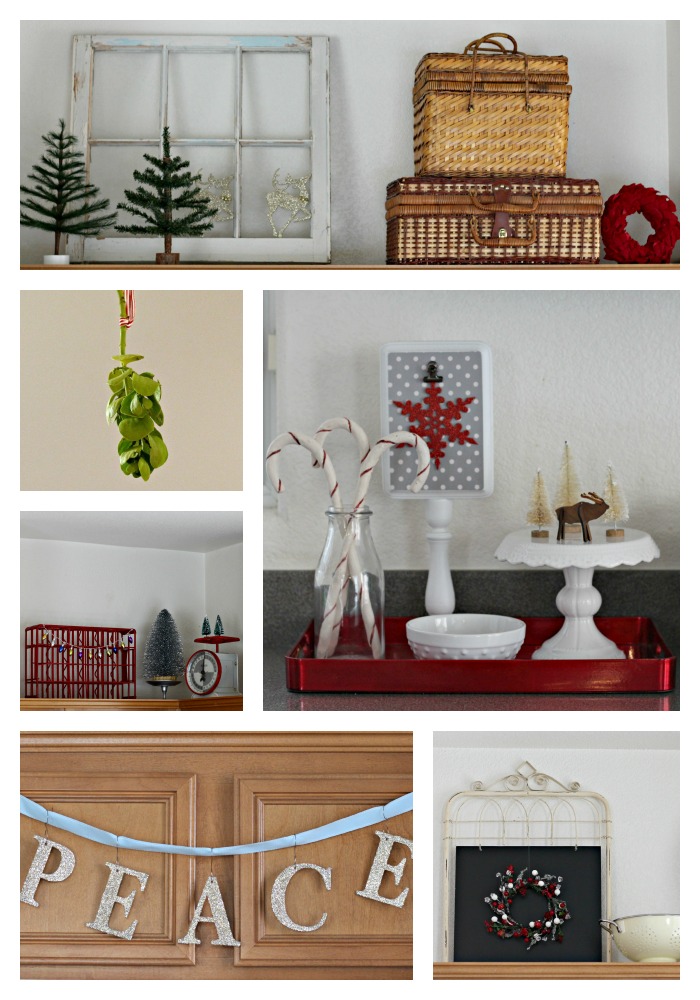 The kids have a tree on the stair landing where they hang all their ornaments. They get to decorate it themselves and add their made ornaments too. It was in the loft in our previous home, I hope that it can be in a better place again in a few years. You can check out the ornaments they made this year in this post. The stockings on one the handrail leading upstairs to the tree. They have had these stockings since they were born. I can change the inside of these frames with the season, for Christmas I added a few flocked deer, clothespin spring stars, and another clothespin snowflake.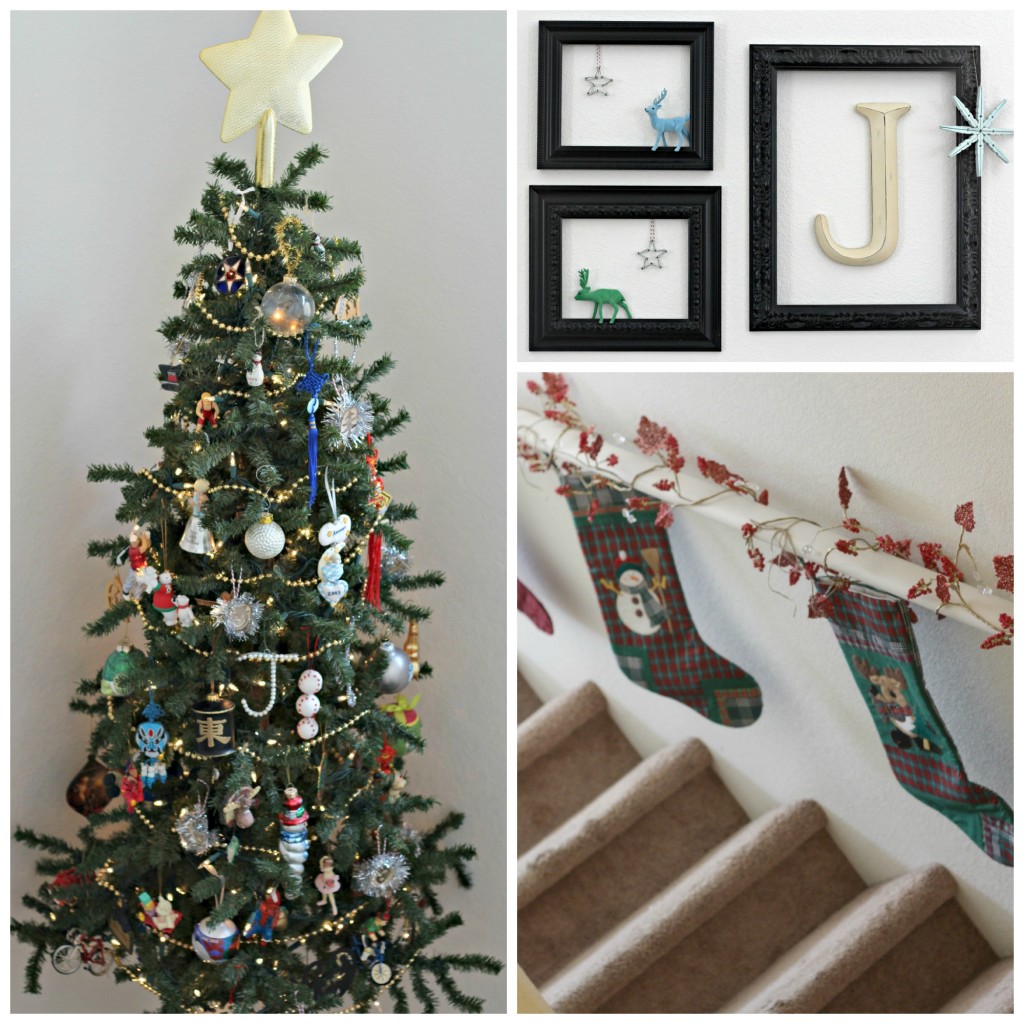 I usually decorate all the other rooms of the house too, but this year was kept pretty simple. We all have small decorated trees in our bedrooms, there are small bowls of ornaments scattered around, and I added a few things to the bathrooms.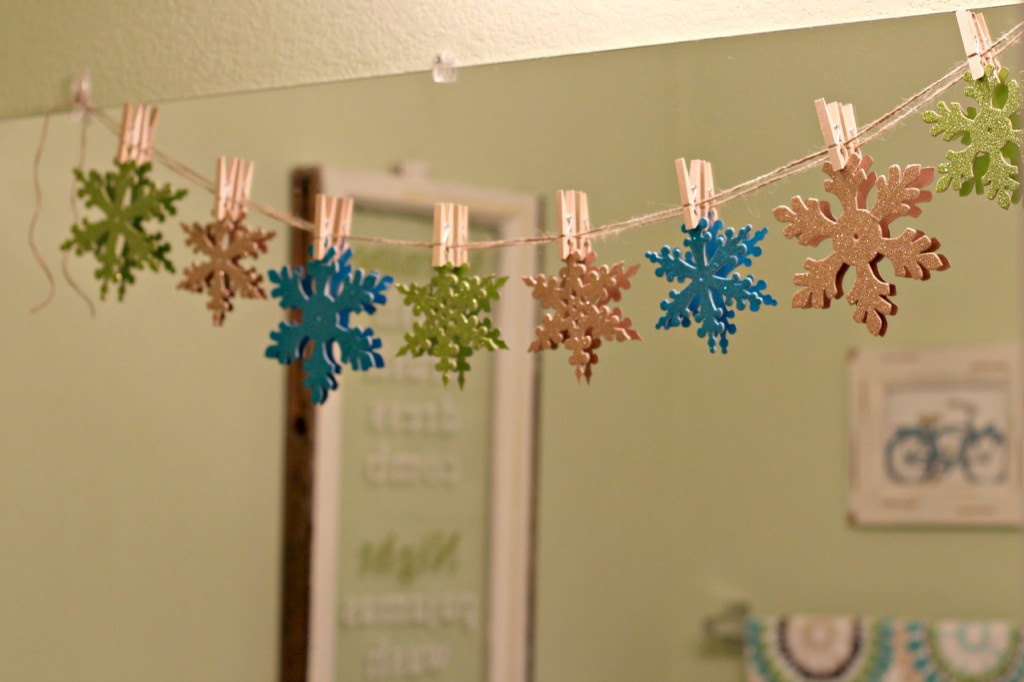 I hope you enjoyed our Christmas Home Tour. By clicking on the highlighted areas you will be taken to more details about each project. I love decorating for Christmas and the feeling of love and warmth it brings into our home. Whether you have a little or a lot it's the true meaning of Christmas that matters and the love you share with your family. I hope this Christmas gives you everything you want and need.
Merry Christmas!