I'm happy to introduce you to our new Food Contributor at Organize and Decorate Everything . I was able to meet Melissa in person a few weeks ago and she is just as darling in person as she is in her picture. She will be sharing Recipes the 1st Thursday of every month. I look forward to seeing what she comes up with and I hope you do too.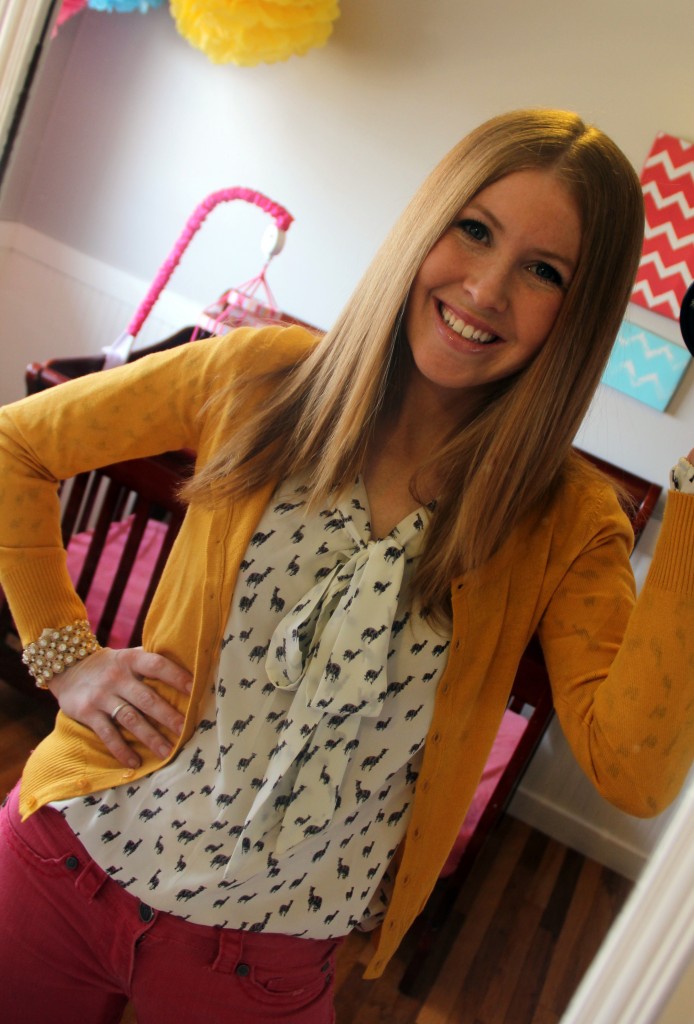 Hi, my name is Melissa and I am so excited to be the new food contributor here on Organize and Decorate Everything! I discovered my love for cooking in college, but as a starving student I settled for Ramen noodles more often than I would have liked. As a newlywed I was able to experiment more with cooking and I found out that I was also pretty good at it. When I became a mother I had so much going on that I couldn't put as much time into preparing food, so I try to make meals that are quick and easy, but also family friendly and healthy.

I like to call myself a tomboy in a skirt because I am a girly girl that loves to play sports, watch football, go hiking, camping, and fishing. I love yard sale shopping, cute shoes, maxi dresses, party planning, crafts, and reading.
My husband and I have been married for 7 years and have three beautiful kiddos, Jordan (6), Sam (4), and Hannah (19 months). I am a stay-at-home mom and spend most of my day cleaning the house, doing laundry and chasing the kids around. It's not all work though! We love having dance parties, going for walks, and doing "activities" (what Jordan calls fun things I find on Pinterest). I am also blogger at My Mommy Style and love having a creative outlet to share my ideas. Working with My Mommy Style has given me great opportunities to meet new people, which is one of my favorite things about blogging.
I look forward to sharing some of my favorite family recipes with you!
Chicken Rollatini with spinach and mozzarella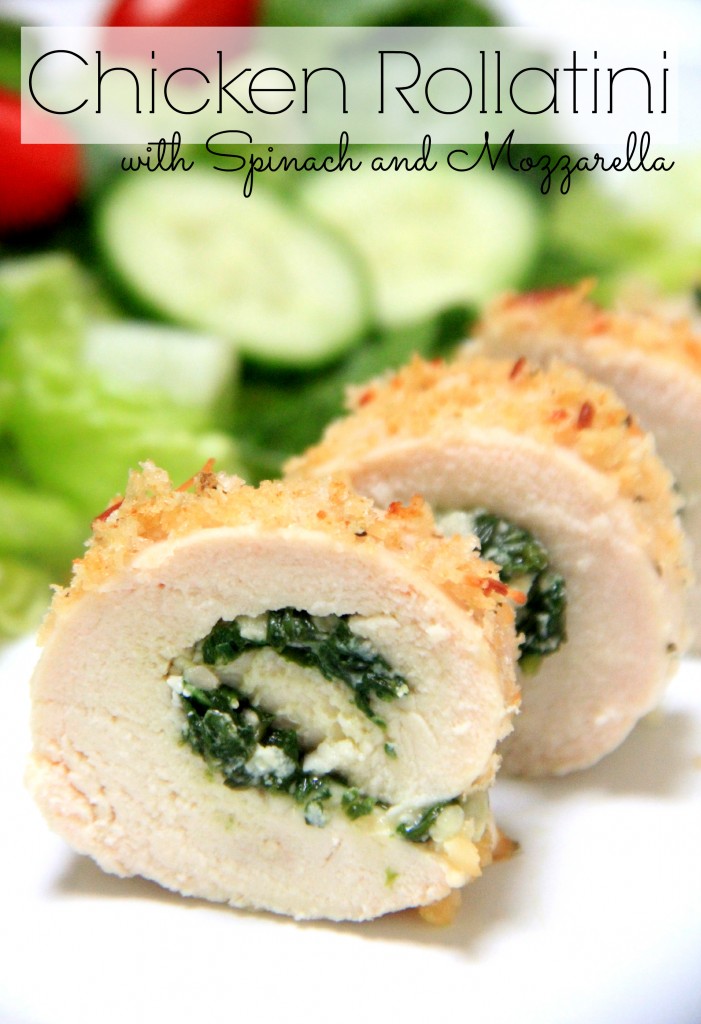 My family loved this recipe so much that I think I'll be making it many more times in the next few weeks. That's okay with me because I loved it too! This is a lighter version than many other chicken rollotini recipes I've seen, but it is not lacking in flavor! Serve with a crunchy green salad and you have a 5 star meal!
Ingredients:
1 tablespoon olive oil
4 cloves garlic, chopped
4 1/2 cups fresh spinach, coarsely chopped
1/4 cup + 2 tbsp Romano cheese
1/2 cup mozzarella cheese, finely shredded
salt and pepper to taste
8 thin chicken cutlets
1/2 cup Italian seasoned breadcrumbs
1 lemon
1 tablespoon olive oil
olive oil non-stick spray
Directions:
Wash chicken cutlets and pat dry and season with salt and pepper. Preheat oven to 450°. Spray a baking dish with non-stick spray.
In a large skillet, heat olive oil on medium-high heat. Add the garlic and saute for 1-2 minutes, or until golden. Add chopped spinach, 1/4 cup Romano cheese, salt and pepper and saute about 1-2 more minutes, or until spinach is wilted. Set aside to cool. When cool, add mozzarella cheese and combine.
Combine breadcrumbs and remaining 2 tablespoons of Romano cheese in one bowl. In a second bowl combine olive oil and lemon juice.
Dip chicken in lemon-oil mixture, then in breadcrumbs and place seam side down in baking dish. This might take a few  Repeat with the remaining chicken. When finished, lightly spray
with oil spray.
Bake in preheated oven for 30 minutes.
Serves 4.
**Chicken cutlets are boneless, skinless chicken breast thinly sliced. There might be butchers that will do this for you if you ask. I was at Walmart today and purchased thin sliced chicken breast, but it cost more money per pound than the boneless, skinless chicken breast. I was in a hurry and it was worth the extra money. To save some money you could cut the chicken into cutlets yourself. Hope this helps!
Doesn't that look delicious? I can't wait until I'm in my new house and can try it out on my family.