I love the beach, but don't have it represented much in my home, except for the boy's bathroom. This my ode to Florida bathroom. We lived in Florida for a few years and my parents live there now. This reminds me of the beach and how much I want to go back.
This is a picture of  my kids and some cousins in the gulf. Also some vinyl lettering: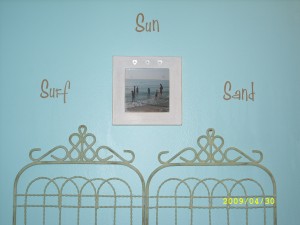 Here are some shells my kids collected while at the beach. My older son made the bowl in ceramics class. Does the counter make you think of sand?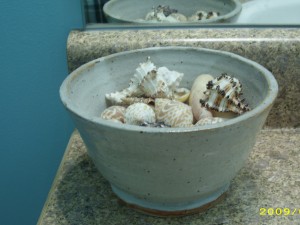 This is a picture of my daughter helping her grandma hunt for shark teeth. Love the weathered looking frame: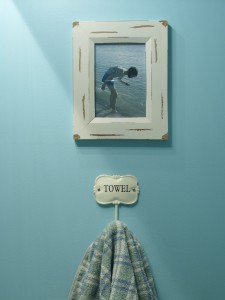 I love my blue walls. When I first painted it I wondered if it was too bright, but I love it now. The blues and greens always bring me back to the beach. The shower curtain reminds me of bubbles and foam. Don't miss the little fishy rug: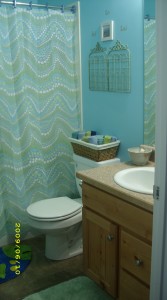 Thanks for visiting! 
I'm linking to:
Best Of the Nest at Nesting Place
Favorites of 2009 Room Re-do's at The Lettered Cottage