Make these double sided Be Thankful Blocks to decorate your home from September through November.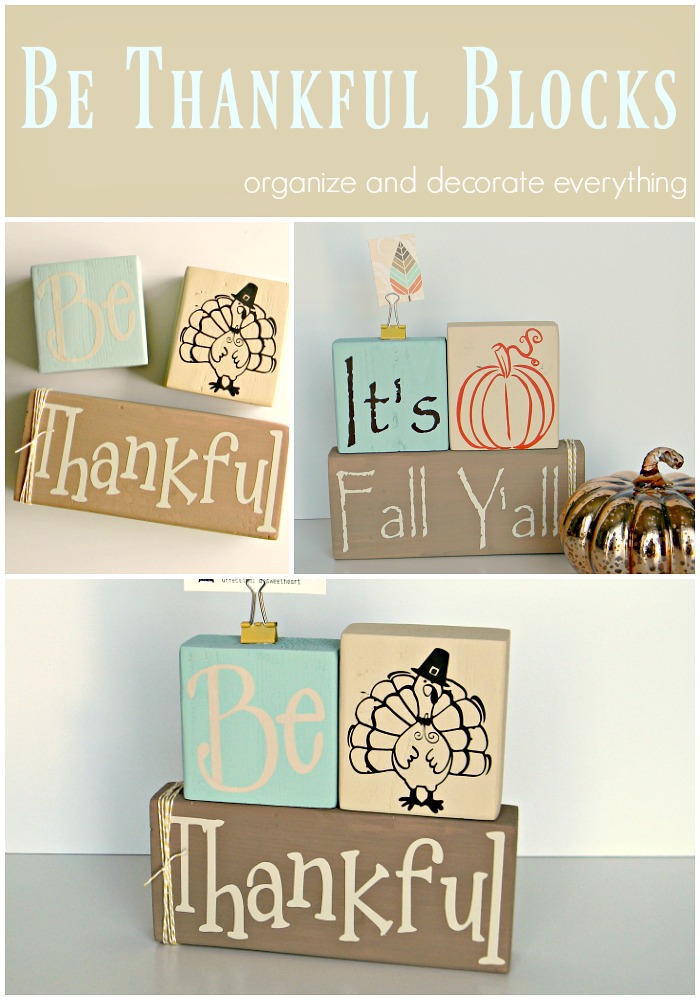 As much as I love decorating for holidays and the seasons I've also decided I don't like storing a lot of decorations. I've tried to cut down my seasonal decorations over the last few years so these double sided Be Thankful blocks are a good way to do that. The blocks can be turned around or rearranged for a different look and sentiment.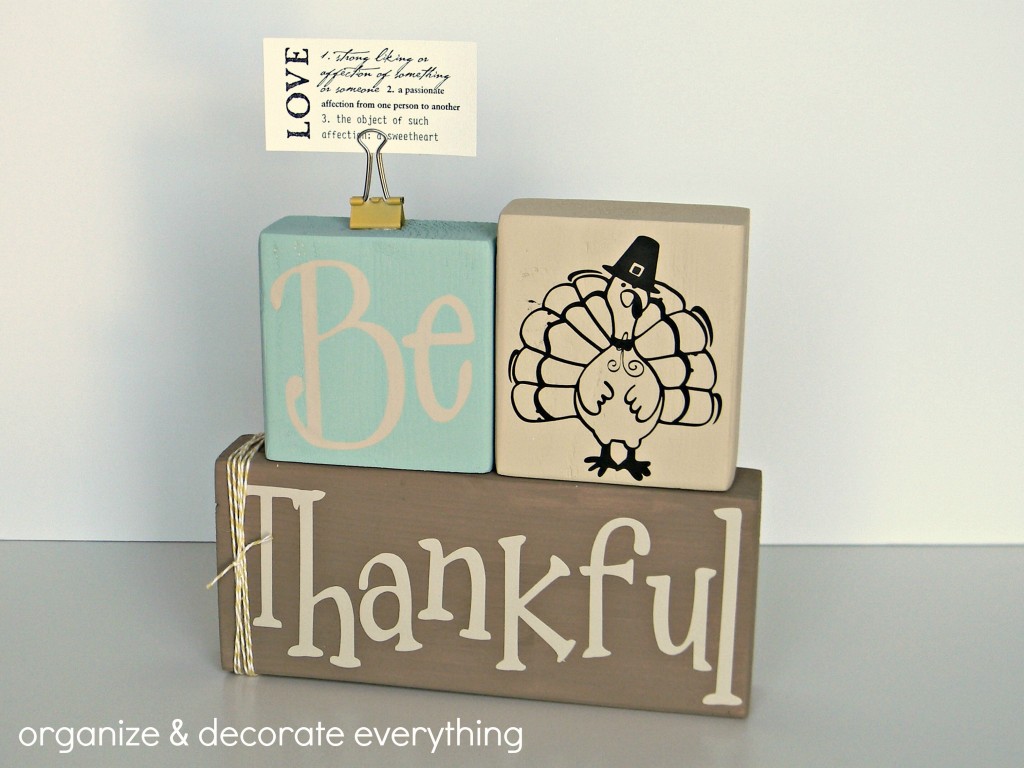 Supplies needed:
wood blocks (2×4 piece of wood cut into 3.5″, 4″ and 8″ pieces)
paint (2-4 different colors)
sand paper
vinyl (use mine as an example or you can come up with your own designs)
sponge brushes
twine
binder clip (optional)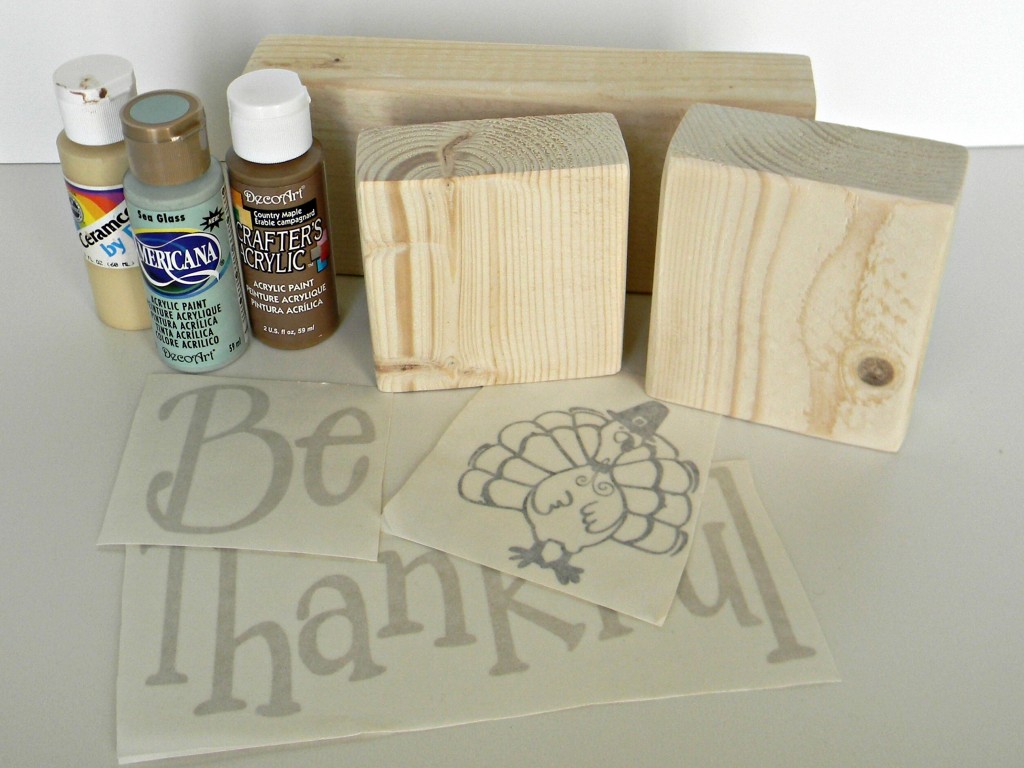 Purchase a 2×4 piece of wood and cut it into the sizes above. If you don't have a saw Home Depot or Lowes will cut it for you. I think the first 3 cuts are free. Because the cuts are just straight you can also use a miter saw. It's easy to use and I think it only costs about $15. Sand the wood blocks how you like them. I like mine pretty smooth. Then choose your paint colors. I decided to use non-traditional colors for my Fall decor this year. Orange isn't my favorite color so I like to experiment with other colors for Fall.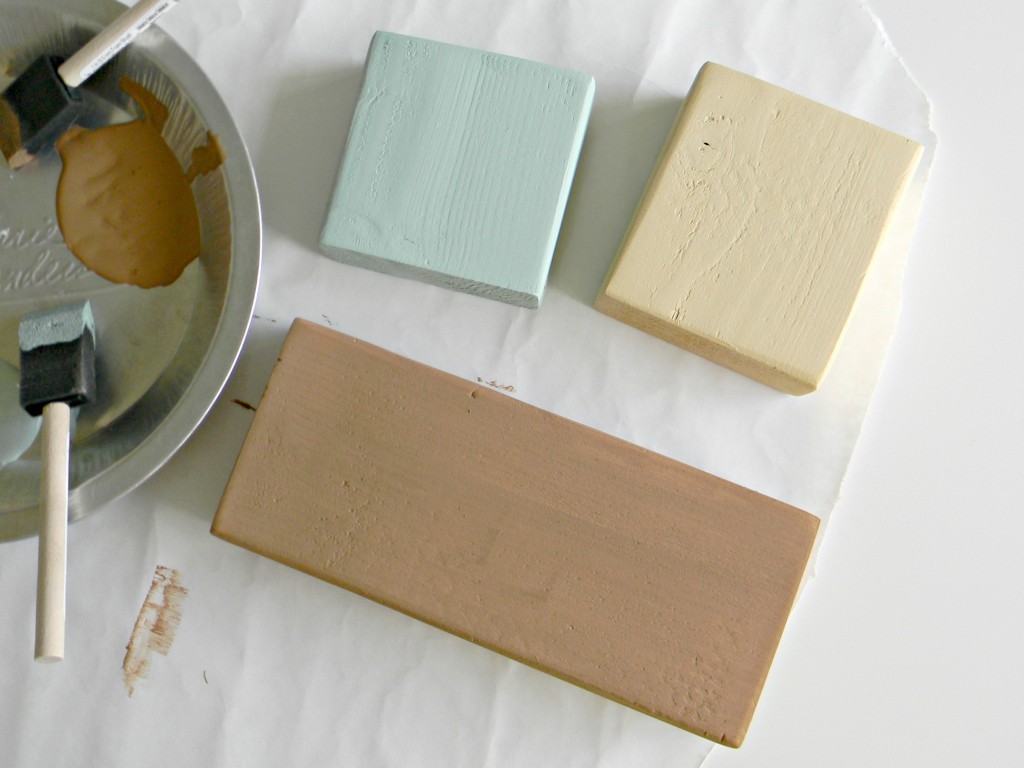 I only applied one coat of paint to the blocks then I sanded them a little to show more of the wood grain. If you want the blocks to be totally covered brush on 2 coats of paint waiting about 15 minutes between coats. After the blocks are dry add the vinyl words and pictures. I decided on just a simple Be Thankful and a turkey for this side. I also added some twine wrapped around the end of the larger block for a little more color and texture.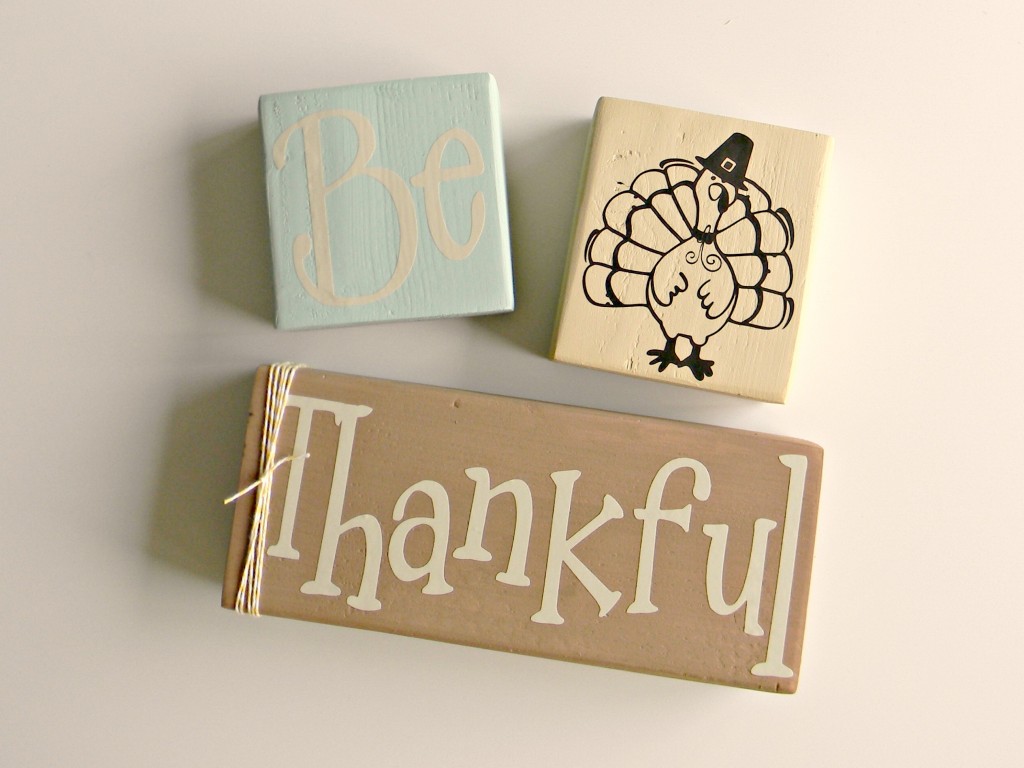 This is totally optional but I decided to add a binder clip to the top of the "Be" block. Since the blocks say Be Thankful I thought we could each take turns and write what we're thankful for everyday until Thanksgiving and place it in the clip. It would even be cute with some Fall family photos in it. Attach the binder clip to the block with Gorilla Glue. Remember that gorilla glue expands, so use a smaller amount than you think you'll need.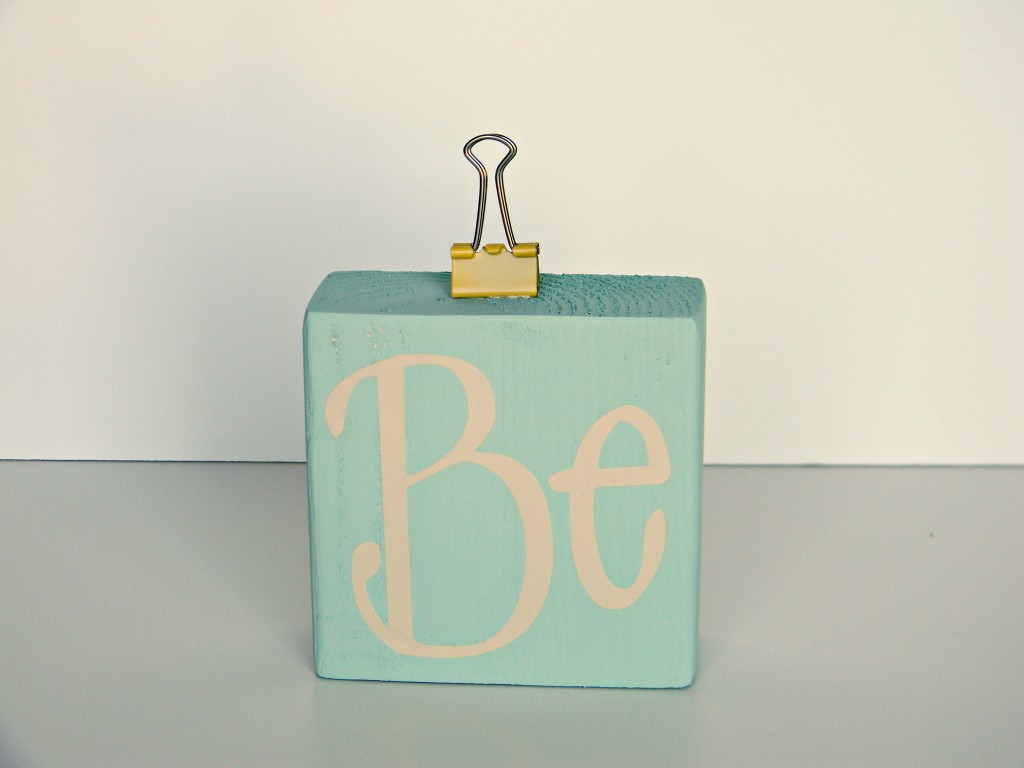 It's almost time to get the Fall decorations out of storage. Who else is excited about cooler weather and decorating with pumpkins and acorns?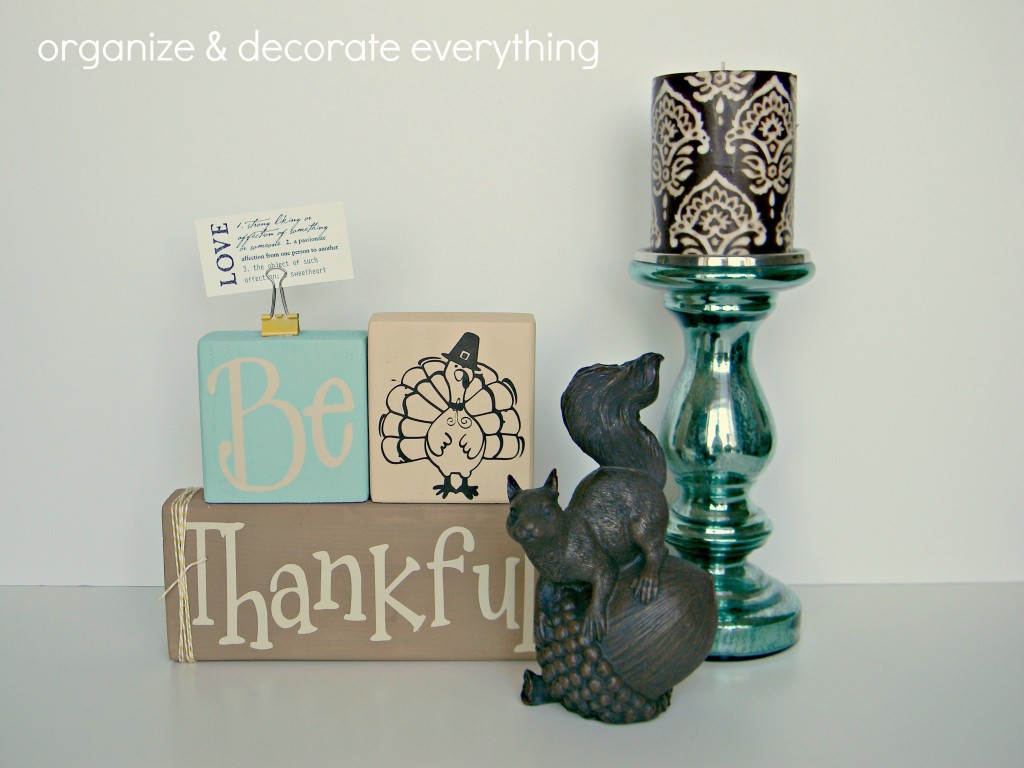 How did I almost forgot to show you the other side of the blocks? I like both sides but this is the side I'm going to display first since it's Fall before Thanksgiving. I think I'll place a photo of us at the pumpkin patch or in a corn maze first. Which side is your favorite?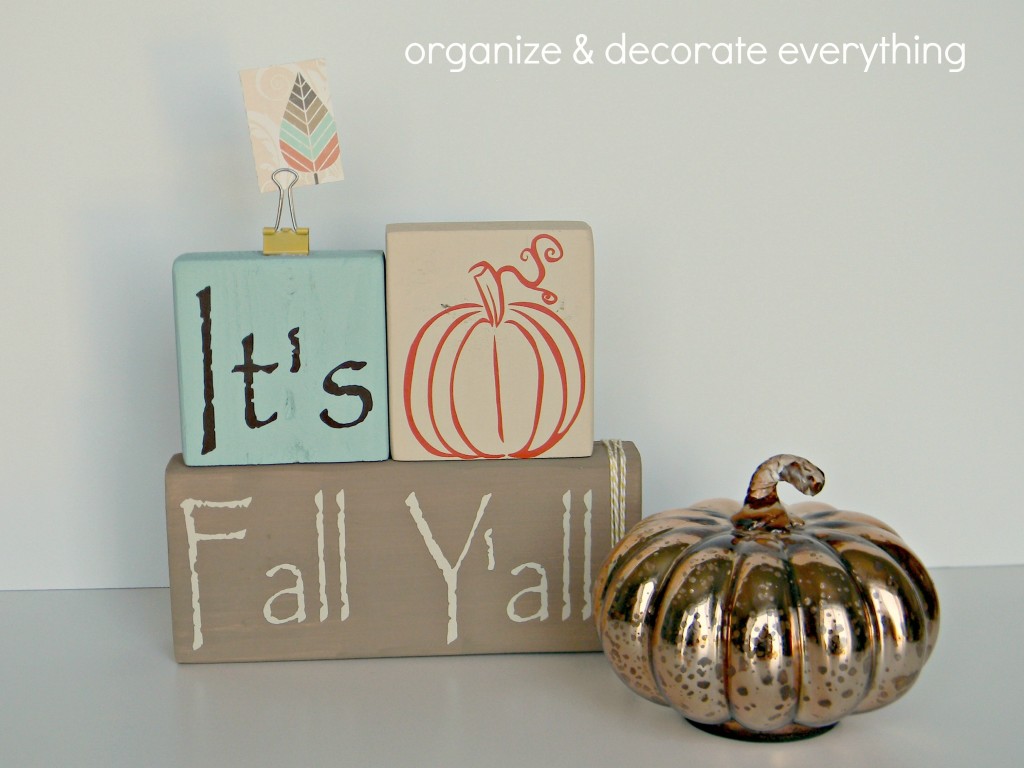 Pin it for Later: Be Thankful Blocks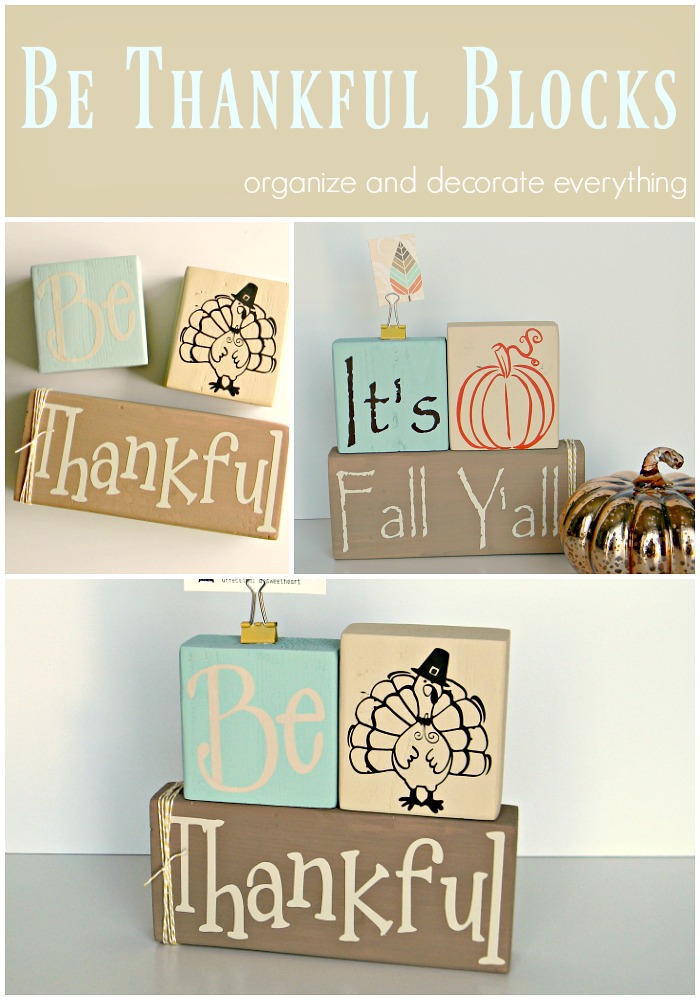 You might also like:
Monogram Fall Wreath
Hello Fall Printable