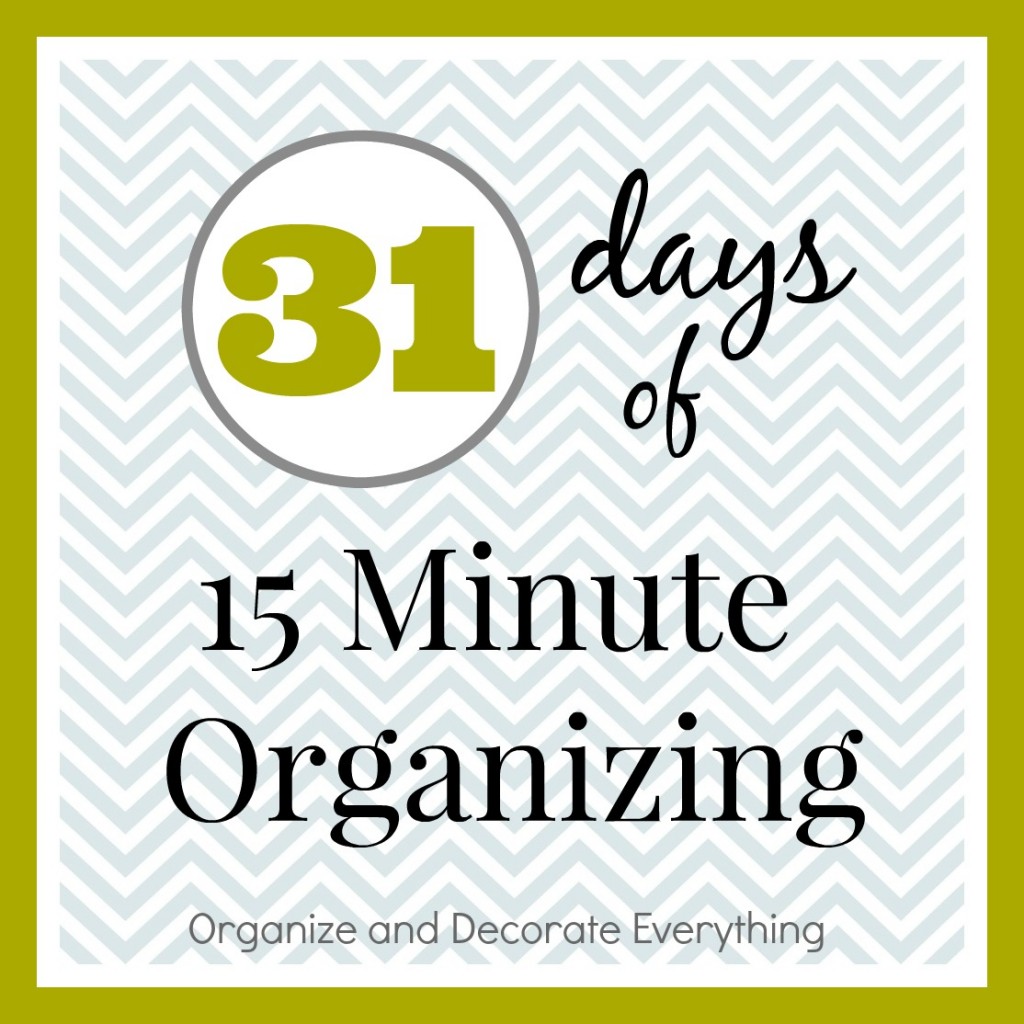 Welcome to Day 7 of 31 Days of 15 Minute Organizing
Grab you timer again and set it for 15 minutes. You will also need to grab a garage can or bag because I have a feeling you're going to need it. It's time to clean out the bathroom drawers and you never know what you might find in there or how old it might be. While you're organizing this space take a few minutes to clean out the drawers and cabinets with a damp cloth.
Organizing the Bathroom Drawers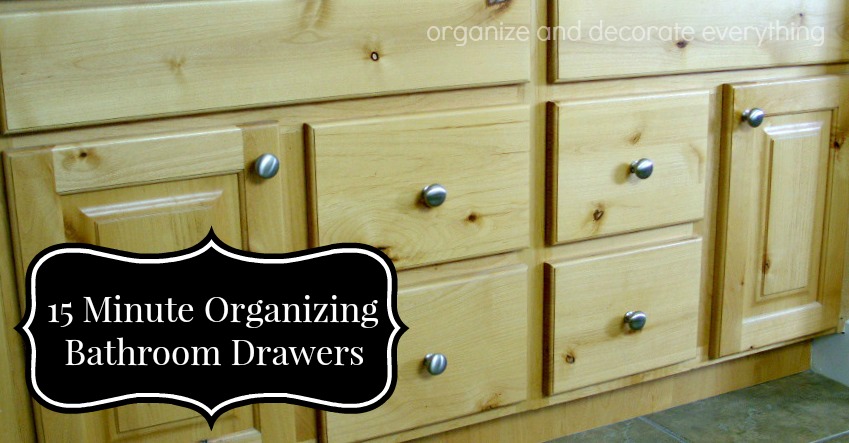 I like to start with the cosmetics. Cosmetics don't always have expiration dates on them but I have a good rule of thumb that I like to follow. Use a sharpie to write the purchase dates on them so you don't forget. These are the guild lines I use once the product is opened.
Natural Products – 3-6 months
Mascara – 3-6 months
Eyeliner – 6 months to 1 year
Foundation – 6 months to 2 years
Blush, eye shadow and other powder cosmetics – 1-2 years
Lipstick – 2 years
I use inexpensive baskets to keep the supplies contained and organized in the drawers. Yes this is all of my make-up. I don't wear much plus there's no need to have more than you can wear before it expires. Use sticky tack or glue dots on the bottom of the baskets to keep them from moving around in the drawer.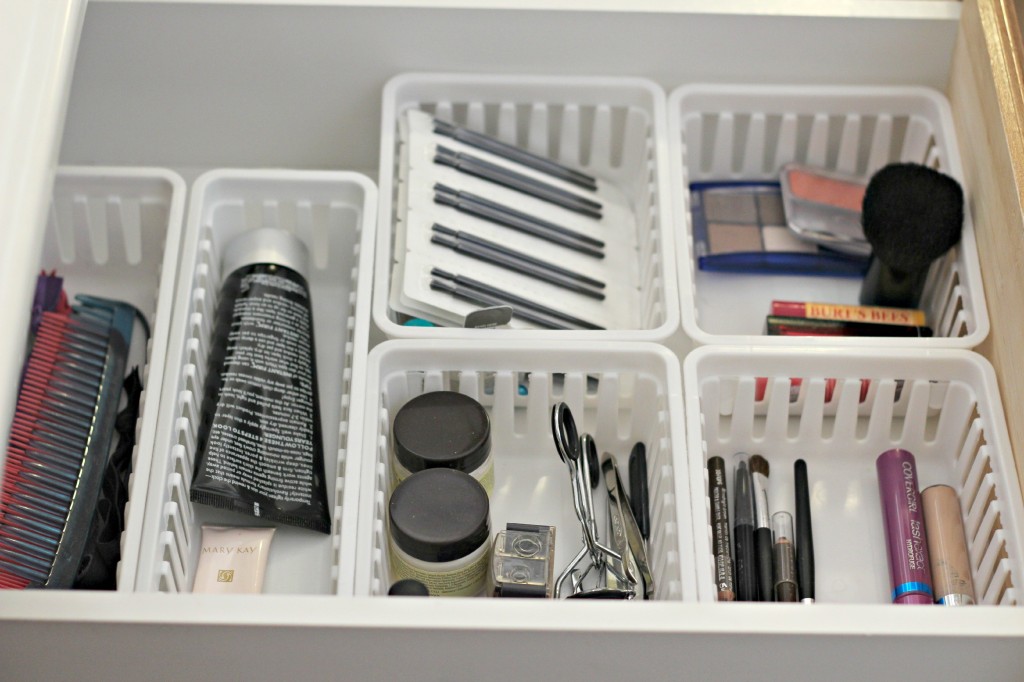 Now it's time to sort through lotions, creams, sprays, sunscreen, powder, toothpaste, hand sanitizer, vitamins, etc. Check the dates on these at least once a year and toss out anything that smells funny or you think might be too old. Sample bottles are great for trips but keep an eye on when you purchased them.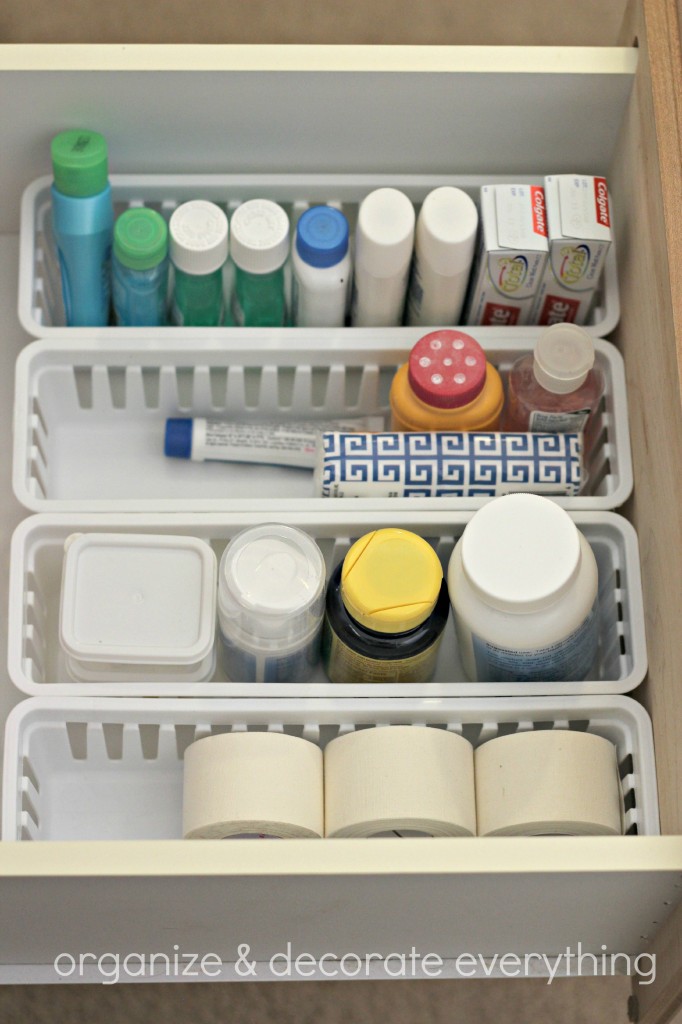 My guess is you have a lot more space in the bathroom drawers now. Add the baskets to keep everything organized and you're set for about another year.
Find any posts you missed on the 31 Days of 15 Minute Organizing Landing Page
Don't forget to follow me on Instagram @odeleanne and use the hashtag #15minuteorganizing for the chance to show off your organized space and be featured on my Instagram.
See you tomorrow for the next post in the series 31 Days of 15 Minute Organizing: Laundry Supplies

Pin it for later: Organizing the Bathroom Drawers