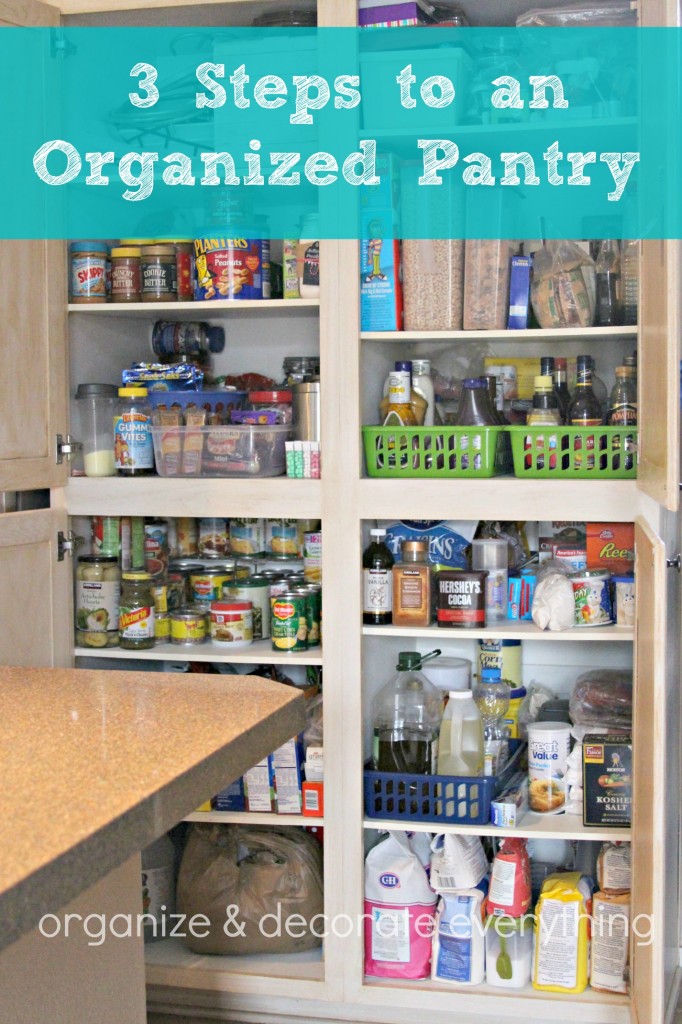 You want an organized pantry but you don't want to spend a lot of time or money? You can do it fast and inexpensively in 3 easy steps. It's not fancy but it's organized and you can easily find everything you need. I helped my friend get her pantry organized by using a few things she already had and a few things from the dollar store.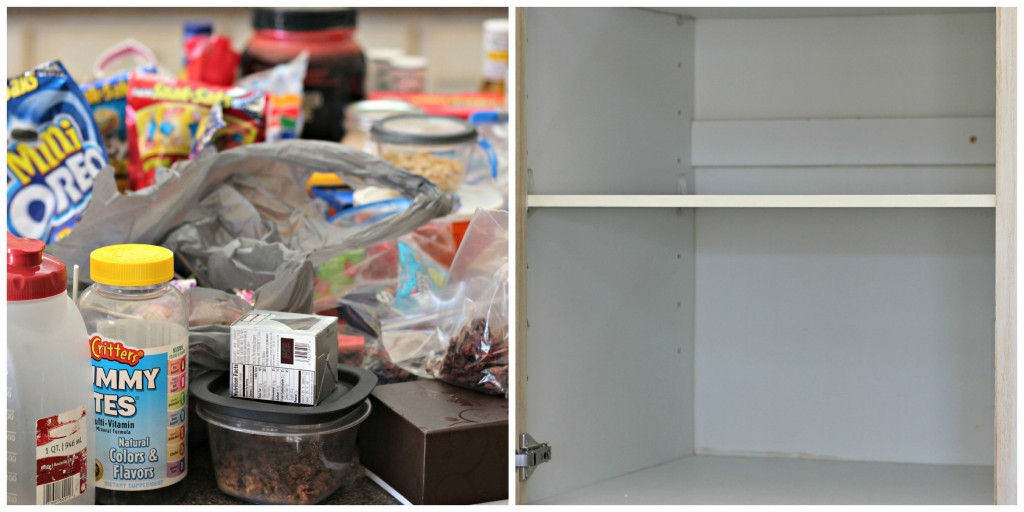 1. Empty – Start by emptying your pantry. You might be surprised the things you'll find in the back of your pantry that you didn't even remember having. That's actually the whole point. Now is also a good time to check for expired food. Clean the cabinets while they're empty, there's bound to be some food spills. In my experience the baking shelf is always the most disorganized. Do not put anything back in the pantry that doesn't belong there.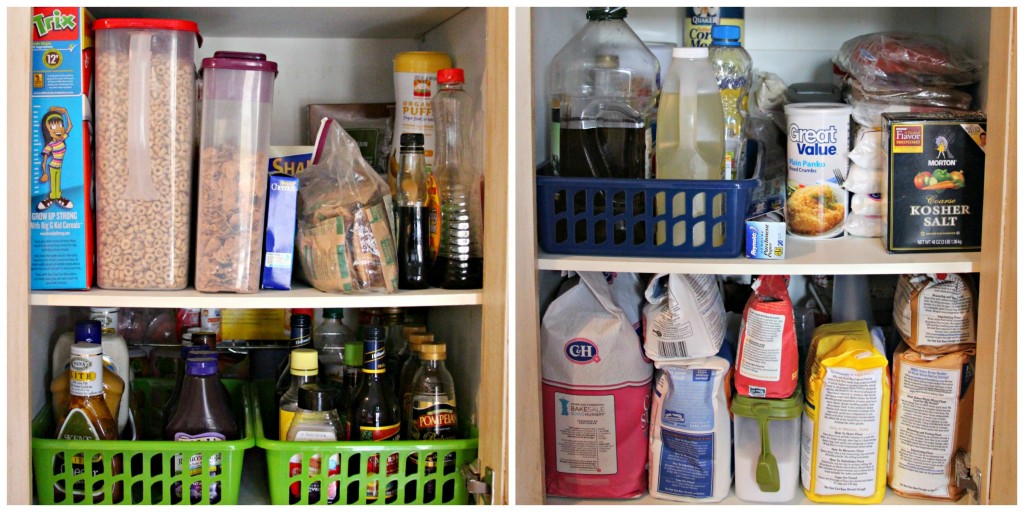 2. Sort – Decide how to group things by how much you have of certain items. Do you bake a lot? You might need 2 shelves. Do you have a lot of canned goods? They might need a shelf all their own. Now is the time to rearrange a little if you need too. Think of each shelf as a separate unit and contain what you need to in that space. Store "like" with "like". Little used items are placed on the top shelf.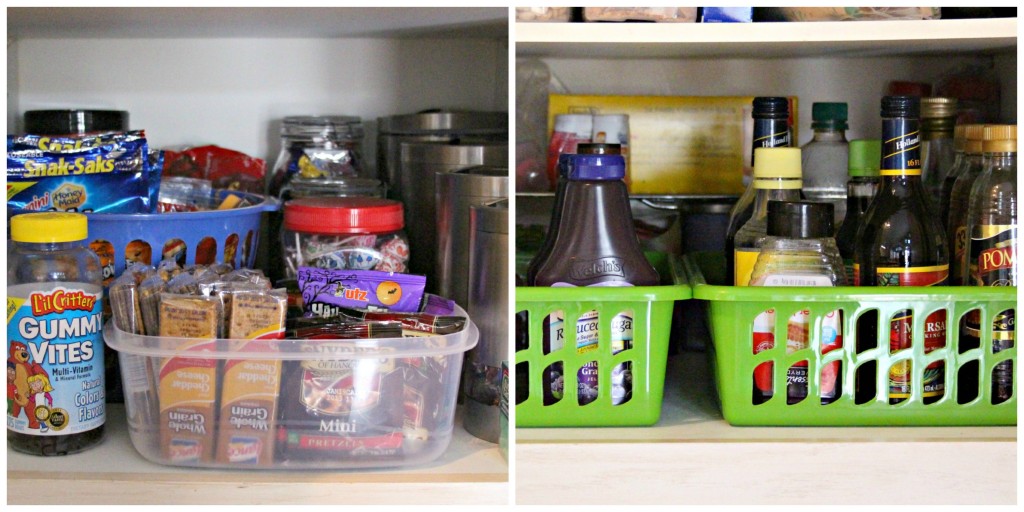 3. Contain – We bought 6 baskets (3 green and 3 navy) from dollar tree to help in the pantry organizing, plus we used a few containers she already had. Look around and see what you can use, you might not have to spend a penny. Her pantry shelves are really deep so the baskets were also a necessity. They can be pulled out to reach the items behind, plus they help contain all the similar items together. She has little kids so we devoted a whole shelf to "grab and go" snacks.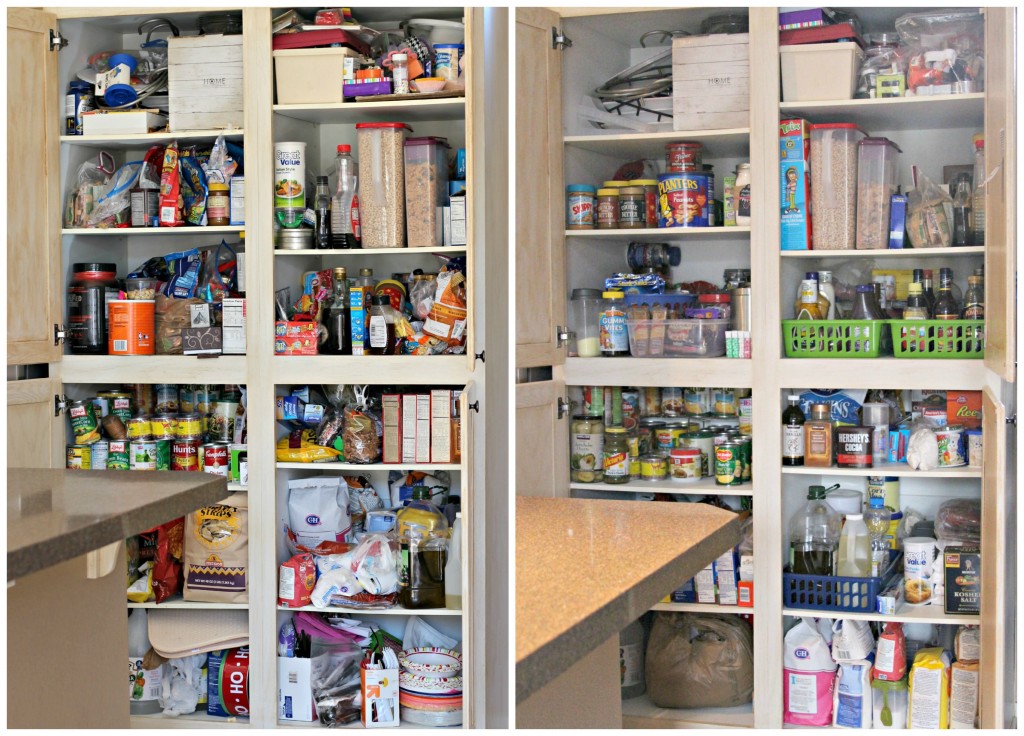 Before pantry is on the left and After pantry is on the right. To give you a little reference, each cabinet is about 36″ tall, 24″ wide and 24″ deep. Having the pantry organized helps you see at a glance what you have and what you need. It's easy to put groceries away when you know where they go. If you want to take things further you can also label the shelves and baskets.
Organizing your pantry might be a good weekend project. What do you think?
I'm linking to these awesome blog parties:
Remodelaholic Link Party