This post shares 15 Ways to Stop Procrastinating. Use the suggestions that work for you to make yourself more productive and reduce daily stress.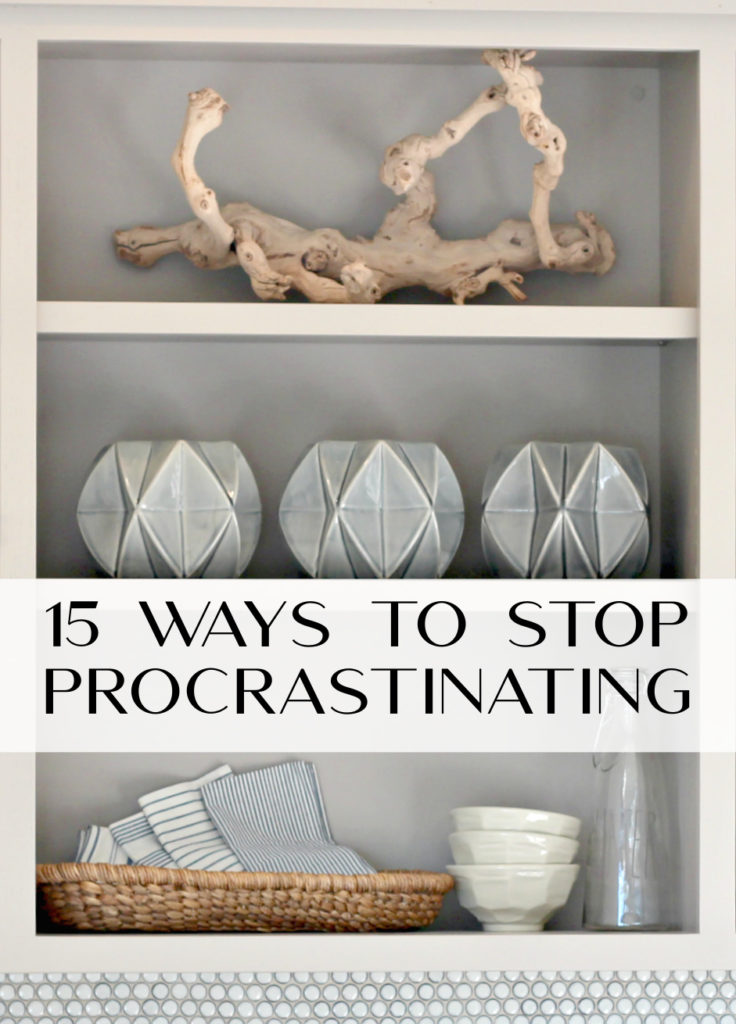 There are many individual reasons we tend to procrastinate. We might have different reasons but the outcome tends to be the same.  Forming other habits has made it easier for me to get tasks done in a timely manner and curb procrastination. That being said I'm still working on not procrastinating when I really just don't want to do a task. Try these suggestions to stop procrastinating. If anything I hope they help you gain balance in your day.
Do Small Tasks Right Away – Have you ever put something off for a long period of time then finally did the task and though, "why didn't I do that sooner ?" Everyone has, but it has also taught me to get the little things done and out of the way so I can focus on other tasks. I also don't have that nagging feeling in the back of my brain anymore.
Number Your Tasks According to Urgency – If your list seems overwhelming, number your tasks according to urgency so you make sure you get the most important tasks finished first. It will also help you be able to budget your time better.
Break Tasks Into Manageable Chunks – A large project can seem overwhelming but breaking it into smaller tasks helps it become manageable. I find I work best in 15-30 increments if the project permits.
Delete Unimportant Tasks – Don't be afraid of taking something off your list that isn't important. You can always add it back on later if you need too. Deleting a task can take that added weight off your shoulders.
Block Time by Tasks – Estimate how long a task will take and block time for it. I like to add time to the task so I don't come up short. It can become frustrating if you get behind and this helps prevent that. Group very small tasks together to get several done at one time.
Set Specific Deadlines – This has helped me so much to stay on task. Whether it's an official deadline or a self imposed deadline treat it the same and you'll be able to accomplish your task on time.
Eliminate Distractions – Set a time limit to be off your phone and block social media for a specific amount of time. Make your work area peaceful and calming so it doesn't distract you from work. Wear earbuds if you need to block out noise distraction.
Ask for Help – If you're overwhelmed or short on time and you know someone else has the time and knowledge ask them to help you. This applies to home and at work.
Remind Yourself of the End Goal – Knowing the end goal can give you the motivation you need to continue the task. Celebrate the natural rewards of the completed task.
Reward Yourself – This is my favorite tip. Who doesn't want a little reward once you've accomplish something? If you work for yourself I feel this is even more needed. It could be a reward of time or a small monetary reward.
Tell Others About Your Goal – Other people can help you stay accountable especially if it's a large task. They can be the support you need if you feel like you're starting to procrastinate.
Make a Plan in Advance – Remember all of this is to help you get things done in a timely manner and stop procrastinating. Having a plan is the first big step to make things happen. I like to start with my completion date and work backwards from there to develop a timeline.
Develop Daily Habits – What do you do daily that just comes natural and you don't have to think about? You can piggyback on those daily habits by adding other small tasks.
Take Advantage of Times When You Feel Motivated – Sometimes we are just naturally more motivated than other times. Use those times to your advantage and get as much done as possible. Once you get a lot accomplished it usually helps you stay motivated.
Let Go of Perfection – Not everything has to be perfect, in fact most things don't. Perfection is a main reason for procrastination and can be stifling. Let go of the perfection and applaud your progression.
I hope these ideas help you to become more productive as you procrastinate less. Which suggestions help you the most?
Pin it for later: 15 Ways to Stop Procrastinating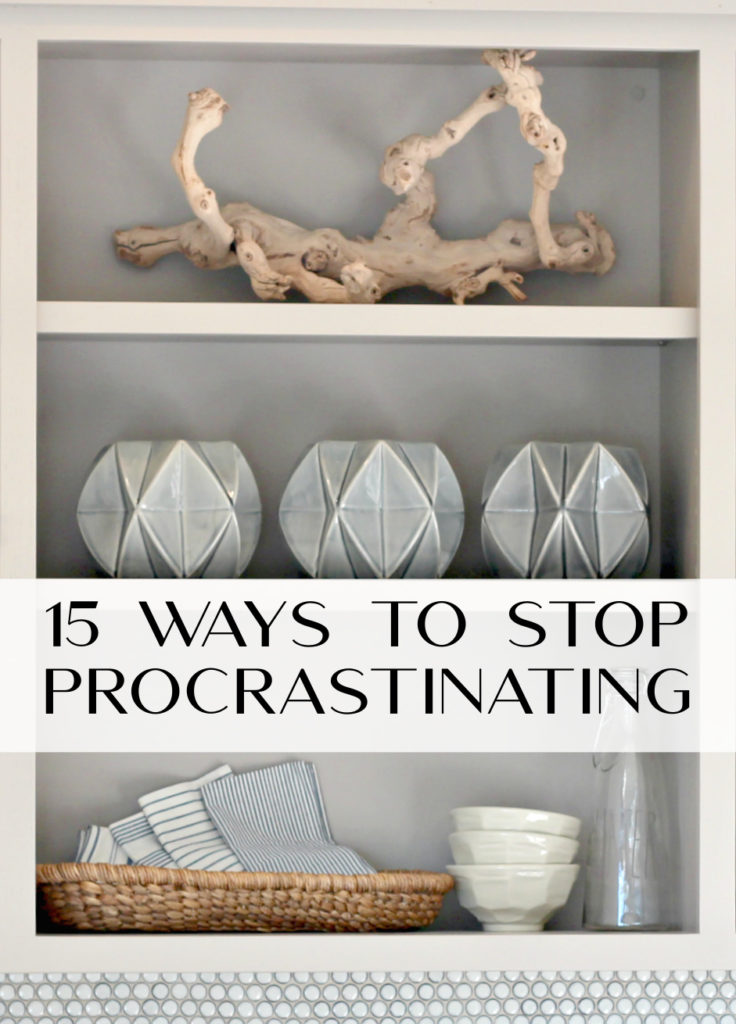 You might also like these posts:
Daily Organizing Habits
Thoughts on Kids and Clutter