Make a Sunburst Mirror for only a few dollars using wood shims and a little paint.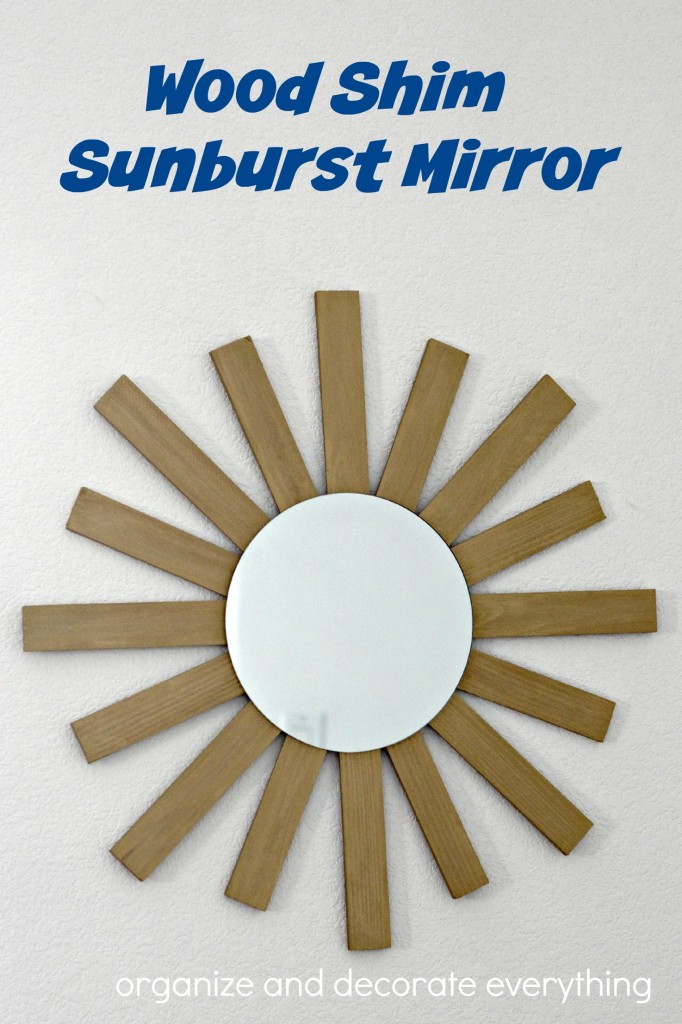 A few days ago I was going through a box in the garage and found a whole package of shims, so the thought of a Wood Shim Sunburst Mirror came to mind again. Sometimes I can sit on things for years before making them. I still had a large mirror in my craft stash so I didn't even have to run to the store for supplies. Why didn't I make this sooner?
Here's the supplies you'll need for the Wood Shim Sunburst Mirror:
Shims
Mirror (whatever size you prefer)
Craft paint
Hot glue
Ruler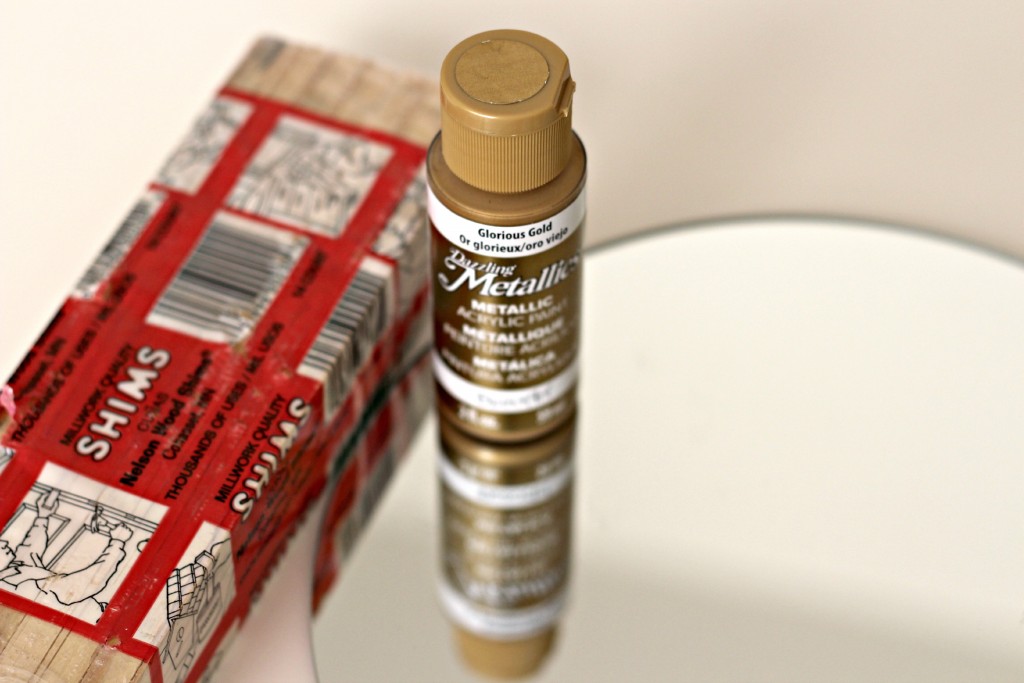 It's an easy and inexpensive project but it looks like you spent a lot more time and money on it. Paint all sides of the shims. Shims definitely aren't perfect so choose the best side to be facing front.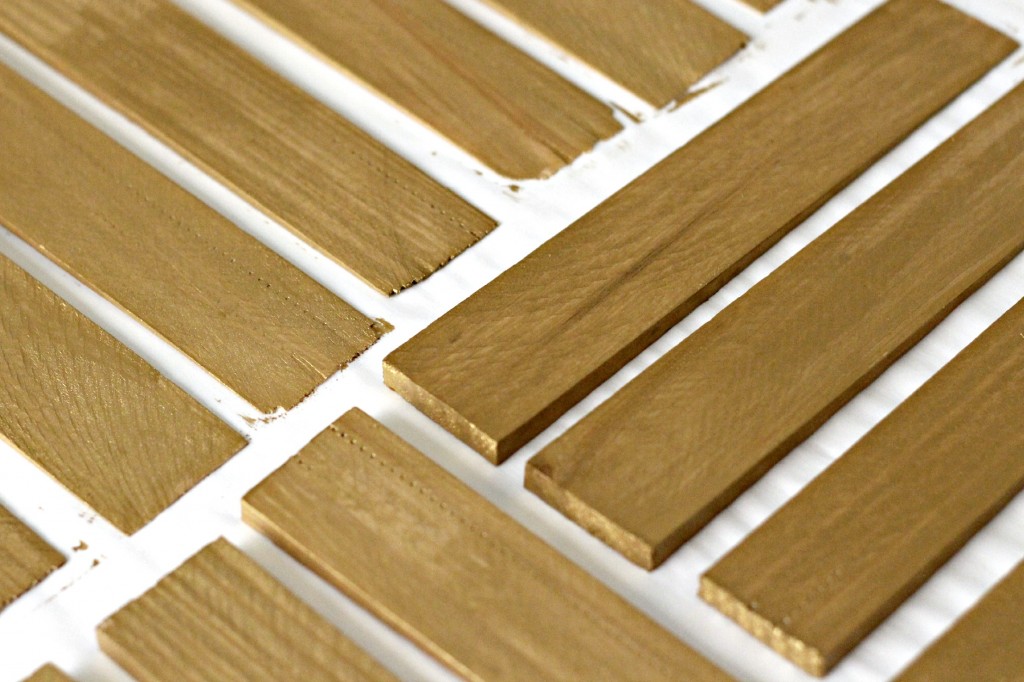 I didn't measure the spacing for every shim but I did find the center of the mirror as a rough guide. I measured 3/4″ in for the first 8 shims, then 2″ in for the last 8. Use the photos below as a guide to building the Sunburst mirror. Hot glue the shims in place. The hot glue has held up perfectly well for several years but if you want to make sure the mirror is really sturdy use E6000 glue.
Luckily, this mirror already came with a hook on the back. If your mirror doesn't have a hook, you can purchase one at the hardware store. Use E6000 glue to secure it to the mirror. Let it dry for at least 8 hours before hanging. I love how it turned out. If you prefer a fuller look you can add more shims by layering them.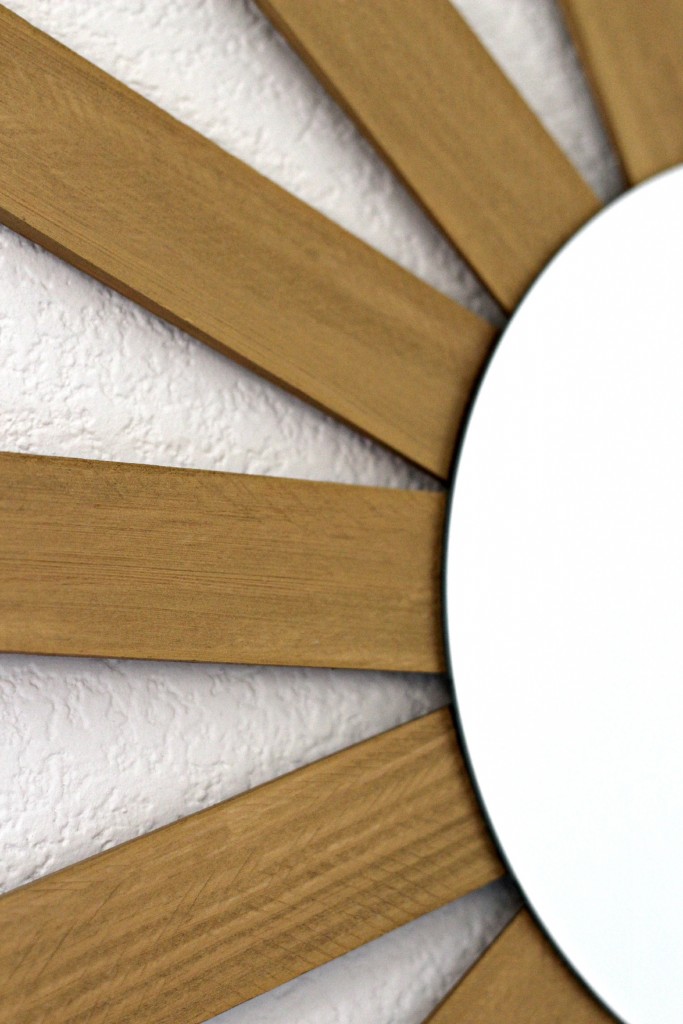 The gold looks more shimmery in person but I like that it's still pretty subtle.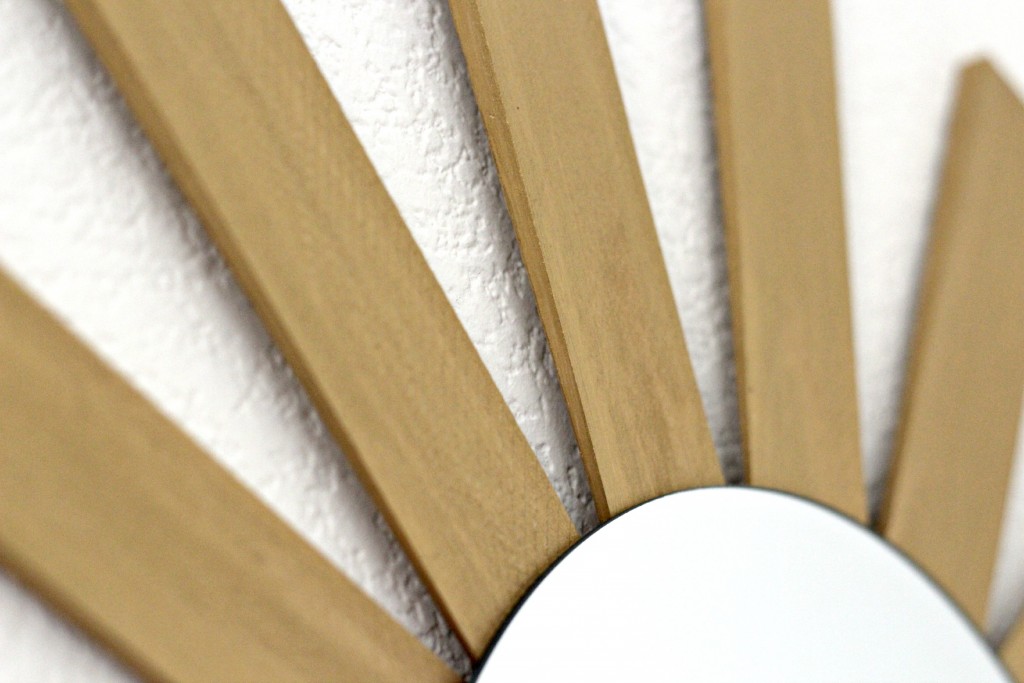 This wall area of the family room was blank for over a year. I pulled some things together to finally fill this space. I'm still not sure it's exactly how I want it. Update: I totally changed this little corner and now my favorite painting is hanging in this area. You can follow me on instagram to see how this corner looks now.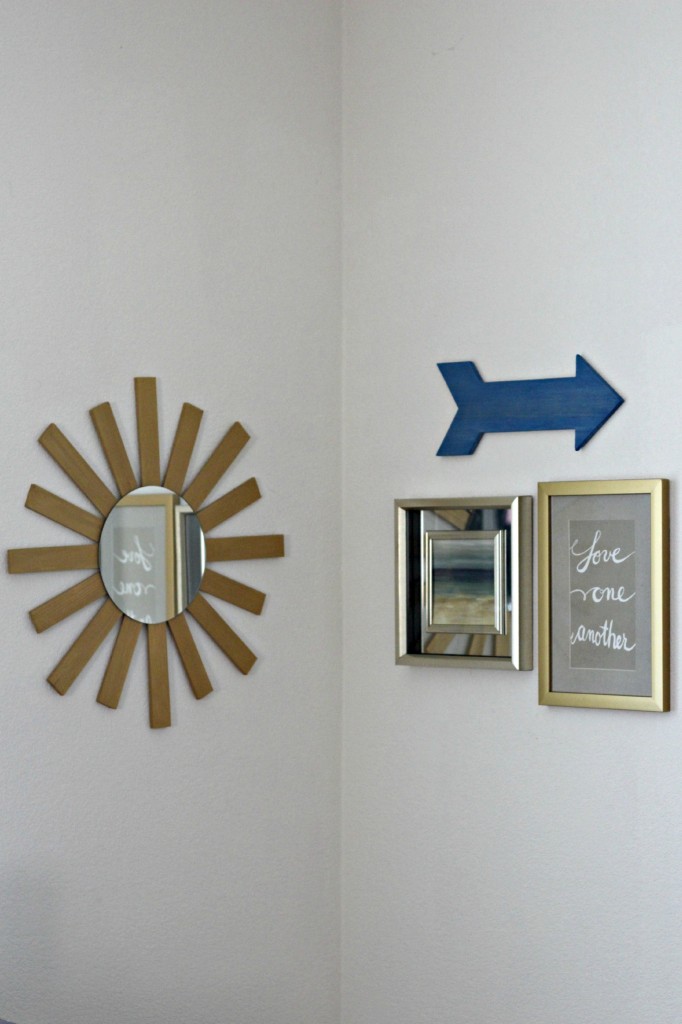 I found this picture at Home Goods on clearance for only $5 and loved the calm colors. The outside of the picture is mirrored so it's a little hard to take a picture of it.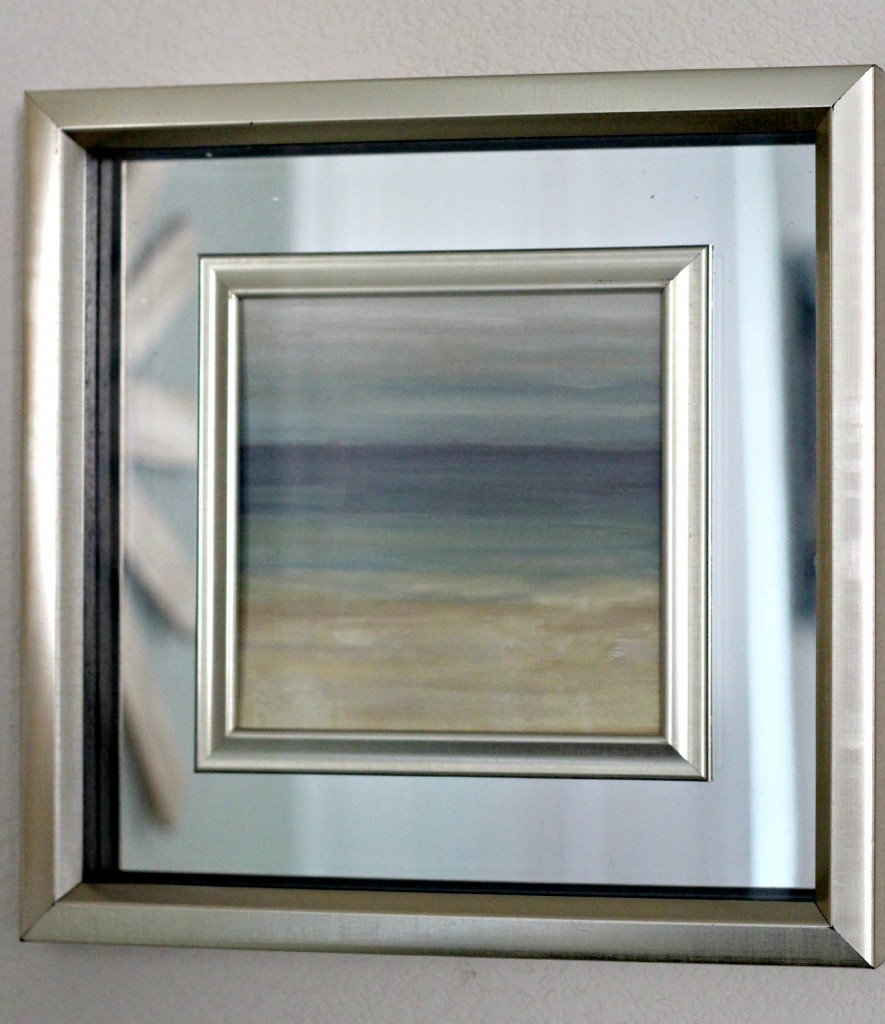 The "love one another" is from Hobby Lobby and the arrow is from Target. The arrow comes unfinished so I diluted blue acrylic paint with water (about 50/50) so the wood grain would show through.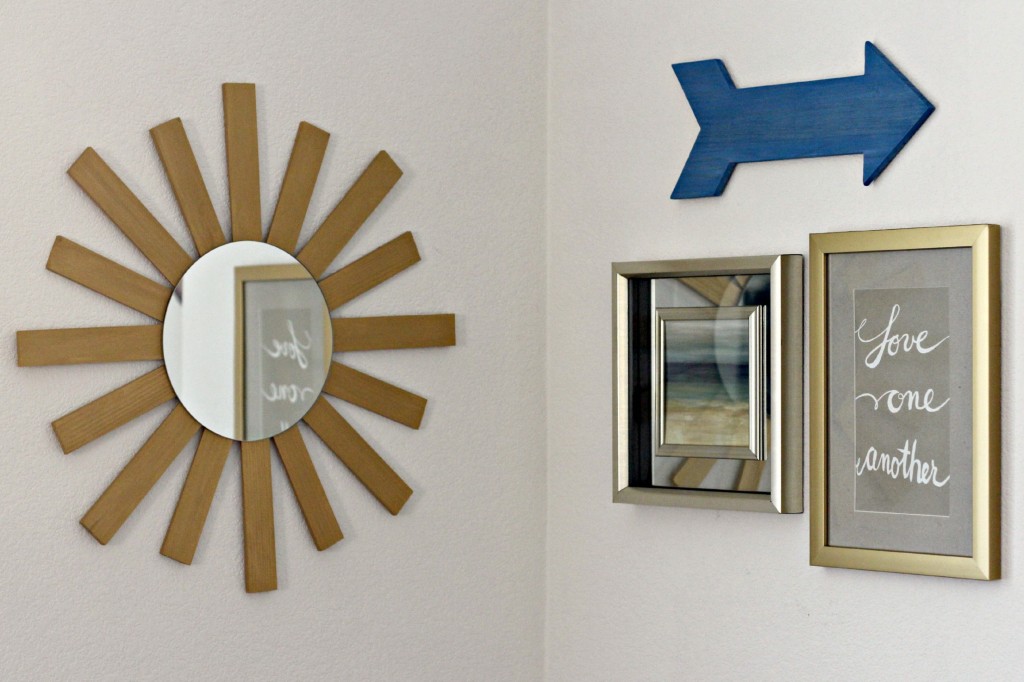 Do you want to see the other Sunburst mirrors I've made? Here are the links:
Sunburst Mirror from a Candle Holder
Knife Sunburst Mirror
Are you following me on Instagram and Pinterest? I share some fun ideas on both and behind the scenes on Instagram.
Pin it for Later: Wood Shim Sunburst Mirror