I know the mudroom isn't finished yet, but I just have to share the progress we've made with someone and since we're all friends, I'm sharing with you. If you haven't been following along I'll give you some history. We've lived in this house for 5 years and I love it, but no mudroom and a coat closet about 26″ across (tiny). When we first moved here we had 7 kids still at home. Yeah, you can already picture the coats, boots, hats, gloves and everything else piling up by the door every winter. Not this year! We're building a mudroom! Here's some pictures of our progress and hopefully we'll have the finished project in a couple weeks (we're taking a little break to go on vacation with the kids).
We're just beginning:
Adding some storage above too: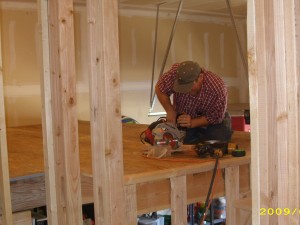 Yay, sheetrock and a door leading to the storage area: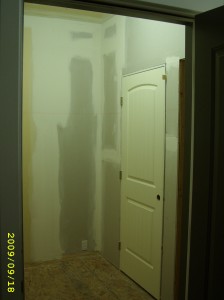 Time for tile (what a man):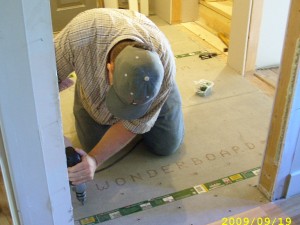 I love it! What do you think?: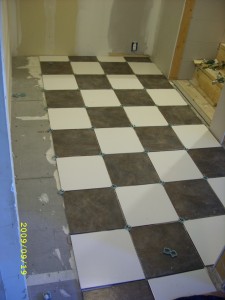 Now I get to paint. I knew I wanted this color and I found it in the mistints at Home Depot for $5 (score):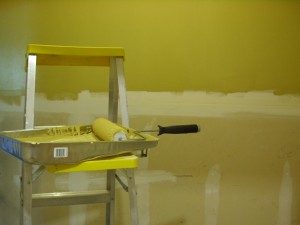 Hubby added the trim and routed all the edges himself: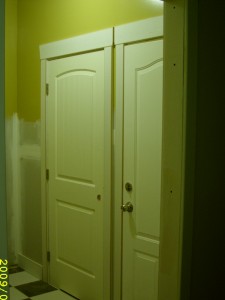 Are you wondering why I only painted that far down on the wall? Well, now it's time for the beadboard. We've never done this before so wish us luck. Have you ever hung beadboard on a ceiling? Well, we're going to do that too, so we'll need some more of that luck I'm thinking.
Say with me "The mudroom will be done before the first snow flies, the mudroom will be done before the first snow flies (repeat many times).
I'm linking this to Make Your Monday at Twice Remembered and Metamorphosis Monday at Between Naps on the Porch. Stop by and get inspired by other projects that I'm sure are completed. Thanks for letting me share my half done project.
Oh, by the way! I have a big announcement tomorrow. Be sure to stop back by and check it out.
Check Out These Related Posts