Hubby and the little boys had a guys night out. So where do 9 and 6 year old boys want to go when they have a chance to go somewhere fun with their Dad. Apparently, the Monster Truck Show. Hubby got tickets so they could go to the Pit Party before the show and get a closer look at the trucks.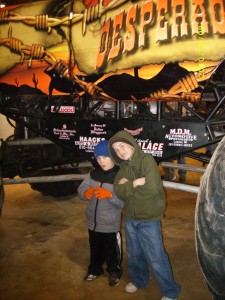 They were so excited!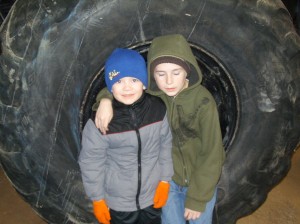 I asked Hubby if it was cold there, because of the beanies and gloves. It wasn't, but apparently their ear plugs stayed in better with the beanies and Ammon just wanted to keep his gloves on.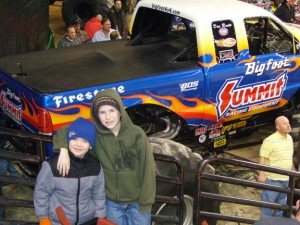 This was their favorite part.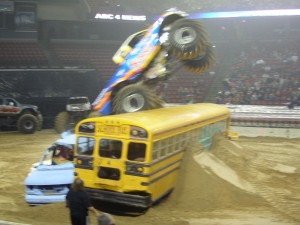 Hubby gave the camera to the boys so they could snap a few pictures too.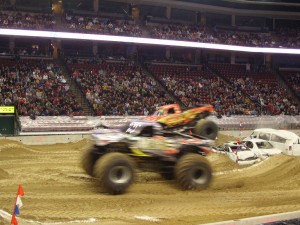 They had such a fun time with Dad and couldn't wait to tell us girls all about it.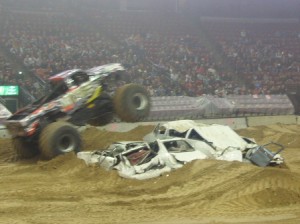 So, this is what I did while they were away. I organized the boys' closet. It wasn't really too bad, but with 2 boys sharing one small room and closet, I really have to stay on top of it. Luckily, they don't have many clothes that need to be hung up, so not much of the bar gets used. Toys are stored in the pull out drawers in catagories, such as: trains, tranformers, action heros, animals, etc. Bins are placed on the shelves to store other toys, such as weapons, spy gear, pirates, etc. and one bin is for their shoes. The shelves can be moved around later if needed, but are secured to the wall at the top for now. On the wall to the left are their hanging things, like jackets, belts, sports bags, etc.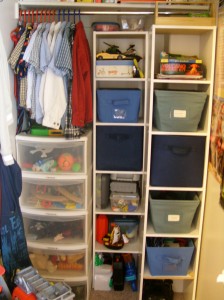 Family games are stored at the top of  the closet on more shelving. The ceilings are 9′ tall and the boys can't reach up there anyway, so I thought this would be a good place to store the games.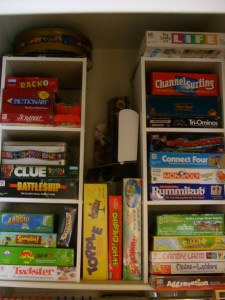 I have an issue with posters all over the room or on the closet door, but putting them on the closet wall works for all of us. The boys are happy with their posters and I don't have to see them, when the closet door is closed.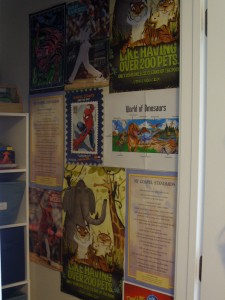 The over the door shoe organizer is used for their action figures and small treasures. Everything is labeled so they can put things back where they go. Also, so someone else can help them clean up besides me.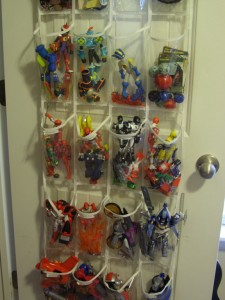 The boys are going to be getting their own rooms in about a month, so that should help a lot with the problem of space. Until then, this works pretty well and they keep it cleaned up as much as 9 and 6 year olds do.
After their room was organized, the girls and I went to dinner at Mimi's. The girls wanted to go there, because they had never eaten there before. It was yummy and Emilee even had 2 desserts.
It was a great night for everyone and I got the boys' closet organized. They played in their room this morning and didn't  even notice a few their things were no longer there.
I'm linking to:
Saturday Nite Special at Funky Junk Interiors
Strut Your Stuff Thursday at Somewhat Simple
Check Out These Related Posts