Sometimes I think I have an obsession of making old things look new and new things look old. For instance take the look of old cans, I love them but they're not always easy to find. Sometimes you find them and they're a little too rusted or the label is torn off or not the right color. It's hard to find exactly what you want. I'm going to show you how to make Vintage Cans and get the exact look you want using new metal cans.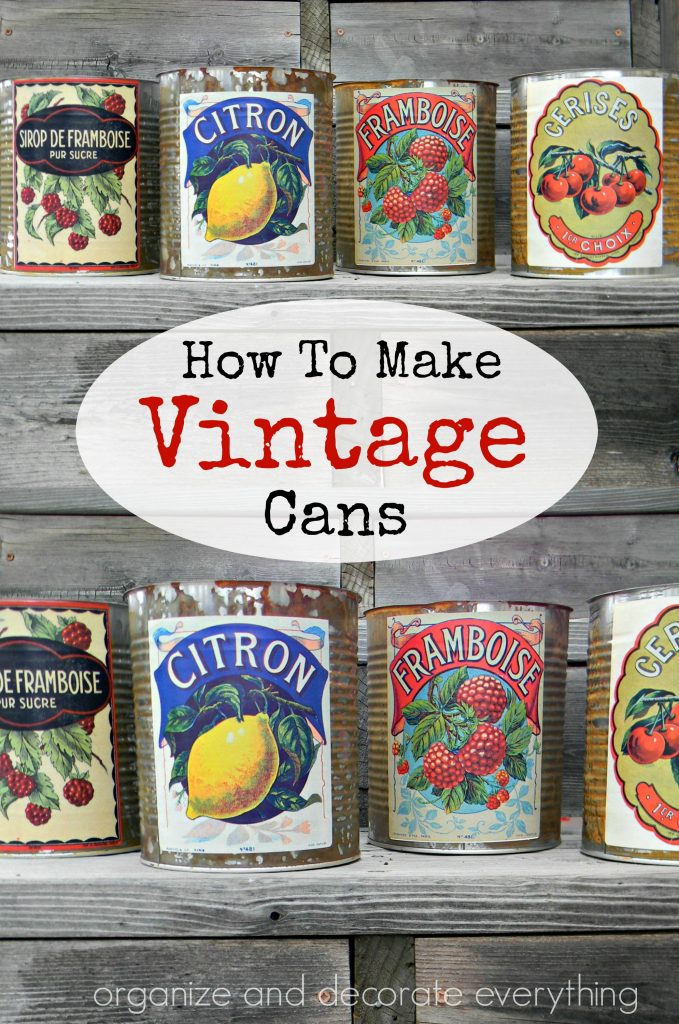 This post contains affiliate links for your convenience. I get a small commission which helps me run this blog but there is no added cost to you.
Aren't these awesome? I love how they turned out. None of them are the same. Which is totally perfect for the rusted metal can look.
Here's the supplies you'll need:
Cans- (these are large #10 cans from any LDS cannery for only .75 cents each) or you can also find them at Lowe's or Home Depot (you can even use soup cans if you want smaller containers)
Plum Brown Barrel Finish- (found at most sporting goods stores or Amazon)
Cleaner/Degreaser- (found next to the Plum Brown or Amazon)
Rag- (to apply the cleaner)
Tooth brush- (to apply the plum brown)
You will also want gloves and an apron.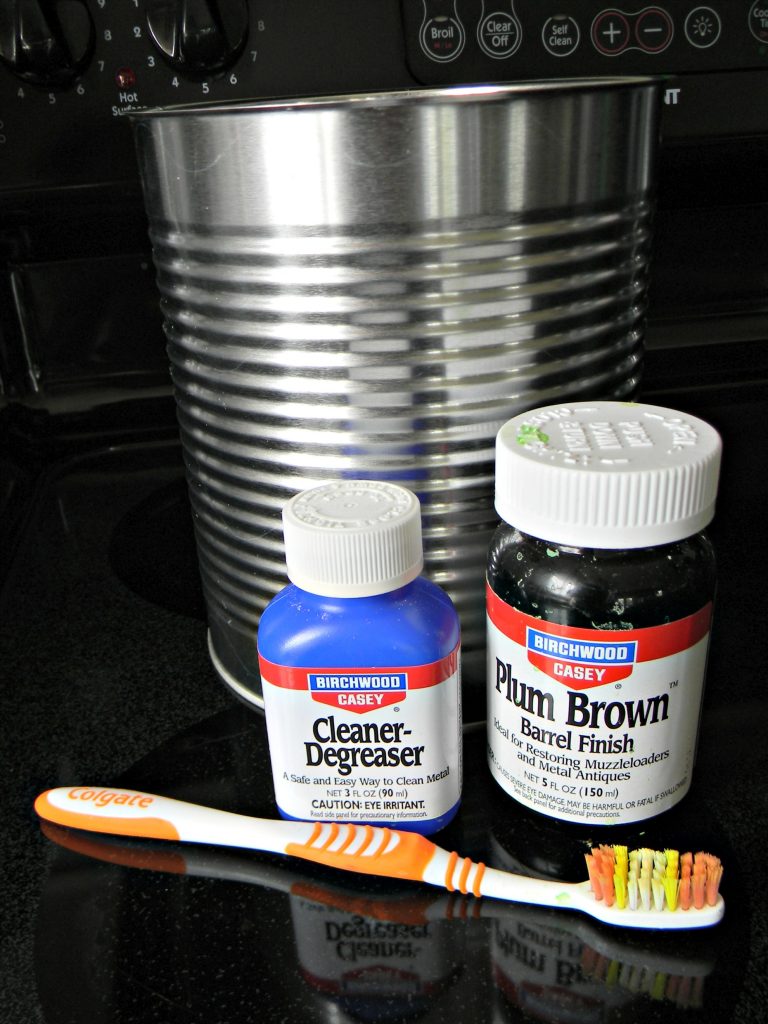 Apply the cleaner/degreaser to the can using a rag. I only used it on the outside of the can. It cleans off fingerprints and other spots so the Plum Brown can work it's magic. I would recommend wearing gloves even though the label didn't say anything about that.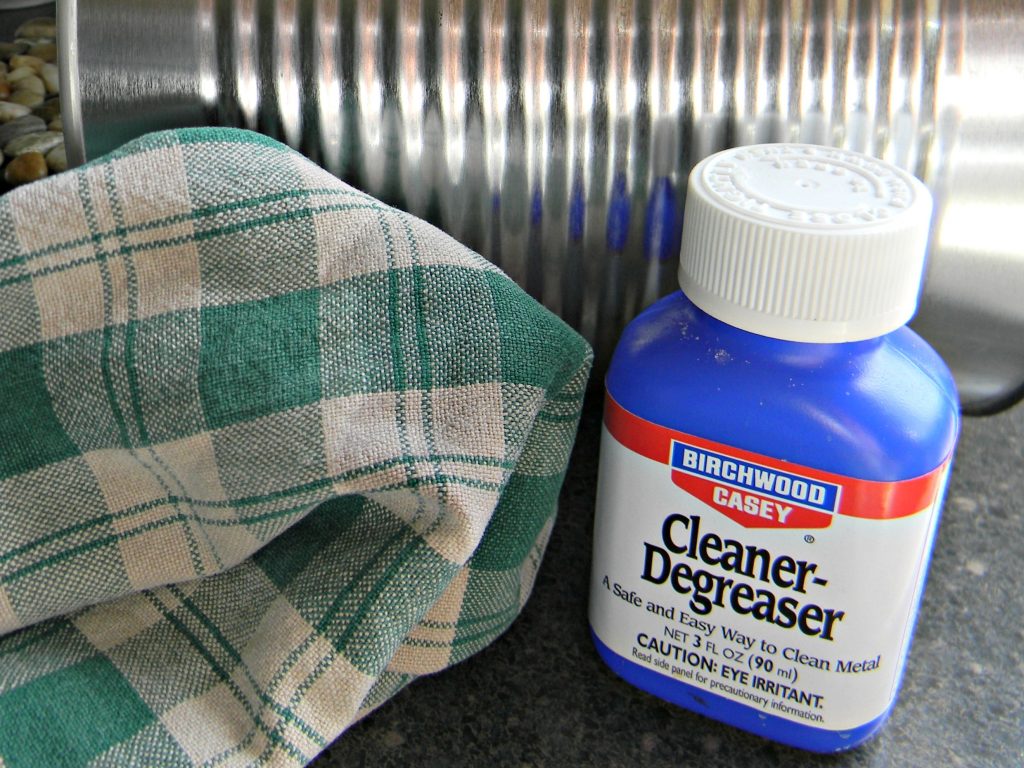 Apply the Plum Brown with a toothbrush. Just dip it in the bottle and brush it on the can. I brush it on top to bottom, not side to side. It didn't seem to go on as well that way. I did it over the sink and wore an apron just in case it got a little messy (which it did).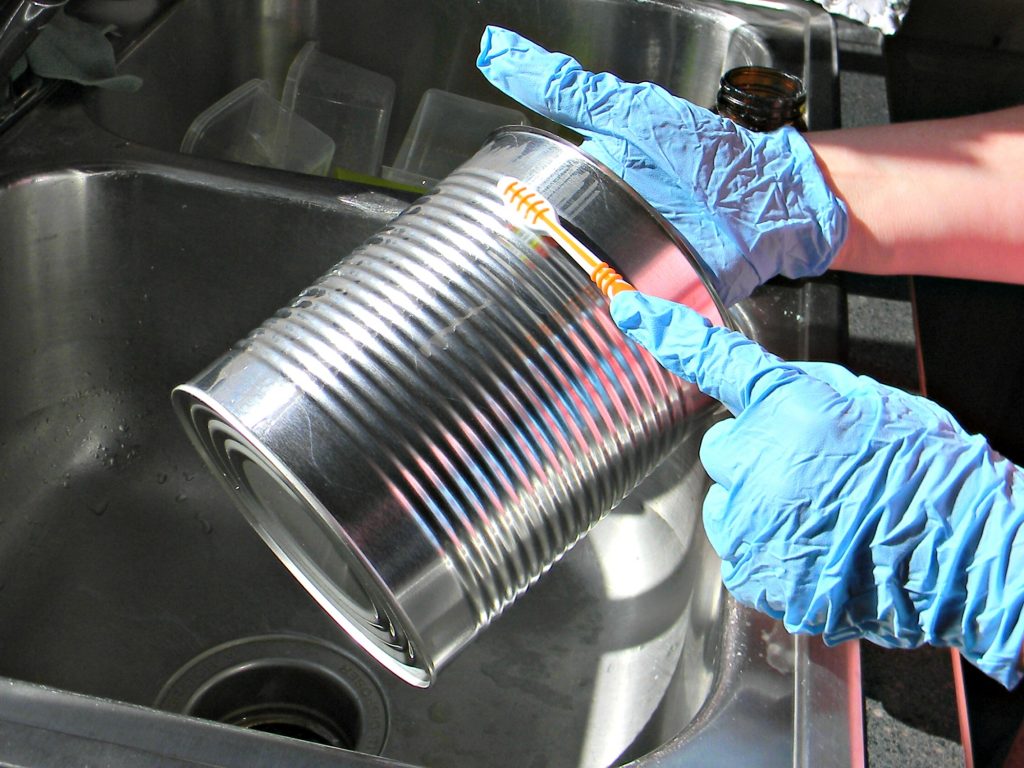 Place the can on the burner (top down) and heat for about 20 seconds. Every stove is a little different so leave it on until it starts turning rusty. Turn the can over and put it back on the burner for about 10 seconds. I used kitchen tongs to turn them over. Don't touch it because it's very hot. Place the cans on hot pads to cool. It only takes about a minute. As you can tell it makes your stove a bit messy, but it was easy to clean up with a little scrubbing.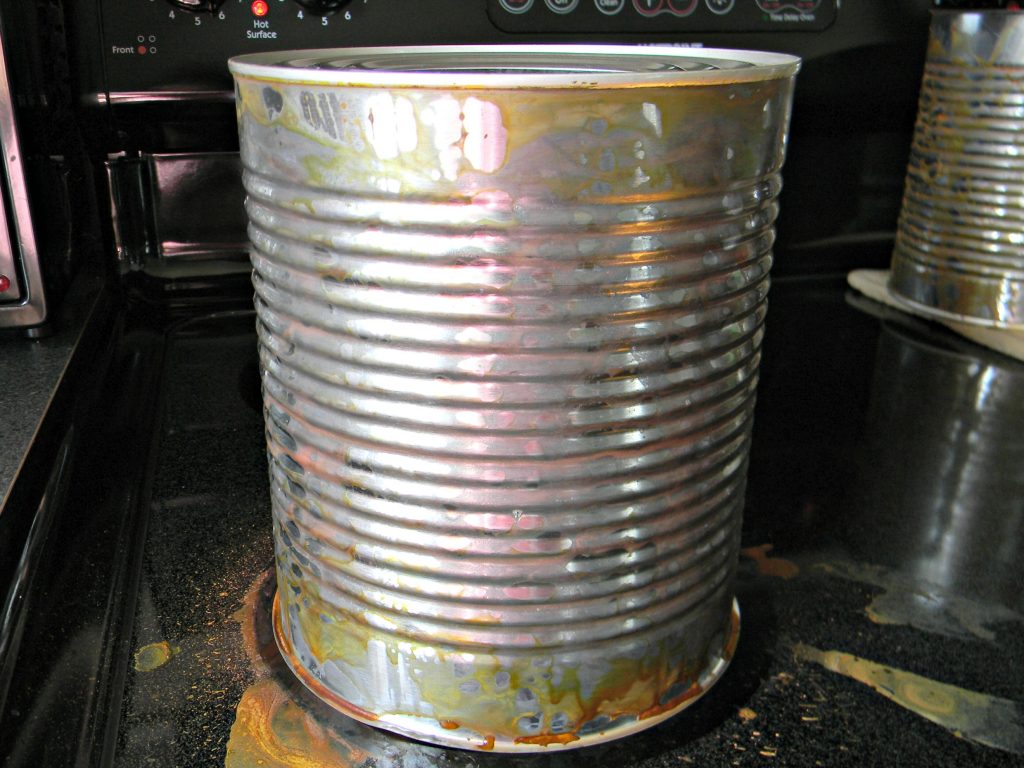 Check out their rusty goodness.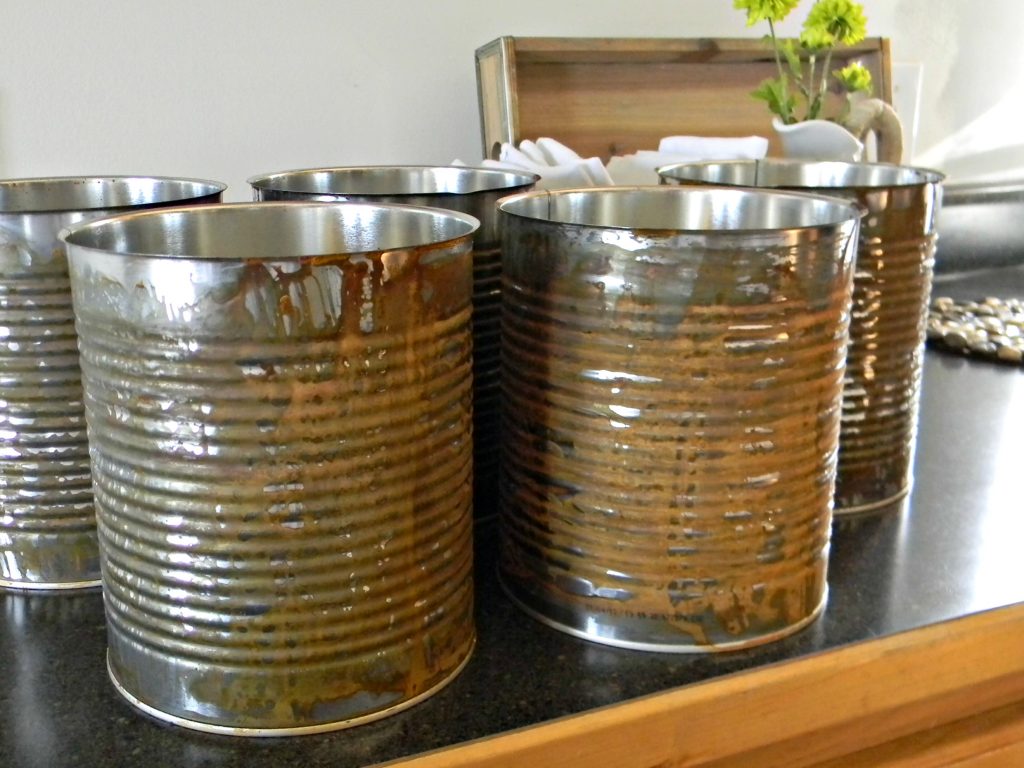 These labels are so fun and perfect for our vintage cans. These are found on Flickr but a google search for 'vintage fruit crate labels' will give you some additional sources.
French Labels
English Labels
The images are printed on weatherproof polyester label sheets by Online Labels. The labels are available in many different sizes. They're easy to cut to size using a paper cutter.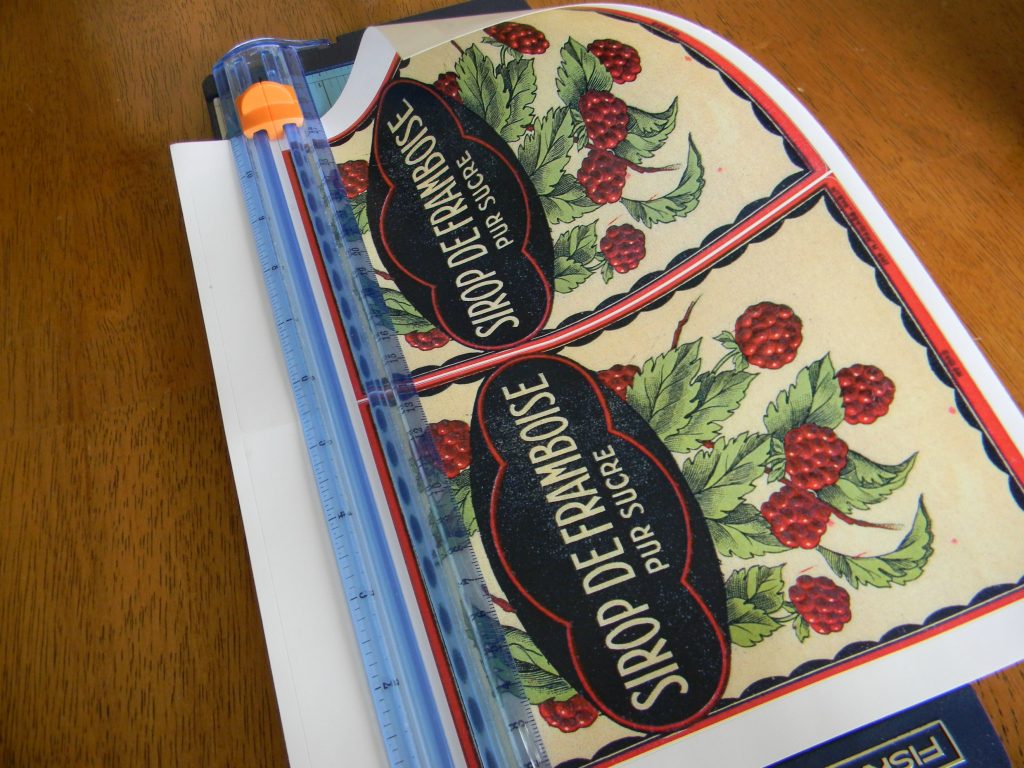 I'm really happy with how they turned out. There's so many uses for the cans plus they add a little unexpected art to your space. The large ones can be used to hold cooking utensils and many other things, and the small one would be perfect for succulents or herbs. They would also make a great housewarming gift. Fill with their favorite flowers and give as a gift!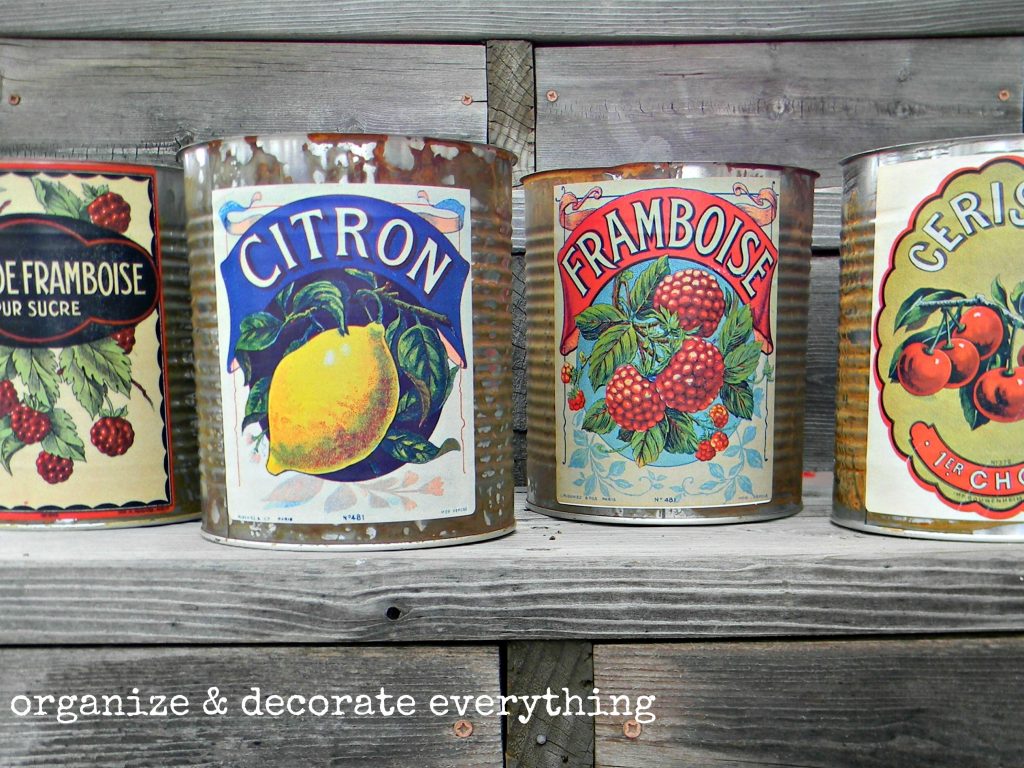 How about a bit of trivia: Did you know that can label art work was the birthplace of commercial art in America? The advent of Lithography enabled companies to use art to sell their product commercially and there was a great deal of competition between companies to create the best works. Here's some links to a bit of history if you're interested.
the labelman.com
boxofapples.com