What do you do with a coat closet when you don't need it for coats anymore? What do you do when you have DVDs taking over your house? How about making a DVD closet. I had this great idea and luckily I have a handy Hubby to carry it out. This is the before: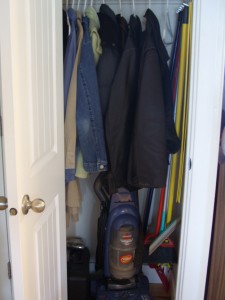 Here's the blank slate. Is this the tiniest coat closet you've ever seen?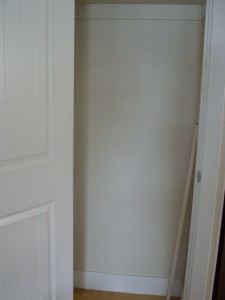 Putting in the supports for the shelves. I wanted the DVDs to fit perfectly. We have a problem with kids trying to put DVDs in sideways and on top of one another. They won't have that option anymore, because the shelves are just the right height and depth for DVDs: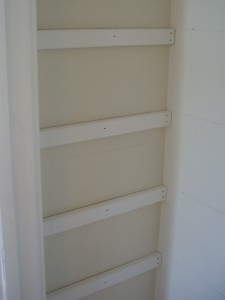 Time for the shelves now. This took a lot of measuring and cutting. Luckily Hubby doesn't swear or there could have been some bad words said at one point of this project: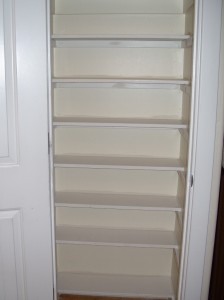 Now it was my turn to take over with the painting. Hubby isn't allowed to paint anymore. He's not very patient and really doesn't enjoy it: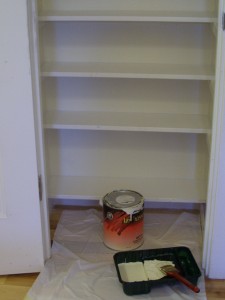 This is where the DVDs used to be stored: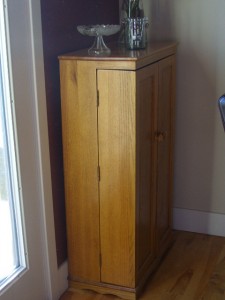 Taking up a lot of room in my small dining area. I am so happy to get this space in my dining area back: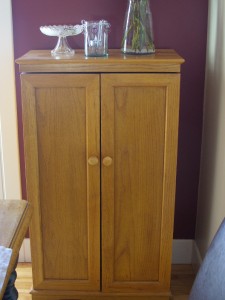 The kids helped me put all the movies in the new closet: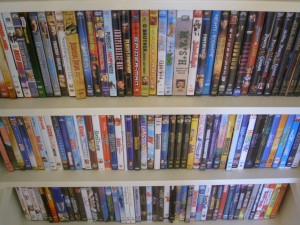 PG-13 movies are on the higher shelves (they have to ask first for these), PG movies are in the middle and G movies are on the bottom shelves:
You're not going to believe this, but we couldn't fit all the cartoon and Disney movies in the closet. Luckily we have storage for those in the TV stand. What do you think? I love this new storage area for all of our DVDs and I'm pretty confident it will stay like this because of the custom fit shelves: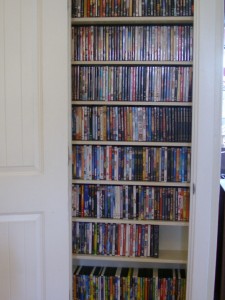 Oh, how I do love an organized closet!
I'm linking to:
Organization Party for LUFF's at Our Suburban Cottage
Metamorphosis Monday at Between Naps On The Porch
Before and After Party at Thrifty Decor Chick
Make It For Monday at Cottage Instincts
DIY Day at A Soft Place To Land
Talented Tuesday at My Frugal Family
Trash to Treasure at Reinvented
Show and Tell at Blue Cricket Design
Transformation Thursday at The Shabby Chic Cottage
Strut Your Stuff Thursday at Somewhat Simple
Get YOur Craft On Thursday at Life as Lori
Creative Cats at Poppies at Play
Saturday Nite Special at Funky Junk Interiors
Victory of the Week at Design-aholic
Toot Your Horn Tuesday at Silly Little Sparrow
Show Us Your Closets at Thrifty Decor Chick