I can't wait till I can offically say the mudroom is finished, but not yet. Hubby's finished his part but I still have to spackle, sand, paint, put up hooks and add accessories. I found some metal buckets at Big Lots on clearance for $5 each. There were four left, exactly what I needed, but the colors were a little off.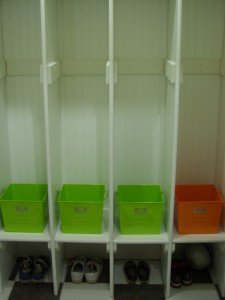 I don't really mind the green too much, but the orange throws it off a little, don't you think? These will be great for the kids to use for bigger items they need to take with them, like library books, school projects and items I find laying around the house or in the car they need to put away. Of course I got out the black spray paint and got busy with their makeover. Here's what they look like now.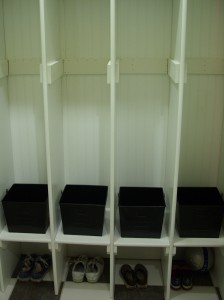 I'm going to put labels, with their names, on the front of them. I didn't have time yesterday, because I was also trying to get some spackling done. There are a lot of nail holes in the trim and wallboard I need to cover.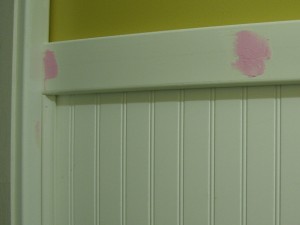 I have to say I love this spackle though. It goes on pink and changes to white when it's time to put another coat on or it's time to sand. I'm a pretty impatient DIYer so this was made just for me. It's like it's telling me, "no not yet, come back later". Hopefully I'll get some sanding done today. I would love for the mudroom reveal to be next week. I better get busy.
I'm linking this to Transformation Thursday at The Shabby Chic Cottage. Stop by there and see what inspiration you can get from others. I'm on my way.
Did you notice that new picture of me? My 11 year old took it. I think she did really well. I know it's a little big. I'm going to see if I can do anything to fix that.
Check Out These Related Posts