A couple of years ago I was fortunate to participate in a drive to help gather items and put together a Refugee Basket. I think we were able to assemble at least a dozen baskets to take to new families in the area. It was such a great experience to help those in need and give them a fresh start in their new home. I've included a list of the items we included in our basket. We were fortunate to include items in the essentials and extras categories which was an extra special blessing.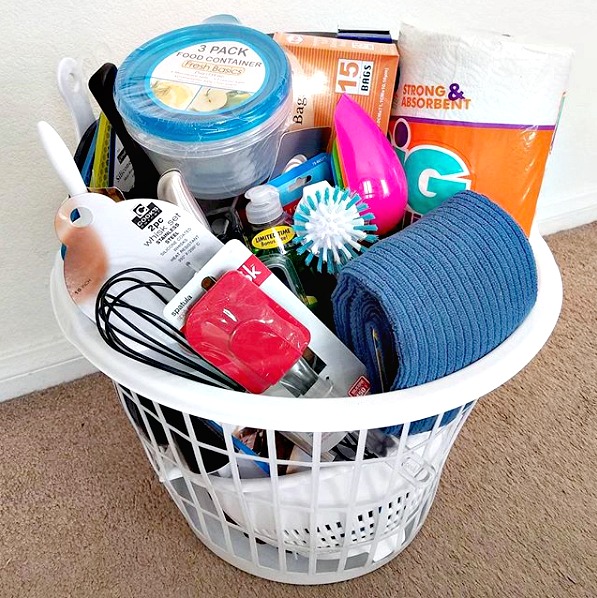 In addition to large furniture items that were collected for the refugee's new homes there was also a huge need for household essentials that I'm sure most of us take for granted. Can you imagine having nothing and then having a basket or 2 of household items delivered to your new home? I'm sure they felt the same way I did while I was gathering the items. What a sweet blessing to be able to give such a small amount and make such a huge difference in someone's life.
If you'd like to make and donate your own refugee basket you can use this as a guide and add anything you think might also be needed. Ask friends, neighbors, church members, or community leaders where the need is in your area then come together as a community to help those in need.
Refugee Basket Essentials:
Laundry Basket
Measuring Spoons
Measuring Cups
Can Opener
Cheese Grater
Colander
Mixing Bowls
Whisk
Metal Spatula
Rubber Spatula
Cookie Sheet
Baking Pan
Small Tupperware 4 pack
Kitchen Knife (serrated and regular)
Vegetable Peeler
Large Serving Spoon
Cutting Board
Kitchen Towels
Dish Rags
Dish Scrubber
Dish Soap
Refugee Basket Extras:
Pot Holders
Tongs
Pitcher
Skillet
Rolling Pin
Bread Pan
Muffin Tin
Stockpot
Sauce Pan
Silverware
Tinfoil
Saran Wrap
Dishwasher Detergent
Trash Bags
Paper Towels
Dinner Plates
Bowls
Glasses
Kitchen Cleaner
Broom
Mop
Toilet Paper
I would like to make more refugee baskets this year. What else would you add to the basket?
Pin it for Later: