I planned on putting this post together before the holidays. Obviously I didn't make it, but I decided to share these ideas with you because I figured at some point throughout this next year you'll probably have guests stay in your home. If you're lucky, you have a guest room. If not (like me) you have to kick your 16 year old daughter out of her room (because it's the only one with a double bed) to share with her 12 year old sister for 2 weeks. It's okay. They're both still alive and the guests are leaving today. Here's my ideas for helping your guests feel welcome and relaxed when they arrive.
New Clean Sheets- They don't have to be new, but Amanda needed yellow sheets to match her new room colors anyway, so new worked out good.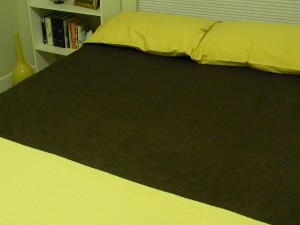 A Bed for Baby- Yeah, they could have brought the baby's bed from Canada but they were already bringing a stroller, baby car seat, 2 toddler car seats, and 3 kids, so I figured their hands were already full. We took Amanda's chair, side table, and guitar out of her room to make room for their things. Add an extra blanket, just in case.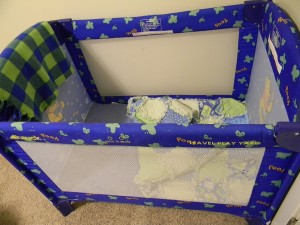 Space for Hanging Clothes- They didn't bring too many clothes that needed to be hung up except for their Sunday clothes. It's nice to have a place ready and a few hangers available so they don't have to ask you for them.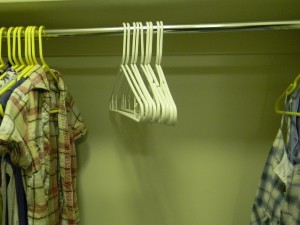 Space for Folded Clothes- This dresser is in the Loft area so it's easily accessible from 2 of the bedrooms upstairs. I leave the drawers empty so there's plenty of room for a few guest's clothes.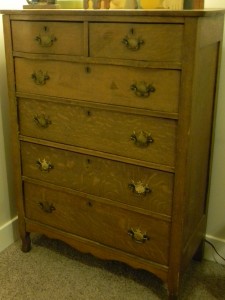 Laundry Basket- Dirty clothes are going to accumulate so a place should be provided for them. The basket sits inside the bedroom closet.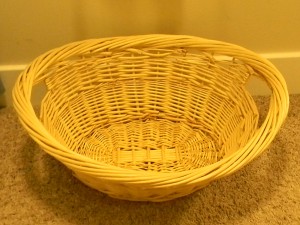 Guest Towels- Yes, I have guest towels. I have this aversion to accidentally using someone else's towel. My guest towels are all gray and we don't have any other gray towels in the house,  so there's no accidental usage. Since they're only for guest, they stay nice longer too. I've been known to bring my own towel with me on a trip.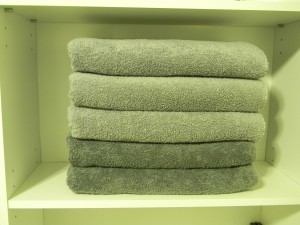 Basket of Toiletries- Something's usually forgotten at home, so I stock up on a few necessities. Sometimes you can't run to the store the second you realize something is missing. Having a basket full of sample size toiletries can buy you a few days.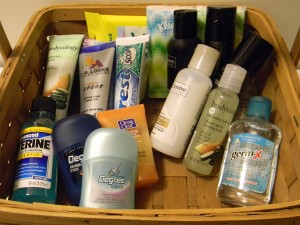 Niceties- Reading material is nice to have for your guests if they just want some down time and escape to their room or just want to read before bed. There's also a TV in the room, but I don't think they ever used it. Bottles of water are perfect for medication to be taken before bedtime.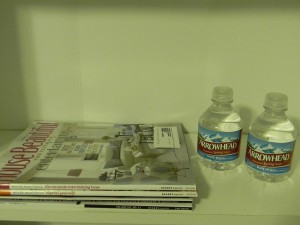 Extra Blankets- I have extra blankets many places throughout my house (bedrooms, loft, living room, and even the entry). Hubby keeps the house pretty cool and I hate guests having to ask for and search down blankets. It's much easier to have them readily available.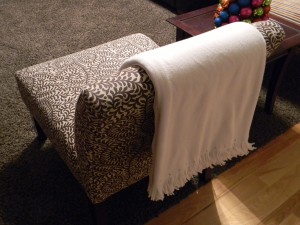 Other important things that I forgot to take pictures of:
Bed for Kids- I had an extra bed put in Zach's room for the other 2 boys with extra blankets also.
Stocked Kitchen- Stock the refrigerator and pantry before your guests arrive so you're not running to the store last minute. Even though I have banned paper products from my home except for picnics and parties, I made an exception because I didn't want to be doing 4 loads of dishes a day. It was a time and sanity saver.
Stocked Bathroom- Make sure there's plenty of TP. I really don't want my guests having to search for it or ask for it. Leave a shelf or drawer empty for there personal items.
Fun Stuff- Have some fun things planned but also have some down time to relax and just watch a movie or play games together. We didn't get to everything we wanted too. Mostly because I was sick. It's much easier for me to entertain in the warmer months.
I hope this list helps you in preparing for your guests before their arrival. Once they're in your home, just enjoy your time together.
I'm linking to:
Tip Me Tuesday at Tip Junkie
Whatever Goes Wednesday at Someday Crafts
Strut Your Stuff at Somewhat Simple
Home and Family Friday at Home is Where My Story Begins