I made these pilgrim hat place cards a few years ago. I believe I got the idea from Better Homes and Gardens. They're not classic, but the kids really like them so we bring them out every year. I need to make some for the new members of the family. I have them on the window sill for now.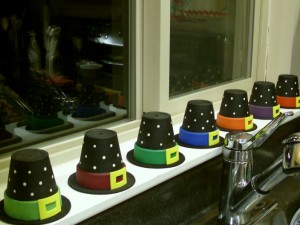 I don't know why I put dots on the hats. I think they would look better without them. My new ones will. not. have. dots.
I took 2 1/2 inch clay pots and painted them black. Then I cut 3 3/4 inch circles out of a sheet of black foam. I just traced around a cup. Cut a buckle out of a sheet of yellow foam. Paint the brim whatever color you like. You can paint them all the same if you'd like. After all the paint has dried, adhere the foam parts to the pot. I just used a white glue.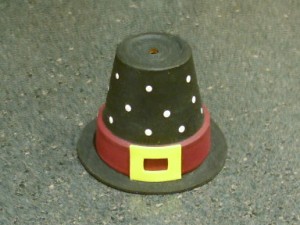 I wrote the names on the back with a black sharpie.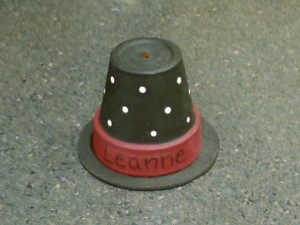 I think these would be fun for the kids to make for the children's table at Thanksgiving. Maybe I'll try something a little more sophisticated for the adults this year.