Sunday- This was just so funny I couldn't miss the opportunity to take a picture. Julien had been bringing blankets and pillows to all of us watching movies, to make us more comfortable. He brought a big blanket to his dad and grandpa and told them they had to share. We all started laughing, but he was serious and wanted them to be in it together. They didn't want to disappoint him so this is how they watched the rest of the movie.
Monday– It's been hot, hot, hot! After dinner and as soon as things cooled down a bit, we went outside to play for a while. The adults hung out on the deck while the boys jumped on the trampoline. I love hanging out on the deck on Summer evenings.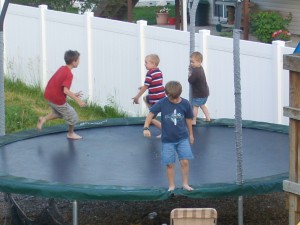 Tuesday- Zach set up the course for croquet. It was interesting, but we were able to make it through. We had a few too many people to play, so some of us played with a partner. Stephane and Julien, Traci and Benjamin, Leanne and Ammon. Emilee, Zach and Amanda played by themselves and hubby watched Sebastien. Stephane and Julien won.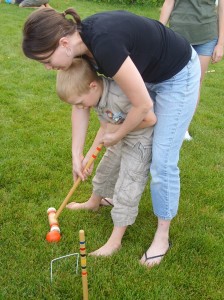 Wednesday– Hubby's work Lagoon day. The kids ask all year long when Dad's work Lagoon day is coming up. The big kids always break away from the younger ones to enjoy the bigger rides and not having to wait for the younger ones. We ate lunch in the pavillion reserved for hubby's company, then stuck around a bit for the raffle. Every year they have a raffle. Hubby's mostly won camp chairs every year, but this year we got an extra special prize. An extension cord with a light on the end! whoot-whoot! We always win the big prizes. We took a break from the heat and spent a few hours in Lagoon-A-Beach. In the evening we headed back to the rides. What a fun filled day for the kids. Julien fell asleep as we were leaving.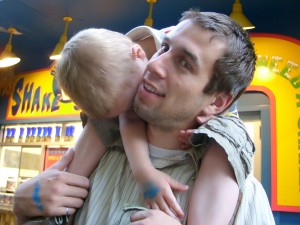 Thursday- Zachary went to Scout Day Camp today at Camp Kiesel. They all met at the church at 7am to head up the canyon. It's a fun camp. I had the opportunity to go there a few years ago with some scouts. Zach had a great time shooting BB guns and bow and arrows, traversing an obstacle course, shooting off rockets they made, boating and playing lots of games. He came home very happy, tired and dirty.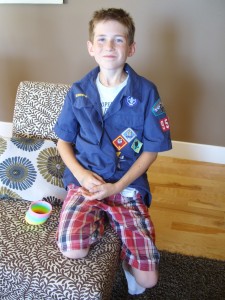 Friday- Ammon has a treasured stuffed animal named Mouse Moose Michael. I'll write a longer post about it later, but we had a bad mishap. Ammon was sick one night and Mouse Moose took the brunt of it. We took a trip to the mall to renew Mouse Moose and get him a new body. Have you ever seen a happier little boy? We had to stop for pretzel bites and a drink too.
Saturday- We spent the day doing random things and running little errands. We had an early dinner with most of the family at Robintino's (hubby's favorite restaurant). Traci, Stephane, Benjamin, Julien and Sebastien are flying back to Canada. Whitney and I drove them to the airport to catch their flight at 8pm. It's hard with them living so far away. I'm sure the boys will change tons, but we'll see them again in December for Christmas. Julien didn't want his picture taken.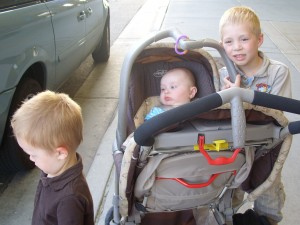 I'm linking to:
Tuesdays Unwrapped at Chatting At The Sky